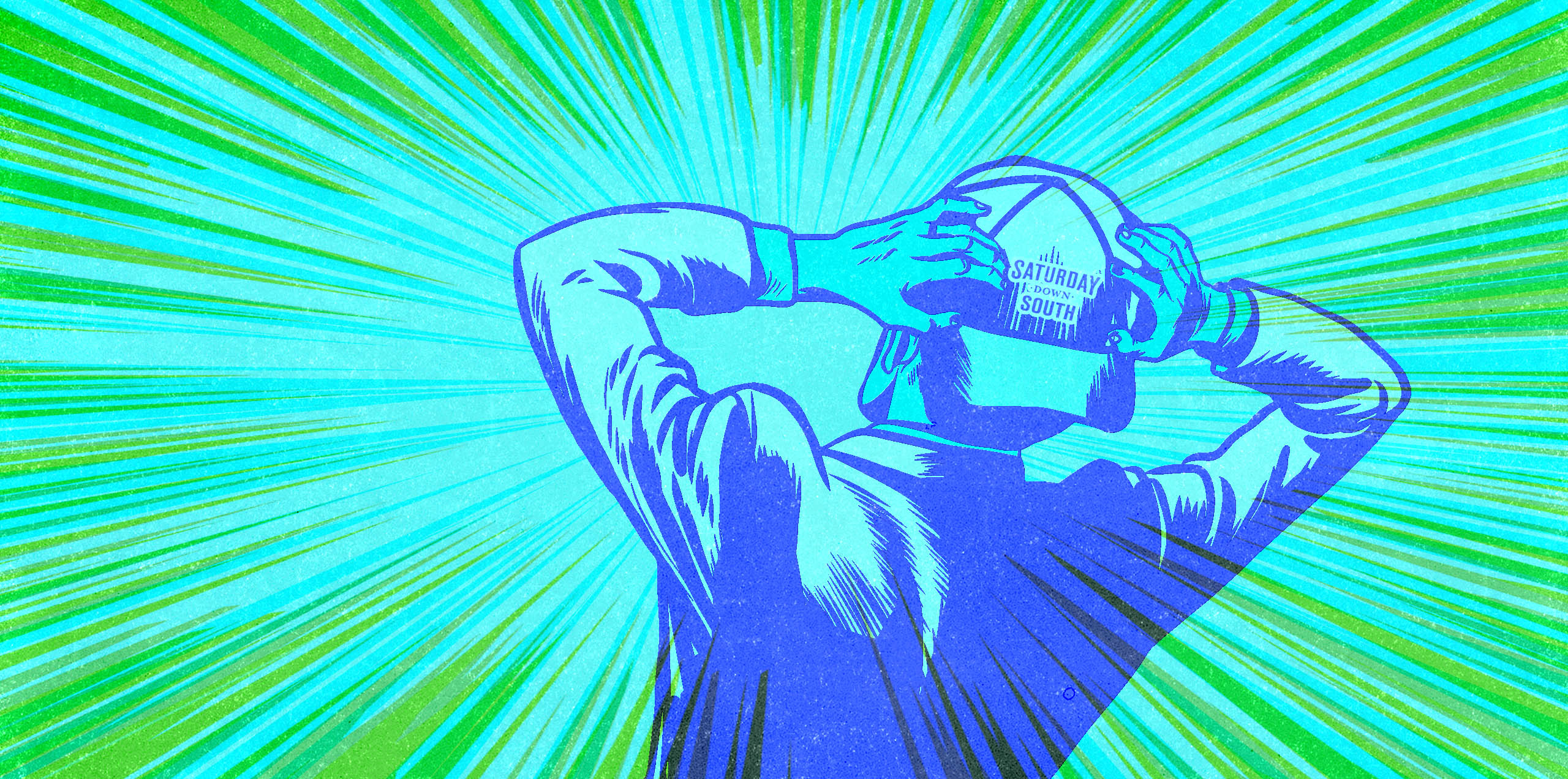 SEC
8 things I'm absolutely overreacting to after Week 12 in the SEC
Well, that just about wraps up the Dan Mullen era in Gainesville.
When does the Lane Train arrive? And will Anthony Richardson be there to greet him?
Those are just some of the 8 things I'm overreacting to after a cupcake-filled Week 12 in and mostly around the SEC.
8. Jordan Davis just had his Heisman moment … on offense
We've been waiting for it and asking for it. Saturday, Kirby Smart finally gave college football fans what they wanted: a handoff to behemoth defensive tackle Jordan Davis.
Two, actually, on back-to-back plays. Davis crashed over from the 1 on the 2nd carry for his 1st rushing TD.
TOUCHDOWN. JORDAN. DAVIS. ‼️‼️‼️@GeorgiaFootball pic.twitter.com/IbsUveDenZ

— SEC Network (@SECNetwork) November 20, 2021
Call it a Senior Day gift. And I loved the way his teammates celebrated the moment.
I hope Heisman voters noticed, too.
7. Unless CJ Stroud just stole it …
Every year is different, but it's only human nature to compare.
That's why I can't go all-in on a Bryce Young Heisman campaign, even after his record-breaking performance Saturday against Arkansas. Other Alabama QBs have had better years (capped with a national title) and not won the award. And Young's season doesn't stack up with Joe Burrow's historic campaign in 2019. Again, that's completely unfair to Young, who has been outstanding, but I think those factors are handicapping his Heisman bid.
CJ Stroud has no such comparison problems.
The last Big Ten player to win the Heisman Trophy was OSU QB Troy Smith in 2006.
More recent OSU QBs have put up big numbers — but the field outperformed them. Justin Fields threw 41 TD passes in 2019 — but Burrow threw 60. Dwayne Haskins threw 50 TD passes in 2018 — but Kyler Murray was even more dominant, throwing for 4,000+ yards, rushing for 1,000+ yards and totaling 54 TDs for a Playoff team.
No QB has had that type of year this year. That, more than anything else, has opened up the Heisman race to defensive studs like Jordan Davis and Will Anderson.
Stroud, however, is making a heck of a closing argument.
The redshirt freshman now has 36 TD passes and is approaching 3,500 yards. If Ohio State beats Michigan and wins the B1G title game, there's every chance he'll enter the College Football Playoff with more than 4,000 yards and probably close to 45 TD passes.
Those are Heisman numbers.
6. Not so fast, my friend …
Lee Corso is an easy target for a lot of reasons. But he's also a college football institution, so I get why GameDay continues to roll him out every Saturday.
Most of the time, he's completely harmless.
Saturday, he took aim at Cincinnati's quest to make the Playoff. That's fine. It's wrong, but it's fine, as long as you can support your belief with a lucid argument.
He didn't; he used the built-in scheduling excuse. Corso said it wouldn't matter if the Bearcats finished 13-0 because they only played 2 Power 5 teams and one of them was 2-8 Indiana.
That lame line of thinking speaks to a person who hasn't watched the American Athletic Conference play much football the past 3-4 seasons.
I watch a lot of everybody. I've said for 3-4 years that the top of that conference is even better than the Pac-12. Cincinnati would win the Pac-12 this year. UCF would have won the Pac-12 during its undefeated season.
There's a reason the Big 12 is raiding the AAC, including Cincinnati. Heck, the team Cincinnati absolutely destroyed Saturday — SMU — beat TCU (Big 12) earlier this season, on the road.
Remember, it was just 11 months ago that Georgia needed to score 14 points in the 4th quarter to overcome Cincinnati in the Peach Bowl — essentially a Georgia home game. The Dawgs won, 24-21, on a 53-yard field goal with 3 seconds left.
JT Daniels threw for 392 yards. George Pickens had arguably his best day as a Dawg. Georgia's headliners played on defense, too, including Quay Walker, Nakobe Dean, Jordan Davis, Lewis Cine.
Nobody this season has scored more than 17 on that Georgia defense, which is largely last year's Georgia defense.
Cincinnati belongs. And the Bearcats belonged even before Oregon laid a duck egg against Utah on Saturday night. Sorry, Lee.
5. The B1G gap …
If you're a fan of Overreactions, you're familiar with my stance on the Big Ten. It's Ohio State … and everybody else.
I stood by that belief even as AP voters dropped the Buckeyes after the early loss to Oregon this season.
In Week 5, when AP voters had Penn State at No. 4, Iowa at No. 5 and Ohio State at No. 11, I still included Ohio State in my Playoff picks and wrote:
"I'm well aware that Iowa and Penn State are undefeated and ranked ahead of Ohio State. They're not better than the Buckeyes, though, because they can't score like the Buckeyes can. And that'll be proven over the next month."
Well, here we are, and there isn't a hotter offense or hotter QB in the country than Stroud. The Buckeyes are steamrolling everybody in the B1G. That gap looked as large as ever Saturday against No. 7 Michigan State.
This Ohio State team is built to beat Georgia or Alabama.
4. The 4 Playoff teams are …
1. Ohio State, 2. Georgia, 3. Alabama, 4. Cincinnati
There's a new No. 1. Ohio State's offense is that good, that versatile, that explosive. More important, its defense has figured it out. That unit doesn't have to be great. It just has to be better than the 2020 version of Florida. In harsher words, just don't suck, and the offense will do the rest.
I haven't had Oregon in my Playoff rankings since the Ducks lost to Stanford. I'm sorry you did. They made you look ridiculous Saturday, getting blown out by 31 — 31! — against Utah.
3. All I want for Christmas is a 12-team Playoff … a 12-team Playoff
Dan Patrick said this week that college football power brokers would meet on Dec. 1 to decide whether to implement a 12-team Playoff for the 2022 season.
Please let this happen.
I've lost interest in the 4-team selection format. I'm so over wasting time listening to talking heads debate the topic, strength of schedule, résumé, eye-test. I'm at the point where, just pick the 4 teams you want in, line them up and play.
The system was fundamentally flawed from the day the idea hatched. Nothing has changed in the 7 years since.
We have to have more teams. And we must have automatic bids. You simply have to take this out of the committee's hands and put it in the players' hands.
Within 3 years of the 12-team format being adopted, college football fans will look back and wonder why in the world it was any other way.
2. Michigan State overreacted more than I ever could …
Mel Tucker is a fine football coach, but extending his contract for 10 years, $95 million?
That seemed like a stretch when it was announced Thursday.
Midway through Saturday's beatdown against Ohio State, it seemed like a downright laughable case of buyer's remorse.
This is Year 2 for Tucker. So he's in the same boat as Mike Leach, Lane Kiffin, Sam Pittman, Dave Aranda, Greg Schiano, etc.
Kiffin is the only one in that group who should command that type of money so early into a tenure. And Kiffin obviously won't get close to that kind of deal at Ole Miss, where state law restricts contracts of state employees to 4 years.
It's unfair to read too much into 1 game, but Tucker is a defensive guy, and his Spartans rank dead last in the country in pass defense. And that was before Stroud made them look like an FCS outfit and they made Stroud look like the pending Heisman Trophy winner.
1. If I'm Lane Kiffin, I'm choosing …
Florida.
The job isn't open (yet), but it will be soon. Very soon after his continued coaching blunders handicapped the Gators in a lackluster loss at Mizzou, which clinched the Gators' worst SEC record since 1979.
Lane Kiffin will have a lot of choices, this year, next year, whenever he decides to bolt Ole Miss. He could even stay in Oxford and build a perennial SEC West contender. (That 4-year contract restraint is overrated in the sense that the contract can be extended annually, meaning it's potentially a rolling 4-year contract. I mean, Dan Mullen stayed at Mississippi State for 9 years.)
But Kiffin is perfect for Florida. He's a recruiting wizard. He has ties to South Florida — and Tampa. He's the closest thing — from scheme to personality — to the Head Ball Coach. He is all swag in a state largely defined by it.
He's the guy Florida needs.
I firmly believe he'll be Florida's next head ball coach.
And I can't wait to watch what he does with Anthony Richardson. Records will be broken, trophies will be encased and Richardson will become the next Gators QB to earn a statue outside The Swamp.