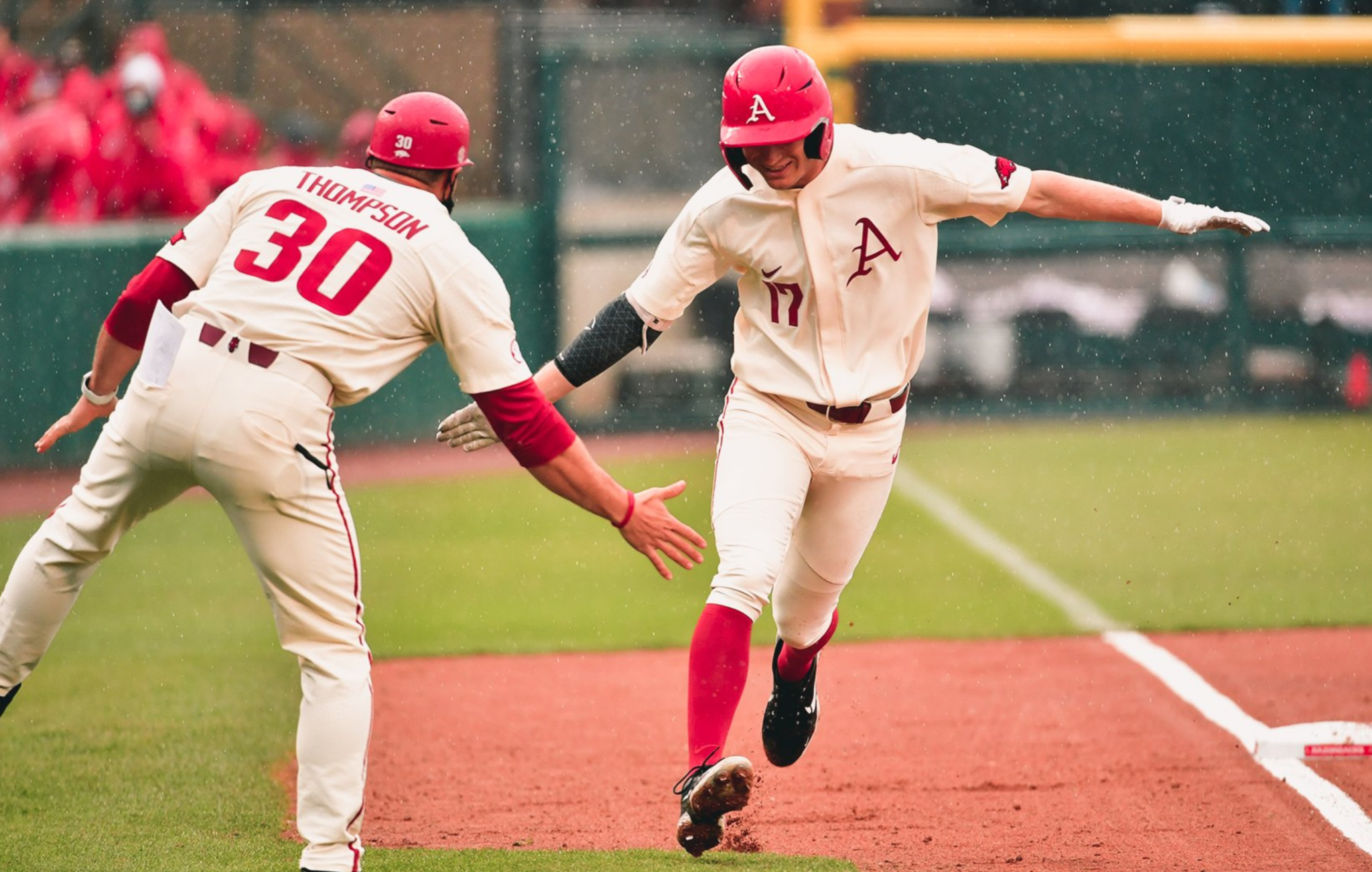 SEC
9 Innings: Arkansas stays at No. 1 after a wild, unpredictable week of SEC baseball
Spring has sprung in SEC baseball. Finally, we've got a No. 1 ranked team that didn't take a tough loss. We saw clutch homers, a perfect start from yet another young SEC ace, a catch that defies belief, and a lot of really, really good teams. So good, in fact, that SEC teams were ranked No. 1, No. 2, No. 3 and No. 4 in this week's Baseball America Top 25 poll.
Here's our weekly rundown of SEC hardball.
1. Arkansas stays on top…
When the polls came out after last week, Arkansas became the third SEC school in 3 weeks to be anointed No. 1 in the nation. But unlike Florida and Ole Miss, the Razorbacks stayed on top of the polls after another series sweep with Murray State moves them to 10-0. Coming into Sunday's game, the Razorbacks are 8th in the SEC in batting average and 10th in ERA. But they keep winning …
2. Thanks to some heroics from Robert Moore
The Hogs' top ranking nearly was lost on Friday, when they fell behind Murray State 6-3 in the 6th inning. Enter Moore, a second-year second baseman who earned All-SEC preseason honors from the league's coaches. At 5-9, Moore isn't a huge power threat. But he blasted a 2-run homer in the 6th to draw Arkansas within a run … and then did it again in the 8th, providing the margin for the 7-6 win that keeps Arkansas at No. 1. Like his team, Moore just found a way to win.
https://twitter.com/Coach_Calhoun32/status/1368036606603636736
3. Leiter and Rocker might be human
Jack Leiter and Kumar Rocker each gave up a run in their turns pitching for Vandy against Illinois-Chicago. That said, each gave up 1 earned run, and the Commodores won both games. Rocker's ERA of 0.60 is still ahead of Leiter's 0.90. As for Vandy, the 'Dores are second in the SEC in ERA, trailing only Kentucky. Vandy remained at No. 3 nationally after it allowed 4 runs to UIC in 3 games, which is what promises to make the Dores a tough, tough out in SEC play.
4. Florida opening up?
The Gators, preseason top picks, suffered their 3rd loss on Wednesday in a 3-2 setback to Florida Atlantic. They then blasted Florida A&M by a combined margin of 23-3, which suggests some of the dominance expected of UF. The Gators moved up to No. 6 in the BA poll.
The FAU loss was the 3rd 1-run game Florida played in their first 8 matchups, and the Gators are 1-2 in those games. But with Tommy Mace's league-leading 3 wins (tying him with Rocker and Leiter) and Jack Leftwich holding opponents to a .162 batting average, Florida could end up having a Vandy-like pitching staff, with an offense featuring standouts like Jacob Young, Jud Fabian and Nathan Hickey.
5. Rebels staying tough
Ole Miss followed its fall from the top of the polls with a perfect week, although it took last at-bat rallies to hold off Belmont on Saturday and Sunday. On Saturday, an 8th-inning homer by Kevin Graham provided the margin for a 4-3 win, and on Sunday, after a 3-run rally from Belmont in the top of the 9 tied the game, it took a clutch bottom of the 9th single from catcher Hayden Dunhurst to pick up the 8-7 victory. That bullpen stumble has been an aberration for Ole Miss, which is 2nd in the SEC in strikeouts. The Rebels are ranked No. 4 in the country.
6. Carolina still unbeaten
Wes Clarke might not be a robot after all, with a so-so kind of week, but his Gamecocks are still humming along at 10-0, joining Arkansas as the SEC's last unbeatens. Mercer managed just 1 run on 12 hits in a 3-game sweep by Carolina. Gamecocks pitchers struck out 11, 17, and 16 batters in the sweep. The Gamecocks jumped to No. 10 in the BA poll.
7. A (deflected) catch to remember
Alabama might be a little under-the-radar. At 10-2, the Tide fell 1 spot to No. 24 in the BA poll. But you can't stay hidden turning in plays like this. Alabama had Wednesday's game with Troy safe in hand, but in the 9th inning, Troy outfielder Logan Cerny hammered a pitch high and deep to right. It would have been a homer against most teams, but nobody told Alabama outfielder Andrew Pinckney. Pinckney had come into the game for defense two batters earlier, and he climbed the wall to deflect and ultimately catch Cerny's blast. It looked like a homer, the umpires initially ruled it a double, but the final verdict was robbery by Pinckney– and a heck of a highlight.
https://twitter.com/SECNetwork/status/1367490294598561808
8. A weird series for ace Jaden Hill, LSU
What an odd trio of games for LSU (9-3), which probably will fall out of the top 10 after losing a series to Oral Roberts.
Friday's opening loss was inexplicable. Ace Jaden Hill, who hadn't allowed a run in 2 previous starts, allowed 8 earned runs in the 1st inning. He only recorded 1 out and was chased after 29 pitches. LSU lost 22-7.
LSU rebounded Saturday with a 12-0 thumping of the Golden Eagles; the Tigers scored 7 runs in the 5th inning without an extra-base hit. Then on Sunday, a 1-0 lead after 7 innings became a 3-1 loss. There's no questioning the Tigers' talent, but there's some obvious issues with consistency.
9. Don't sleep on State
Mississippi State stayed at No. 2 nationally and continues to hang around the top of the SEC, in spite of hiccups like Saturday's 9-5 loss to Kent State. Facing Kent State ace Luke Albright, who is a significant MLB prospect, the Bulldogs fell behind 7-1 and couldn't complete the comeback. On Sunday, though, the Bulldogs no-hit the Golden Flashes in a 13-0 decision. Frosh Jackson Fristoe threw 6 perfect innings (in his 3rd collegiate start) to open, and a trio of relievers preserved the no-no. Yet another tough arm for MSU could make that West race very, very interesting.