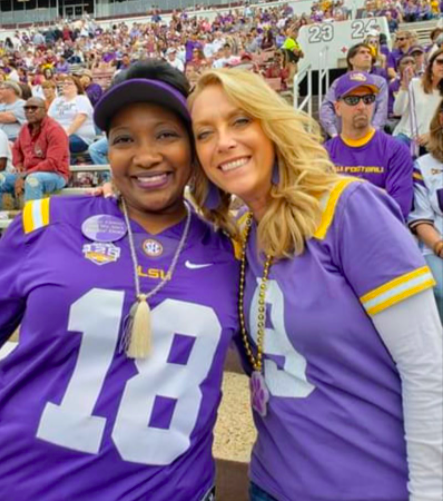 SEC
A tribute to the Moms who make sports and Saturdays down south, so special
It's Mother's Day, and as we celebrate mothers everywhere today, our hearts are filled with gratitude. To be a mother is to take on the extraordinary challenge of being the center of another person's universe. A mother is a first confidant, a firm foundation, and a forever friend, and for many of us, all that we are or hope to be is born in the hearts of our mom.
Mother's Day is also one of the best days in sports because let's be honest, without mothers, there would be no sports.
Without Mom, we don't get to celebrate fall Saturdays with sons like Tim Tebow, Joe Burrow, Derrick Henry or Nakobe Dean. We don't have as many glorious March memories thanks to Anthony Davis, Joakim Noah or Jared Harper. Our celebration of sports moms applies to everyone out there that's played a motherly role, from a birth mom to a grandmother to a stepmom and everywhere in between, whether it's a star SEC athlete or a Little League benchwarmer or a just-good-enough for the varsity high schooler destined to grow up and write about a game he wasn't good enough to play anymore.
And it all begs a larger question.
Where would we be in sports without Mom?
To all the moms out there, thank you. We're grateful you woke up an extra hour early just to make sure we had breakfast and a ride to two-a-days in August?
It started before that, of course.
To all the moms who brought Capri Suns and orange slices to those Saturday morning soccer games, only to watch 12 boys or girls shapeshift together like a Pigpen dirt cloud, swarmed around the ball like bees attached to a honeycomb, thank you. We know and recognize the difficulties endured on those days and by moms who sat outside on a cold, rainy Saturday waiting for their child to do something even tangentially related to the sport they were competing in– and trust us, we heard you yelp the one time we kicked the ball and we've seen the Facebook or Instagram videos of you clapping through tears as we finished our first swim race.
Thank you for the unconditional love wrapped up in those roaring cheers.
Thanks to the moms who remembered our glove or bat and were there to hand it to us without judgment at age 13. Thanks to the moms who managed the time constraints and schedules of their multisport sons and daughters and made it to every practice with the grace of a Sunday school teacher. We see you, and we're forever thankful.
I've seen first-hand how long and how much effort it takes a single mom to get two small children ready to go play a game on the weekend: making sure uniforms are on, shoes are tied, shin guards are on properly, and some type of yellow matter resembling food has been consumed so the one who plays last doesn't expire on the field. To those moms, who somehow make it look effortless, thank you. Your presence is felt, and you made an impact.
To the moms who coach, we remember you, too.
A mom can be your greatest ally, the one that encourages you through the slog of spring football and the one who insists the coach should play you more. But she can be your greatest critic too, and that's a positive thing. Plenty of moms know the ins-and-outs of the game and are there to hammer you for bad free throw technique or willing to hold dinner so you can hit one more bucket of forehands. Thank goodness for those moms.
Thanks to the moms who coach as well. More moms are coaching youth and high school sports than ever, and that's inspiring and important. Some take on the challenge even though they've never coached before and don't know a ton about the game. That doesn't stop them because, well, what ever really stops a mom?
One of the most wonderful, inspiring mothers (and now grandmother) I've had the privilege to get to know won a high school state championship coaching girls basketball as a young teacher in a small Florida town. She's told me that to coach that team and win that championship (a feat she humbly wrote off humbly as about the players because for a great mom, it's never about her), she read as much as she could about basketball, talked to other coaches about the sport as much as she could and watched the sport constantly. Talk about a lesson for others in how to be multiple and adaptable and the power of what can happen when you dedicate yourself to something. That story is remarkable, and so is she, and we see the moms like her who coach, too.
Of course, sports moms are fans, too.
I grew up the son of one of the biggest sports fans I know. Baseball, college basketball, The Masters, tennis, the Olympics – if there are sports on television, my Mama is watching.
Like many southern mothers, football is her favorite.
It's not just that she knows the names of the star players and coaches, or understands the intricacies of different playing styles or texts me in the middle of rivalry week telling me why I shouldn't count out Auburn in the Iron Bowl (she was right about that one, wasn't she?)
Mama knows the names of the referees. She has informed, "been there" opinions on which stadiums are loudest. She thinks it's silly that LSU can't play "Neck." She (a UF alumna) will refer to 2021 Georgia as the "SEC runner-up" forever because it riles up the neighbors in the Atlanta suburb she calls home.
Moms like her make Saturdays down south so special.
They make the charcuterie board for the big game watch party. They set up the tailgates, planning menus months in advance and dotting every "i" and crossing every "t," from the theme when Alabama is in town to the candelabra that makes an autumn Saturday in the Grove an item on bucket lists across the region.
These are the moms who get how much the sport means because they've lived it.
They've seen the passion of their sons (and daughters) for watching or playing. They appreciate the value of every precious gameday, the chance to shake an old friend's hand, spread love and goodwill, and forget about troubles in the world, if only for a few hours. To these moms, we're grateful.
We're mindful of the moms who aren't here.
They are in our hearts and often, in the actions of athletes on the field. Moms like Peggy Prescott, whose son Dak honors her with hands to the sky every time he's involved in a touchdown. They are also remembered in tailgate celebrations and small, quieter family traditions, like a walk by a favorite part of campus on Saturday morning or a special song on the drive into town. To everyone who is struggling with grief and loss this Mother's Day or any Mother's Day, we see you.
In the end, it's hard to imagine a Saturday Down South without Mom.
I think Alabama Heisman winner DeVonta Smith summed it up best when, after buying his mother a house with his first NFL contract in 2022, posted the following note to his mom, Christina Smith-Sylve.
"To the world you are a mother, but to me you are the absolute world."
That goes for so many of us, and the sports world wouldn't be the same without Mom.