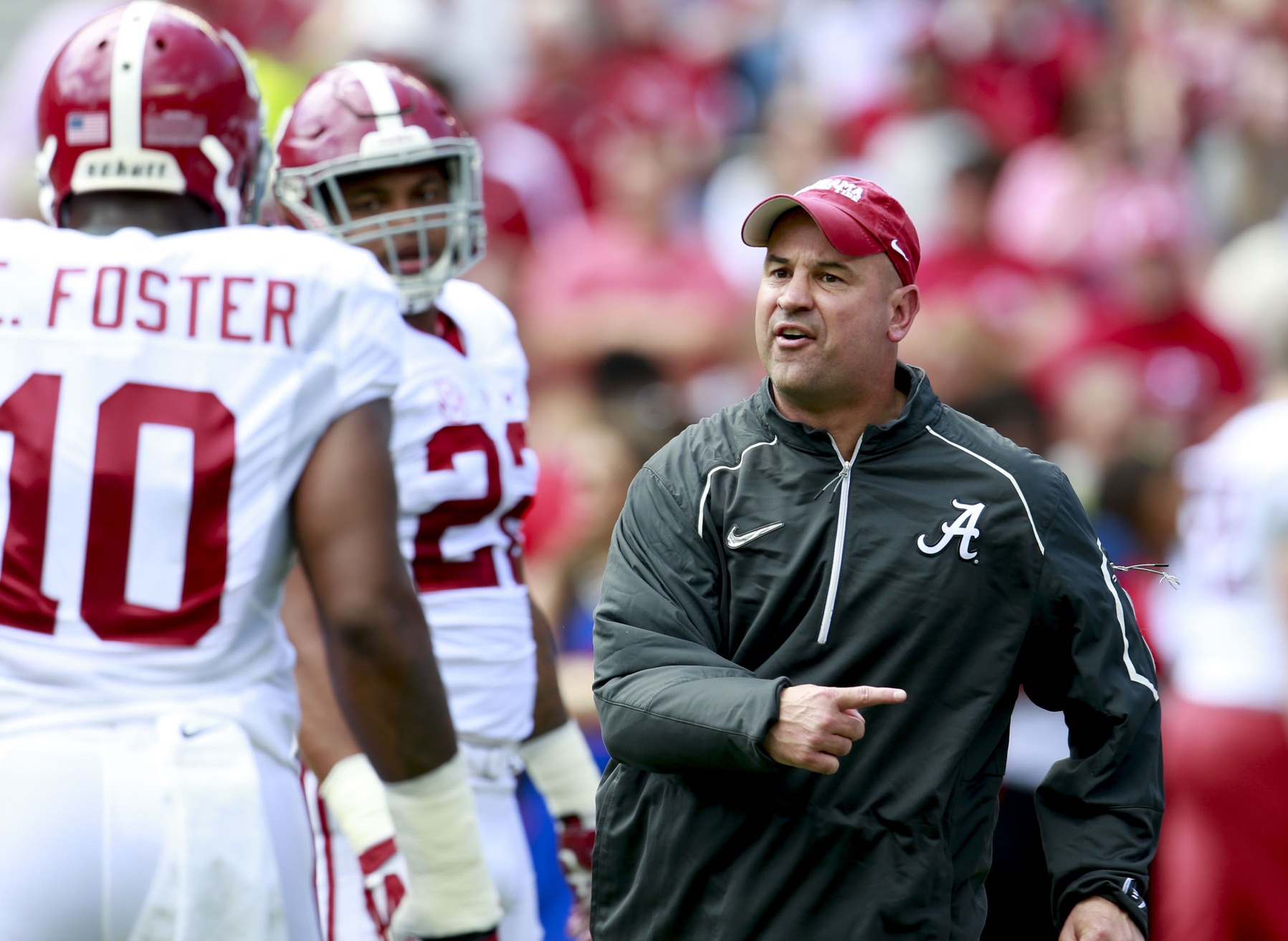 SEC
What adjustments have new SEC defensive coordinators made?
One year after a season in which there were seven new defensive coordinators in the SEC, the league has even more fresh faces heading into the 2016 campaign.
Eight schools will have a new defensive coordinator this fall, either through wholesale staff changes (like South Carolina or Georgia) or though more specific circumstances (Tennessee or Mississippi State).
With spring ball in the books, we now have a better idea on what might change at these schools on the defensive side of the ball:
ALABAMA
New coordinator: Jeremy Pruitt
Adjustments: Pruitt steps into this role after spending two years as the defensive coordinator at Georgia. He spent five years in Tuscaloosa from 2007-2012, coaching for much of that time under former coordinator — and new Georgia coach — Kirby Smart.
So, scheme-wise, not much is likely to change. The difference, according to the players, is Pruitt's approach.
"I'd probably say coach Smart is kind of a coach that's a loud guy, a get in your face type guy," Shaun Dion Hamilton told AL.com. "Coach Pruitt, I won't say he's laid back, because when you make him mad he's definitely going to get on you, but they're just different styles."
Another linebacker, senior Ryan Anderson, echoed those sentiments.
"I mean, he brings a different kind of energy," he told AL.com. "He's definitely more of a players' coach. A lot of the guys are more willing to sell out for the guy because he's willing to do it for us. It's a different style."
AUBURN
New coordinator: Kevin Steele
Adjustments: Steele has certainly been around the block a time or two, with stops at LSU, Alabama, Clemson, Florida State and Tennessee — among others.
Throughout his career, he's lined up in a 3-4, a 4-3 and spent a lot of time in a 3-2-6 nickel look for LSU last fall. He isn't married to a specific scheme, but instead designs defenses to get the most out of his players.
The biggest change you'll see this fall … is flexibility.
"I don't think in this day and age you can just go in and throw a playbook down and say this is what we do and this is how we do it and conform to it," he told the Columbus Ledger-Enquirer. "I think you've got to find the strengths and weaknesses, improve upon the weaknesses and build on the strengths. Sometimes that means doing some things different than you've done it before."
GEORGIA
New coordinator: Mel Tucker
Adjustments: Tucker coached the defensive backs under Smart at Alabama last season, but has coordinator experience at Ohio State and at three different NFL stops (Chicago, Cleveland and Jacksonville).
In that time, he's developed a reputation as a strong defensive backs coach and someone who relates well with his players.
"He's a great guy, first and foremost," former Alabama corner Cyrus Jones told DawgNation. "Very motivated. He knows how to get the best out of his players. A lot of coaches really don't click with players a lot. He's definitely one of those guys you can't help but love to play for."
With Smart as his boss, it's reasonable to assume that the Bulldog defense will model itself after the ones they helped produce at Alabama.
LSU
New coordinator: Dave Aranda
Adjustments: Aranda brings a 3-4 scheme with him from successful stints at Utah State and Wisconsin, and it will be the first time in the Les Miles era that the Tigers have run that formation.
The hallmark of that scheme is creating mismatches for his players, particularly when it comes to getting after opposing quarterbacks.
"A lot of it is trying to be able to create looks where we can get the looks we want to attack," Aranda told the Baton Rogue Advocate. "I don't think it's any different than what an offense does. An offense will create and present formations to get alignments to run against or to get coverages to throw against. That's the same thing we're doing. We want to create a look so that we can attack it."
MISSISSIPPI STATE
New coordinator: Peter Sirmon
Adjustments: Sirmon will be the sixth defensive coordinator in coach Dan Mullen's tenure in Starkville, and he arrives from Southern Cal where he coached the linebackers for the past two seasons.
He did coach linebackers at Tennessee for a couple of years, so he isn't totally new to life on a SEC sideline. But this will be his first full-time coordinator job at any level. He was the recruiting coordinator at USC, however, so he should be able to find some players.
He favors a 4-3 defense — he installed one as the interim coordinator for the Trojans' bowl game last year — and has added a Viper position (defensive end/linebacker hybrid) to the Bulldogs' system.
MISSOURI
New coordinator: DeMontie Cross
Adjustments: Cross is a former teammate of coach Barry Odom and a St. Louis native. He also spent the past few seasons under Gary Patterson at TCU, a renowned defensive coach.
He prefers a 4-3, but also learned Patterson's 4-2-5 formation and tendency to use multiple sets to confuse offenses. With eight starters back from a solid unit, players might have expected Cross to ease into his new role.
It hasn't worked out that way.
"It's very intense," linebacker Joey Burkett told the Jefferson City News Tribune. "That's all I'm going to say. It's a lot of fun. Very intense. Started out, it was going 100 miles an hour, and we slowed it down, learned it. It was a whole new kind of system, but we figured it out and we're playing well."
SOUTH CAROLINA
New coordinator: Travaris Robinson
Adjustments: Find some tape of Will Muschamp's defense at Auburn and you'll have a pretty good idea of what the Gamecocks' scheme might look like.
Expect a healthy mix of three- and four-man fronts featuring a lot of guys who can rush the passer or drop back into coverage on any given play.
Robinson, already noted for his recruiting ability, will be serving as a coordinator for the first time. He's an up-and-comer in the coaching ranks, however, because he knows his system well.
"Our scheme will be our scheme," he told The State. "That's the scheme I grew up in. That's the scheme I trust. It's been very successful wherever we have been."
TENNESSEE
New coordinator: Bob Shoop
Adjustments: Shoop hasn't shied away from the hype building around the 2016 Volunteers.
In fact, he added to it this week when he said, "We're going to stop the run," he told host Jimmy Hyams on WNML-AM radio. "Nobody will run the football on the 'Orange Swarm.' Nobody will run the football on Tennessee."
As for his philosophy, he described it well when he was hired at Penn State.
"Our identity is an in your face style of defense that's going to be fun to watch and even more fun for our players to play, I promise you that," he said. "It is based on two premises; relentless pursuit and never ending pressure.
"First thing I say to the guys all the time is 'everyone has a game plan until they get punched in the face.' We throw the first punch and we make sure it's not the last punch and we keep on punching. That's who we are."