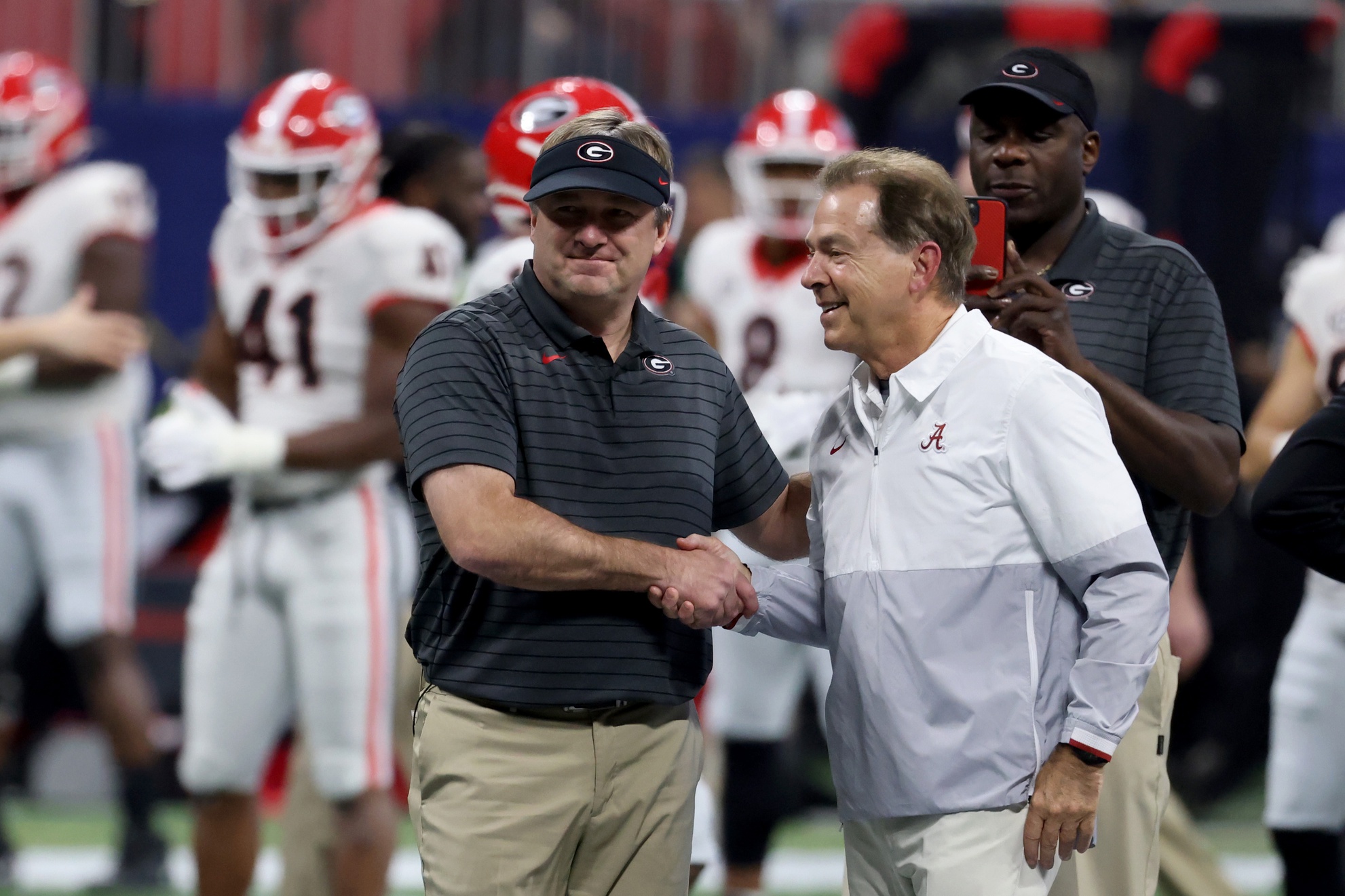 SEC
Alabama and Georgia are in, and the stage is set for another all-SEC National Championship
I imagine that when the confetti stopped falling and Greg Sankey took a breath on Saturday at Mercedes-Benz Stadium, reality sunk in. The SEC was going to again have 2 teams in the Playoff, and in all likelihood, the matchups would present the possibility of another all-SEC College Football Playoff National Championship.
Don't ya know it. That's exactly where we're at.
Sunday's College Football Playoff rankings show had about as much suspense as a Harlem Globetrotters game. It was just a matter of making it official. Alabama vs. Cincinnati in the 1-4 matchup and Michigan vs. Georgia in the 2-3 matchup means that the SEC has once again cornered the market on "most favorable paths to a national title."
The SEC has more teams in the Playoff than the rest of the Power 5 combined. Surely that won't get brought up at the next meeting with The Alliance.
Alabama and Georgia are both relatively significant favorites in a couple ways. FanDuel opened with the Tide as 14-point favorites while Georgia started at -7.5. Does that guarantee victories? Nope. But history also favors the more talented teams from the SEC.
Since 2015, 247sports tracked roster talent based strictly on recruiting rankings. In those 6 years, there are 7 teams who made the Playoff despite paying ranked outside the top 10 in 247sports talent composite. They're 1-6 … and the lone win was 2015 Clemson, who beat an Oklahoma team who also ranked outside the top 10 in the talent composite.
Why is that noteworthy? Here are this year's rankings in the 247sports talent composite:
Alabama (No. 1) vs. Cincinnati (No. 54)
Georgia (No. 2) vs. Michigan (No. 15)
We've never seen a Playoff team outside of the top 10 beat a team inside the top 10. Hence, why both Alabama and Georgia are such significant favorites. Since that stat has been tracked, the more talented team (in terms of 247sports talent composite) is 10-2 in semifinal games. The lone wins were 2016 Clemson beating Ohio State and then, ironically enough, 2019 Clemson beating Ohio State.
Those teams had Deshaun Watson and Trevor Lawrence. No disrespect to Desmond Ridder and Cade McNamara, but they aren't on that level.
Again, that's just what history tells us. History also told us that a Group of 5 team would never make the Playoff, and then Cincinnati happened. In a year that's felt as chaotic as any since 2007, assuming anything might be foolish.
The good news for the SEC is that even as the conference and the Playoff are both on the brink of expansion, this year served as a reminder that more times than not, the league withstands chaos.
Go ask the Big 12 about that. It watched its most talented team miss the Playoff, it watched its top coach leave for another job, it watched its longest tenured coach get the boot and it again failed to produce a Playoff team.
Meanwhile, Sankey is over here at St. Elmo's waiting on whether he'll get both steak AND lobster.
(If you're unfamiliar with that reference, that's the finest steakhouse in Indianapolis, which is home to this year's title game. Don't worry, SEC fans. You've got time to familiarize yourself.)
I say that knowing that we don't really know what's next for Alabama and Georgia. At this time last week, nobody knew if the Tide could stay on the field with the Dawgs having been in 6 1-score games in the 4th quarter during SEC play.
There's no guarantee that Georgia did just get a "wakeup call," as Smart said after Saturday's blowout loss. For all we know, Alabama just provided the roadmap to beating a previously invincible Georgia team and Jim Harbaugh already has it in hand.
But if you're the SEC, what more could you want? You've got 2 matchups against teams who have never played in a Playoff game. It isn't a matchup with Ohio State or Clemson, both of whom have coaches with multiple years of Playoff experience and aren't very far behind with the amount of 5-star talent they have.
(By the way, Georgia has a 19-3 advantage on Michigan in terms of 5-star talent while Alabama is at 14-0 compared to Cincinnati).
This is an even more favorable draw for the SEC than 2017 when Georgia was tasked with slowing down peak-Baker Mayfield and Alabama had to get through No. 1 seed Clemson.
Sure, that's rat poison. The bold prediction is saying that it won't be an all-SEC Championship and that we're not in store for a 2017 repeat with Georgia and Alabama. We've got a month to break down just how realistic those chances are and the potential implications of whether another all-SEC national championship would spark change to the current system as it did in 2011.
For now, though, the SEC earned the right to flex once again. The pieces are in place for more flexing in the not-so-distant future.
Just as Sankey drew it up.