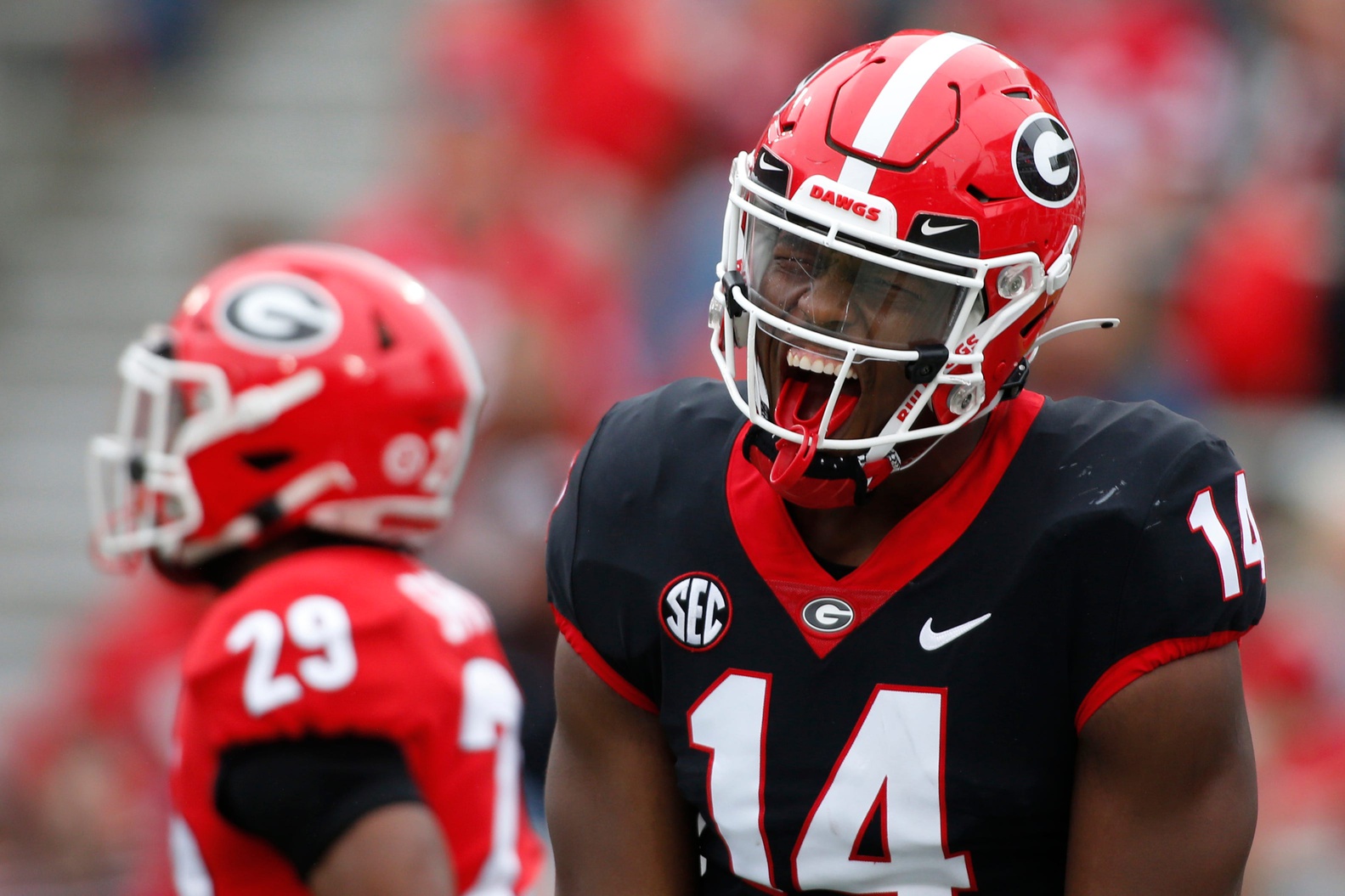 SEC
August is here! These are 10 SEC questions I keep coming back to as 2022 approaches
It's quite the feeling.
Flipping the calendar to August and realizing that college football will be played this month is like being a kid waking up the week of Christmas. You know that gifts/football are on the horizon.
We've got camps opening up across college football, which means it's time to ask some questions. Not questions that we can actually get some answers to, but questions that'll resurface throughout the 2022 season.
These are the 10 SEC questions I keep finding myself circling back to.
What does Stetson Bennett IV do for an encore?
He finished No. 4 in quarterback rating and led a team to its first national title in 41 years. He's 24 years old and he just pulled off a 4th quarter comeback against a Nick Saban-coached team in a title game. So why is there still some doubt about who Bennett is as a player? It's partially because the unknown, but enticing prospect of a Todd Monken offense run by Carson Beck or Brock Vandagriff. But seeing what Bennett looks like after finally being the no-doubter starter who no longer has the benefit of a historically dominant defense is going to be fascinating. You might have Bennett fatigue, but The Mailman still gets college football fans fired up in a way that few things can.
Is Tennessee finally going to handle some expectations?
Tennessee hasn't been to a New Year's 6/BCS Bowl game since the 1999 season. The Vols haven't beat an AP Top 5 team since 2005, either. Can either of those happen in 2022? I'd certainly say with that offensive firepower back for Josh Heupel, it's possible. Tennessee has just 2 AP Top 25 finishes in the post-Phillip Fulmer era, the last of which happened in 2016. That was also the last season that the Vols beat 1 of their 3 rivals. They might need to beat 2 of them to end 2022 with a New Year's 6 Bowl. What's the best path for that? Post a top-5 offense — Heupel has 4 consecutive top-10 offenses — and have a defense that flirts with mediocrity. Let's see if Tennessee can have a year that rivals 2021 Ole Miss without prematurely getting the "feels like '98" storyline going.
Will South Carolina, AKA the ultimate good vibes team in the offseason, carry that into fall?
Shane Beamer went into the offseason about as well as anybody could've predicted when he took that job. Beating Florida, Auburn and UNC was massive in Year 1. But the 2022 plot thickened when Beamer made the stunning move of getting Spencer Rattler out of the transfer portal. The polarizing signal-caller has his fair of doubters who cite that he got benched for a true freshman in 2021, and he's also got his supporters who cite his current 15-game winning streak as a starter. It seems like South Carolina's upside will be determined by Rattler's redemption season. And thus, so will the in-season vibes.
What in the WORLD happens with this Bryan Harsin situation?
I mean, it's Auburn. Since when did we start pretending like we know what's next? Harsin's future on The Plains looked to be in doubt after a coup was organized to get him fired after 1 year. But Harsin withstood that after an awkward few weeks in February. Does that mean he's about to have an "us against the world" season? Or will Harsin wilt the way his team did down the stretch when it lost 5 in a row to end 2021? On paper, the latter seems more likely after Harsin had to hire new coordinators (both ended up being in-house promotions) and he suffered major transfer portal hits on the defensive line and at the offensive skill positions. Handling that in the nation's toughest division usually doesn't work out too well. If there was ever a time for Auburn to Auburn, well, now is it.
Does either division end up with a clear No. 2 team?
It feels like a slam dunk that Alabama and Georgia get back to Atlanta yet again. That's not the question everyone is asking. It's who will emerge as the No. 2 team in each division. Kentucky was picked to finish 2nd in the East with Tennessee nearly tied in the preseason media poll while A&M earned that spot with Arkansas a slightly more distant 3rd in the West. But it feels like we could see parity galore in both divisions. Ole Miss was the clear No. 2 in the West last year, but after that, everyone in the West was either 4-4 or 3-5. With how active Ole Miss and LSU were in the transfer portal, it's hard to know what to expect. I picked Arkansas and Tennessee to finish 2nd in their respective divisions — having KJ Jefferson and Hendon Hooker back in the same offense is certainly part of that — but we could easily see those teams lose 3 SEC games and float between spots 2-5. Hey, sign me up for some chaos.
Is Brian Kelly's Year 1 in the "demolition" phase or the "makeover" phase?
If you just look at the transfer portal numbers, where Kelly added 15 transfers (10 from Power 5 teams), it would appear that LSU is in the "makeover" phase. But as we've seen with Year 1 coaches, sometimes it takes actual football being played for the "demolition" phase to continue. In other words, we could see plenty of guys that Kelly retained decide they want out. If the Tigers start off 3-4, who knows how this Year 1 staff will handle a frustrated locker room. On the flip side, what would it do for Kelly's rebuild if he somehow led LSU to a New Year's 6 Bowl with a largely overhauled roster? It would certainly help him continue to improve his standing in the portal. In the SEC West, though, that'll be much easier said than done.
Is Will Levis still going to be in the Round 1 conversation by season's end?
History says that he won't, but that's just because quarterbacks projected as Round 1 guys tend to get picked apart like ribs at a picnic. Levis will absolutely be picked apart. That's a good problem for Kentucky to have. It's a sign that the offensive system, which was installed last season with Liam Coen, is giving the Cats a new identity. Levis has room to grow connecting on deep throws and developing more of a rapport with his pass-catchers in a post-Wan'Dale Robinson world. The interceptions — whether they're all on him or not — have to come down, too. But his accuracy, his size, his understanding of the offense and his rushing ability certainly make him one of the most intriguing class of 2023 draft prospects. A pivotal year awaits the mayo-loving quarterback.
What's next in the Arik Gilbert saga?
Buddy, I wish I could give you a definitive answer. Between his late-2020 opt out, his Florida transfer announcement then un-announcement because of academic issues, his "switch to receiver" upon committing to UGA and his conditioning woes that were an issue going into 2022 spring camp, it's been a wild ride for the most decorated tight end recruit of the 21st century. The good news for Gilbert was that he had a phenomenal spring game showing and he took advantage of the fact that All-American Brock Bowers and fellow former 5-star Darnell Washington were both injured. Gilbert has a chance to carve out a role in Monken's offense and look like the player who quickly became a reliable target for LSU back in 2020. If he can stay on the right path with a season that starts and finishes with him in good standing, that'd be a major win for UGA.
Is Jimbo Fisher going to re-establish himself as a top-5 coach in America?
Because he's currently not a top-5 coach in the sport. Sorry, A&M fans. Yeah, I know about the title he won. That was 9 years ago. In his last 7 seasons post-Jameis Winston, he has 2 top-10 finishes and he lost at least 3 conference games 6 of those 7 seasons, which is why he hasn't played in a conference championship game in that stretch. Against AP Top 25 teams from 2015-21, Fisher went 12-17. This year, his squad is expected to start in the top 10. That's for a team who just lost a ton of production in the front 7 and is facing a bunch of questions in the passing game. After the offseason that was with the Nick Saban spat, now would be an excellent time for Fisher to avoid another Kevin Sumlin-like 8-4 season and establish that A&M is ready to start competing for championships in 2023-24.
Will Alabama accomplish the feat that more people need to be talking about?
I know I sound like a broken record, but if you don't know the stat I'm referring to, here it is. In the last 17 years, only 1 team who started as the AP No. 1 won a national title. It was 2017 Alabama, who got into the Playoff after failing to win the SEC West and had to pull off a second-half comeback to beat Georgia in overtime of the title game. In other words, yeah, it's extremely difficult to start and finish at No. 1. If the Tide come up short, it won't be because of Bryce Young or Will Anderson. It'll be because the offensive line wasn't championship-level or a secondary with some questions ran into a team that could exploit it. Don't get it twisted. Alabama deserves to be preseason No. 1. A runner-up who returns a half dozen preseason All-Americans looks the part. It'd be stunning if Alabama failed to reach the title game for just the 2nd time in the last 8 seasons. But can the Tide pull off the rare feat of starting No. 1 and finishing on top? Time will tell.