SEC
LOOK: Baker Mayfield recreates Brett Favre's iconic draft day photo to perfection
This will certainly be one of the best images of the entire NFL Draft.
Wednesday night, former Oklahoma and Heisman Trophy winning QB Baker Mayfield recreated Brett Favre's iconic (throwback) draft day photo. You're well aware of Favre's photo, because the draft shows it every single year. And Mayfield recreated it to perfection (below).
Interestingly, when Mayfield was a freshman at Texas Tech, he was being compared favorably to Favre, and that only continued throughout his OU career. The way he moves around the pocket and carries the swagger at the position, and let's not forget his gunslinging and strong-armed mentality. Of course, Favre had a huge NFL career, and Mayfield still has much to prove. But we're not going to bet against him.
There's some buzz that the Browns may take Mayfield with the No. 1 overall pick. For his sake, let's just hope that doesn't happen.
Mayfield shared the recreated photo with a Favre quote via Twitter, "There are those people who are in your corner no matter what, you can't do any wrong, even when you do wrong. And then there are those people that no matter what you do they're going to dislike you and that's not going to change."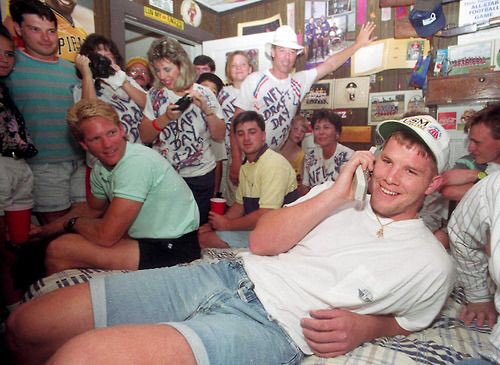 "There are those people who are in your corner no matter what, you can't do any wrong, even when you do wrong. And then there are those people that no matter what you do they're going to dislike you and that's not going to change." – Brett Favre #DraftEve #MMO pic.twitter.com/6bCE9SxqI6

— Baker Mayfield (@bakermayfield) April 26, 2018