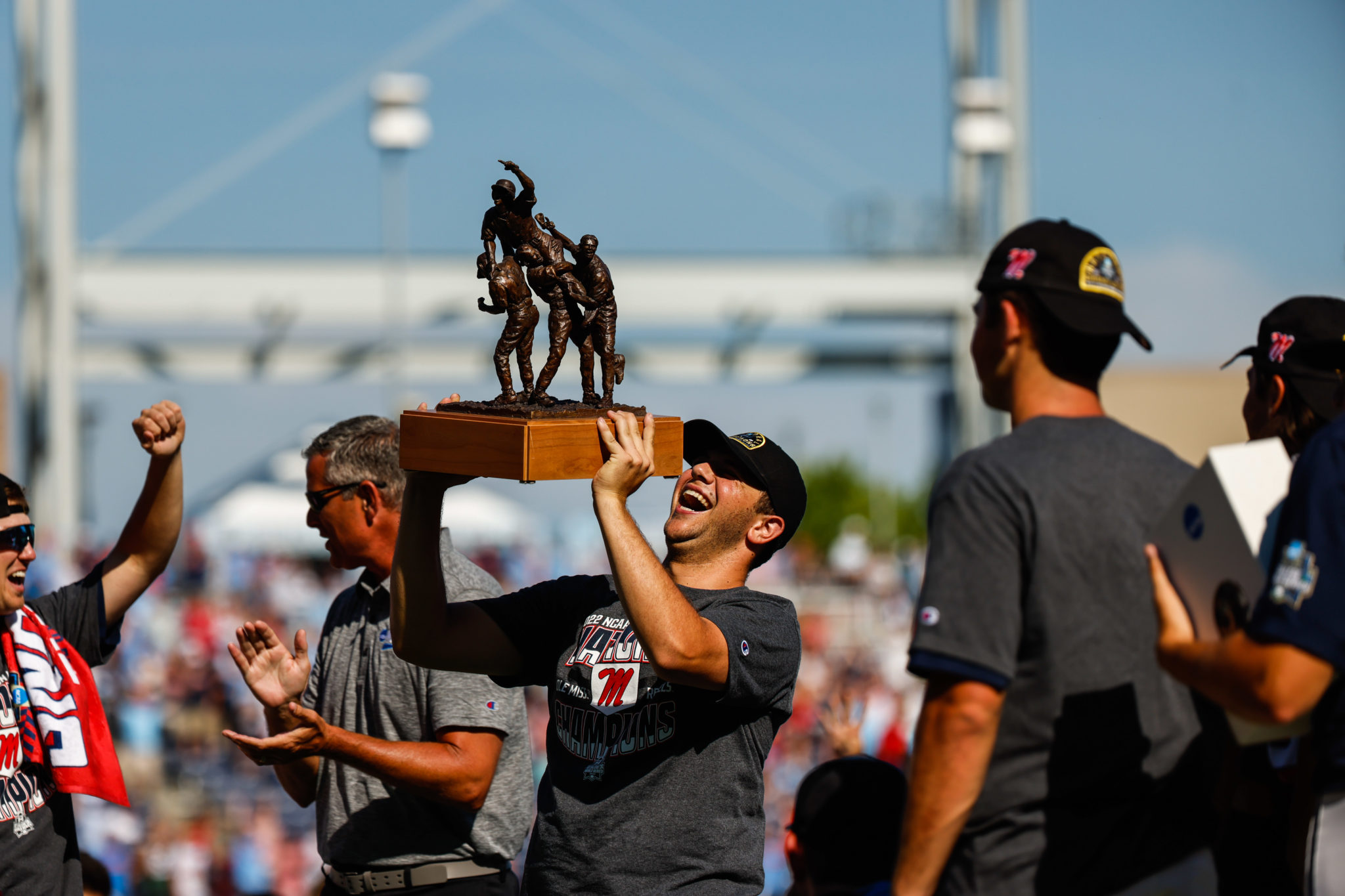 SEC
Beating the SEC for a title in baseball or football is an upset until further notice
Think about what Ole Miss just did.
No, not just the wild 8th inning comeback on Sunday afternoon that fueled the program's first College World Series title. Don't just think about how there were plenty of folks (mainly NC State fans) who felt that Ole Miss didn't deserve to make the NCAA Tournament at all with a losing record in SEC play.
On second thought, think about that last part. The team with the losing record in SEC play just swept Oklahoma, AKA the team that rolled to 3 dominant victories in Omaha and was +50 in run differential in the NCAA Tournament … and will join the SEC in 3 years or less.
Now also think about the fact that the SEC just became the first conference to have 3 different programs claim 3 consecutive titles in college baseball (don't forget that Arizona and Arizona State weren't part of the Pac-12 when they went back-to-back in 1976-77).
Does that feat sound familiar? It should. After all, it's what the SEC accomplished on the football field. Not since the 2018-19 school year has a non-SEC team won it all in baseball or football.
Let me put that in perspective a little bit. A freshman Trevor Lawrence was the last non-SEC player to hoist either a baseball or football national title. Meanwhile, LSU (2019 football), Vanderbilt (2019 baseball), Alabama (2020 football), Mississippi State (2021 baseball), Georgia (2021 football) and Ole Miss (2022 baseball) have all celebrated championships during that stretch. That's 6 of the 14 schools in the SEC. Eight of the 12 schools who played in those 3 years worth of baseball/football national championships came from the SEC, and that's not including future SEC team Oklahoma.
By the looks of it, this level of dominance should be at least somewhat sustainable for the SEC. That's why until further notice, a non-SEC team winning it all in football or baseball should be considered an upset.
Ole Miss was the perfect example of why that's now a fair statement. Once Ole Miss got to Omaha where seeds were useless — not that it mattered for a program without a national seed — we watched Charles Schwab Field turn into Swayze North. That fan base had Ole Miss players saying that it felt like a football game.
Now obviously it's easier to show those numbers when you go deep back-to-back-to-back or when Hunter Elliott is mowing down hitters. But at the same time, we saw for the second consecutive year what a College World Series final looks like when the state of Mississippi is involved.
What a bomb. Look at that crowd reaction. Ole Miss is playing a home game in Omaha today. pic.twitter.com/EWnM5S5flM

— Max Olson (@max_olson) June 26, 2022
Yep, that was an Ole Miss home game. National championships in baseball and football have a funny way of feeling like SEC home games, and not just because we usually hear chants of "S-E-C! S-E-C!" by game's end.
These baseball national championship numbers since 2009 are beyond silly:
8 of 13 national title winners from the SEC
SEC had 15 of 26 CWS final participants from SEC
Only 1 CWS final failed to have an SEC participant
In football, we know that the SEC's national title dominance dates to 2007:
15 of 16 SEC champions played in a national championship
12 of 16 national titles won by the SEC
Of 32 national championship participants, 15 came from the SEC
If you combine those sports, Mizzou, Texas A&M, Tennessee and Kentucky are the only SEC programs that didn't play for a national title in one of those sports since 2007. (John Calipari's Wildcats won the 2012 NCAA Tournament, though.) That's 10 of 14 SEC programs that have played for a national title in baseball or football since 2007. Compare that number to other Power 5 conferences in that stretch:
SEC: 10
ACC: 4
Pac-12: 4
Big Ten: 2
Big 12: 2
And by the way, the Big 12's baseball/football national championship participants in that stretch were SEC-bound Oklahoma and Texas. In other words, it's hard to see this SEC run of dominance coming to a halt anytime soon.
Could NIL be a great equalizer? In certain instances, yes, it could level the playing field to give non-SEC teams a chance. Lord knows that schools like Miami and USC are fighting to recapture their pre-2007 glory. NIL or not, a program like Ohio State isn't going anywhere on the football field and it's safe to say that Stanford baseball should be a force until further notice.
At some point in the 2020s decade, we'll watch the SEC's streak in baseball and football come to an end. Surely the conference won't dominate the entire decade … right? Playoff expansion or not, if you had the choice to take the SEC or the field moving forward, you'd probably go with the former. The same goes for baseball.
The SEC probably won't dominate men's and women's basketball quite at that level because the competition isn't so regional (Dawn Staley might beg to differ on that). Greg Sankey will sleep just fine knowing that his league is driving 2 of the 4 top revenue sports. The fact that baseball and football dominance are coinciding with one another feels like perfect timing if pay-for-play is indeed on the horizon.
In March, SEC Network's Peter Burns laid out why it felt like the SEC was in a golden age with athletics. Granted, that was when it appeared the league had 4 teams that could make a deep run in March Madness. It was also before the SEC had a team with a sub-.500 record in conference play roll through the NCAA Tournament field and claim the College World Series.
What cannot be denied is that the championship depth in SEC baseball and football has never been deeper. Watching the Ole Miss celebration on Sunday was a reminder of that. For the second consecutive year, a program without a national title in its program's history (from Mississippi) was the last team standing in Omaha.
The team's mantra after sneaking into the NCAA Tournament was "don't let the Rebs get hot." Maybe that same logic should've been applied to the SEC a few years back.
Oh well. Too late.