SEC
Best 10-year stretch in the NFL Draft by an SEC team? Hint: It's not Alabama or LSU
What if we were to tell you that Alabama's 58 players drafted over the last 10 years doesn't even rank among the top three totals produced by a current SEC team over a decade's worth of time?
With the NFL Draft starting at the end of April, I decided to do some digging to figure out each team's highest 10-year yield since the merger in 1970 with the help of our friends at Sports Reference.
One fact that would make for an awesome trick question for even the most knowledgeable Roll Tiders would be: "How many Alabama players got drafted in 2008?" The answer to that is zero.
Even with the donut, NFL teams have beefed up their rosters with plenty of talent from Tuscaloosa during Nick Saban's tenure there, but that does make one understand how three other schools presently in the conference could have higher outputs.
The reason why I say "presently" is because Texas A&M's best span came as a member of the Southwest Conference. Arkansas (1970-79) was also in the SWC, and Missouri (1976-85) was in the Big 8.
I also have to note that Ole Miss had 29 from 1984-93, matching 1985-94.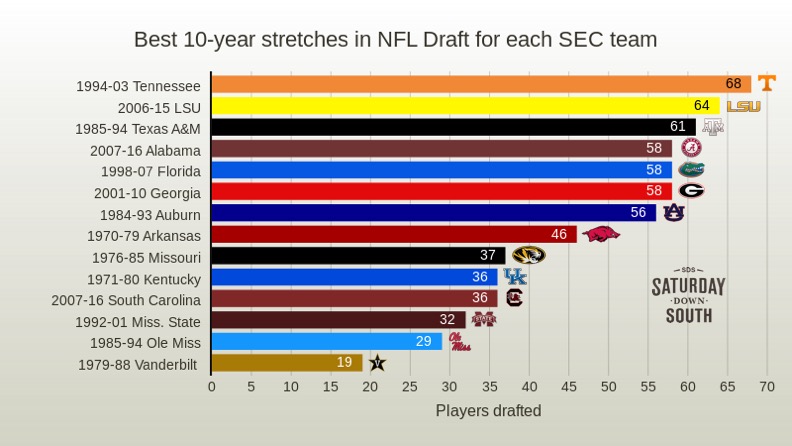 Oh yeah, Phil Fulmer was churning them out during his time in Knoxville, and his crop of 68 players from 1994-03 is more than any SEC team has sent.
The Vols produced 11 Pro Bowlers from that group, including QB Peyton Manning, TE Jason Witten, LB Al Wilson, DT Big John Henderson, DE Shaun Ellis and OL Chad Clifton.
LSU's 64 players from 2006-15 overlapped almost perfectly with Les Miles' tenure as head coach in Baton Rouge. The Tigers manufactured 18 players from 2013-14, nine in each draft.
The Aggies' stretch rang a bell for me because I recognized it from research I did less than a week ago for a story on every SEC team's best "decade" in terms of total wins. As it turns out, those are the exact years that Texas A&M enjoyed its most victories.
That made me curious to check across the board and see how close in proximity each team's best 10-year stretch in the NFL Draft was to each school's most successful 10-year period.
Keep in mind Florida (1992-01), Georgia (2000-09, 2002-11), Ole Miss (1953-62), and Tennessee (1995-04) tied the win totals below, but the years shown got the edge for various reasons explained in the piece I linked above.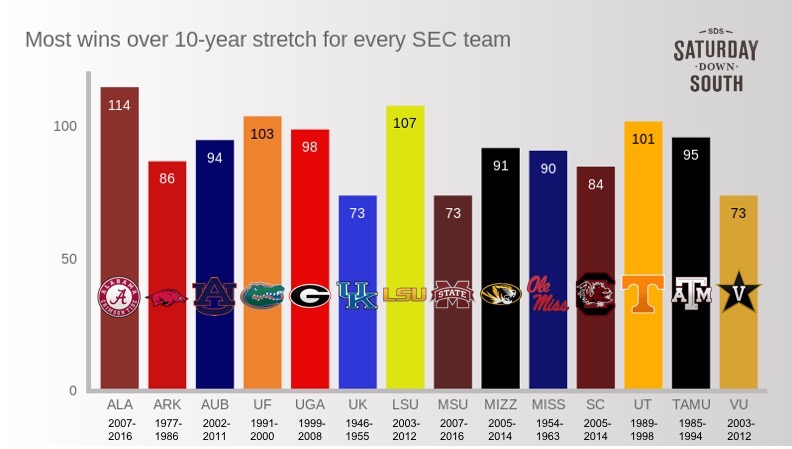 When you compare those two graphics, you can see that Alabama's and Texas A&M's pair of 10-year stretches sync up perfectly, the Tide from 2007-16 and the Aggies from 1985-94.
Tennessee's unmatched run of 68 players drafted from 1994-03 was just one year off UT's other 101-win span that wasn't charted, 1995-04. Georgia's and South Carolina's were only two years apart, and LSU had a mere three-year difference.
So all in all, almost half the current members of the SEC (six of the 14) experienced their most wins over a 10-year stretch within three years of their most players drafted over the same timeframe. Makes sense, right?
However, let's go back to the original premise of this piece. Although Tennessee had the top tally overall, the school's 11 first-rounders were fewer than Alabama (18) and LSU (13), and just as many as Florida during their respective runs.
Still, Tennessee churned out at least eight players in five of those 10 drafts from 1994-03 to rack up its incredible mark of 68. That includes a 2002 draft that saw 10 Vols get drafted, which was only equalled during the illustrated stretches by Auburn in 1989.
Rocky Top sitting at the peak makes it hard to understand how the school didn't have a player taken in any of the last two drafts.
South Carolina (2007-16), mostly thanks to Steve Spurrier, is joined by Alabama (2007-16), LSU (2006-15) and Georgia (2001-10) as the only schools who have witnessed their top span squarely in the new century.