SEC
Betting Stuff: Nothing stops the SEC train, but how does bad weather affect your strategy?
Betting Stuff is a regular sports gambling column here at Saturday Down South with a focus on college football wagering (though don't be surprised to see some non-college football insights from time to time). Betting Stuff is brought to you by MyBookie. If you're looking for a place to make a deposit and start getting in on the action, look no further than MyBookie.
Hurricane Delta
The SEC is approaching USPS levels of dedication. Neither COVID-19 nor rain nor floods nor hurricane grade winds will prevent the Southeastern Conference from the swift completion of their appointed rounds. As of publication, the Mizzou-LSU game has been moved from Baton Rouge to Columbia and games in Mississippi and Alabama are set to be played despite the forecast of heavy rains and winds throughout the region.
From a gambling perspective, the average square bettor generally adheres to two strategies when intense weather strikes: avoid the game altogether or hammer the under. The first approach may be decidedly conservative, but as Matt Damon once said in the movie Rounders, "you can't lose what you don't put in the middle." As for the second approach, while betting the under seems logical in a rainstorm, the precipitation's impact on the final outcomes is minimal. What you really need to focus on is wind, and not rain.
According to The Action Network's college football database, when winds exceed 13 MPH, unders have hit 57% of the time since 2005. Kicking and quarterback play, in particular, seem to fall off a cliff when winds exceed 20 MPH. A 2019 data science research project conducted by Josh Mancuso found that the fantasy production of professional quarterbacks dropped significantly in windy games.
"The effect of wind/wind gusts is the most significant weather variable affecting QB performance. The effects are fairly slight for average wind speeds from 0 mph up to about 15 mph, but above that threshold, the difference in fantasy points is about 12% less. In games with winds over 20 mph, the negative effects are more significant, with ~17% fewer fantasy points per game." — Josh Mancuso.
Additional analysis conducted by numberFire.com also found that kicking production drops steeply (-16.3% at 13+ MPH) at the professional level when facing high, sustained winds.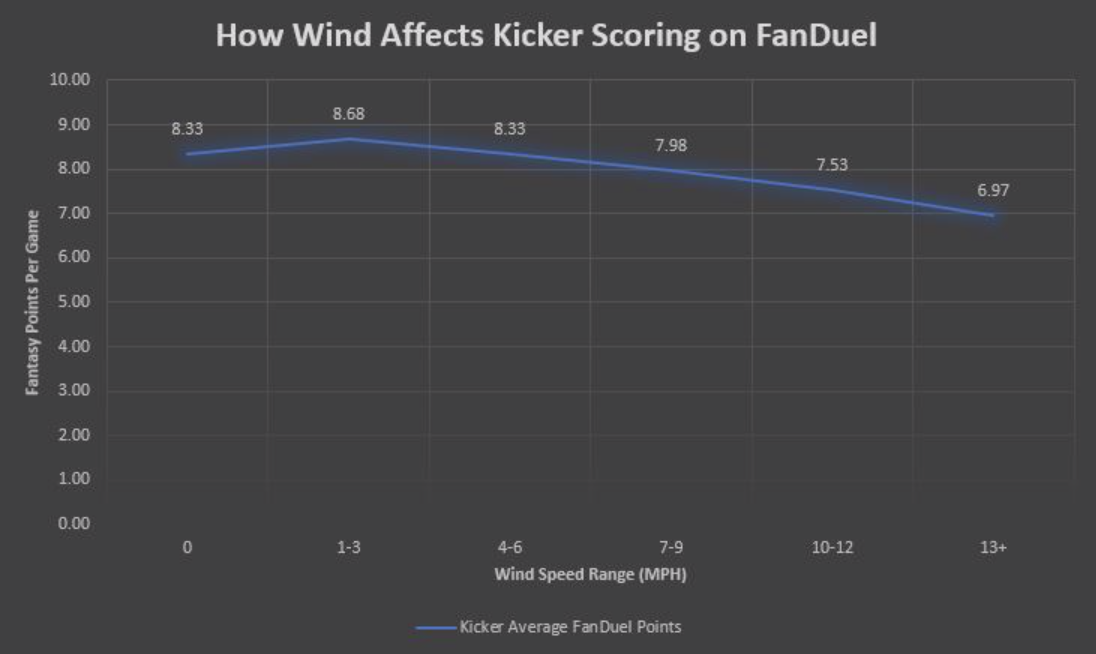 Granular research hasn't been conducted across the FBS level, but given the historical data related to totals in windy situations and the NFL data related to reduced efficiency from quarterbacks and kickers, it's fair to say that the impact is at least similar at the collegiate level.
With that data science detour out of the way, which games should you be targeting in Week 6?
Florida Atlantic at Southern Miss (Winds 12-15 MPH) 57.5
Texas State at Troy (Winds 10-12 MPH) 59
Arkansas at Auburn (Winds 7-10 MPH, Light Rain) 47.5
Alabama at Ole Miss (Winds 12-14 MPH, Heavy Rain) 67.5
With the exception of Texas State-Troy, every game on this list has experienced a market correction related to the total (list of all FBS games at MyBookie). Alabama-Ole Miss, Arkansas-Auburn and FAU-So Miss have all seen their totals drop by 11+ points since their open earlier this week. Given the fact that both SEC games already had the potential to be dominated by ground attacks, I believe there is now value in backing the over in both contests. Similarly, The Owl-Golden Eagle game in Hattiesburg might be adversely affected by wind, but wind isn't likely to bother an FAU team that attempted just 22 passes in its opener.
Underdogs having their day
It stood to reason that the strange offseason and COVID-19-fueled roster upheaval would facilitate some crazy upsets. Each week of the season, a double-digit underdog has won outright, and underdogs, on the whole, are 66-43-2 ATS (60.6%) overall. The 3 power conferences currently playing have seen a similar trend, although the SEC is quickly reverting to its traditional trend of favorites pummeling underdogs.
Underdog ATS performance in the Power 3:
Big XII: 7-3 (70%)
ACC: 11-6-1 (64.7%)
SEC: 7-6-1 (53.8%)
It's also worth mentioning that the preseason favorites in each power conference (Big 12 — OU/Texas, SEC — Bama/UGA, ACC — Clemson/UNC) are struggling mightily against the spread. That group is 4-10 ATS with zero teams over .500 against the spread.
My record
Last Week: 4-2 (66%, +2.2 Units)
Overall: 16-12-1 (54%, +3.2 Units)
Games I'll be playing in this week
Arkansas at Auburn-14 (47.5)
As I've noted in previous installments of Betting Stuff, I track my own personal point-spread projections weeks and sometimes months ahead of time as a value-projection tool. Case in point, I set this spread at 25.5 points in favor of Auburn just 3 weeks ago. Arkansas, now 1-1 SU and 2-0 ATS, has proven to be a tough out under Sam Pittman, but this 11.5-point discrepancy is steeped in recency bias. Arkansas shocked Mississippi State in a letdown spot, aided by the in-game injury to Bulldogs running back Kylin Hill. Arkansas has newfound respect following that win, but I view the point spread swing to be an overcorrection.
Arkansas' defense has been adept at slowing the big play, allowing just 1 30+ yard play from scrimmage in their 2 games against ranked opponents. But offensively, Arkansas is not living up to its talent level. The Hogs are averaging just 277.5 total yards (70th out of 74 teams) and 15.5 points per game (68th). Treacherous weather conditions could also limit pass attempts, placing added pressure on the Arkansas ground game (70 ypg, 71st).
Unfortunately, the Razorbacks' bellcow, Rakeem Boyd, was carted off during the Mississippi State game and is questionable with a foot injury. If he is unable to go, expect a drop-off from an already anemic Arkansas running game.
On the Auburn side, I predicted a low-scoring game last week against a dominant Georgia defense, so the Tigers' offensive performance didn't surprise me nor raise any real long-term concerns. I don't believe that Bo Nix and Seth Williams will be contained for a second straight week and the intel they'll be receiving from former Arkansas head coach Chad Morris should only help.
The key to winning and ultimately covering the 2-touchdown spread will be turnover margin. Arkansas has benefited greatly from the 6 takeaways they've generated. The Tigers, meanwhile, have just 1 giveaway. In a turnover neutral game, I see Auburn winning by 3 touchdowns and I expect a nice bounceback performance from Nix and his veteran receiving corps. It doesn't hurt that Gus Malzahn is 8-3 in his past 11 games as a favorite, and 4-0 SU & ATS in his last 4 against Arkansas.
Pick: Auburn-14
Miami at Clemson-14 (63.5)
The Hurricanes have been a pleasant surprise, finding themselves 3-0 SU & ATS. Conversely, Dabo Swinney's Tigers are 3-0 SU but a lethargic 0-3 ATS. But this game is about more than the first 3 weeks of the 2020 season, it's about program-wide experience.
Not only has Swinney been one of the best coaches historically against the spread, he's done particularly well when laying a big number. Swinney's win percentage as a 14+ point favorite is north of 60% during his career and he's coming off a season in which his Tigers dominated against the spread (11-4). But the statistical column that is most encouraging for Clemson-backers in this game is Dabo's work against ranked opponents.
During Swinney's tenure, Clemson is 31-18 against ranked opponents straight up, and 29-20 against the spread. Clemson flat out shows up on the big stage. Miami, on the other hand, is 14-22 straight up against ranked opponents during the same time period and .500 against the spread.
Recent history has me even more bullish on Clemson. Since Trevor Lawrence took over as Clemson's starter in 2018, the Tigers are 6-1 SU and a matching 6-1 ATS when facing ranked foes. They've won those contests by an average score of 37-16.
Finally, Clemson has emptied its bench through the first 3 games of 2020. Four separate quarterbacks have taken snaps, 12 players have carried the football and 15 receivers have hauled in passes. Defensively, 49 players have registered at least 1 tackle. Clemson has used its first 3 games as a de facto preseason. We'll see starters for 60 minutes for the first time this season, and the Tigers' full playbook.
In addition to the historical data favoring Clemson, I see the game within the game in the trenches tipping the scales in favor of the Orange and Purple. Miami has been dangerous offensively because of a renewed rushing attack featuring a dynamic dual-threat quarterback, D'Eriq King. Clemson counters with a defense that is averaging 9 TFLs, 4.3 sacks and 5.7 passes defended per game, all top 15th nationally. I anticipate that Clemson will stymie Miami along the line of scrimmage and ultimately breakaway in the second half.
Pick: Clemson-14
Old game, fresh predictions
For the past 2 weeks, I've utilized NCAA '14 on Playstation 3 to simulate every college football game. The video game has been updated to reflect current rosters, abilities and coaching styles. The results have been striking.
Through 2 weeks, the sim series is now 35-21-2 (62.5%, +11.9 Units) overall, 8-5-1 in SEC play (61.5%, +2.5 Units) and 5-1 when matched up with my top plays. This week the simulation experienced a sea change, breaking from favoring underdogs in the first 2 weeks and backing 5 favorites this time around in SEC play.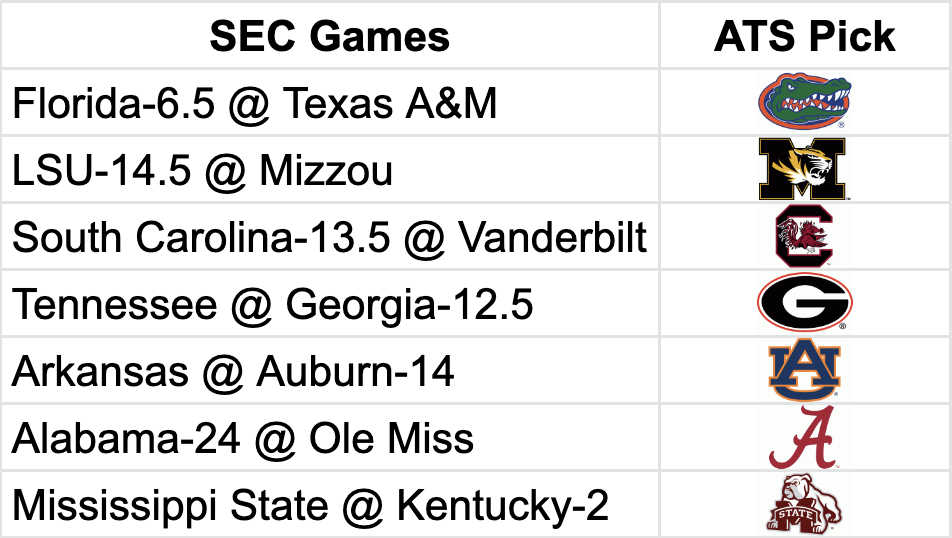 The sim series is calling for blowouts favoring Alabama (51-27), Georgia (38-17), Auburn (45-20) and South Carolina (42-13). Mizzou forced 4 turnovers and came up with a backdoor cover against LSU, 37-24. Mississippi State and Kentucky ended up playing the most entertaining game, a 38-34 shootout favoring the Bulldogs. KJ Costello finished with 364 passing yards and 4 TDs in the duel. Both Terry Wilson and Joey Gatewood ended up taking snaps, although Wilson started and finished the game for UK (271 total yards, 3 TDs). Finally, Florida led wire-to-wire against the Aggies 45-31. The Trask-Pitts Heisman dual campaign continued, teaming up for a pair of passing touchdowns.
As I mentioned, I've been providing my top 3 picks that are mirrored by the simulation. Thus far that combination is 5-1 overall.

BYU is arguably the hottest team in the country, but the market has made a correction. Five touchdowns is a hefty number, especially against a Roadrunner team that has proven it can hang around in both high-scoring (37-35 over MTSU) and low-scoring affairs (21-13 loss to UAB). The simulation calls for a 55-28 victory for BYU and 4 more passing touchdowns for Zach Wilson.
Florida State is dead in the water right now and Notre Dame has established itself as a perennial College Football Playoff threat ever since it bottomed out in 2016. I see this as a one-sided affair and so does the simulation, calling for a 49-17 shellacking in South Bend.
The final top pick here is the over in the ECU-South Florida game. ECU is pretty feisty on offense and a complete disaster on defense. No one gives up more points per game (50!) than the Pirates, which explains why the video game spit out a 45-42 final in favor of South Florida.
Tackling optional in The Red River Shootout
The Big 12 has been synonymous with high-scoring affairs since its rebranding in 1996, but this year feels different. The usual suspects (Texas Tech, Kansas) are getting lit up defensively. Now, however, we find that defensive stalwarts (by Big 12 standards) like TCU and Kansas State are also struggling to stop anyone. TCU is allowing 34 points per game (8th in Big 12) and Kansas State is approaching 500 yards allowed per game. The conference, maybe more than any other year, really needed Texas and Oklahoma to provide some stability. That clearly hasn't happened.
If you remove Texas' performance against UTEP and Oklahoma's against Missouri State, the pair are surrendering 44.5 and 37.5 points per game, respectively. The current total for this year's Red River Shootout is sitting at 72.5, but it's worth noting that 8 of the last 12 meetings between the programs have come in below that number.
In the end, there's just too much offensive firepower to flirt with the under here, and with nearly ideal weather conditions expected at the Cotton Bowl, it's hard to envision either offense slowing down in any substantial way. I'll be playing the over, all the way to 75.