SEC
Betting Stuff: The SEC vs. the world betting strategy
Betting Stuff is a regular sports gambling column here at Saturday Down South with a focus on college football wagering (though don't be surprised to see some non-college football insights from time to time). Betting Stuff is brought to you by BetOnline. If you're looking for a place to make a deposit and start getting in on the action, look no further than BetOnline.    
SEC vs. The World Gambling Strategy
The SEC popularized the conference pride chant to the point that casual gamblers simply couldn't resist blindly backing the Alabamas and Georgias of the world in any and all nonconference/bowl matchups. This strategy has only been bolstered by the conference's dominance on the national stage with 4 national championships and 3 "Bowl Challenge Cup" trophies since expanding to 14 teams in 2012. But is placing blind faith in these programs really a good idea at the betting window? Let's find out.
Our friends over at TeamRankings.com provided the following chart, which illustrates how good oddsmakers really are at their day jobs.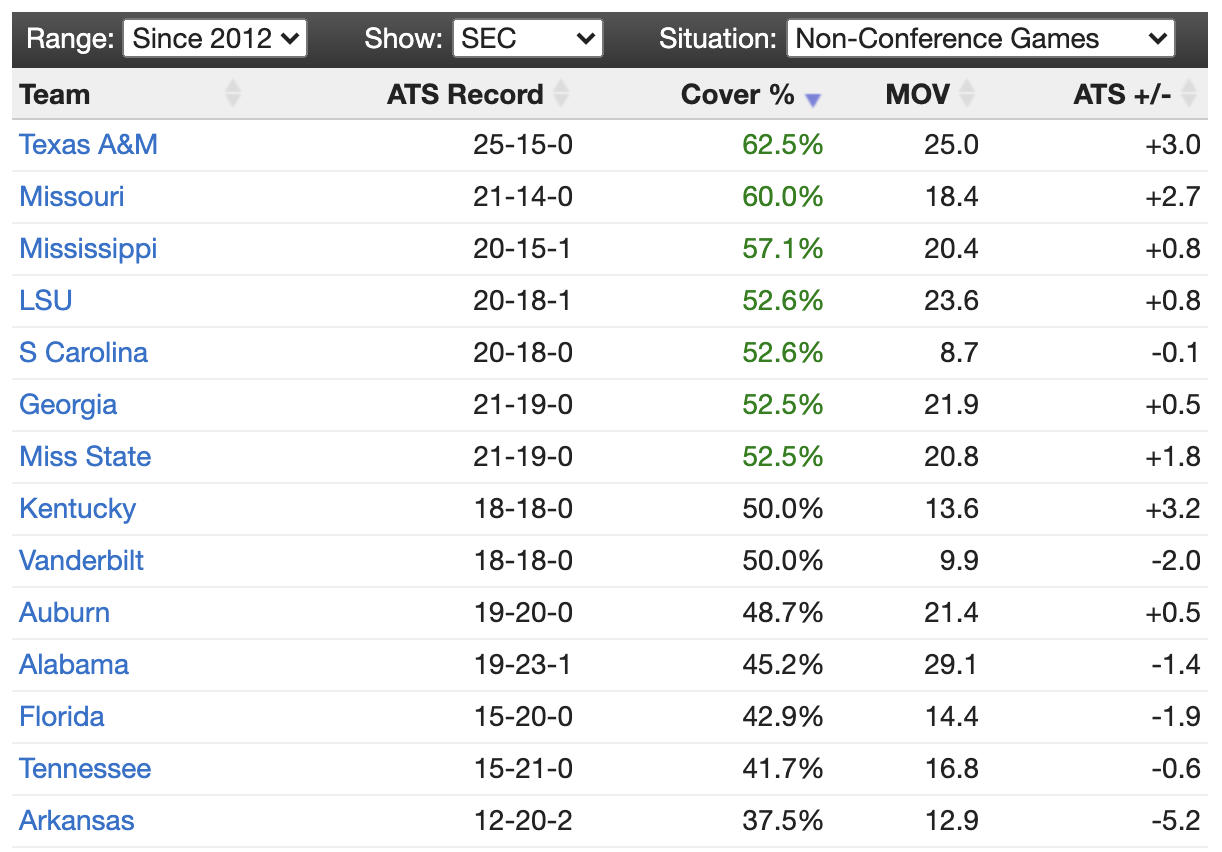 Half of the conference is 50% or worse ATS in nonconference regular-season games since 2012. The other half has been slightly profitable, with the exception of Texas A&M and Missouri, who benefitted from the public greatly underestimating their overall abilities as they made the transition to the SEC. Overall, if you simply placed an ATS bet on every SEC team facing off against a non-SEC opponent during the regular season for the past 8 seasons, you would be 12 games under .500 which equates to an ugly bankroll situation (264-276-5 | 48.8% | -39.6 units).
For those who prefer to wait until bowl season, the SEC's picture isn't a whole lot prettier, except for Georgia.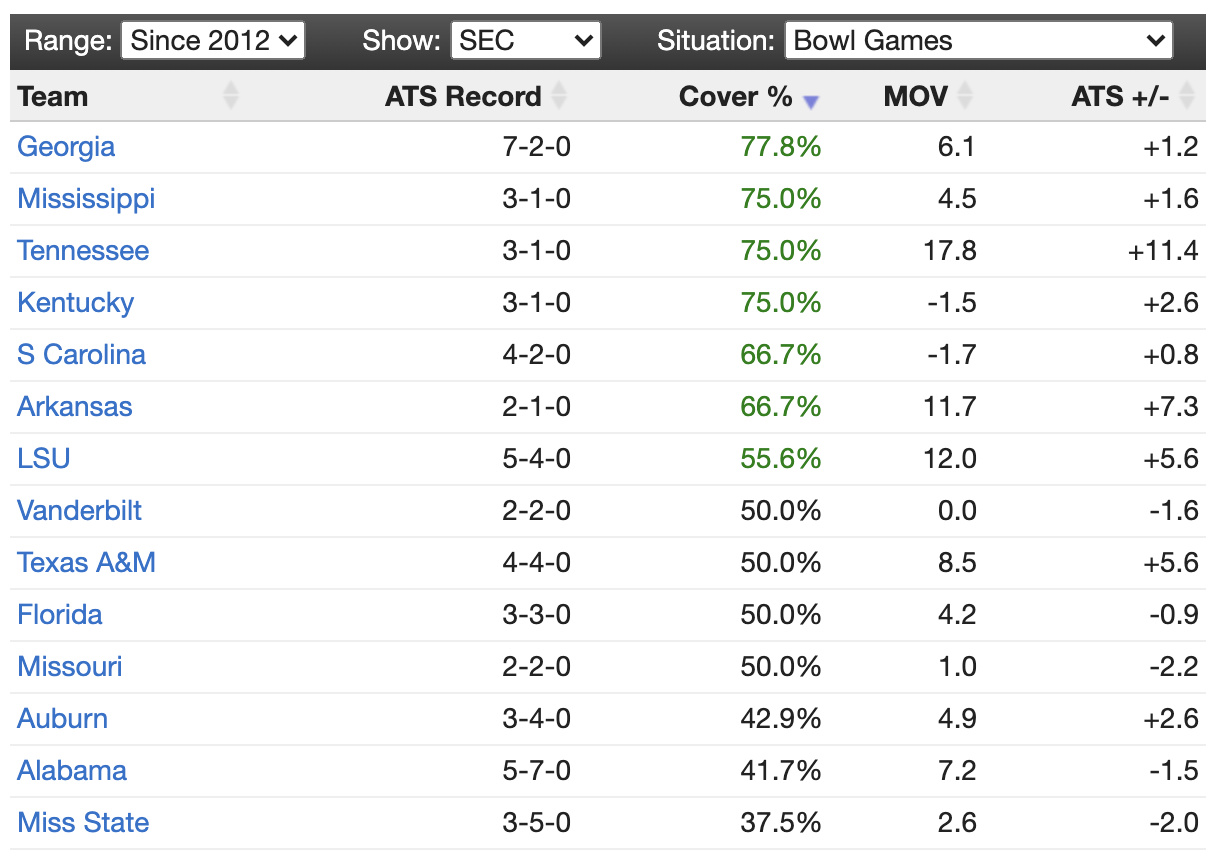 At first glance, this chart seems infinitely more SEC-friendly, particularly if you've had the good fortune of betting on the Dawgs in the past 8 postseasons. But the poor- to- middling play against the spread from a handful of the conference's most "public" teams (LSU, Florida, Auburn, Alabama) drags the SEC's overall bowl performance at the window back down to earth (48-38 | 55.8% | +6.2 units). 
The moral of this gambling story is that backing an entire conference isn't a fully cooked strategy. But if you're going to do it with SEC teams during their nonconference slates, avoiding the trap of backing public teams with their inflated lines is one way to make money during the fall. 
For the Week 1 look-ahead SEC lines that I've circled, let's start with USC-Alabama. I anticipated this line to be in the double digits, given Nick Saban's track record in openers at Alabama (avg. score 41-11 Bama). The better the opponent, seemingly the better the Crimson Tide play, evidenced by their last opener against USC 4 years ago. That 46-point incineration of the Trojans will be mentioned continuously during the lead-up to this game, but its actual impact on "The" rematch should be minimal.
The coaching staffs of both teams are wholly different, save for Saban and Clay Helton, and none of the players who were on the field that night in Arlington will be competing in this game. Once this spread crept over the key number of 14 to 14.5, I pulled the trigger on the Trojans. According to ESPN's Bill Connelly, USC has the 5th-most returning production of any FBS team, which includes a strong offensive line and a rising star at quarterback. Additionally, the bad rap that the PAC-12 gets on the recruiting trail simply doesn't extend to the Trojans. When you look at USC's skill position talent on offense,  it's clear they have the firepower to keep up in this game. Receivers Tyler Vaughns, Amon-Ra St. Brown, Bru McCoy and Drake London were all 4- or 5-star recruits according to 247Sports, as was starting running back Vavae Malepeai. I feel comfortable relying on this dynamic offense should I need a backdoor cover late at Jerry World.
Bronco Mendenhall won a pair of Mountain West titles and the ACC Coastal division last fall by hitching his wagon to good quarterbacks. When he doesn't have a difference-maker as his QB1, his team's ceilings come way down. Which brings us to Virginia's opener against UGA in Atlanta. Mississippi State transfer Keytaon Thompson, a former Gatorade state player of the year in Louisiana, might ultimately be the man for UVA, but he'll be embroiled in a quarterback battle throughout August.
Offensive coordinator Robert Anae went out of his way to avoid naming a starter when asked in April, and with zero reps since then, it's hard to feel confident going up against a consensus top-5 defense in Georgia. Toss in UGA's hiring of Todd Monken, a man who once turned Brandon Weeden into a first-round NFL draft choice, and I think this has the making of a Red and Black rout. The line is currently sitting at 17/17.5 and I would be comfortable playing this one up to 20.5 as the Dawgs look to make a statement 2 weeks ahead of their colossal crossover matchup with Alabama in T-Town. 
With the exception of Lane Kiffin's debut against first-time head coach Dave Aranda (Baylor),  the rest of the SEC slate in Week 1 is pretty poor. That doesn't mean I won't be entertaining a few wagers, but I'll need to spend more time evaluating UTSA, Charlotte, and FCS heavyweight Eastern Washington before putting anything in play. 
A Profitable Strategy For Week 1 Totals
One system that I've found to be relatively profitable in the past 5 years is betting under in matchups that feature 2 first-time starters at quarterback. Since 2016, unders have hit 62% of the time in this scenario when 2 FBS teams square off. If we lump in Week 0 with Week 1, there are 3 games we know for sure will feature first time FBS starters:
Michigan @ Washington

Washington State @ Utah State
San Jose State @ Central Michigan
The COVID-19 pandemic wiped away nearly all of spring football across the country, a factor that is particularly painful for offensive coordinators breaking in new quarterbacks. The natural result will be paired down playbooks, more conservative game plans and higher percentage (check-down) throws to help ease signal-callers into their first collegiate start. The Wolverines-Huskies matchup on Lake Washington has the making of a real slobberknocker of a game. Multiple media outlets have both defenses listed in their top 15, which means that Jacob Sirmon (UW) and the winner of the UM QB battle (Dylan McCaffrey, Joe Milton) will have their work cut out for them in Week 1. Anything above 42.5 will be a must-play for me. 
As for the other two matchups, it will depend largely on the posted total, but I believe SJSU is set to take a significant step backward without the services of Josh Love. Lost in the hype for Utah State's Jordan Love, the MWC's 2nd-best Love-named QB played his way onto an NFL roster by posting a line of 61% | 3,923 yards | 25 total touchdowns at SJSU last fall. Jim McElwain's Chippewas were projected to finish dead last in the MAC West by the media last fall and responded with an 8-6 campaign. They should be even better this fall with a host of returning starters and newfound confidence. I see CMU smothering SJSU to start their season, ultimately sending this game under any total north of 52. 
The "Body Blow" Theory
College football writer Bruce Feldman coined this catchy theory about 8 seasons ago and it gained a significant amount of traction online for two reasons. The first is that the theory makes sense to casual fans. It stands to reason that a defense would be worn down the week after playing a physical rushing attack. That physical toll could leave a defense running on fumes in the following game. The second reason this theory gained notoriety is that Feldman pointed out in 2013 that teams who faced Stanford's ground-and-pound attack quickly fell apart against the run the following week.
After getting manhandled by the Cardinal, programs posted a 3-6 record in the following game and allowed 67 rush yards above their season average. Since it's rise to fame, the "Body Blow" theory has come under attack, much like the entire #EstablishTheRun movement. The data war is over and pass-happy attacks won.  Fewer teams run the ball the way Stanford has under David Shaw and the triple-option attack has been relegated solely to the service academies. Why bring up the triple-option? Well, I'm glad you asked. 
Many college football pundits gleefully poked holes in the "Body Blow" theory, with one exception: opponents coming off of a game against a triple-option team. In addition to the abundant carries teams would be forced to stop when playing a traditional run-first attack like Wisconsin or Arkansas under Bret Bielema, they were now faced with two additional challenges: time-consuming game planning and cut-blocking. Coaches openly loathe a midseason tilt with Navy, Air Force or Army because they simply don't have the time to prepare their team for a unique offense. Forget about looking ahead to the next opponent. There is simply not enough time to conduct thorough film room analysis, prepare a scout team and provide enough on-field reps before a game against a service academy opponent. But it's the second element that really seems to resonate with college football analysts, particularly those who faced the triple-option at the high school or college level. 
The cut-block, a staple of the triple-option, is physically taxing on defensive linemen and at times, dangerous. So dangerous, in fact, that the NCAA expanded its "Blocking Below the Waist Rule" prior to the 2018 season. In 2 seasons the rule change has had the desired effects — first, a spike in cut-block penalties,  and second, reduction in use of the tactic by the service academies. So what was once considered a nightmarish afternoon for defensive linemen is now a little more bearable, which has had a ripple effect on the last bastions of the "Body Blow" theory. 
Mario Cristobal is using the blueprint from his Bama days to turn #Oregon into bad-ass physical program. My old Body Blow Theory seems to be in play> Ducks' FBS opponents are winless in their next two games after facing Oregon:https://t.co/b1Ggjapgfx

— Bruce Feldman (@BruceFeldmanCFB) October 16, 2018
But let's get down to brass tacks, because this is a gambling article after all. Is the "Body Blow" theory really dead? And if so, can I fade it? The answer is a resounding yes — at least against the service academies. In 2019, 27 teams played games with spreads a week after playing a traditional triple-option opponent. Their record against the spread in those games was a sterling 18-8-1 (69.2%). This will undoubtedly be brought up in Week 2 as Arkansas travels to South Bend to play Notre Dame just 7 days removed from its road opener at Navy. I'll be backing the Irish and hope that the "Body Blow" truthers can push the spread a point or two in my favor. 
Sports Betting 101: The Juice
If you ever wonder why it's so hard to consistently make money as a sports gambler, look no further than the juice. Casinos' ultimate goal is to set odds that entice equal action on both sides. The reason that they work so hard to set lines that will attract 50/50 action is that they're essentially charging a tax on each wager placed.
In the U.S., against the spread bets are generally accompanied by 3 negative numbers ranging from -105 to -130. What this means is that you need to risk more than you would net should you win the bet. For instance, if LSU is hosting Ole Miss and oddsmakers have a point-spread near a key number like 10, they might opt to leave the spread at 10 but increase the juice to -125 to balance their books and entice more money to be placed on Ole Miss. The 3-digit number is set against a $100 dollar wager, so in my hypothetical,  if I placed a wager on LSU-10, I would need to risk $125 to net $100 in the event LSU covers. Additionally, if you place every bet with a sportsbook that offers -110 on ATS bets or "sides" as they are sometimes called, you would need to win approximately 52.4% of your bets to simply break even. Winning as many ATS bets as you lose isn't breaking even in the sports gambling world. And therein lies the rub as, they say. 
The Profitability Of Non-Public Teams
As we enter a new decade of college football, it's a nice time to step back and appreciate the past 10 years. From a gambling perspective, a major tenant of sports wagering philosophy held true: There is plus-sized value in backing non-public teams. In simplest terms, non-public teams are programs that receive relatively low ticket volume during the season. This can be attributed to a variety of factors, ranging from conference affiliation to style of play.
MAC teams, for instance, are often relegated to ESPN+ or streaming services like Facebook Live during the season. Fewer viewer eyeballs equate to fewer bets. The second contributing factor to a program being considered a non-public team is style of play. Kansas State under Bill Snyder is a perfect example of this phenomenon at work. Whether operating under center or out of the shotgun, the K-State offense was predicated on ball control and long drives. As a result, casual gamblers took every opportunity to fade the decidedly unsexy Wildcats. Savvy gamblers were able to sit back and reap the benefits of inflated lines in favor of KSU. And as you can see below, backing K-State and small school programs in the past decade has been decidedly profitable.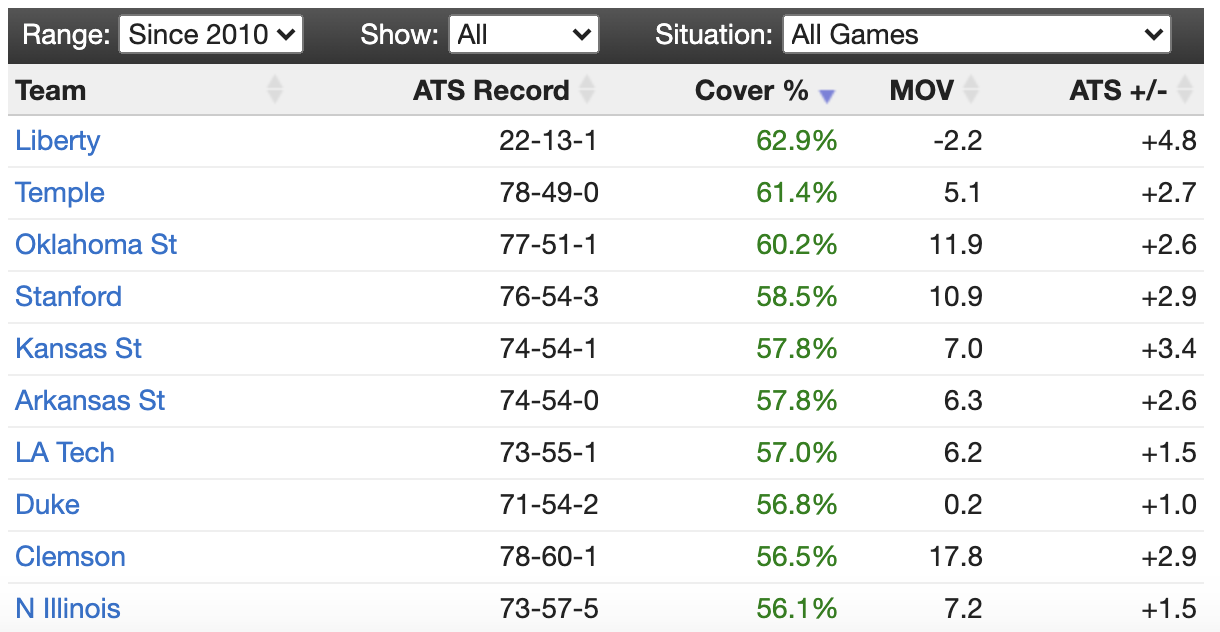 As you peruse this motley crew of college football also-rans, one team provides a needle scratch moment: Clemson. In the next installment of Betting Stuff, I'll be examining college football coaches who love to run up scores (Spoiler Alert: Dabo). Last fall, the Tigers' ATS record was 11-4 overall and 10-2 in contests in which they were favored by 24-points or more. No team had covered that many 21+ point spreads in a single season since the 1995 Nebraska Cornhuskers. 
But setting aside the absurd gambling exploits of Clemson in 2019, the rest of the ATS top 10 goes to show that while much has changed in college football over the past 10 years, the non-public gambling strategy still holds true.
As a parting shot in this week's article, I'd like to highlight one of my favorite teams to back virtually regardless of circumstances. Navy, which has placed 11th in the ATS rankings since 2010, has been a virtual ATM for gamblers since head coach Ken Niumatalolo took over 13 years ago. And once again, the narrative on the Middies will be that 2020 is a year to fade them as they break in a new field general. Take advantage of this overcorrection by the market and consider taking Navy in their season opener against Notre Dame, especially if the line opens at 17 with the game now being played in Annapolis.