SEC
Biggest blowouts in every team's signature rivalry game
Demolishing your hated rival on the gridiron is something SEC fans relish.
It brings out a sense of pride watching your team succeed in such fashion. Some teams in the SEC enjoy beating a conference foe. Others rejoice in crushing an in-state rival.
First, let's list the biggest rival for each SEC team:
Alabama — Auburn

The "Third Saturday in October" is special game for Crimson Tide fans, but beating Auburn tops the list.

Arkansas — LSU

The "Battle for the Golden Boot" is treasured more by Razorbacks than Tigers, giving added incentive to win this game every year.

Auburn — Alabama

Most Auburn fans would give up their house to relive Chris Davis' "kick six" all over again.

Florida — Florida State

Less than 150 miles separate two powerhouse programs.

Georgia — Florida

The "World's Largest Cocktail Party" means slightly more to the Bulldogs with the Gators having to finish their season every year against the Seminoles.

Kentucky — Louisville

While both are known for what they have done on the hardwood, the "Governors Cup" can be intense and exciting.

LSU — Alabama

While Alabama has owned this series as of late, this is the marquee game for which every true SEC fan marks their calendar.

Mississippi State — Ole Miss

Who knew a rivalry could blossom so much fighting over an egg?

Missouri — Kansas

This game in 2007 was one of the most underrated college football games of all time and it's sad these two teams don't play anymore.

Ole Miss — Mississippi State

Some Ole Miss fans will say LSU, but beating "those punks" in Starkville is essential for all Rebels fans.

South Carolina — Clemson
Tennessee — Alabama

It has been a while since Tennessee has gotten the best of Alabama (2006), but this is a historic game that SEC fans clamor for year after year.

Texas A&M — Texas

Like Missouri and Kansas, somehow the schools need to come together and figure out a way to play each other because it was of the great rivalries in years past.

Vanderbilt — Tennessee

Every once in a while, the Commodores surprise the Volunteers.
You'll notice that some teams' biggest rivals do not coincide. Certain teams value rivalries in a higher echelon than others.
Most SEC fans probably think the Crimson Tide are their rival, because Nick Saban has run through the SEC like a hot knife cutting butter. Alabama doesn't feel the same way about most teams.
Let's take a look at the biggest blowouts of each team's biggest rival.
Alabama
When: Dec. 4, 1948
Where: Birmingham, Ala.
The two programs had not played since 1907 after a scuffle in a game between the teams. Alabama quarterback Ed Salem scored four touchdowns and Alabama overwhelmed Auburn 55-0.
Arkansas
When: Nov. 24, 1910
Where: Little Rock, Ark.
The "Battle for the Golden Boot" has produced some barn-burners as of late, but way back in the day, the Razorbacks smashed LSU 51-0. The game took place on Thanksgiving and thanks to Hog Database, we know the game only cost 10 cents.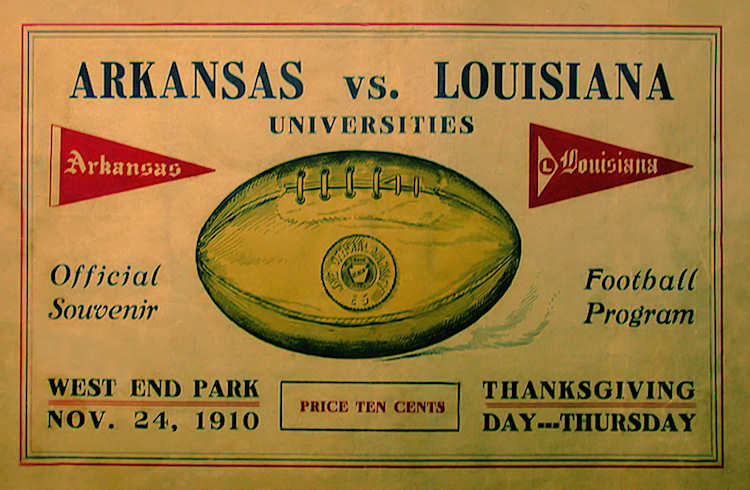 Auburn
When: Nov. 23, 1895
Where: Tuscaloosa, Ala.
The Tigers dominated the Crimson Tide by a score of 48-0 under first-year coach John Heisman. No stats were recorded of this game. (In 1900 Auburn won by the same margin, 53-5.)
Florida
When: Dec. 1, 1973
Where: Gainesville, Fla.
It was a glorious day for Gators fans. The Seminoles opened the game with a bit of trickery, trying to recover an onside kick, but Florida recovered. The game just got worse for Florida State, which was shut out 49-0.
Georgia
When: Nov. 7, 1942
Where: Jacksonville, Fla.
The Bulldogs unleashed hell and smashed the Gators 75-0. Coach Wally Butts also led Georgia to a Rose Bowl appearance that season.
Kentucky
When: Oct. 14, 1922
Where: Lexington, Ky.
The Wildcats have surprisingly only faced Louisville 29 times on the gridiron. In this meeting the Wildcats crushed the Cardinals 73-0 to win the "Governor's Cup."
LSU
When: Sept. 28, 1957
Where: Baton Rouge, La.
"Death Valley" typically comes alive at night, and that was the case on this night. The Tigers obliterated the visiting Crimson Tide 28-0. The image below is a program from Pride of the Tide.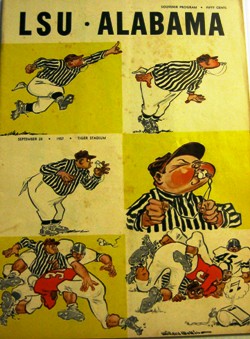 Mississippi State
When: Nov. 6, 1915
Where: Tupelo, Miss.
Winning 65-0 and scoring 10 TDs in the process is a fabulous way to beat your rival.
Missouri
When: Nov. 22, 1969
Where: Lawrence, Kan.
The Tigers' biggest win in the "Border War" occurred almost 50 years ago when Missouri beat Kansas 69-21. (Missouri has beaten Kansas by 48 three other times but scored the most points in the 1969 meeting.)
Ole Miss
When: Nov. 25, 1971
Where: Starkville, Miss.
The Rebels traveled to Starkville and hammered the host Bulldogs 48-0. The rivalry did not return to Starkville for another 20 years.
South Carolina
When: Nov. 22, 1975
Where: Columbia, S.C.
The 1975 season was just average for South Carolina at 7-5, but this was not an average rivalry win. They annihilated Clemson 56-20. At the time, it was the most points the Gamecocks managed to hang on the Tigers in a game.
Tennessee
When: Nov. 7, 1969
Where: Birmingham, Ala.
Like Missouri, Tennessee's best win against their biggest rival took place in 1969. The Volunteers mauled the Paul W. "Bear" Bryant's Crimson Tide 41-14 at Legion Field. Tennessee linebacker Jack Reynolds went on to be taken No. 22 overall in the NFL Draft. (The Vols won by the identical score in 1995, also in Birmingham.)
Texas A&M
When:  Nov. 28, 1985
Where: College Station, Texas
One of the most recent blowouts on this list, Texas A&M trampled Texas 42-10 in front of the "12th Man." The Longhorns couldn't get the passing game going, throwing four interceptions during the game.
Vanderbilt
When: Nov. 9, 1918
Where: Nashville, Tenn. 
To find the largest lopsided victory in favor of the Commodores, you have to travel back almost 100 years, where Nashville witnessed destruction of the Volunteers. The mid-afternoon game had a twist. Tennessee had momentarily ended varsity football during World War I, so Vanderbilt really played a Volunteers team comprised of Student Army Training Corps, which you can read more about here. Vandy won 74-0 according to accounts of the day but both schools list it as 76-0 in their media guides.