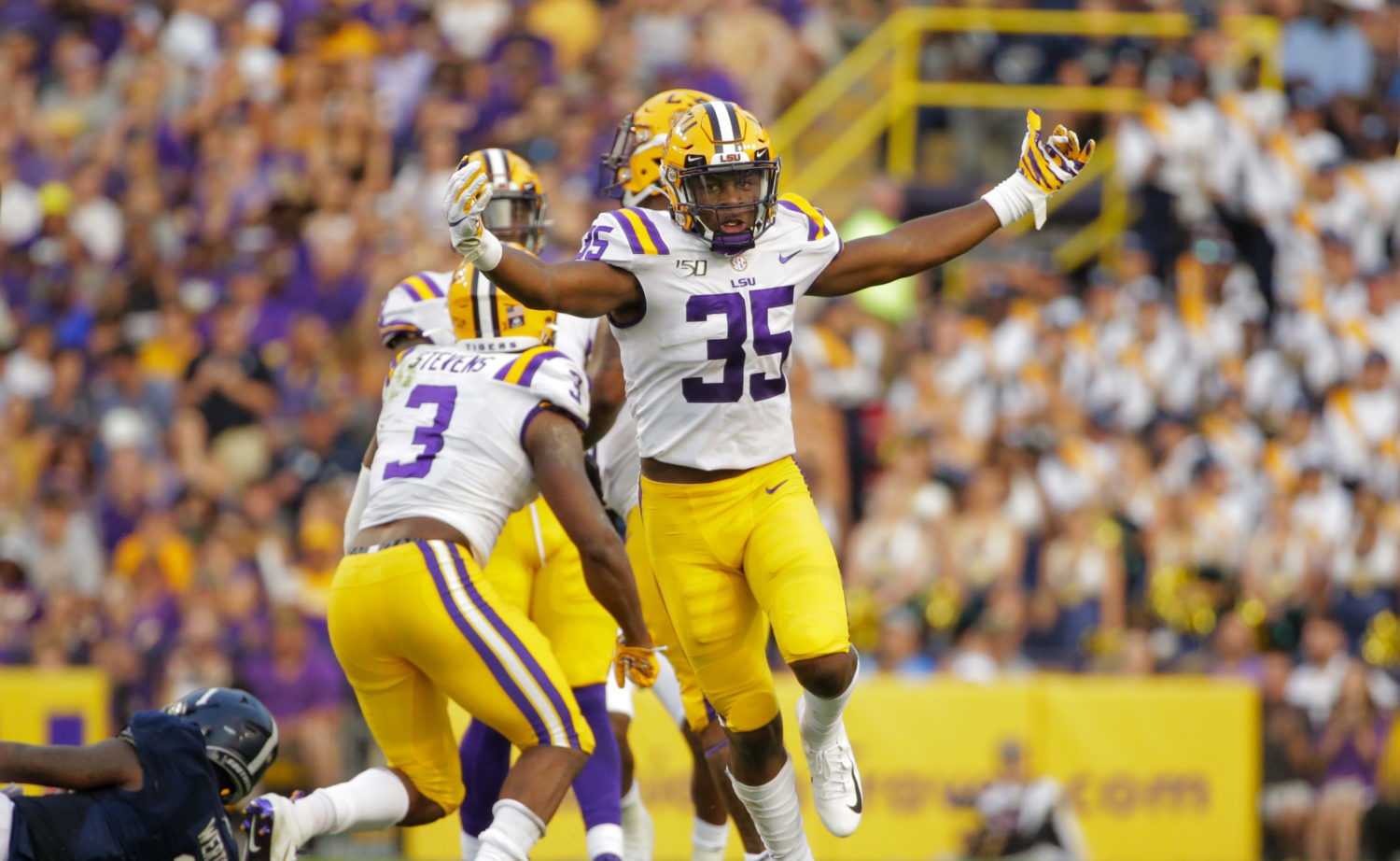 SEC
Bold prediction for every SEC game in Week 2
Well, was that bold enough for you? As bold as we get (and we said USC would have a battle on its hands), we didn't foresee losses in Week 1 for UT, USC and Mizzou. But back here at the Bold Prediction Department, we'll double down for Week 2. Here's a bold prediction for each Week 2 SEC game.
Alabama lo … kidding, kidding. Alabama wins by 60
How bad is this matchup? Have we seen a spread larger than 55.5 points? Doesn't matter, because Alabama covers it. New Mexico State lost to Washington State 58-7 last week … while Alabama beat Duke 42-3. Could it be 100-10? Maybe. The Aggies gave up over 500 passing yards last week, and Alabama will get TD passes not only from Tua, but also Mac Jones and either Taulia Tagovailoa or Paul Tyson, whoever plays 3rd-string snaps. We hope it's Taulia, just so the "replace Tagovailoa with Tagovailoa" tweets can start when Tua throws an incomplete pass.
LSU rolls … just don't call it an upset
Texas is at home, but Texas is overrated. The Longhorns allowed 261 passing yards per game last year. They gave up 340 last week. Combine that with LSU suddenly passing the ball with a smoothness unseen in the Bayou in many years, and you have a recipe for a 1-sided game. LSU will score early and often on Texas, and the Tigers' defense is too good for the Longhorns to keep up. This looks like a 35-14 kind of game, and Joe Burrow continues to be the SEC's best quarterback not named Tua (sorry, Jake Fromm).
A&M leads at the half, but loses another heartbreaker
Sure, that Clemson offense is tough, but lost in the details of Week 1 is that the Tigers gave up 157 rushing yards to Georgia Tech. Only twice last season did Clemson allow that many yards on the ground. Combine that with the excellent ground game that A&M has shown and there's no reason to think the Aggies won't rush for 150 yards or so. The A&M defense will keep things close early and the Aggies will lead at the half, but Clemson will wear them down late and send the sellout crowd home happy. A&M definitely covers the spread, but Clemson runs the 2-minute offense too well in the 4th quarter and wins by a touchdown.
The Big Kat strikes again, and Auburn gets 2 defensive scores
Auburn's defense was the takeaway of Week 1 … not only that they were good, but that they absolutely locked Oregon down when it counted. In particular, don't forget Markaviest "Big Kat" Bryant, whose scoop and rumble helped turn the tide of the game. The Big Kat was denied the end zone in Week 1, but he'll find a way to get there against Tulane and QB Justin McMillan, a former LSU Tiger. Auburn will get ahead early and will end up with a pair of defensive scores in a comfortable win.
300 yards for Tommy Stevens
Mississippi State was so-so in Week 1's win over Louisiana, but the offense will continue to make headway in a thumping of Southern Miss. Actually, the Golden Eagles, much like Louisiana, will score enough to keep it close, with QB Jack Abraham hitting some big plays. But a close game just means more time for QB Tommy Stevens, who was sharp for a balanced offense in the opener. Stevens has his first 300-yard game this week and State wins by 14.
Arkansas finds a way
Neither Arkansas (a touchdown winner over Portland State) nor Ole Miss (a 5-point loser at Memphis) showed any great football glory last week. So what's the difference Saturday? Arkansas will ride its ground game, with Rakeem Boyd, to victory. The Rebels allowed 192 rushing yards to Memphis, and Boyd is good for 25 carries and 150 yards in the Razorbacks' surprise win.
2 Dawgs top 100 yards rushing
So this might not be a shock, but Georgia will pound the ground game against FCS Murray State. The Bulldogs rushed for 325 yards at Vanderbilt, and they might hit 400 this week. As good as Jake Fromm is, Georgia is basically saving the passing game for Week 4 and beyond. Says here that Georgia won't throw the ball more than 20 times on Saturday — in part because they won't need to, and in part because Fromm won't be in the game very long. Swift and Zamir White each go for 100 yards Saturday.
Feleipe leads the SEC in passing this week
Florida gets FCS UT-Martin and will use this as a "get right" game ahead of a Week 3 trip to Lexington. Given how up and down Feleipe Franks was against Miami, he'll be a big part of the puzzle. Freddie Swain, Van Jefferson, Josh Hammond, etc., they'll all get loose early and often against UT-M. Franks might pass for 400 yards. How bold is that? Franks has never had a 300-yard game as a Gator.
Missouri gets the run game right against West Virginia
Not only did Mizzou lose in Week 1, but it rushed for 2.7 yards per carry against Wyoming. They won't do that twice, and will crush a West Virginia team that struggled to escape an FCS opponent last week. Look for Larry Rountree to have a huge game, with 150 rushing yards and a pair of touchdowns on the ground.
Carolina doesn't cover in the Hilinski era's debut
True freshman QB Ryan Hilinski is the man at South Carolina, and that adjustment will take the edge off the Gamecocks. Not to fear, this Charleston Southern team lost to Furman by 33 points last week. South Carolina will play much better than it did last week, but a new quarterback won't cover a 40.5-point spread in his first start. USC rolls but in a 42-7 kind of game with Tavien Feaster rushing for 100 yards and a pair of touchdowns.
Tennessee loses again
Look, there's no way to sugarcoat this. The Vols have more talent than BYU. The Vols had more talent than Georgia State as well. If this game is close in the 4th quarter, how comfortable can Vol Nation feel? BYU QB Zach Wilson leads a 2-minute drive late to drop UT deeper into their season of agony. (And hey, UT fans, on the bright side, I thought Auburn would lose last week, so go with that as a positive sign.)
Terry Wilson has his first 300-yard game
Kentucky wants a quick start in Week 2, and given that Eastern Michigan allowed 304 passing yards to Coastal Carolina, the Wildcats will look to Lynn Bowden, Ahmad Wagner and Josh Ali to continue to development of a passing game from anemic last year to potentially dangerous this season. Each guy nabs a touchdown from Terry Wilson, who has his first 300-yard passing game in Lexington as the Wildcats win by 21.
Deuce gets loose for Vandy
Riley Neal's first game as Vandy's QB wasn't earth-shaking, and once Purdue explodes for a couple quick touchdowns, Derek Mason will go to Vandy's backup, Deuce Wallace. Wallace will take more chances in the downfield passing game, but it'll be too little, too late to keep Vandy from falling to 0-2. It probably will change the starting QB for Week 4 matchup with LSU.