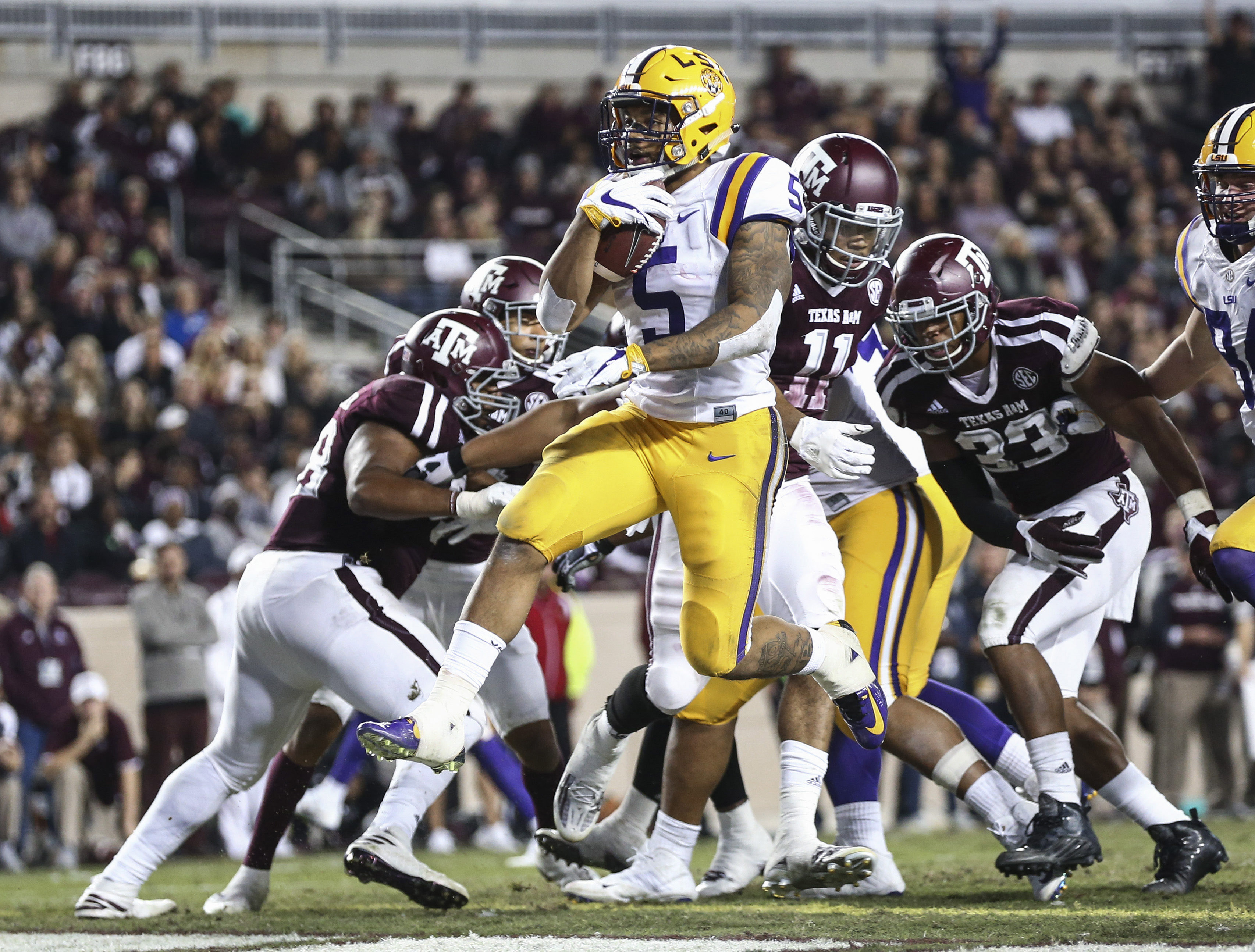 SEC
A bold prediction for each SEC Rivalry Week game
What better way to end the regular season than by getting bold? Like everybody else, we're going to fill up on turkey, tune in to some games and live large. Unlike everybody else, we're going out on some predicting limbs. A few will snap off — they always do — but until the real food is ready, here's some food for thought. Check out a bold prediction for each SEC game of Week 13.
Nick runs wild again in the Egg Bowl
Can Nick Fitzgerald top the 258 rushing yards he had in last year's matchup with Ole Miss? It says here that he doesn't, only because he has a more balanced game with 150+ passing yards as well as 200 on the ground. When the SEC's No. 3 running game matches up with the No. 13 running defense, the end results almost promise to be explosive.
Arkansas lays an egg in Bret Bielema's last game
A year ago, Missouri came into this game with little to play for and delivered an impressive performance. So does the script flip? Not exactly. Arkansas brought their A game last week, but this week, the SEC's worst pass efficiency defense will have a long day. Give us Mizzou by three scores, and Arkansas can start coach hunting.
Kentucky gets outgained by 150 yards … and wins
Stephen Johnson outplayed Lamar Jackson in this game last season. Is it realistic to expect him to do that again? Probably not. But it may well be realistic to expect sophomore back Benny Snell to have a career day. Snell wasn't a big factor last season, but UK will need a big game from him this time to stay competitive. Says here that Snell delivers. Louisville will run up and down the field, but Kentucky will hold them to some field goals and make a big play or two. Remember that Louisville has exactly one win this season against teams with winning records (and that was a 6-5 Virginia team).
The team that rescheduled its 12th game beats the one that mercifully didn't
Florida State is bad. Really, really bad. They're still better than this rudderless Florida team. Cam Akers is probably the best offensive player in this game, and he'll take control. Florida used to be tough on the run, but not this year. State by a touchdown in a game that nobody really wants to see.
Georgia runs all over Tech
In past seasons, Tech has made this game competitive by being tough in run defense. This 5-5 Tech team isn't one of the program's best specimens. It allowed 319 rushing yards last week against Duke. And the triple-option offense won't help much once the Yellow Jackets are down two scores. Georgia will go deep into the bench to save fuel for the Iron Bowl winner. Last week against Kentucky, three Bulldogs had 50+ rushing yards. This week, it'll be four. Bulldogs by 28.
Tennessee gets it right
Faced with becoming the first eight-loss team in school history, this Volunteers team will pull it together in a half-empty stadium and actually put up 30 points. Vanderbilt's defense has been shredded at home by Kentucky (on the ground) and Missouri (in the air). They're mailing in 2017 at this point, and UT wins a 31-17 type of game.
Derrius Guice shows up one more time
In what will likely be his final regular-season game at LSU, Derrius Guice has another one of those games: 200 yards, a couple of big-play highlight runs. The Aggies are sagging with the word of Kevin Sumlin's impending departure, and Guice doesn't help. LSU by three scores, with Guice leading the SEC in rushing this week.
Clemson struggles for a half vs. USC
The Tigers could actually be looking past this game, anticipating their showdown for the ACC title and a CFP berth. They shouldn't be. Carolina is pesky enough to make this interesting, and that's exactly what they do … for a half. Dabo regroups the troops at halftime and they win. But next month, when they're waiting for their Playoff game, they'll realize how close they came to blowing it against USC.
Daboll has an extra trick up his sleeve
The Brian Daboll era at Alabama so far has been remarkably quiet and close to the vest. The smart money is that he's got a few wrinkles he's saved for Auburn. We wouldn't be at all surprised if one of them involves Tua Tagovailoa, who is still the best QB in college football who is not playing. This Auburn team, while almost equal to Alabama, is prone to losing focus. They can't lose it for a minute in the Iron Bowl. We think Daboll's got something to catch them napping, and that it ends up being the difference. Tide by 7.