SEC
The take on all 14 SEC mascots, from the mouth of a 7-year-old
Erica Davis of the Disney-sponsored blog "Babble" has shared her toddler's lighthearted take on 30 college football mascots. We're talking about the student crammed into a giant, sweaty suits dancing for our amusement on game day.
But Davis' list only includes four SEC teams. To get a complete kid's take on the anthropomorphic-side of the conference, we enlisted SaturdayDownSouth's resident 7-year-old – aka my daughter –  to finish the job and help us understand what the kiddos are actually seeing in the SEC mascots.
To wit:
Alabama's Big Al – "He's funny. He looks softer than a pillow."
Big Al does look as if he gives big hugs.
Arkansas' Big Red and Sue E. – "The boy looks evil because of his tusks; the girl just looks red and nice."
Boys are evil, stay away from them.
Auburn's Aubie the Tiger – "He looks big and weird and fuzzy with his big beard. Why is he always pointing?"
He's always pointing because…well, you see, mascots like to…umm…so to answer your question, I don't know why he's always pointing.
Florida's Albert Gator – "He's so happy…and a little dopey (giggles)."
Don't let them hear you say that in Gainesville.
Georgia's Hairy Dawg – "He looks old and tired and kind of scary. The real puppy looks cute."
Score a check in the win column for Georgia's new UGA X mascot.
Kentucky's Scratch the Wildcat – "His face looks creepy."
Scratch was designed to be a more kid-friendly alternative to "The Wildcat," the school's original mascot, but neither costumed character seems to impress my daughter.
LSU's Mike the Tiger – "He's kind of scary with those teeth and jaws. His nose looks old, but he looks soft."
I'm pretty sure Mike's nose is like that so the poor schlep inside doesn't pass out on 90-degree game days.
Mississippi State's Bully the Bulldog – "Awww…I wish I had a bulldog puppy." – What would you do if you saw him? "I'd run away."
Uh oh, this post is going to cost me.
Missouri's Truman the Tiger – "More Tigers? He's definitely yellow. I think he looks kind of scared…scaredy cat."
That ought to go over well with the Mizzou fans.
Ole Miss' Rebel Black Bear – "He's definitely scary. He has a big mouth."
Are we talking about the bear mascot or the Colonel Reb costume? Ole Miss' attempt to go cuddly after replacing Colonel Reb in 2003 is lost on her. If only they'd gone with Admiral Ackbar, they might be able to impress a seven-year-old.
South Carolina's Cocky – "It looks like he's wearing a skirt. It kind of looks like a girl. She has those blue eyes."
History lesson, Cocky actually spent some time as a female cheering on the Gamecocks' women's tennis team in the early 1980s. In fact, she was…never mind, the history lesson put my daughter to sleep.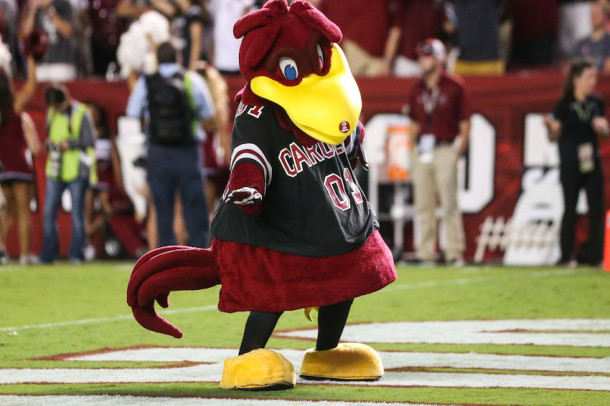 Tennessee's Smokey X – "He's soooo cute. He looks like our puppy."
Smokey the Bluetick coonhound looks like a Welsh terrier?
Texas A&M's Reveille VIII – "Ooooh another puppy! I can't tell if that's a boy or a girl puppy."
Her nickname is "Miss Rev," so I'm gonna go with the latter.
Vanderbilt's Mr. Commodore – "What the heck?!? Weird, he's so weird. He looks old, but strong. He could probably knock me down."
That's a legitimate concern. You don't want to anger Mr. Commodore, lest you feel his wrath.