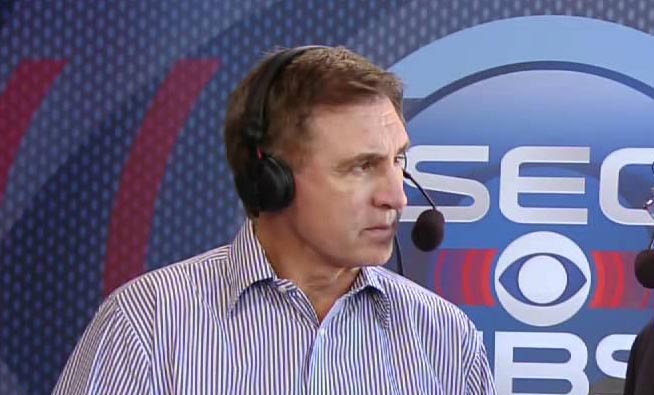 SEC
Criticizing the broadcasters: Gary Danielson's mix-up and more
Last Saturday's Tennessee-Georgia tilt was a tremendous game with a terrific ending, which CBS Sports' Verne Lundquist and Gary Danielson handled with aplomb. But earlier in the game, Danielson dropped the ball.
While commenting on Tyler Catalina, who formerly played at Rhode Island, Danielson said that the Bulldogs offensive lineman was a "gransfer trad," mixing up the phrase "grad transfer." Unfortunately for Danielson, his critics took him to task on Twitter:
"The gransfer trad" — Gary Danielson with an attempt at English?

— Alec Shirkey (@AShirkey) October 1, 2016
Gary just said the gransfer trad. He is an idiot

— Dawg Dynasty (@Dawg_Dynasty) October 1, 2016
Gary Danielson just said the "gransfer trad" instead of "grad transfer". I can't make these things up.

— Scott Hodnett (@ScottHodnett) October 1, 2016
I think Gary Danielson just said "gransfer trad." Might want avoid those pregame tailgates, Gary.

— Jason Frakes (@kyhighs) October 1, 2016
not even 5 minutes in and already a mess up on air. The words "gransfer trad" were just said

— Nathanael Rutherford (@Mr_Rutherford) October 1, 2016
Musburger struggles in Death Valley
SEC Network's Brent Musburger seemed to enter a land of confusion during his call of Missouri-LSU on Saturday night. For starters, one big coincidence was lost on him.
Ed Orgeron was leading the Bayou Bengals in his first game as LSU's interim coach. From time to time, Musburger called Orgeron "Coach O" more than likely not realizing that his coaching counterpart that night, Missouri's Barry Odom, could probably be referred to the same way.
It's annoying that Brent Musburger keeps calling the LSU coach "Coach O" as if #Mizzou's coach's last name doesn't also start with O.

— Marcus Wilkins (@TheBigM_) October 2, 2016
As if that weren't confusing enough, it seems another coincidence was lost on Musburger. He apparently kept referring to LSU as the Tigers, seemingly not realizing that Missouri shares the same nickname.
I'm not sure if Musburger knows that both teams' mascots are tigers. #MIZvsLSU

— Bryan Goers (@BryanGoers) October 2, 2016
Strange but true
And last but not least, even though this didn't involve an SEC team, it still should be mentioned just because of how bizarre it was. ESPN color commentator Mack Brown bolted from Friday night's Toledo-BYU telecast in the third quarter so that he could catch a flight to Bristol, Conn.
He left play-by-play guy Adam Amin alone in the broadcast booth. At least Amin got to call the rest of BYU's thrilling 55-53 victory on a last-second field goal.
It makes us wonder if Brown knew he had to leave early, then why did he even work the game? Didn't he account for the game running long – which it did – or possibly going into overtime?
I have never, ever seen this before. Mack Brown is doing the game for ESPN, and then… "Alright fellas, LATER!"@awfulannouncing pic.twitter.com/lUob4rTVEl

— Funhouse (@RNs_Funhouse) October 1, 2016
Mack Brown left Texas too late and this game too early. Both with credibility questions https://t.co/rge2QtajcY

— Clarence Hill (@clarencehilljr) October 1, 2016
I'm incredulous. Mack Brown is leaving the booth in the 4th quarter of a close game. Why did ESPN even schedule him?

— Bryan Fischer (@BryanDFischer) October 1, 2016
Mack Brown just left during the game so you know he's still a Texas fan.

— cuppycup (@cuppycup) October 1, 2016
Mack Brown needs his beauty sleep.

— Tom Fornelli (@TomFornelli) October 1, 2016