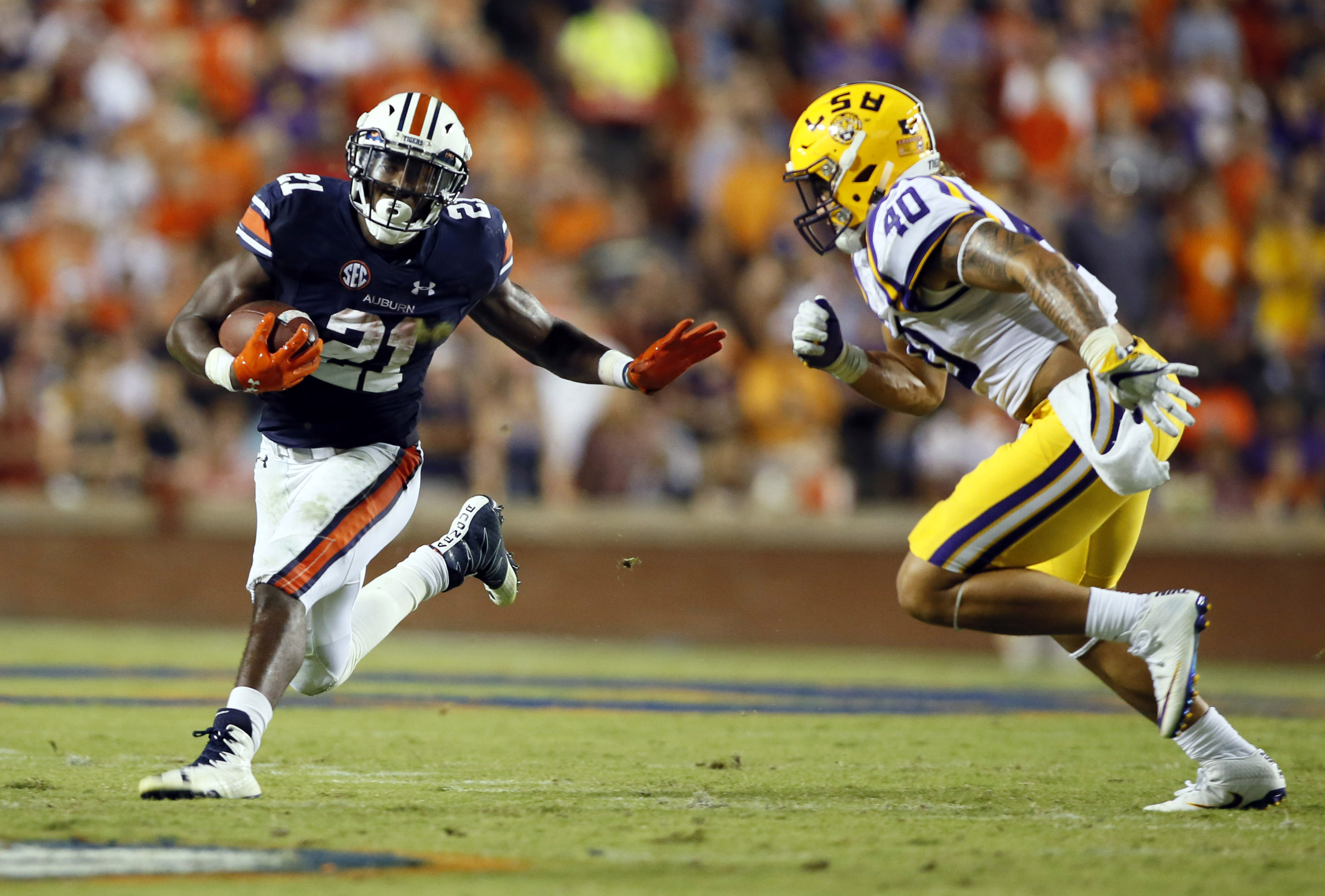 SEC
The crucial game for all 14 SEC teams
Before we begin, we must define "crucial." Every college football game is important in some sense. Teams only have 12 of them. Alabama playing Fresno State could prove crucial if the Tide lose. Rivalries also have great import. The Iron Bowl will weigh more heavily on Auburn's season than any other game.
What we're looking for here are the swing games. The crucial game is the game that will define a team's season and, in all likelihood, will make the difference between a team living up to its expectations or not.
Here are those games for the 14 SEC teams in 2017.
Alabama: Nov. 25 at Auburn
Most expect Alabama to win the West, to win the SEC, and to have an excellent shot to Roll Damn Playoff in January. The team with the best chance to derail that inevitability during the season is Auburn. The Tigers could be within a game of Alabama for the West when they head to Jordan-Hare. We've seen Auburn pull off the impossible before.
Arkansas: Sept. 23 vs. Texas A&M (at AT&T Stadium)
Bret Bielema's Arkansas teams have produced some impressive advanced stats. It's time for some wins. The Razorbacks have a manageable schedule. If Arkansas beats Texas A&M, it could enter the Bama game 5-0. The Hogs would still have Coastal Carolina, Mississippi State and Missouri at home left on the schedule. Having three or perhaps four losses after the Auburn game could be a problem.
Auburn: Oct. 14 at LSU
Auburn enters the season hyped. Gus Malzahn does not want to find out what happens if his team does not live up to it. Would 10 wins be a solid regular season? Auburn must beat Clemson, LSU or Alabama to do it. LSU is the most attainable. LSU is also the team Auburn must muscle out to get a shot at leapfrogging Alabama in the Iron Bowl.
Florida: Oct. 7 vs. LSU
Florida plays three true SEC road games in 2017: Kentucky, Missouri and South Carolina. The Gators should have an advantage with the cross-division draw. Tennessee plays at Alabama. Georgia plays at Auburn. Florida faces LSU at home. Beating the Tigers could put Florida in the driver's seat for another SEC East crown and in contention for a bit more.
Georgia: Sept. 30 at Tennessee
Kirby Smart has recruited well. He must have a strong second season to maintain that momentum. Georgia can weather a loss to Florida. Things will look better or bleaker depending on what happens in Neyland stadium. That could be Georgia securing a 7-0 arrival at the Cocktail Party, with South Carolina (home), Kentucky (home) and Georgia Tech (away) enough to get them to 10 wins.
Kentucky: Nov. 11 at Vanderbilt
Kentucky's reasonable goal will be to return to bowl play. Maybe the Wildcats upset Louisville again, but we suspect they will need three SEC wins. One of those wins probably must come on the road. South Carolina and Mississippi State are tough but doable. Vanderbilt gives Kentucky its best opportunity.
LSU: Oct. 14 vs. Auburn
Is Ed Orgeron the right man to get LSU back on top in the SEC West? He needs to show something this season against a brutal schedule. The Tigers play at Mississippi State, at Florida, at Ole Miss, at Alabama and at Tennessee. Going 6-0 with the home advantage at Tiger Stadium will be a must. That means beating Auburn.
Mississippi State: Nov. 23 vs. Ole Miss
Dan Mullen has brought Mississippi State to seven consecutive bowl games. Multiple times during that streak, he has done that by pulling off a dramatic win in the Egg Bowl, securing postseason play and saving himself an offseason of grief. Mississippi State might be in that fringy bowl territory again, making this game a must win. Losing to this Ole Miss team could also be troublesome for him.
Missouri: Oct. 7 vs. Kentucky
Missouri's mission? Get back to bowl play, after missing out for two consecutive seasons. The non-conference schedule is more than manageable. Their feature Power 5 opponent is Purdue (3-9 a year ago and picked to finish tied for last in the B1G West). Missouri probably must win two from South Carolina, at Kentucky, at Vanderbilt to reach six wins. Getting the first two puts Mizzou at 4-1, with Idaho and UConn left on the schedule. The Kentucky game can alleviate a lot of pressure or pile it on, depending on the result.
Ole Miss: Nov. 23 vs. Mississippi State
We won't call anyone with a firm opinion of how Ole Miss will fare in 2017 a liar. But, we would call them overconfident. This team has a great deal uncertainty. It had a great deal when Hugh Freeze was still there. If things go wrong with that schedule, they should go very wrong. Egg Bowl revenge might be all Ole Miss has at stake. That's also a game where Matt Luke doubtless needs a solid showing to keep the job permanently.
South Carolina: Oct. 7 vs. Arkansas
Two capable ACC bookends, N.C. State and Clemson, present South Carolina with a sticky wicket in the conference. The Gamecocks might need four SEC wins to reach bowl play. If that's true, Arkansas at home is the best opportunity for that fourth conference win. If South Carolina blows it, it might have to come from Tennessee (away), Georgia (away), Florida, or Clemson.
Tennessee: Sept. 30 vs. Georgia
Butch Jones needs a 9-10 win season to turn down the heat. That requires winning at least one of their four toughest games (at Florida, Georgia, at Alabama, LSU). Georgia at home should be the easiest. The timing is also critical. Tennessee being 5-1 heading into Bama with Kentucky, Southern Miss, Missouri and Vanderbilt left would be a good spot. Tennessee being 4-3 after Bama with pressure oozing from every Butch Jones pore would not be so good.
Texas A&M: Nov. 25 at LSU
What game isn't important for Texas A&M? It's hard to set a win total that would save Kevin Sumlin. But, we can say two things. Sumlin must end the season on a positive note after late collapses each of the past three years. Sumlin must win at least one from Alabama, at Florida, Auburn and at LSU to go 9-3. He could do both by beating LSU in Tiger Stadium. That win might be big enough for him to hang on at 8-4.
Vanderbilt: Oct. 28 at South Carolina
Vandy has a brutal five-game stretch – Kansas State, Alabama, at Florida, Georgia, at Ole Miss – before the bye. If it beats South Carolina after the bye, that alleviates things for them. If they don't, the last four games, including at Tennessee, might be must-win to reach a bowl game.