SEC
Deion Sanders raises NCAA rules issue with social media activity toward top recruit
Deion Sanders has called attention to NCAA rules around social media activity in recruiting by tweeting at top recruit Shemar Stewart.
The Jackson State coach responded to Stewart's announcement of his top 3 schools being Georgia, Miami and Texas A&M, and his announcement set for Feb. 2, with a statement that Coach Prime's Tigers should be in the mix as well. Sanders later deleted the tweet, but it was saved by a screenshot.
Stewart is 6-foot-6 and 272 pounds from Opa Locka, Florida, and the 5-star is the No. 10 overall prospect and No. 3 defensive lineman in the Class of 2022, according to the 247Sports Composite.
The issue for Sanders is it's against NCAA rules to directly and publicly tweet at recruits.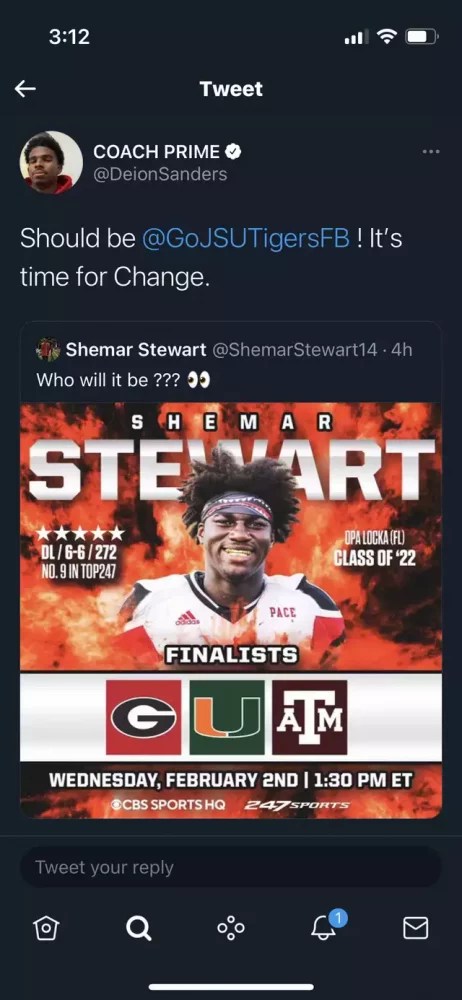 Steve Wiltfong, a 247Sports recruiting analyst, offered his thoughts on where Stewart's recruitment stands.
"Miami's going to get the last crack and I think that they're going to need it cause I like Texas A&M going into the last visit for Miami," Wiltfong said Thursday on the 247Sports Football Recruiting Podcast. "He's spent a lot of time at Miami and it sounds like the Hurricanes have been making a move in this recruitment. But my prediction's still on Texas A&M. If I move it before Wednesday and he ultimately picks Miami, I think it'll be because Miami really made the final push this weekend. I just think his familiarity with Texas A&M's coaching staff, he likes the scheme, he knows a lot of the players and the recruits, he's been there several times — I think that Texas A&M has set the bar in this recruitment. But he's visited Miami a couple times since coach (Mario) Cristobal's been there. Went there a lot beforehand. It's close to home. Coach Cristobal and those guys are going to put on a great visit this weekend, so we'll see where things stand on Sunday evening going into time when it's time for him to sit down with his family and his coaches and ultimately decide what he's going to do."
Here are Stewart's highlights from Hudl: