SEC
Did Vanderbilt just have the worst quarter in SEC football history?
The Georgia Bulldogs are absolutely destroying the Vanderbilt Commodores Saturday. The score is 35-0 to start the second quarter.
The Commodores offense didn't make a first down until 2:23 left in the first quarter. They also didn't complete a pass until under 2 minutes left in the first quarter.
The Bulldogs forced Vanderbilt's offense to quick 3-and-outs. Quarterback Ken Seals also threw 2 interceptions, leading him to be sent to the bench. Mike Wright replaced him and at least got the offense moving somewhat to end the first quarter. The Commodores also fumbled a kickoff, setting up a Georgia touchdown from the 4 yard line.
Oh … and Georgia scored 5 touchdowns, with 2 of them rushing touchdowns by TE Brock Bowers and wide receiver Ladd McConkey. JT Daniels has already thrown for 129 yards and 2 touchdowns, too.
So, it has us asking — did we just witness the the worst quarter by a team in SEC history?
I mean, take a look at the first-quarter stats: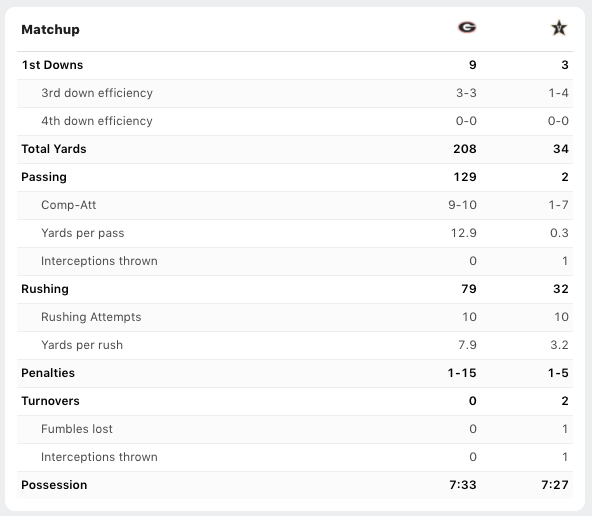 Complete domination by the Bulldogs. Clark Lea's Vanderbilt program is restarting from scratch after going 0-9 last season under Derek Mason. And Lea certainly has his work cut out for him.