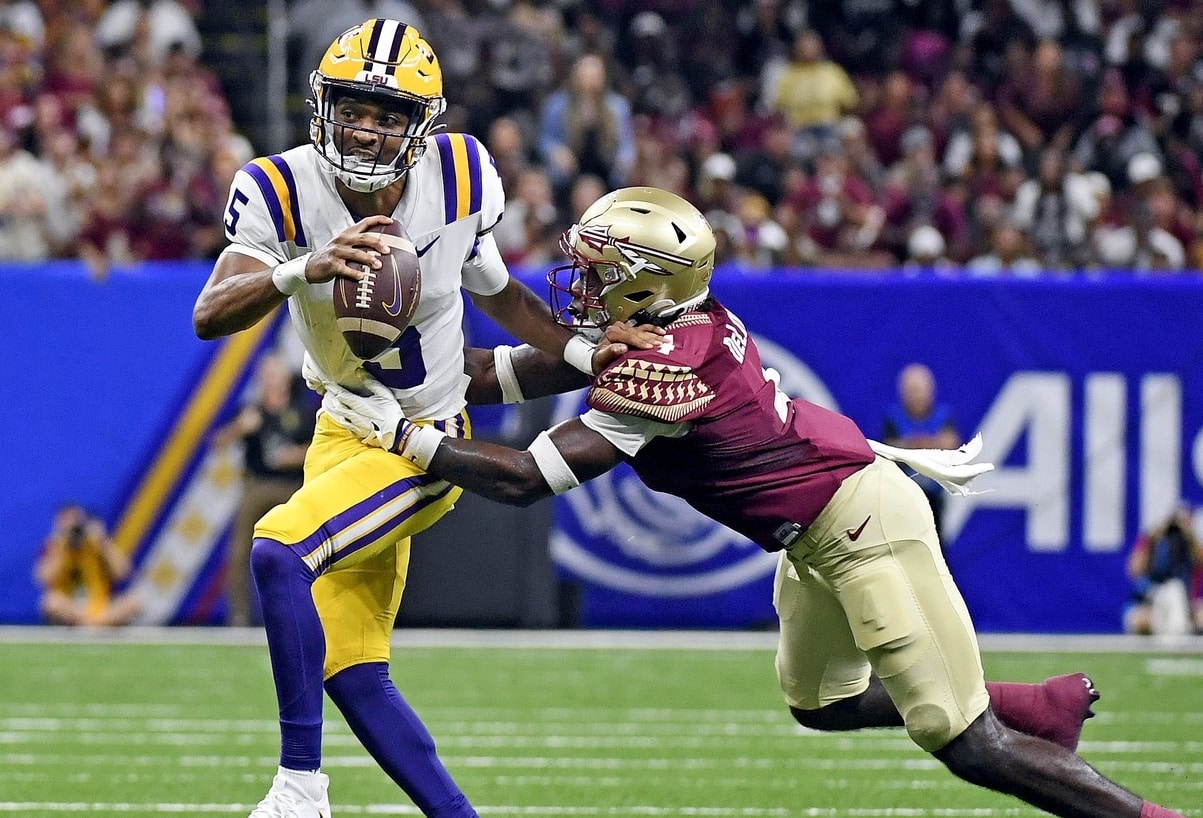 SEC
Early impressions of every SEC game in Week 1 of 2023
Hey. You did it.
You make it to Week 1 of the 2023 college football season. The longest offseason in sports is officially in the rearview mirror.
Congratulations, reader of this column.
Oh, and don't do the think where you tell me that college football began in Week 0. It's called Week 0 for a reason. It's because 90% of FBS teams kick off the season in Week 1, not Week 0.
But Week 1 in the SEC is here, beginning on Thursday night with Florida traveling to Utah and Mizzou hosting South Dakota. Yes, it's a bit of a weaker slate with just 4 SEC teams playing in Power 5 matchups, but we'll never complain about an actual full slate of games.
Here are my early impressions of every SEC game in Week 1:
Florida vs. Utah — All eyes on Cam Rising
Will the Utah quarterback be available to play coming off a torn ACL? Even Rising said that it could be a true game-time decision. My guess is that he does play, but he might be a bit limited with his mobility. Last year, Florida's woeful defense came up with the big play in the end zone to halt Rising and the Utah offense, but make no mistake, Rising is a major threat if he's out there. If he's not? Well, backup Brandon Rose suffered a serious injury and Utah could be down to its third-string quarterback. Maybe that'll be the break Florida needs to get another season-opening victory against Utah.
South Dakota vs. Mizzou — Give me all the Luther Burden III out of the slot
Last year, Burden's touches were a constant topic of discussion. He averaged about 4.9 scrimmage touches per contest. The No. 1 receiver recruit in the 2022 class played 85% of his offensive snaps on the outside. Getting him the ball as a sub-6 foot true freshman receiver proved to be a challenge at times. With primary slot receiver Dominic Lovett off to Georgia, Burden will step into the slot and hopefully his usage will go up. He turned those 63 scrimmage touches into 8 touchdowns. The only other SEC true freshman receivers to do that since 2012 were George Pickens and Amari Cooper. Here's hoping Burden gets a heavy workload from the jump.
Virginia vs. Tennessee (in Nashville) — How hot is Joe Milton comin' in?
Nobody has more mustard on their fastball than Milton. Can he come into that season opener, which will in in an NFL stadium, and show the poise necessary for the Vols? Milton did a great job of that down the stretch in place of the injured Hendon Hooker, but an 8-month offseason with so much anticipation will be a different challenge for the strong-armed 6th-year quarterback. He struggled with that 2 years ago in the opener against Bowling Green. If he can look the part from the jump this time around against a porous Virginia defense, Tennessee fans will be on Cloud 9.
Ball State vs. Kentucky — The return of OC Liam Coen is highly anticipated in Lexington
Ah, my doppelganger is back. The man who led Kentucky to its best scoring offense in 14 years returned to Lexington, where he'll lead a totally different offense than the one we saw in 2021. Devin Leary is replacing Will Levis, Ray Davis is replacing Chris Rodriguez and that offensive line is certainly a much different story than the group UK had just 2 years ago. That might be the biggest question mark. How does that group, which turned to the portal, protect Leary in a favorable opening matchup? A high-powered showing would certainly add to the belief that UK should be a much improved squad with Coen back.
Online sports betting is coming in the state of Kentucky this football season. With many operators going live in the state, be sure to check out the Bet365 Kentucky promo code for more information on getting started with legal, regulated sports betting in the bluegrass state.
Mercer vs. Ole Miss — Pete Golding's Ole Miss debut is as favorable as it gets
When Golding left Alabama for Ole Miss this offseason, you didn't get the sense that many tears were shed in Tuscaloosa. But now in Oxford, all that matters is that Golding can exceed expectations that are wildly different from the ones he dealt with in 5 years at Alabama. Getting off to a start wherein Golding's defense holds Mercer without a touchdown would be a nice way for him to bump up his approval rating in his new surroundings.
UMass vs. Auburn — Welcome back, Hugh Freeze
The return of Freeze 6 years after his awkward Ole Miss exit is one of the most interesting storylines of 2023. How does his offense look from the jump with Philip Montgomery handling primary play-calling duties? Does Payton Thorne look the part in a favorable matchup against Don Brown's UMass defense? And does Jarquez Hunter look the part after a tumultuous offseason? One would think Freeze should have a prime opportunity to get some good vibes back to Jordan-Hare.
Western Carolina vs. Arkansas — Sam Pittman's new coordinators get an ideal first test
New schemes on offense and defense will be the story for the Hogs in Week 1. New defensive coordinator Travis Williams promised an aggressive style that'll force turnovers while not being such a liability on the back end, which Arkansas was in 2022 with the worst pass defense in FBS. Arkansas not allowing chunk plays would be a welcome sight, as would KJ Jefferson thriving in the Dan Enos offense. It'll be a more pro-style system than what Kendal Briles ran, and some are wondering if Jefferson's skill set as a passer will translate well. Throwing some dimes in Week 1 wouldn't fully answer that question, but it would be an ideal way for the Hogs to kick off 2023.
SE Louisiana vs. Mississippi State — Will Rogers in a non-Mike Leach Air Raid offense for the first time will be fascinating
Can't wait. We haven't seen this. That is, an established Leach Air Raid guy who plays in a new system late in his college career. Rogers will operate out of the Kevin Barbay offense, which was extremely efficient last year at Appalachian State. That's been the knock on Rogers throughout his career. Will we see him stretch the field and attack an FCS secondary? Or will there be some growing moments for the 4th year starter? It could be a bit of both. Thankfully for the Bulldogs' sake, they shouldn't have any issues building a lead in the opener.
UT Martin vs. Georgia — Do we know what the UGA running back room will look like?
The season-ending injury to Branson Robinson added even more questions to the Georgia running back room. You'd probably have to go back at least 10 years to find a UGA backfield with so many preseason questions. Kendall Milton is still working his way back from a hamstring injury and Daijun Edwards is dealing with a knee injury, which means UGA had just 2 healthy scholarship running backs, neither of whom have a career carry at the college level. We could see walk-on Cash Jones get some run, especially with an FCS foe in the opener. Georgia's goal might simply be to just get to Week 3 as healthy as possible with its surprisingly thin backfield.
New Mexico vs. Texas A&M — Robert. Patrick. Petrino.
Duh. You know where I was going with this. How will Petrino call plays? Will we see tempo? Will we see pre-snap motion? Will we see explosive plays? All 3 of those things have been lacking the last 2 years with A&M's offense. Even the cupcake foes have been a struggle for the A&M offense. But with Jimbo Fisher not calling plays anymore (allegedly), will we see a different sideline demeanor from the Aggie coach? Either way, Petrino dialing up a 50-point showing in his A&M debut would be an ideal way for the Aggies to start 2023.
Alabama A&M vs. Vanderbilt — Now would be a good time for Clark Lea's defense to show up
It was a rough go for Lea's defense in a winning effort against Hawaii. The Dores should've put that Week 0 game away much earlier, but they instead needed a last-possession interception to hang on at home against a team they beat by 53 points last year. And remember, Vandy benefitted from a ridiculous interception in the end zone, too. So against an FCS foe, now feels like the non-De'Rickey Wright and CJ Taylor members of Lea's defense to step up. This is Year 3 in this scheme. If you can't put it together against an FCS foe and move past some possible Week 0 jitters, that group will put a ton of pressure on AJ Swann and that offense on a weekly basis.
Middle Tennessee vs. Alabama — Let's appropriately dissect some QB play
All signs point to Alabama taking a page out of the 2016 playbook and having 3 quarterbacks compete for the starting job in Week 1. Granted, that was a neutral-site game vs. USC. This is a home opener against Middle Tennessee. My guess is that we do in fact see Jalen Milroe, Ty Simpson and Tyler Buchner, perhaps in that exact order. It was a true freshman Jalen Hurts who emerged from that group in 2016. Will the youngest member of that trio, Simpson, establish himself? Or will Milroe show that he's moved on from the mistakes that plagued his lone start in relief for the injured Bryce Young in 2022? Whatever the case, Alabama would love nothing more than to have a true QB1 heading into Texas.
South Carolina vs. UNC in Charlotte — Give us a show, QBs
Spencer Rattler said he hoped that he and Drake Maye would "put on a show" in the Battle of the Carolinas. Sign me up for that. The border rivals should have 2 quarterbacks making next-level plays. Both face defenses who had their share of struggles last year. You can bet there'll be plenty of NFL eyes on Maye, but don't forget how important of an opportunity this is for Rattler. Two years ago, he was the guy getting the preseason NFL buzz. He'd love nothing more than to put on a show in a South Carolina victory and perhaps send a message that Shane Beamer's squad picked up where it left off in 2022.
LSU vs. Florida State — How big will Maason Smith's absence be?
What a bummer. The highly anticipated return of the LSU defensive lineman was delayed because of a 1-game suspension that stemmed from autographs that he signed the summer just before NIL became legal. LSU fans won't be sending the NCAA a Christmas card anytime soon. So Smith, who tore his ACL on the opening series against FSU last year, won't anchor that defensive line. The good news for LSU is that Harold Perkins might be the best returning defensive player in America, and Mekhi Wingo was a third-team All-American last year. Throw in the transfer portal additions of Ovie Oghoufo and Omar Speights and LSU has plenty of talent in the front 7. But against a mobile veteran quarterback like Jordan Travis, what'll it look like if the Tigers can't dial up pressure with a Smith-less defensive front? The Seminoles are loaded at receiver from last year's 10-win squad, which could bring trouble for the unproven LSU secondary.
Smith's absence could have a big say in whether LSU gets its Sunday night revenge against FSU.