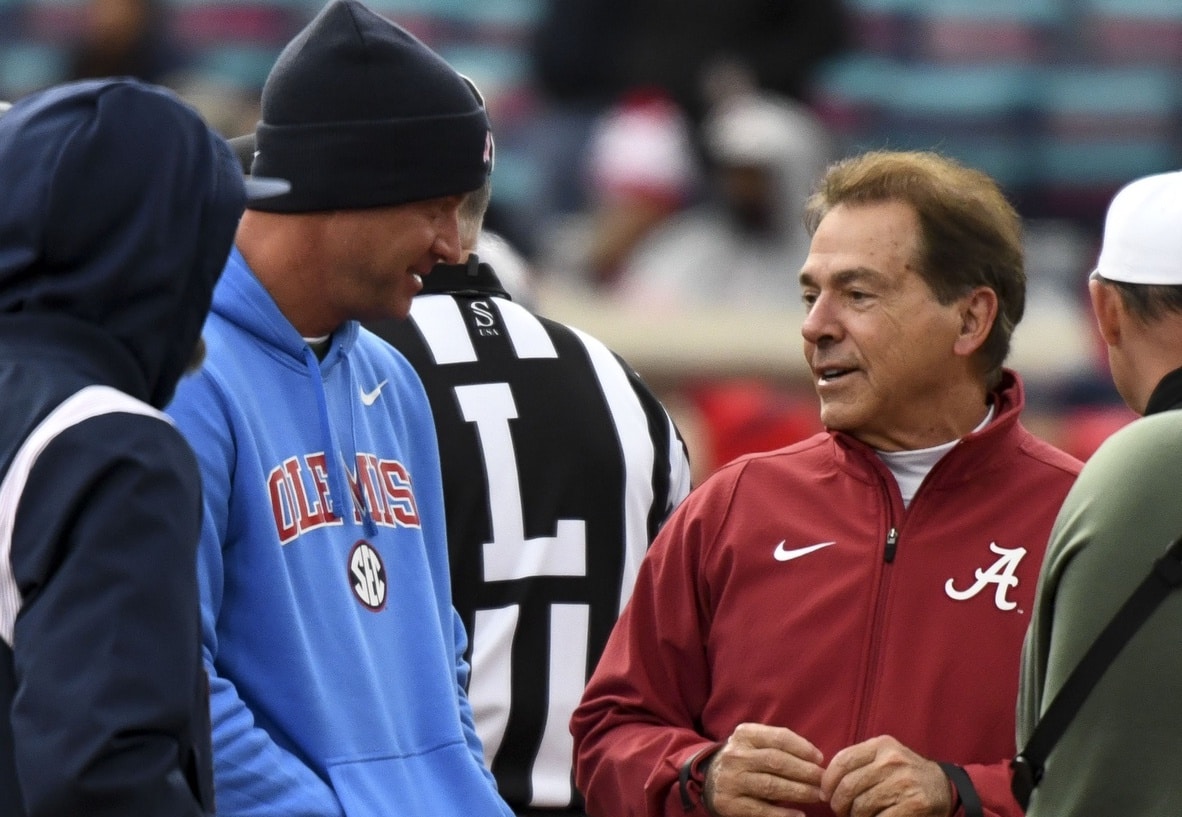 SEC
Early impressions of every Week 4 matchup in the SEC
And just like that, we're on to Week 4.
I'm pretty sure that it's been scientifically proven that time goes faster in the fall. Personally, I believe we should be searching for ways for time to stand still.
Some SEC programs probably wish that they could do that. Auburn, Kentucky, Ole Miss, Georgia and Mizzou are the conference's last remaining unbeaten teams. Life is good. For others, they probably wish that they could fast forward to the good part.
All 14 SEC teams are in action in normal time in Week 4. Here are some early thoughts on those matchups:
Auburn vs. Texas A&M — The difference could be a healthy Evan Stewart
He sat out the Louisiana-Monroe game with a minor injury, which made it seem like the star A&M receiver should be ready to roll against Auburn. He better be. Eugene Asante and that Auburn defense are going to try and rush Conner Weigman as much as possible. The A&M quarterback needs a safety valve, and he also needs someone that he trusts to go make a play in single coverage. That's Stewart, who has 257 receiving yards even though he missed a juicy matchup vs. ULM. Auburn hasn't faced a passing game with anything close to what A&M has. We'll get reminders of that if Stewart is at full go.
Kentucky vs. Vanderbilt — Ah, the Ray Davis game
Last year at Vandy, Davis went for 129 rushing yards in an upset win against Kentucky. It's what prompted Mark Stoops to pursue him in the transfer portal. Now on the Kentucky side, look at the start that Davis is off to compared to Vandy's running back room:
Ray Davis (3 games): 379 yards from scrimmage on 7.1 yards per rush, 15.9 yards per reception, 5 total TD

Vanderbilt tailbacks (4 games): 399 yards from scrimmage on 4.4 yards per rush, 3 total TD

— Adam Luckett (@AdamLuckettKSR) September 18, 2023
Davis has been as good as advertised in the post-Chris Rodriguez era. Against his former team, I would assume that he'll be a massive part of the game plan. Vandy's run defense has been brutal so far this year. Making Davis the high-volume player in Kentucky's offensive game plan could be the difference in getting some revenge after last year's stunning loss in Lexington.
Ole Miss vs. Alabama — Talk about 2 QB rooms going in opposite directions
Here's a question I've been wondering about for the last 48 hours. How many of Ole Miss' quarterbacks would start at Alabama right now? All three? It's at least 2, and then maybe you could debate Jalen Milroe vs. Walker Howard. That's telling. It's telling that Alabama struggled to put away a USF squad that had lost 19 consecutive games against FBS competition. I would assume that Jalen Milroe will be the guy after he gave way to a Tyler Buchner-Ty Simpson tryout of sorts. Whoever the guy is could have to keep pace with Jaxson Dart, who leads the SEC in quarterback rating AND he's the team's leading rusher. As in, the team with preseason All-American running back Quinshon Judkins.
If Alabama's quarterbacks struggle against a Pete Golding-led Ole Miss defense, well, let's just say calls into The Paul Finebaum Show will be electric on Monday.
UTSA vs. Tennessee — This has to be a bounce-back week for the Vols' run defense
Lost in the shuffle of that frustrating loss wherein the Vols had too many penalties — and didn't exactly get the benefit of the doubt on some other instances — was how bad the run defense was. After allowing 2.4 yards/carry through the first 2 weeks, the Vols were gashed for 183 rushing yards in The Swamp. A far less experienced Florida front pushed them around in the first half, and it made that deficit too much to overcome. Against a UTSA squad that should be overmatched, Tennessee cannot afford to come out flat. It wasn't long ago that UTSA was viewed as a tricky matchup coming off an 11-win season.
Arkansas vs. LSU — Thoughts and prayers to Hogs' offensive line vs. Harold Perkins (again)
Goodness, Sam Pittman should be worried. The Hogs couldn't slow down that BYU pass rush. I have far less confidence that they're about to go into Death Valley and slow down Perkins, who finally got to rush the passer 17 times against Mississippi State. His transition to an off-ball linebacker has been a steady progression, but one would think that a year removed from completely taking over that game in Fayetteville, DC Matt House is going to cut him loose to make sure that KJ Jefferson is harassed all game. Arkansas is going to have to get awfully creative to find ways to prevent Perkins from taking over once again.
Charlotte vs. Florida — Is there going to finally be a shift in backfield carries?
I hope so. I don't say that as a dig at Montrell Johnson Jr., who is an excellent player. But we saw on Saturday night why Trevor Etienne is different. He had 23 carries for a career-high 172 yards while Johnson was held to 23 yards on 12 carries, though he did have a touchdown both as a runner and as a receiver. It was only the third time in Etienne's young career that he got more than 11 carries in a game. Through 3 games, Etienne only played in 4 more snaps than Johnson. Someone, Johnson actually played 2 more snaps than Etienne against Tennessee, but this is all about workload distribution. It's no longer an excuse to say that Johnson knows the scheme better than Etienne. Maybe we'll start to see Etienne start to get more of the carries in a favorable matchup against Charlotte.
UAB vs. Georgia — Let's just assume UGA's offense is going to sleepwalk through the first quarter
Through 3 games, Georgia outscored its opponents 10-7 in the first quarter. Mind you, all 3 of those opponents entered Sanford Stadium as 4-touchdown underdogs (or more). The slow starts have been frustrating. A lack of downfield shots, a lack of identity in the ground game and a lack of rhythm from Carson Beck all contributed to that. I wouldn't expect that to suddenly change against Trent Dilfer's UAB squad. Maybe that comes with the territory when you're the 2-time defending champs and you're playing in lopsided September matchups. Or perhaps we're seeing a UGA team struggle to find the best ways to use these new pieces on offense, and injuries to guys like Ladd McConkey and Kendall Milton contributed to that.
Whatever the case, don't be surprised if and when UGA is up 3-0 heading into the second quarter on Saturday night.
Memphis vs. Mizzou (in St. Louis) — The most Mizzou thing ever would be laying an egg
I'm not trying to be mean, Mizzou fans. But consider this. The Tigers picked up their best, most dramatic win of the Eli Drinkwitz era, and did so in front of a sellout crowd at Faurot Field. It got Mizzou unofficially at No. 27 in the AP Poll (second in "receiving votes"). I realize that Mizzou isn't in the AP Top 25 yet, but that certainly looks like it's up for grabs against Memphis. Here's your rundown of Mizzou games played as an AP Top 25 team against Power 5 competition in the past 8 seasons:
2015 at Kentucky: L, 21-13
2018 Liberty Bowl vs. Oklahoma State: L, 38-33
2019 at Vanderbilt: L, 21-14
By the way, those 3 teams that Mizzou lost to went a combined 6-19 in conference play in those respective seasons. Technically, losing to Memphis wouldn't count in that stat, but it would feel very Mizzou-like with the way things have gone since 2015. Alternatively, beating Memphis to get into the AP Top 25 … and then losing to Vandy would be the most Mizzou sequence ever.
Mississippi State vs. South Carolina — This is a high-pressure game for both new OCs
This would be a bad night to have a bad night. I'll just say that.
Kevin Barbay's offense has been Woody Marks and not much else. We're living in a world in which Mississippi State is No. 117 in passing. The transition away from the Mike Leach Air Raid has been a major uphill climb. Sooner or later, things need to start clicking or else Barbay will be 1-and-done in Starkville. As for South Carolina OC Dowell Loggains, he's dealing with the task of trying to keep his improved quarterback upright. Spencer Rattler has been excellent. That offensive line has not been excellent outside of that first half against Georgia. This is a favorable matchup for both new OCs. The one who ends up on the losing side will have an awfully low approval rating heading into the meat of the schedule.