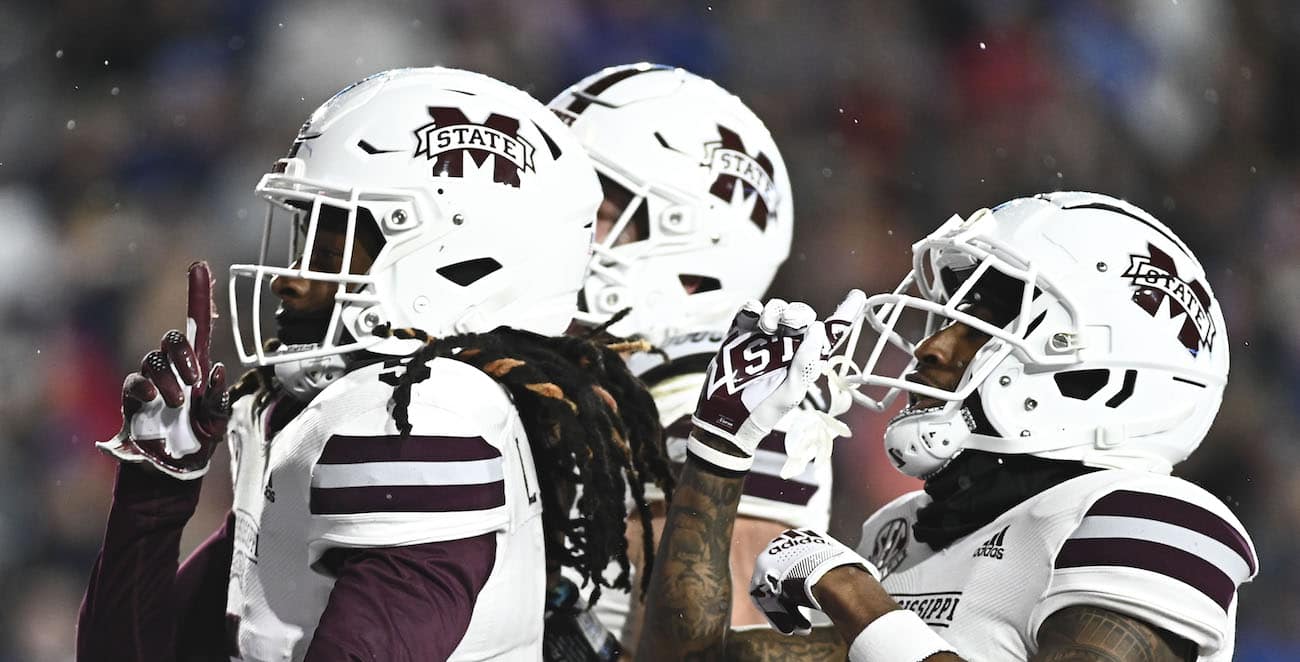 SEC
Rapid Reaction: Mississippi State survives against Ole Miss, takes home Egg Bowl trophy
The Egg Bowl Trophy is heading back to Starkville after Mississippi State defeated Ole Miss 24-22. The trophy hasn't lived in Starkville since the 2019 season.
It sure wasn't a pretty game, but games in downpours are rarely pretty. The weather pretty much shut down the high-octane offenses for Mississippi State and Ole Miss.
The Bulldogs, known for Mike Leach's Air Raid offense, won with its defense and special teams. MSU's defense, led by Zach Arnett, clamped down on Lane Kiffin's offense for much of the game. MSU's defensive unit also stopped the Rebels 2-point conversion for the potential tie late in the 4th quarter.
Mississippi State seized control of the game during the 4th quarter. Trailing 16-14, Mississippi State kicked a field goal to take the 17-16 lead. The very next drive, MSU scored on a touchdown pass from quarterback Will Rogers to wide receiver Rara Thomas for 22 yards to take a 24-16 lead.
The very next possession, Ole Miss fumbled the ball on a controversial backwards pass that was recovered by Mississippi State. The Bulldogs had a chance to put the game away; however, Rogers fumbled on the 2-yard line as he attempted to score a touchdown.
FUMBLE, OLE MISS RECOVERS! pic.twitter.com/5i0FSD6Brp

— ?????? @???????? (@FTBeard7) November 25, 2022
Ole Miss then drove the ball 98 yards on a touchdown pass from Jaxson Dart to Dayton Wade for a 23-yard score. However, the Rebels' 2-point conversion failed, as Mississippi State took over and ended the game.
OLE MISS! Jaxson Dart to Dayton Wade for the 23 yard TD! pic.twitter.com/fuDpnHiBbF

— ?????? @???????? (@FTBeard7) November 25, 2022
The Bulldogs defense limited Ole Miss freshman running back Quinshon Judkins to 91 yards, and the Rebels combined for just 78 rushing yards. MSU's defensive line was too disruptive all night, limiting the Rebels running game and not giving Dart too much time to find open receivers.
Both teams had a rough third quarter. Will Rogers fumbled and Ole Miss recovered. Then, MSU committed a 15-yard personal foul penalty midway through the third quarter. Ole Miss, however, couldn't convert on 4th down in the red zone and turned it over on downs.
In the first half, Mississippi State got the scoring started on its first drive to take the early 7-0 lead. Ole Miss kicked 3 field goals in the first half, and it finally scored a touchdown just before halftime with Jaxson Dart's 1-yard scoring pass to JJ Pegues.
Mississippi State answered in the first half with a 12-play 75-yard touchdown drive just before halftime to cut Ole Miss' lead to 16-14.
Will Rogers finished with 239 yards passing and 2 touchdowns, while Joquavious Marks finished with 76 yards rushing and 1 touchdown.