SEC
ESPN CFB experts update College Football Playoff picks following Week 11
It was a busy weekend of college football action around the country, with some top teams like Oklahoma falling in dramatic fashion.
As we approach another edition of the College Football Playoff rankings on Tuesday night, ESPN's team of 13 college football experts updated their Playoff picks.
If the season ended today, here's who the ESPN experts would have in their fields of 4 teams competing for a national championship: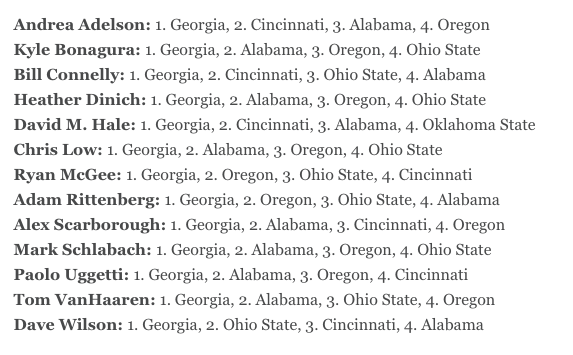 As you can see, all 13 have Georgia in the No. 1 spot. And, everyone except Ryan McGee has Alabama in the field of 4, as well.
Which expert's top 4 will look most like the real thing? Tune in on Tuesday night to find out!