SEC
ESPN experts project College Football Playoff field following Week 2
Week 2 in the college football world saw a ton of chaos. No. 6 Texas A&M lost. So did No. 8 Notre Dame, No. 9 Baylor, No. 12 Florida, No. 17 Pitt, No. 19 Wisconsin and No. 25 Houston.
There should be quite a few shakeups in the AP and Coaches Polls on Sunday, and analysts are adjusting their College Football Playoff picks, as well.
ESPN's panel of 14 college football experts made their CFP picks following Week 2. As you can see below, Alabama, Georgia and Ohio State appear in all 14 ballots. USC is the most-popular pick for the No. 4 spot, appearing on 9 of 14 ballots.
Then, surprisingly, Arkansas is named on 3 ballots, with Clemson and Oklahoma receiving 1 vote each: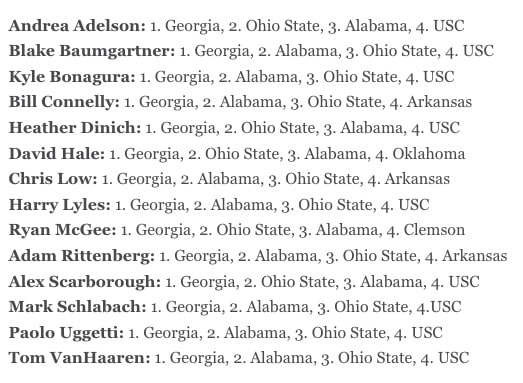 Will there be any Week 3 chaos that knocks any of these teams out of the rankings? We'll see what happens next weekend!
For now, Georgia, Ohio State and Alabama remain in a league above the rest of their competition, according to most analysts.