SEC
Ex-SEC assistant explains why he wouldn't rank any SEC coaching jobs in the top 5 nationally
With the USC job coming open this week after Clay Helton was fired, there has been plenty of debate about what the top jobs in college football are.
Does a coach make a program? Or is it the mystique around the school that makes it so desirable?
Per Bruce Feldman of The Athletic, one former SEC assistant coach didn't rank any SEC jobs among his top 5 jobs nationally. Why? Because of politics and meddling, even at the top programs once coaches like Nick Saban and Jimbo Fisher leave:
Thought this was a very interesting response from a former SEC assistant explaining why he had no SEC programs among his Top 5 jobs in college football list: https://t.co/b5whrhZeqK pic.twitter.com/eO6cB5kieE

— Bruce Feldman (@BruceFeldmanCFB) September 16, 2021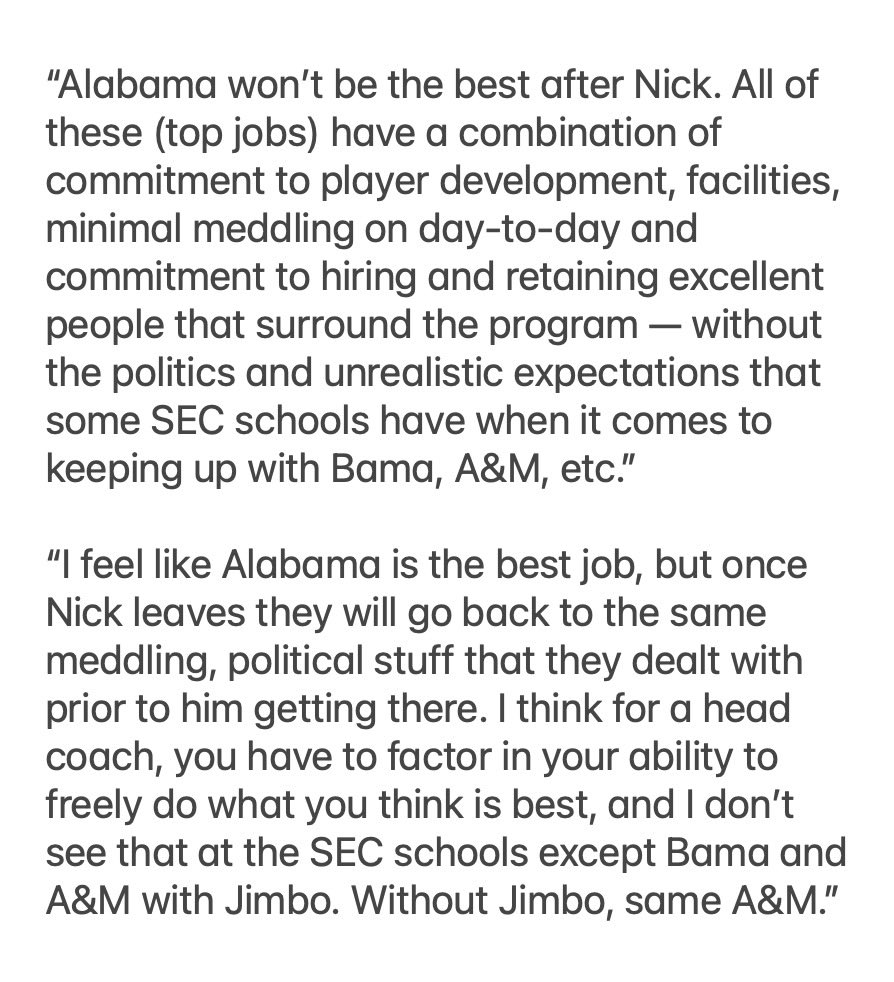 "Alabama won't be the best after Nick (Saban)," the assistant said. "All of these (top jobs) have a combination of commitment to player development, facilities, minimal meddling on day-to-day and commitment to hiring and retaining excellent people that surround the program — without the politics and unrealistic expectations that some SEC schools have when it comes to keeping up with Bama, A&M, etc.
"I feel like Alabama is the best job, but once Nick leaves, they will go back to the same meddling, political stuff that they dealt with prior to him getting there. I think for a head coach, you have to factor in your ability to freely do what you think is best, and I don't see that at the SEC schools except Bama and A&M with Jimbo. Without Jimbo, same A&M."
Interesting comments, to be sure, but coaches will continue to flock to the SEC as that's where the money is. Money talks louder than anything else.