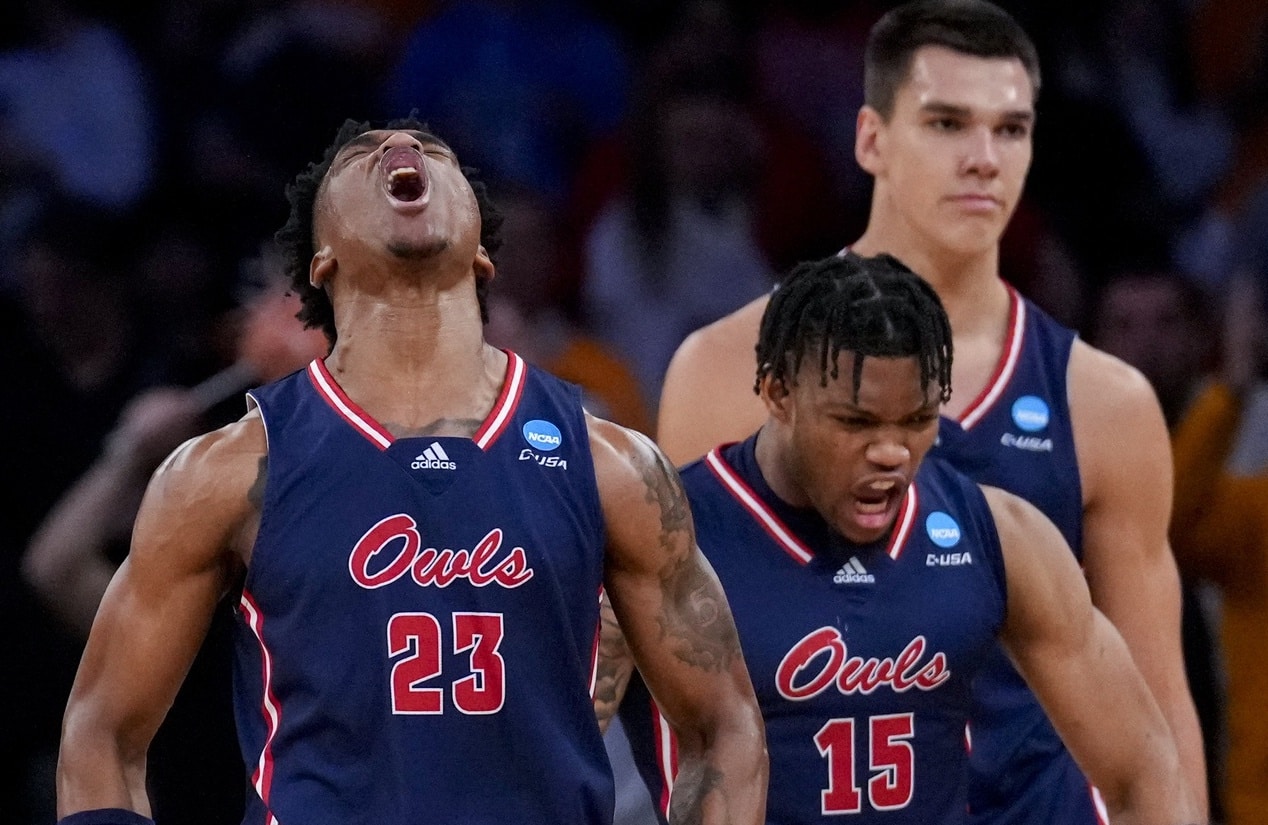 SEC
FAU, here's your invitation to join the SEC
Greetings, Owls.
I hope this letter finds you well. It has come to my attention that you have flipped the NCAA Tournament on its head and reached the Final Four for the first time in program history. Rumor has it that you got every call to go your way down the stretch against Memphis in the first round, and you bounced back after taking a (literal) punch to the face from Tennessee en route to an impressive comeback victory at Madison Square Garden.
I know that our paths usually don't cross unless someone accidentally uses an old Lane Kiffin GIF, but after seeing your program do something that no SEC team has done in the 2020s (reach a Final Four), I wanted to throw an idea at you.
Would you consider not joining the AAC and instead joining the SEC?
Apologies if that came off a bit forward. That's how we do things here in the SEC. You don't steal Oklahoma and Texas from the Big 12 without knowing how to ask for what you want.
We want you, FAU.
You are the piece of our realignment puzzle that's been missing. You, with your hooting ways and your sudden run of NCAA Tournament success, move the needle for us. Never mind the fact that you didn't make the jump to Division I until 1993, or the fact that up until a couple weeks ago, you had as many NCAA Tournament wins as Riley Elementary School. We don't care that your coach probably still has to show ID at the local liquor store.
Speaking of your coach, Dusty May, yeah, that's a contingency on our end. You have to find a way to keep him. You managed to avoid a scenario in which Ole Miss properly waited to name its new head coach instead of "doing its due diligence" on hiring the disgraced Chris Beard. May makes you, FAU, relevant. Consider that another reason you need to accept this invitation so that we can put more money in your pocket to keep one of the top up-and-coming coaches in the sport.
Be honest. You don't want to live your life in some 1-bid league. Come to the SEC, where we can send 8 teams to the NCAA Tournament, not have a single team reach the Elite 8 and still end up with the richest payday of any other conference for March Madness:
Now that the Final Four is set, we know roughly how much each conference will make from this #MarchMadness .

And for the first time in 20+ years, the @SEC is the big @NCAA tournament unit winner.@Sportico story w/ @LevAkabas: https://t.co/U3TSX9k7sZ pic.twitter.com/KDN7dy7BSB

— Eben Novy-Williams (@novy_williams) March 27, 2023
Last I checked $34 million is a whole lot better than the $10 million that Conference-USA got.
Oh, but that's right. You're going to join the AAC after this school year. Let me back up a minute.
Is $34 million a whole better than $8 million? Uh, yeah. So is the possible $100 million check you'll soon receive once we're a few years into this new SEC media rights contract that begins in 2024.
Of course, that March Madness money is just a small reason you should parlay this NCAA Tournament success into an agreement with us. And no, I'm not just saying that because we totally want to ride your boats (I'm assuming boats on your campus are like mopeds on Florida's campus).
I'd also like credit for getting 500 words into this and not really making a direct reference to football because as we know, that's kind of a big deal here. We don't care that you're only 22 years old and that your seating capacity doesn't even allow for you to dunk on Vanderbilt. More interesting is that, well, you're interesting.
The late Howard Schnellenberger? Icon. Kiffin? The straw that stirs the drink. Willie Taggart? Hey, failing spectacularly is still interesting. Tom Herman? OK, cool. Hook 'em.
By "Hook 'em," I mean hook Herman and the rest of you Owls to the back of the SEC wagon, which is set to take off like a rocket ship in the new era that awaits in 2024.
We're not expecting you to compete for SEC titles. In the meantime while you beef up your recruiting, add to your facilities, find your rich boosters, etc., you'll actually help us out by giving our contenders a much-needed Cupcake Week-like break because remember, we're probably going to 9 conference games for the first time. I don't say that to scare you. I just want you to know what you're getting into.
You're getting into a conference wherein coach buyouts are paid in Monopoly money and national championship-winning coaches get 1 year of grace before they can be placed firmly on the hot seat. Unlike the Big Ten, we won't scoff at the fact that it only ranks No. 263 in national universities, or that you have an acceptance rate of 78%.
We're not out here looking for the next Vanderbilt. We're looking for the next Final Four participant.
Er, I misspoke. We're out here looking for "the next premier university to grow the best conference in the country." Totally.
What we've realized in the SEC is that we can buy our way to pretty much any level of athletic success. But March Madness? It's just too darn random. Or maybe it's not random and you've cracked the code that we've been so desperately seeking in the SEC. Whatever the case, we're willing to extend an invite to find out.
Are we desperate? Nah. That's such an ugly word. "Desperate." We prefer "aggressive," kind of like you were on both sides of the ball when you forced Tennessee to turn into the worst possible version of itself.
We wanted to pursue you aggressively before anyone inevitably reached out to you at the Final Four. Lord knows the Big Ten might come calling to see if you can win it a national title in men's hoops for the first time since 2000, and the Pac-12 (whatever that is anymore) is probably desperate to get some help reaching the national championship for the first time since 2006.
You, FAU, are worthy of joining the cool kids table. Rip up that contract from the AAC, where claiming a national title is more realistic than actually winning one.
Come join us in the SEC, Owls.
(And please bring your boats.)