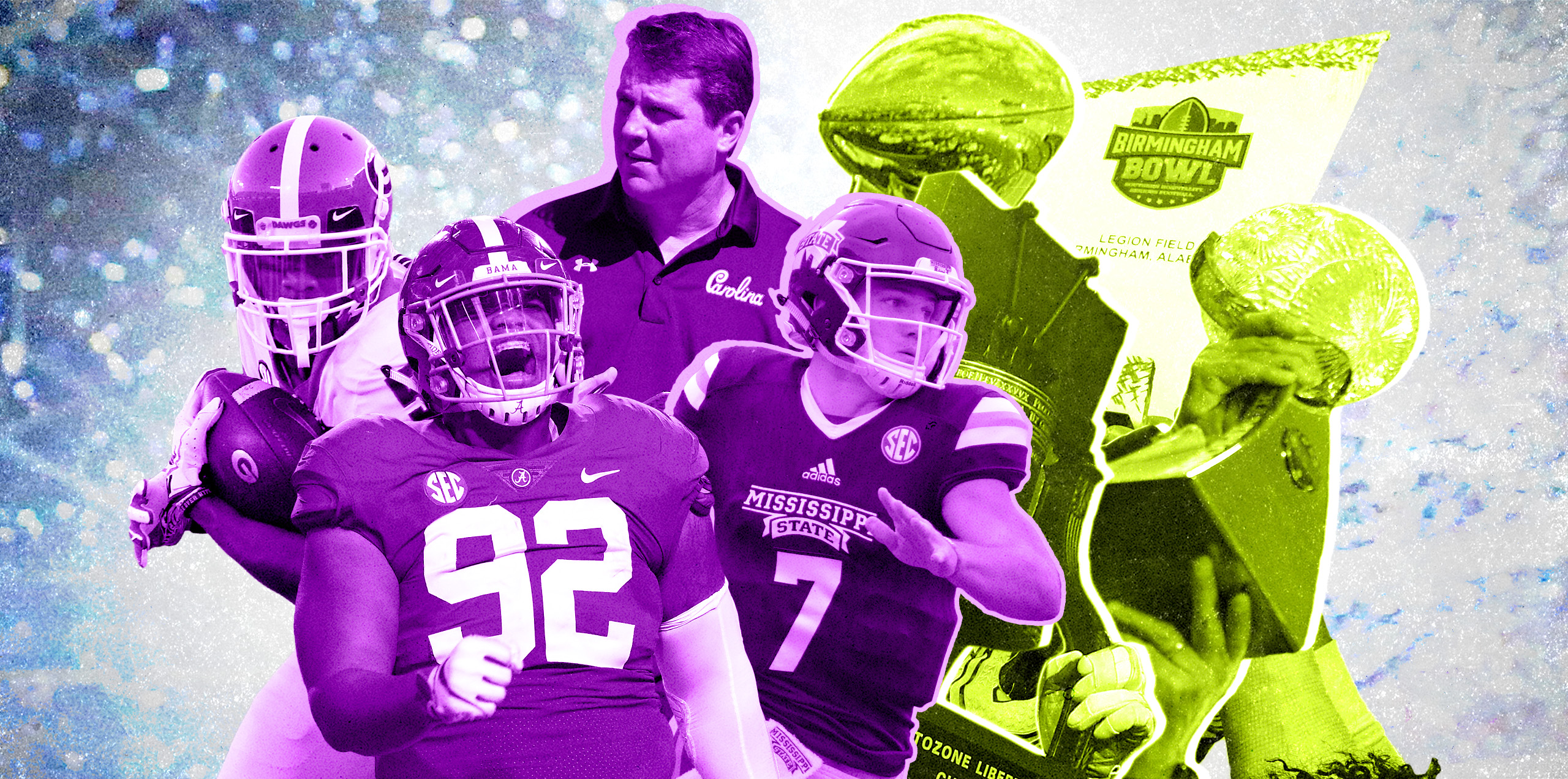 SEC
Final SEC Bowl Projections: Does SEC get 2 in Playoff?
Georgia has a way of making life interesting for Alabama.
Alabama has a way of making life heartbreaking for Georgia.
That's the takeaway for our final SEC bowl projections, where we seem to have just one league team headed for the College Football Playoff.
Had the Bulldogs hung on, both they and the Crimson Tide would have been headed for the CFP.
But again, as ESPN expert Heather Dinich and 100 others (including me) keep saying: The CFP committee is not going to put a 2-loss non-champion in the Playoff instead of a 1-loss conference champion. Just. Not. Happening. Whether it should happen in favor of Georgia is a worthy debate. But it is not happening.
As it is, we project the same semifinals that we have been forecasting for the past few weeks: No. 1 seed Alabama vs. Oklahoma and No. 2 Clemson vs. No. 3 Notre Dame.
It's possible that the Sooners might pass the Fighting Irish for the No. 3 spot as a reward for winning the Big 12 conference championship on Saturday. Oklahoma avenged its only loss this season by defeating Texas. So if the CFP committee flips those teams — meaning Alabama faces Notre Dame — you'll know that we at least thought about it.
I just have a hard time envisioning the committee punishing an undefeated Notre Dame team that owns 10 victories over Power 5 teams.
Then again, what do I know about the CFP's direction?
I thought LSU would fall below Penn State in the ranking and fall out of the New Year's 6 after the Tigers lost to Texas A&M. I was wrong.
So, yes, once again we have four SEC teams in the NY6: Bama in the CFP, and Georgia, LSU and Florida in the other three NY6 bowls outside the Playoff and the Rose Bowl.
Where they will go is an interesting question. I still think Georgia, as the second-best SEC team and conference runner-up, will take the SEC's contracted spot in the Sugar Bowl, where they will face contracted Big 12 opponent Texas.
Florida and Group of 5 representative UCF is such an intriguing possible matchup, and geographically it makes so much sense for the Peach Bowl. But UCF went to the Peach Bowl last year. Will that matter as much as it would ordinarily?
Hmmmm.
I might be wrong again, but whatever the rankings say, it makes more sense for LSU to go to the Fiesta, where the Tigers have never been. Florida seems a logical pick to head up Interstate 75 to play in the Peach Bowl, where the Gators have not been since 2004 and only twice ever.
Now for our final SEC bowl projections:
CFP Semifinal (Orange Bowl)
December 29, 2018
Miami, FL
Sugar Bowl
January 1, 2019
New Orleans, LA
Fiesta Bowl
January 1, 2019
Glendale, AZ
Peach Bowl
December 29, 2019
Atlanta, GA
Citrus Bowl
January 1, 2019
Orlando, FL
Outback Bowl
January 1, 2019
Tampa, FL
TaxSlayer Bowl
December 31, 2018
Jacksonville, FL
Liberty Bowl
December 31, 2018
Memphis, TN
Belk Bowl
December 29, 2018
Charlotte, NC
Music City Bowl
December 28, 2018
Nashville, TN
Texas Bowl
December 27, 2018
Houston, TX
2017-2018 POSTSEASON
CFP NATIONAL CHAMPIONSHIP
CFP SEMIFINAL (SUGAR BOWL)
CFP SEMIFINAL (ROSE BOWL)