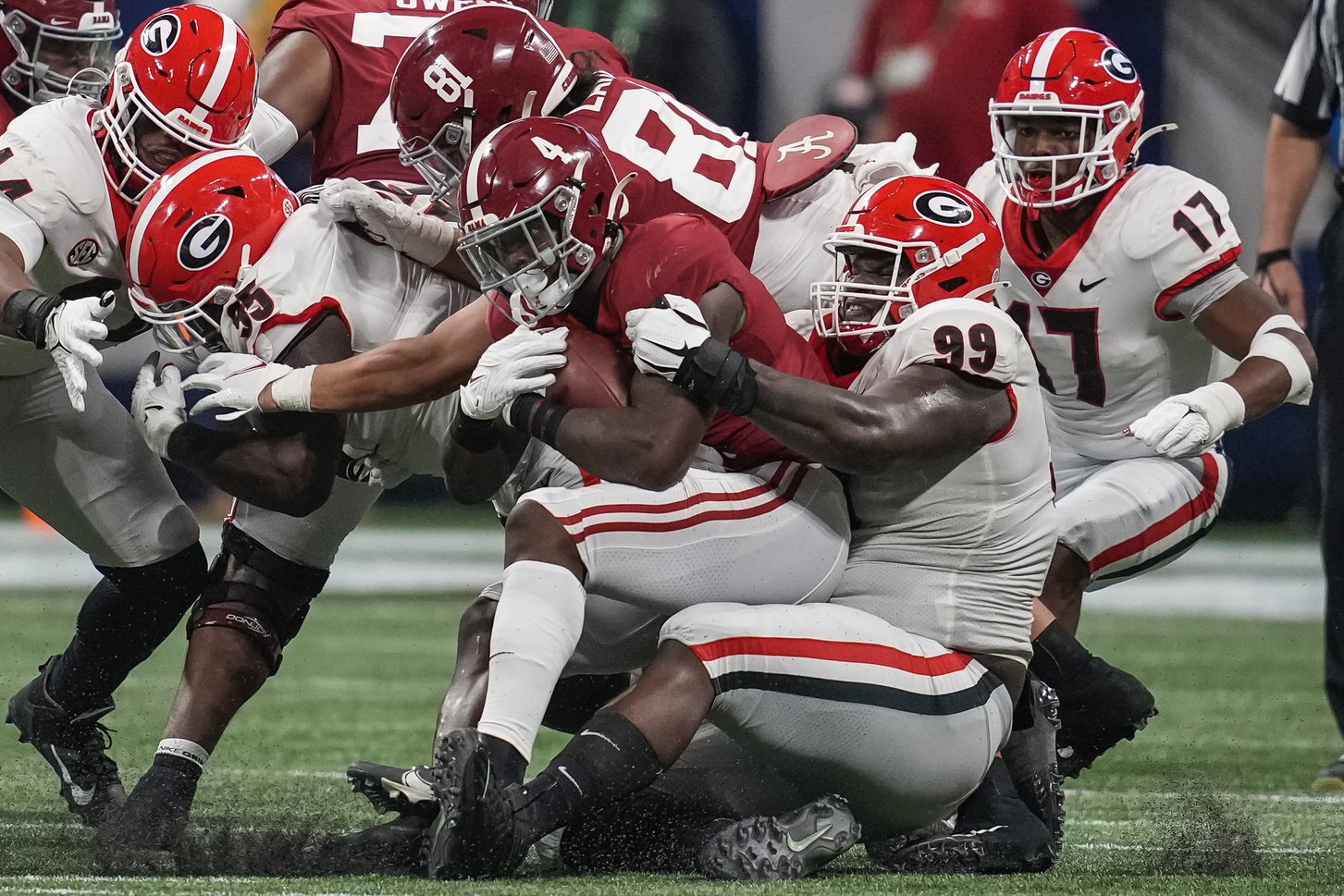 SEC
Final thoughts (and a prediction) for Alabama-Georgia, Part II
The great Yogi Berra said, "it's deja vu all over again."
In many ways, that's exactly what we have waiting for us on Monday night in Indianapolis. It's far from your average rematch. For the first time, we're seeing Kirby Smart vs. Nick Saban with an in-season rematch, and of course, this one will decide a national title.
You know. In case you haven't heard.
We know this showdown — the 5th time Smart and Saban have met — will have an impact well beyond Monday night. What we don't know is if Georgia can beat Alabama for the first time since Matthew Stafford walked it off. Shoot, Alabama hasn't lost to an SEC East team since Stephen Garcia became a folk hero in Columbia.
But you already knew both of those things, too.
Let's break down the rematch:
I'm not sure the Michigan game should have changed your impression of Stetson Bennett
If you suddenly watched Bennett in Miami and thought "oh, now he can win it all," I think you're looking at this all wrong. Yes, Bennett had a career day. A career day against Michigan doesn't necessarily guarantee that he'll break through against Alabama, though.
Last I checked, Bennett didn't morph into Joe Burrow. The Mailman is who he is. You either believe in Smart's judgment or you don't.
Now, can Bennett deliver on Monday? Sure. His mistakes were magnified against Alabama. If you want a comp for how Bennett played in the SEC Championship, go back to the 2019 Iron Bowl with Mac Jones. On that day, Jones threw a pair of pick-6s that prevented Alabama from winning on the road. Bennett made mistakes against Alabama, but it wasn't like the Tide totally stymied him.
That's significant because the anti-Bennett takes were perhaps a bit too strong after the SEC Championship, and now the pro-Bennett takes are a bit too strong after the Michigan game. This is a 5th-year senior who is essentially in his second season as a starter.
Call me crazy, but that's not a guy who should have varying week-to-week shifts in perception.
Who's more likely to be contained — Jameson Williams or Brock Bowers?
I have to think that a pair of defensive-minded head coaches are going to make sure there's a better plan to contain both stars who went off in the SEC Championship.
Williams torched a Georgia secondary unlike anyone had all year. Of course, the game plan for Georgia to correct that starts by giving Bryce Young less time to throw. Ideally, Georgia would have over-the-top safety help on Williams, but that didn't really matter last time.
Fully on board with draft a WR in Round 1. Take the Bengals blueprint.. adding Jameson Williams would be huge for Zach Wilson pic.twitter.com/3D1nLfL1nD

— Justin Gray (@Justin_Jets) December 29, 2021
What did matter was Young not getting sacked once. That's been discussed ad nauseam in that Georgia locker room. Can Alabama really prevent guys like Nakobe Dean and Nolan Smith from getting to Young for 60 minutes again? Or will the Dawgs change up their pressure packages and get more heat on Young to force him into some mistakes? That's a better formula to neutralize Williams instead of thinking that anyone in that Georgia secondary can go stride for stride with him.
As for Bowers, Saban called the true freshman tight end "one of the premier players" in college football. High praise. He's not wrong, either. Given how Todd Monken likes to move Bowers around, there is no shortage of matchups that UGA can exploit. My guess? Saban will force someone else to beat him. If that means sticking your best cover man — Jordan Battle — on him with some additional help, it's worth it.
Injuries to other pass-catchers could dictate whether Williams and Bowers get going. For Williams, how much does the John Metchie III injury change what Georgia is able to prioritize on the back end? Young only averaged 7 yards per attempt in the 6 Metchie-less quarters. And with Bowers, are we going to see George Pickens play more than 20 snaps and look like the guy who got first-round buzz before he tore his ACL in the spring?
It's pretty clear that Williams and Bowers cannot afford to be their team's only option. Both offenses will need other guys to make plays and take advantage of the attention those guys warrant.
Georgia doing the Aidan Hutchinson plan on Will Anderson makes sense, but …
Michigan isn't Alabama. It doesn't mean it'll work.
Part of the reason Georgia's game plan against Hutchinson worked was it had some offensive balance. The Dawgs played fast and they used space to their advantage. You had Hutchinson jumping offsides in an effort to time up a blitz in the midst of a frustrating night.
Against Alabama, it's a whole lot harder to be balanced offensively. Ergo, it's tougher to keep an edge player like Anderson guessing. Hutchinson's best play of the night came not when he rushed the passer, but when he blew up a screen. Anderson can make a similar impact. If you run tempo against him, he can still find ways to rush the passer. Switch to a run-heavy approach like Florida and he can still take down ball-carriers (at less than 100%). Anderson can do it all.
We saw Hutchinson neutralized by a healthy Jamaree Salyer … as well as plenty of chip blocks at the line of scrimmage to get him off-balanced. Teams have tried that approach on Anderson. He's been at the top of defensive scouting reports since the middle of his freshman season.
Salyer is great, but we know that you don't block Anderson 1-on-1:
You don't block Will Anderson one-on-onepic.twitter.com/wkWrRMGdRk

— NFL Draft Prospects Podcast (@nflprospectspod) December 31, 2021
It'll be interesting to see if Monken avoids exposing Bennett on a potential play-action rollout like he did last time. That's what allowed Anderson to hurry Bennett and ultimately rush a back-breaking throw into zone coverage.
I'd expect to see Georgia attempt something similar to the Hutchinson game plan. And knowing Anderson, he'll be ready for it.
How much does Brian Robinson have left in the tank?
One of my favorite images of the Cotton Bowl was seeing the ESPN cameras go to Robinson on the sideline, breathing heavily with an oxygen mask. The guy earned that extra air. What an effort it was from the 5th-year senior. We knew he was dealing with an ankle injury coming off the Iron Bowl, and we didn't even know if he'd play in the SEC Championship. Well, the 4 weeks of post-SEC Championship rest did him wonders and he delivered his best Derrick Henry imitation with 26 carries for 204 yards.
"I literally put all my heart into this." – Brian Robinson on his monster 204 yard game in Alabama's 27-6 #CFBPlayoff semifinal win over Cincinnati. #RollTide @BrianR_4 @AaronSuttles pic.twitter.com/BAjeUnXJXr

— The Next Round (@NextRoundLive) January 1, 2022
Even more impressive? PFF had Robinson for 127 yards after first contact. That's remarkable considering his longest run of the day was 23 yards, so it wasn't like he racked up 60 yards after first contact on 1 play.
Now, the question is how much does Robinson have left? Will essentially 9 days of rest be enough? Or will Alabama have to turn to the only other scholarship running back available, Trey Sanders? For what it's worth, Sanders was excellent against Cincinnati. He's been chomping at the bit for an opportunity like this after an injury-plagued start to his career.
It'd be surprising if Alabama rolled out the same run-heavy package against Georgia that it did against Cincinnati. The Tide won't have that same advantage up front. Even in the SEC Championship, Georgia held Alabama to 115 yards on the ground without a run of 20 yards. We're still waiting on UGA's first-team defense to allow a run of 20 yards to a running back this season.
There's a chance that things won't come as easy for the Alabama passing game as it did last time. If that's the case, Robinson is gonna need a whole lot more oxygen.
Don't overreact if UGA doesn't get it done … at least not too much
I realize this is wishful thinking. Two things can be true at the same time.
Is this Smart's best chance for a title? Absolutely. This is his most dominant team. He's 60 minutes against an Alabama squad that was in a 1-score game in the 4th quarter in 6 of its 8 SEC matchups. Alabama is extremely young and Georgia is loaded with dudes who will be in the upcoming 2022 NFL Draft.
If Smart doesn't win here, it'll absolutely feel like a major missed opportunity. The belief that he'll never beat Saban will have more validity than ever. I mean, 0-5? With potentially 5 blown leads if that happens on Monday? Yikes. That'd be a brutal pill to swallow.
But there's another thing that can also be true at the same time. If Smart doesn't win on Monday, let's not say he'll never win a title. He's 46. He's also in Year 6 as a head coach and he has a roster stockpiled with as much talent as anyone in the sport. Smart, who is about to become the only coach with an active streak of 5 consecutive top-7 finishes, is by no means ruled out from winning future national titles.
Smart would still be younger than all of the active coaches with a ring when they won their first titles (Saban, Dabo Swinney, Jimbo Fisher, Mack Brown). He would, of course, be subject to all sorts of criticism.
I would be much more willing to say this is more like Jim Harbaugh never beating Urban Meyer and then finally getting over the Ohio State hurdle once Meyer left. The same could be true for Smart, who might not ever beat Saban if it doesn't happen on Monday night, but he's 24 years younger. Something tells me eventually, Smart's path to a national title won't roll through the G.O.A.T.
And a prediction: Georgia 24, Alabama 17
What's the only thing dumber than picking against underdog Alabama once? Picking against underdog Alabama twice.
Well, that makes me pretty dumb, doesn't it?
I suppose it does. As much as I keep telling myself that it's foolish to expect a different result than the first 2 we've seen with Bennett against Alabama, I can't help but think that Smart is going to make adjustments. He has, in my opinion, the better team. It has an entire game's worth of bad film to avoid against an Alabama team who played by far its best game of the year in Atlanta.
Georgia got the wakeup call it needed. That doesn't guarantee a victory, but I do think we see a vastly different defensive performance. How fitting would it be to see Georgia hold Alabama to 17 points to match the fewest it allowed in the regular season. I don't think it's the offense that necessarily flips the switch. It's the defense. It's the group that has actual adjustments it can make after getting embarrassed by Alabama.
The rematch won't be a pretty game, by any means. It'll be ugly, defensive-first football. Some will call it boring.
Georgia fans will call it the greatest night of their lives as long as that scoreboard favors the Dawgs at night's end. For the first time in 41 years, I believe it will.
I'm prepared to feel dumber than ever.