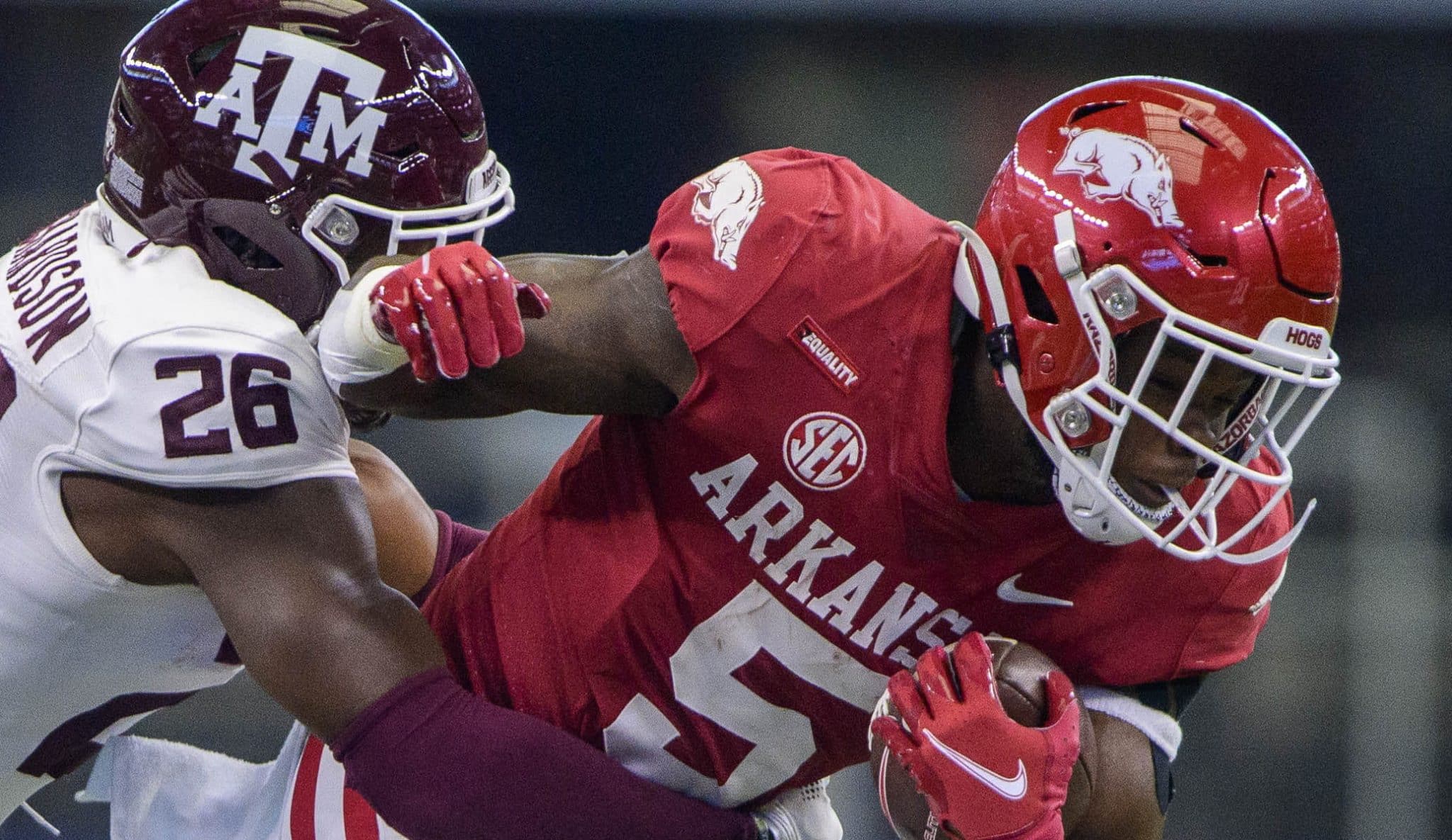 SEC
O'Gara: Final thoughts (and a prediction) for Arkansas vs. Texas A&M
I don't like to be that guy. You know who I'm talking about. The guy who says "college football is better when team 'X' is good."
Sorry, but I love this silly sport whether Kansas is trucking teams or whether Texas is trucking teams. Shoot, I might love this sport even more when Kansas is trucking teams like Texas, but I digress.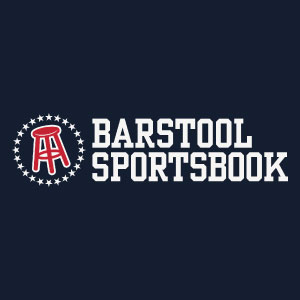 Barstool Sportsbook
States: OH, MD, LA, CO, IL, IN, MI, NJ, PA, VA, TN, AZ, IA, WV
SIGN-UP BONUS
$1,000
NEW PLAYER BONUS

But I will say, the SEC as a whole is more interesting when Arkansas and Texas A&M can have a true back-and-forth rivalry. Up until last year, you could argue it wasn't really a true rivalry. At least not yet. A&M going into Arlington and fending off Arkansas felt inevitable on seemingly a yearly basis.
With Sam Pittman, however, that doesn't feel so inevitable. At least not right now. For the second consecutive year, both teams are ranked at kickoff. Hence, the primetime slot on ESPN. This time, however, it's Arkansas that enters as the top-10 team. Go figure that it's the Hogs who are once again the underdogs (more on that in a minute).
Before last year, 2016 was the only other instance that these teams played as ranked SEC teams. Does it feel like that'll become a new yearly occurrence? Or is perhaps the balance of power shifting?
Let's break that down.
Let's talk about that Arkansas pass defense because it explains the spread
It does. If you're wondering why the Aggies are 1.5-point favorites even though Arkansas has been the better, more reliable team to date, don't dig into conspiracy theories. Just look at the obvious weakness Arkansas has — the pass defense. It's bad. Real bad.
The Hogs enter Saturday ranked dead last in FBS defending the pass having allowed an average of 352.7 passing yards per game, which is 67 passing yards more than the next-closest Power 5 team (Northwestern). The Hogs allowed a minimum of 325 passing yards to each quarterback it faced so far, which includes the likes of first-time Cincinnati starter Ben Bryant, Spencer Rattler and Missouri State's Jason Shelley, who tagged the Hogs for 352 in last Saturday's scare in Fayetteville.
The Missouri State Bears HAVE THE LEAD in Fayetteville ?

On 4th and 1, Jason Shelley pulls back the handoff and finds Tyrone Scott for a 47-yard TD ??pic.twitter.com/z3bwa9HyRO

— The Transfer Portal CFB (@TPortalCFB) September 18, 2022
Woof. Or I guess in this case, oink. There's some lipstick we can put on this pig, though.
Arkansas' biggest area of concern through the first 2 years of the Barry Odom defense was the pass rush. Go figure that this horrific pass defense start coincided with Arkansas leading the nation in sacks. In fact, here's the SEC sacks leaderboard through Week 3:
1. Drew Sanders (Arkansas), 5 sacks
2. Jordan Domineck (Arkansas), 4.5 sacks
T3. Zach Williams (Arkansas), 2.5 sacks
T3. Khari Coleman (Ole Miss), 2.5 sacks
What does that show us? When Arkansas doesn't get home, it's bad news bears on the back end.
Yes, part of that was the Jalen Catalon injury. Losing a preseason All-American safety in the season opener was a brutal blow. Being without Myles Slusher these past couple of weeks didn't help. It looked like he would return for the Missouri State game but instead, it appears that he'll make his return on Saturday against A&M. That's the good news.
The bad news is that Slusher ain't Catalon. Slusher doesn't cover ground the same way Catalon does. One would think, however, that Slusher's presence would have to be an upgrade compared to what we've seen on the back end so far. Arkansas' secondary has looked out of position far too often. Maybe the mix of transfers and new starters played a part in that, but Odom has to troubleshoot that in a hurry.
Yes, Arkansas is 3-0 and in the top 10. But as a result of this pass defense being so porous, it put pressure on that first-string offense, which predicates itself on that up-tempo, physical run-heavy attack. That adds up over the course of the season. It could result in a sluggish start that's comparable to the one we saw from the offense last week.
Arkansas' overall upside is limited until it finds some sort of answer to troubleshoot its defensive issues in the passing game. The question, of course, is whether A&M actually has what it needs to exploit that.
Hey, speaking of that …
Now let's also talk about that A&M passing offense
If you were hoping that Max Johnson was going to unlock some new explosive trait of this A&M passing offense last week against Miami, I'd say you ended the night disappointed. Then again, the Aggies won by holding an early lead and not turning the ball over. And it was at least more efficient than the disaster we saw against Appalachian State.
Given those aforementioned stats about Arkansas, one would think that Jimbo Fisher will take plenty of downfield chances. If that's not part of the game plan because Fisher is worried about exposing Johnson to Arkansas' pressure, that'd be a mistake.
The Aggies have the No. 99 passing offense, and they don't have a single pass play of 30 yards against FBS competition. Just 3 A&M passing plays have gone for 20 yards in the 2 games against FBS foes.
One was a 10-yard slant to Ainias Smith, who got by 3 Miami defenders and needed a 4th to take him down after a 25-yard gain. Another was 2 plays later on a swing pass to Devone Achane in the flat, where he made 4 Miami defenders miss for a 25-yard touchdown. And the last one also came later in the 3rd quarter against Miami … on an 8-yard slant wherein Smith made multiple defenders miss for a gain of 21.
Yikes. That's telling.
That's scheme. That's a lack of separation downfield. That's a sign that your offense is far too easy to defend.
Yes, it's great that the Aggies have a pair of guys like Achane and Smith who can make people miss in space. They're excellent players who can make a poor-tackling team look sorry. It wouldn't be a surprise to see one of them slip through the converging Arkansas safeties. But A&M reeks of a team in desperate need of some downfield threats, which has been a struggle with the offseason transfers of Caleb Chapman and Demond Demas.
That leads me to my next point.
How big are those A&M suspension returns?
A&M got some brutal news on Saturday morning last week. They were without the likes of receivers Evan Stewart and Chris Marshall, as well as cornerbacks Smoke Bouie and Denver Harris because they missed curfew. A&M won without them against Miami. The Aggies lost defensive backs Demani Richardson and Brian George to targeting calls in the first half, too.
So now, all of those guys are back. That's huge for A&M. At least it seems like it should be.
Among the curfew suspensions, Stewart's return is the biggest. Why? See the previous section where I outlined the lack of downfield passing attack. Stewart, even as a true freshman, has the best chance to stretch the field and exploit that Arkansas secondary. The 5-star recruit has next-level speed and he can jump out of the gym (that can be a football thing too).
Can he actually become a fixture in his first game against Power 5 competition? A&M needs him to be.
Can A&M stop a rocket?
Specifically, can A&M stop Rocket Sanders? As in, the dude who leads the SEC in rushing and is averaging 147 rushing yards per game. Sanders has been everything Hog fans could've hoped for, especially after Trelon Smith transferred and Dominique Johnson was injured in the Outback Bowl. Sanders has been the perfect 1-2 punch — emphasis on "punch" — with KJ Jefferson.
I'd expect a heavy dose of Jefferson and Sanders. "Heavy" is literal because those guys are the heaviest starting quarterback-running back duo in FBS at 469 pounds. The Hogs would love to wear down that young, new-look A&M defensive line and see if they can last 60 minutes. That plan worked for Appalachian State, though part of that was because the Aggies couldn't get in any sort of offensive rhythm when they actually did get the ball.
Everyone and their mother knows that Arkansas wants to be run-heavy, but as last year's game reminded us, selling out on that can result in the big, back-breaking touchdown pass like we saw when Jefferson connected with Treylon Burks for that 85-yard score.
Johnson didn't play in last week's game against Missouri State coming off his return from injury. My guess is that as great as Sanders has been, Kendal Briles would love to have Johnson be involved, as well as the speedy AJ Green, to take some hits off his dynamic rushing duo.
But Sanders has yet to be stopped. If Arkansas has things go according to plan, that'll still be the case by game's end.
Remember what's at stake for Arkansas
Win, lose or draw, Fayetteville will be on a different level next week when Alabama rolls into town. But if the Hogs beat A&M, that all but guarantees they'll get a top-10 matchup against the Tide. What else would that mean? Well, College GameDay would be a safe bet to make its first trip to Fayetteville in 16 years.
It's been 5,793 days since @CollegeGameDay has been in Fayetteville.

Need you @KirkHerbstreit and Coach back here next weekend ? pic.twitter.com/LlMvCEI4BL

— Tye Richardson ? (@TyeSportsRadio) September 21, 2022
There are at least 3 likely other games involving ranked teams next weekend, but none of them will likely be with a pair of top-10 foes. That would be a monumental feat for Pittman in Year 3. The win in Arlington last year vaulted the program to No. 8 for a top-10, College GameDay matchup, but it was in Athens. Also, it was over by the end of the first quarter.
A win over the Aggies would have massive implications for the brand of Arkansas football on a national scale. Anything but a victory could be a huge missed opportunity.
And remember what's at stake for A&M
As bad as the Appalachian State loss was, the Aggies are still in position where they can turn things around. The Miami win was a start. At the very least, it got the bad taste out of the Aggies' mouths.
Beating Arkansas and regaining control of the rivalry would give Fisher and Co. 2 consecutive wins against top-15 teams. Those are tough to come by. That'd be a nice way to move past some national embarrassment.
On the flip side, a second September loss hits differently when you start in the top 10. It would be a tough pill to swallow, and while it wouldn't put Fisher on the hot seat — I've got 86 million reasons why that wouldn't happen — it would certainly spark national conversation about whether he lost his fastball. Of course, it would also bring on those unavoidable Kevin Sumlin comps.
Saturday is pivotal for the Aggies.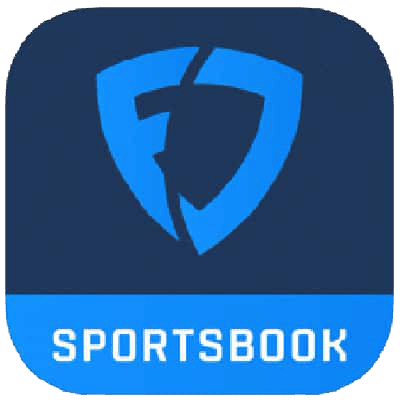 FanDuel Sportsbook
States: OH, MD, MA, LA, KS, NY, NJ, PA, IN, IA, WV, MI, VA, CT
21+ and present in a state with legal sports gaming. Gambling problem? Call 1-800-Gambler.
BET $5
GET $150
IF YOUR BET WINS!
A prediction … Arkansas 24, A&M 21
I'm fully prepared for the oddsmakers to make me look dumb, but pass defense weakness aside, I still think Arkansas is the better, more reliable team. If things are locked in a 17-17 game in the middle of the 4th quarter, which unit would you trust the most? I'd trust the Arkansas ground game to be the biggest, most reliable strength. That seems important in a physical, potentially low-scoring game like this.
I worry about what the A&M defense will be asked to do after 2 consecutive weeks of dog fights, and last week, the Aggies were short-handed. I think that takes its toll over the course of 60 minutes against this Razorback rushing attack. Instead of this being the game that turns things around for A&M, it's a "close but no cigar" reminder that the SEC West is a gauntlet.
Arkansas squeezes out a victory in Arlington and GameDay sets its next stop for Fayetteville.