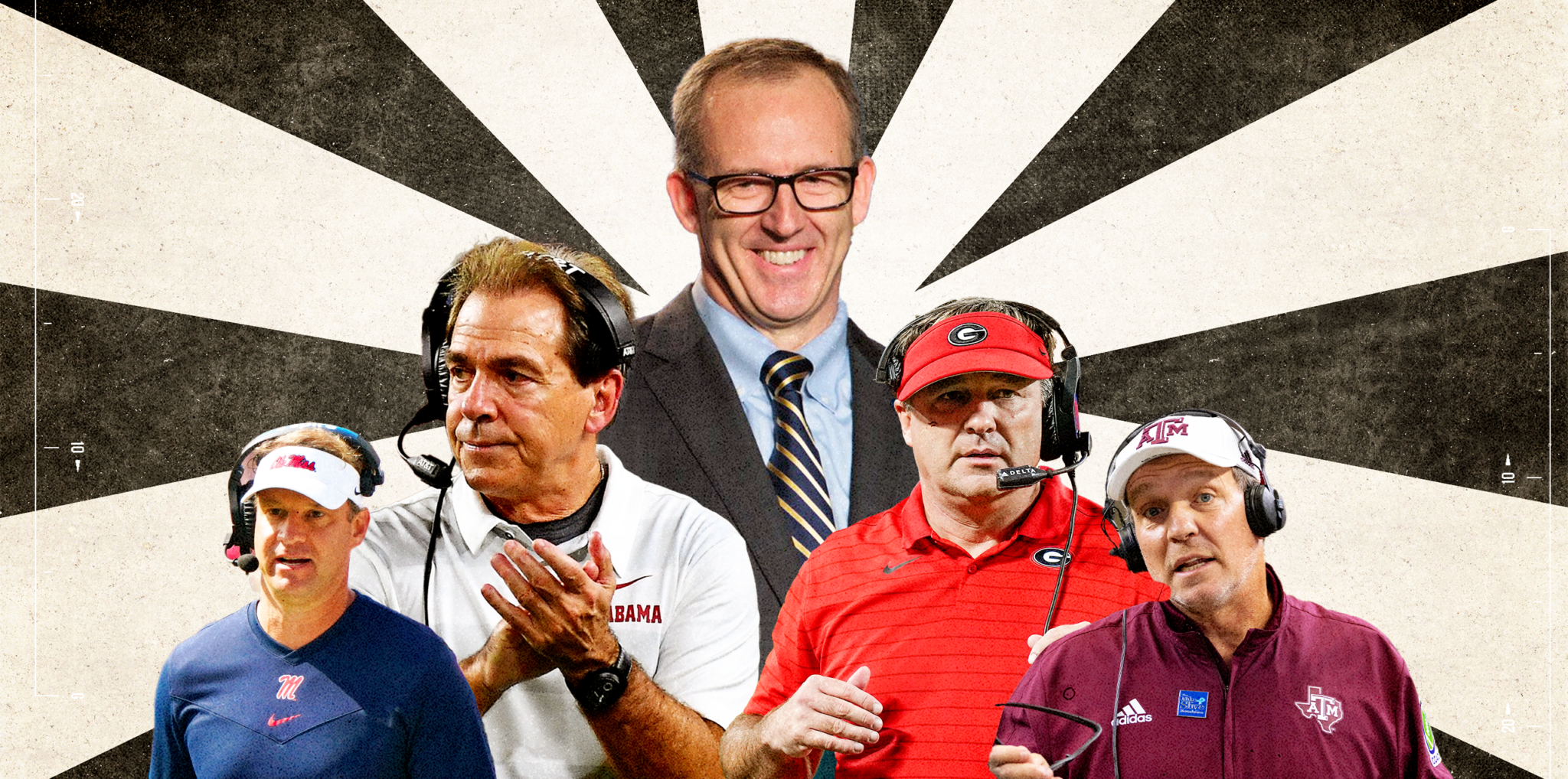 SEC
First and 10: 8-game vs. 9-game SEC schedule will be hottest topic at Spring Meetings
1. I don't want to get on a soapbox, but …
The time for an executive decision has arrived. No more being everything for everyone and avoiding the inevitable.
It's time for the SEC to move to a 9-game schedule with 3 permanent opponents — no matter what the minority dragging down the process thinks.
Commissioner Greg Sankey sells it, ESPN buys it, and the presidents sign off on it.
Easy peezy, right?
If it were that easy, it would've happened long ago. The problems, as the SEC begins its annual spring meetings this week in Destin, Fla., have multiple layers and revolve around — what else? — money and access.
The SEC wants more money from ESPN for a 9-game schedule (that likely happens), and a small but vocal and adamant minority still want the 8-game schedule for nonconference scheduling flexibility (that's the rub).
The foundational philosophy of the SEC is and always will be equal partners. Vanderbilt is just as important as Georgia, the Mississippi schools are just as important as Alabama and Florida.
If you don't like it, or don't agree with the philosophy that ruled the conference and allowed it to develop from regional to national behemoth over the past 2 decades, there's the door, bub.
Everyone moving and growing together, everyone respecting what each brings to the product. It may sound corny and hokey, but it's undeniable.
Since 2000, the SEC has won 14 football national championships in 23 seasons — a run so impressive on the field and so marketable off it, the league's coffers have grown to unthinkable proportions.
It doesn't matter that 5 schools (Alabama, Georgia, LSU, Florida, Auburn) won the 14 titles, everyone in the league benefited. In 2000, the SEC distributed $73.2 million equally to the 12 member institutions — or $6.08 million per school.
In 2022, the SEC distributed $721.8 million equally to its 14 members — or $51.5 million per school.
Here, everyone, is where the debate continues this week, with 2024 members Texas and Oklahoma part of the meetings — but not yet voting partners.
Three key factors will be debated this week that, in theory, could put the SEC in position to move forward with a schedule format and strong idea of where they're headed financially with ESPN.
A look at each:
2. The greener, the better
Long before the Big Ten's blockbuster media rights deal last year — and before the multimillions in funny money was exposed last week — the SEC was negotiating with ESPN to increase a deal the sides signed in 2020.
That ESPN-exclusive deal begins in 2024 but was made with the conference in its current 14-team lineup. When the SEC added Texas and Oklahoma 16 months later, the conference immediately began negotiating for a better deal.
The deal is worth more than $800 million annually, but the SEC believes the addition of Texas and Oklahoma — 2 of the biggest brands in college sports — deserves considerably more than the typical pro rata increase that would move the deal to more than $900 million annually.
It's not just Texas and Oklahoma joining the league, the SEC argues. It's Texas vs. Georgia, Oklahoma vs. Florida, Texas vs. LSU, Oklahoma vs. Alabama. Get it?
Bigger games equals a bigger audience for ESPN, which translates to a bigger advertising draw, and more revenue. And the SEC wants a piece of that revenue commensurate with the content it will provide ESPN.
The SEC: You want big games at a greater frequency than before? Time to pay for them.
ESPN: You want more money? We want a 9-game schedule.
While ESPN hasn't — and the SEC wouldn't allow it — dictated schedule format, there's little doubt a 9-game schedule will increase the deal more than an 8-game schedule.
Neither side wants a pro rata adjustment because it's clearly not equal to the content. The SEC doesn't want to be underpaid, and ESPN doesn't want the biggest property in college sports as an unhappy partner.
How much would a 9-game schedule fetch? One industry source told Saturday Down South the number could surpass "$1 billion annually" and that "there won't be (revenue) clawbacks for specific misses of benchmarks like (the Big Ten deal). This will be specific days, specific (time) windows, everyone on the same page."
3. The format is everything
If the SEC wants the biggest bang for the buck, it must come to the negotiating table with a 9-game schedule.
The majority of the league wants the 9-game format, but there are a handful of teams who would be more comfortable with an 8-game schedule. It's not too difficult to figure out which teams want 8 games.
The flexibility in nonconference schedule is twofold: more home games, and more guaranteed games (see: wins) to help consistently reach the postseason in an ever-strengthening conference schedule.
Even if the SEC stays at 8 games, the format — 1 permanent opponent, the remaining 14 rotating home and home over 4 years — will still produce a more difficult conference schedule (on average) every year. Especially for those who want an easier road to the postseason.
In other words, no matter the number of conference games, the road will be more difficult beginning in 2024.
Those who believe in the 8-game format also believe the SEC can still get what it wants in negotiations with ESPN because their television partner is still getting the same high level games games every 2 years.
While that's true in theory, it's also somewhat misleading. In a 9-game schedule, the format is 3 permanent opponents and the remaining 12 teams rotating home and home over 4 years. In that format, the SEC would deliver to ESPN a series of marquee games every season — annual games that would be lost with 8 games and 1 permanent opponent.
Games that are played annually (Alabama-LSU, Georgia-Auburn, Alabama-Tennessee, Florida-LSU), Ole Miss-LSU) and those that would be (Florida-Oklahoma, Texas-Texas A&M, Arkansas-Texas).
But that 9-game schedule also means some teams will give up a home game — and home game revenue — every other year. While the revenue given up for a home game doesn't match the potential ESPN increase from a 9-game schedule, it still takes away a home game weekend from member institutions.
Kentucky, Ole Miss and Mississippi State are solidly in the 8-game group, and while most others are either in the 9-game group or willing to do what's best for the conference, there's a reason a format hasn't passed in the past 16 months.
Alabama coach Nick Saban added a twist to the negotiations earlier this spring when he publicly complained about the Tide's projected 3 permanent opponents (Auburn, LSU, Tennessee). Could Alabama now preferring an 8-game schedule be enough to sway others?
Georgia, Florida, LSU, Texas A&M and Missouri all prefer 9 games. Alabama, too, is part of the 9-game group — and numerous SEC sources believe Saban's complaining about the permanent 3 was, in part, to get LSU or Tennessee off the Tide's permanent 3.
4. The vote
The history of critical decisions within the SEC revolves around being everything for everyone. Even though there are disagreements, everyone comes together for the greater good.
Again, it's corny and contrived, but that's how it has worked. That's how it has prevented those with from making decisions (and demands) for those without.
That's how Texas and Oklahoma held up the Big 12 for unequal revenue sharing. How USC and UCLA did the same with the Pac-12.
Or how 7 schools from the ACC had the stones to ask 7 others to take less in media rights so they could have more.
There is no "grant of rights" in the SEC because no one's leaving. Everyone recognizes and embraces a strong conference is greater than strong individuals propping up conferences.
So if the vote this week begins to get squirrelly, and Alabama can't get LSU or Tennessee off its permanent 3 and sides with Kentucky and the Mississippi schools, does that begin the run toward an 8-game format?
Because Tennessee, Auburn and Arkansas — while in the 9-game camp — also like the current setup that allows them to have 7 home games. If they, too, move to the 8-game camp, that's a 7-7 vote.
That's when the time for executive decisions begins. Does Sankey sell the 9-game format to the presidents and break the tie? Does Georgia president Jere Morehead — the most sports-oriented president in the conference — convince his colleagues on either format?
Remember this: Revenue is everything for everyone. It's how athletic departments are funded and expanded, and how student athletes are developed and, yes, eventually paid for play.
5. The Weekly 5
The top 5 games that stress the South Carolina under of 6.5 wins:
1. Sept. 16 at Georgia: South Carolina hasn't come close to blocking Georgia the past 2 seasons. How does it change?
2. Nov. 25 vs. Clemson: Reclaiming the rivalry may be part of the mission for Clemson, which could still have a shot at the Playoff.
3. Sept. 2, vs. North Carolina (Charlotte): The season-opener, and a must-win to back up the strong finish to 2022.
4. Sept. 30 at Tennessee: An important East Division game if the Gamecocks want to pass Tennessee and Florida.
5. Oct. 28 at Texas A&M: If Gamecocks can get to 4 wins by the end of October, they'll blow away the 6.5 over.
6. Your tape is your resume
An NFL scout analyzes a draft-eligible SEC player. This week: Texas A&M C Bryce Foster.
"He's a big dude for that position. He's 6-5 and 325-330 pounds, but he's pretty quick inside. He can be a puller, no question. He's athletic and has good feet. I don't know that he's an engage-in-space guy. He's probably better suited right now for a zone (blocking) scheme, but a guy that big with the solid base he has, it doesn't mean he can't eventually become a strong in-space guy. He's a solid Day 2 pick right now, and can move up if he shows that engage and move in space."
7. Powered Up
This week's Power Poll, and 1 big thing: Most important offseason addition.
1. Georgia: OC/QB coach Mike Bobo. He knows what coach Kirby Smart wants, and his previous time at UGA included huge seasons from David Greene, Matthew Stafford and Aaron Murray.
2. LSU: LB Omar Speights. The Pac-12's best linebacker by the end of last season can play any linebacker spot or on the edge.
3. Alabama: OC/QB coach Tommy Rees: Saban gave Rees everything: the offense, the play-calling and the ability to recruit his quarterback (Tyler Buchner). Sink or swim.
4. Tennessee: LB Keenan Pili. The BYU transfer gives Tennessee a true middle linebacker with size and run stuff power — as well as lateral speed.
5. Texas A&M: OC/QB coach Bob Petrino. The last time Petrino was in the SEC, his quarterbacks threw 94 TD passes in his final 3 seasons as coach at Arkansas.
6. Kentucky: OT Marques Cox. An All-MAC tackle at Northern Illinois, Cox is critical for new QB Devin Leary and the pass game. UK struggled to protect in 2022, and will be significantly better with Cox.
7. Ole Miss: DE Isaac Ukwu. Had 7.5 sacks and 10.5 tackles for loss in 2022 at James Madison — after sitting out back-to-back seasons with multiple knee injuries.
8. Arkansas: DC Travis Williams. Was DC at UCF under former Auburn coach Gus Malzahn. Hogs ran more multiple zone under former DC Barry Odom, and will be more exotic in blitz packages under Williams.
9. South Carolina: WR Eddie Lewis. Gamecocks needed a consistent option opposite star WR Juice Wells, and Lewis (42 catches, 7 TDs in 2022 at Memphis) will prevent defenses from rolling coverage to Wells.
10. Mississippi State: HC Zach Arnett. A smooth transition in a difficult time kept the team mostly intact. Arnett then made 2 impressive hires (OC Kevin Barbay, DC Matt Brock) to strengthen the staff.
11. Florida: DC Austin Armstrong. Gators will win games by running the ball and playing Armstrong's aggressive scheme with better players.
12. Auburn: HC Hugh Freeze. There will be no greater example of Freeze's impact in Year 1 than the development of transfer QB Payton Thorne, who never reached his potential at Michigan State and eventually left this spring.
13. Missouri: OT Marcellus Johnson. Whoever plays QB — Brady Cook, Sam Horn, Jake Garcia — will need blindside protection. Johnson, an All-Mac selection at Eastern Michigan, has played more than 2,000 career snaps — all but 1 at left tackle.
14. Vanderbilt: LB Prince Kollie. Talented backup at Notre Dame and Tennessee native, Kollie was stuck in a deep linebacker room. Has ability to rush off the edge.
8. Ask and you shall receive
Matt: With Texas and Oklahoma coming into the conference next year, which teams should feel most threatened? — Peter Frisch, Dallas.
Peter:
There's little debate: it's Texas A&M and Florida. Both current SEC schools are in the best states for high school talent, and are currently the only SEC teams in those states.
The Aggies no longer will be able to use the idea of recruiting to the best league in college football vs. Texas recruiting to the Big 12. It worked for years (especially recently under Jimbo Fisher), but hasn't of late because Longhorns coach Steve Sarkisian has been recruiting with the idea of playing in the SEC.
And Florida — while still the only SEC team in the state — no longer will be able to hold off Oklahoma and Texas coming into Florida and plucking elite talent.
The Sooners did it for years under Bob Stoops and Lincoln Riley, and in the past 2 recruiting classes alone, OU coach Brent Venables landed 10 players from Florida — including 6 4-stars according to the 247Sports composite. Those numbers will only increase if, as expected, Oklahoma and Florida become permanent opponents.
In February, Sarkisian landed 5-star RB CJ Baxter, a top 25 recruit from Orlando. Playing in Gainesville once every 4 years (and once in Austin) will further help the Longhorns strengthen state of Florida recruiting.
9. Numbers
895. As remarkable as Quinshon Judkins' freshman season at Ole Miss was, it's more impressive when looking at it from the most important games of 2022.
In 6 games against the formidable SEC West Division, Judkins nearly rushed for 1,000 yards, racking up 895 yards on 155 carries (5.7 yards per carry) with 8 TDs.
More impressive: Ole Miss didn't play a division game until mid-October, when every West Division team had 6 games of tape to scout him. Judkins had at least 24 carries in all but 1 West Division game.
Defenses knew what was coming, and Judkins still came within 50 yards of breaking Herschel Walker's SEC record for rushing yards by a freshman (1,616 in 1980).
10. Quote to note
Georgia coach Kirby Smart: "We don't have any dominant player in (the defensive line), but we've got really good depth. We'll do some things with the linebackers around them to create havoc."