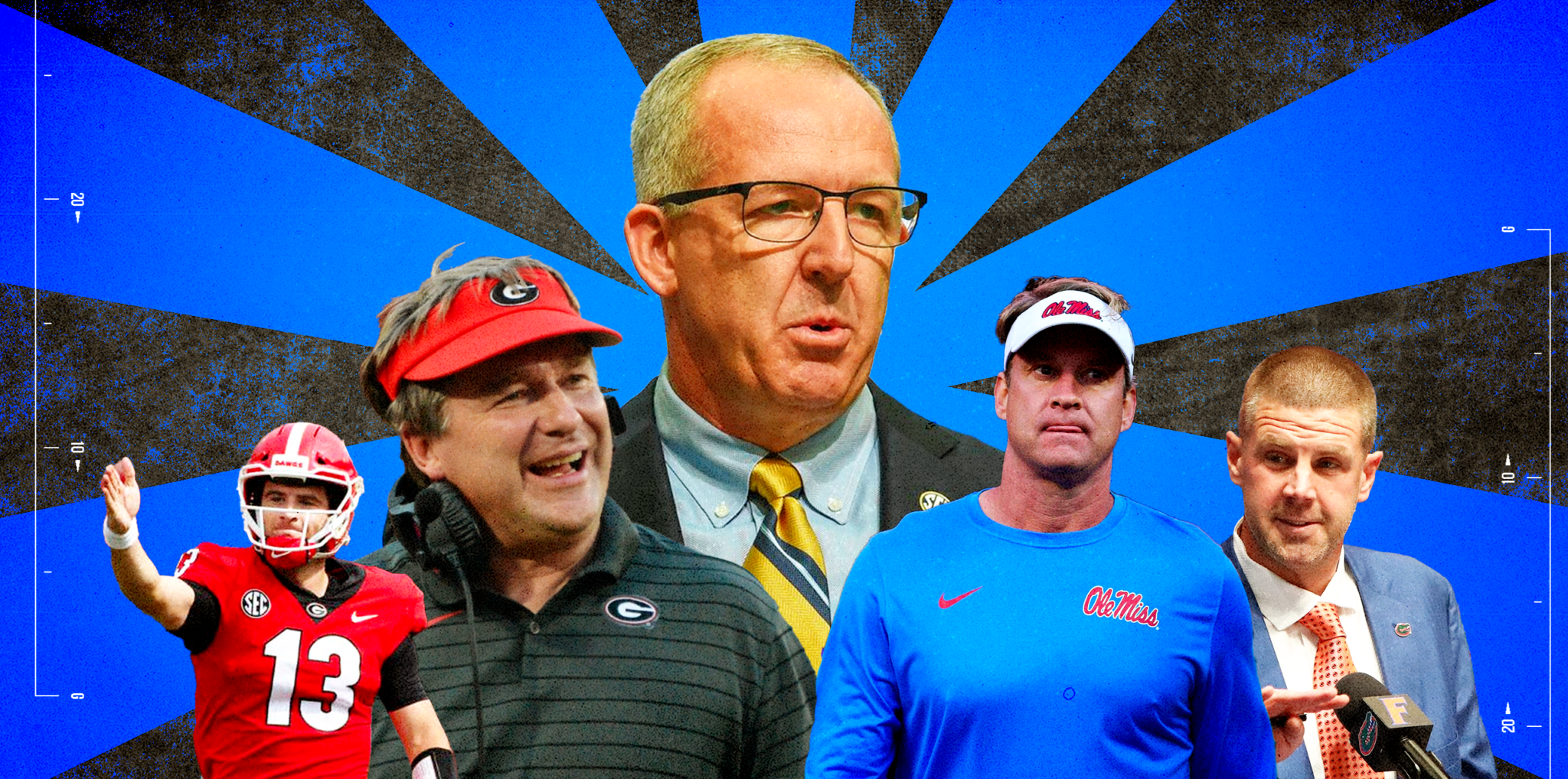 SEC
First and 10: Be careful, ACC. Greg Sankey will get an expanded Playoff -- with or without you
1. I don't want to get on a soapbox, but …
He stood in front of the raucous celebration at Georgia last weekend, one of many dignitaries to honor a championship 41 years in the making.
Greg Sankey, SEC commissioner and the most powerful man in college football, took to the stage and congratulated Georgia on its national title.
Then added this dig to the rest of college football: "As commissioner of the Southeastern Conference, I think the 4-team Playoff worked out fine this year, didn't you?"
But how much longer?
No matter what Sankey says publicly – and he's right, the 4-team setup does benefit the best conference in college football – at some point soon 4 teams will not be enough for the SEC.
That point more than likely arrives when Oklahoma and Texas begin playing in the SEC, which could be any time from this summer to the 2025 season.
But make no mistake, the move of Oklahoma and Texas to the SEC wasn't made in a vacuum. It was made with an eye to the future of college sports and specifically college football.
The sport is changing, and the postseason must change with it. That's what makes the ACC's odd stance against Playoff expansion – its decision alone likely tabling the process for 4 years – so counterproductive.
The question is, why?
Why would the ACC make a stand when it knows an expanded Playoff is the answer for monetary concerns (remember universities cutting programs during the 2020 season?), and for other issues that are quickly and clearly coming into focus (hello, pay for play).
Multiple industry sources believe there were two overriding reasons: A check on SEC power, and an attempted power play to force Notre Dame into the ACC – to supplement the conference's undervalued media rights deal.
Neither will work, and both could eventually further strengthen the SEC (more on that later).
ACC commissioner Jim Phillips denied during a conference call last week that the move was a power play for Notre Dame and said the ACC is concerned about the health and welfare of players in an expanded postseason.
While those concerns are real, they were addressed "at length," two Power 5 officials told me, over the past year with specific proposals to protect players by limiting contact over the course of the entire year – not just the season.
In an odd admission on that conference call, Phillips also said he could see FBS football contracting over the next year with the ongoing NCAA reorganization.
"We don't know what Division I is going to look like," Phillips said. "We don't know if we're going to have another division."
If FBS football contracts as part of the reorganization of the NCAA structure — and the Autonomous 5 (see: Power 5) conferences break away from the Group of 5 — Notre Dame will almost certainly need a conference partner.
Notre Dame knows this, and that's why it has been tied at the hip with the SEC and Big 12 in pushing for the 12-team model – a model that would preserve its independent status and preserve some form of the current makeup of the FBS division. The very thing Sankey has been trying to do.
In 4 years, changing the Playoff structure will only take a simple majority (not a unanimous vote like last week) from the Autonomous 5 conferences and Notre Dame.
The easiest way to understand the enormity of this moment: the SEC, Big 12 and Notre Dame favor 12-team Playoff expansion. The Pac-12 announced last week it's agreeable to any form of Playoff expansion.
The Big Ten doesn't have a problem with a 12-team format; it does have an issue with the structure (number of automatic qualifiers). The ACC is the odd conference out.
"(The ACC is) playing a dangerous game right now," another industry source told me. "Everything changes with simple majority. They could easily get boxed out in any number of ways."
Ways that could benefit the SEC.
2. The next moves
Mike Slive was Sankey's mentor, and Slive – the uber-successful former SEC commissioner who passed away in 2018 – always stressed no move is too big if thought out smartly and completely.
Sankey already has made one move in the image of Slive (OU and Texas) and was set to lead another (the 12-team Playoff).
Circumstance could easily birth the biggest yet.
Understand this: Sankey is on the NCAA transition committee for Division I football. He knows as much as anyone what could happen with the structure of the division.
The future of revenue generation is marketable marquee games. That's why the SEC added Oklahoma and Texas and why the SEC could add more marketable teams – if pushed into the decision.
Or as one industry source told me last week, "How many people thought OU and Texas would leave for the SEC? If you don't think others will, you're obviously not paying attention."
Does the SEC want to expand? The short answer now is no. But you better believe Sankey has answers in case the landscape suddenly turns unstable.
Would a paired-down FBS, and Notre Dame leaving for the Big Ten, change the landscape? Absolutely.
Guess who stands to lose big if the SEC expands again? That's right, the ACC.
One Power 5 source told me Sunday afternoon: "Are you watching these (NFL) games? This could be college football in the future."
Translation: two mega national conferences (SEC and Big Ten) in playoff games, and the winners meet for the national championship.
Sankey's goal with the formation of the 12-team Playoff was to keep the Group of 5 – or as much of the Group of 5 that made the cut in any potential contraction – in the fold of major college football. He spoke repeatedly about the "health of college football."
"My fear," said one Big 12 athletic director, "is it will be easier for (NCAA restructuring) to eliminate schools from the highest level of competition if they're not tied to that level with guaranteed access to the postseason."
3. Moving forward, The Epilogue
If Playoff expansion is dead for now, the next 18 months will be the most turbulent time in the history of collegiate sports.
The NCAA structure will completely change. The advent of name, image and likeness (which the NCAA can't legislate because it's illegal to do so), and the immediacy of transfer rules (see: free agency), will reshape rosters all over college football.
Then there's the most important move yet: pay for play. The Supreme Court already has sided with players against NIL restrictions.
You don't have to be an expert labor relations attorney (see: Jeffrey Kessler vs. the NCAA) to see where this is headed. Name, image and likeness of players is used – and has been used – to secure multi-billion dollar media rights deals.
Players want a share of the media rights deals, and there's no reason to think they won't eventually get it. That means only the strongest conferences will be fiscally able to make payments — and survive.
4. Recruiting, the great equalizer
The day he was hired at Florida, Billy Napier caused somewhat of a stir when he urged Gators fans to not get caught up with the star system of rating players. He wanted players who fit his philosophy.
Apparently, those are the star system players after all.
In 6 weeks at Florida, Napier and his staff already have made a significant impact on recruiting – the one area where former coach Dan Mullen struggled mightily.
In those 6 weeks, Napier and his staff have:
— Signed 5-star S Kamari Wilson of IMG Academy, a deep pool of in-state talent the Gators haven't been able to mine in years.
— Signed 4-star safety Shemar James, a top 100 player.
— Signed 4-star DE Chris McClellan, a top 100 player.
— Got a commitment from 4-star TB Trevor Etienne.
— Closing in on 4-star LB Emar'rion Winston (Oregon commit), and 4-star TE Arlis Boardingham.
Now Napier is on the verge of potentially making his biggest move yet: He's trying to flip 5-star LB Harold Perkins, a top 5 player who has committed to Texas A&M. Perkins, who is close friends with Wilson, likely will choose between Texas A&M, Florida and LSU.
In 6 weeks, Florida's recruiting class has jumped from the mid-70s according to the 247Sports composite, to No. 35. By National Signing Day next month, it could be a top-20 class with the Gators among the final choice for a handful of 4-star players.
In those same 6 weeks, Napier has hired more than 30 coaches and supports staff, completely rebuilding (and building) the recruiting framework in Gainesville. A framework that badly needed dramatic change.
"You have to establish trust and communication," Napier said. "And you've got kind of a sprint until February and National Signing Day."
5. The Weekly Five
The top 5 coordinator hires of the hiring season.
1. Will Muschamp, Georgia DC. Previously: Georgia special teams coordinator.
2. Mike Denbrock, LSU OC. Previously: Cincinnati OC.
3. Charlie Weis Jr., Ole Miss OC. Previously: USF OC.
4. Austin Davis, Auburn OC. Previously: Seattle Seahawks QB coach.
5. Patrick Toney, Florida DC; Previously: Louisiana DC.
6. Your tape is your résumé
An NFL scout breaks down a draft-eligible SEC player. This week: Georgia LB Nakobe Dean.
"He put on a show all season. So impressive. I haven't seen that type of season from a linebacker since Devin White at LSU in 2018. (Dean) was all over the field, and showed everything you needed to see. A strong, physical run stuffer. A fast, aggressive run and pass blitzer. He sheds blocks, has great hands, drops and is strong in coverage, he has ridiculous lateral speed. What else do you need? He never stops.
"I have never — and never is a big word — seen him take a play off. Everyone takes a play off. Not this kid. If White was a top-5 pick, you better believe (Dean) will be. There are some teams that have (Dean) rated higher than White coming out (of college). He'll be an All-Pro like White, too."
7. Powered Up
This week's first Power Poll for the 2022 season, and one big thing: One player who makes a difference this fall.
1. Alabama: OLB Dallas Turner. The days of doubling Will Anderson are over. Turner emerged as a dangerous pass rush threat in the last month of 2021.
2. Georgia: DT Jalen Carter. Had a better season as the backup to Outland/Lombardi winner Jordan Davis. He was more disruptive in the run game and a better pass rusher.
3. Texas A&M: The 15 bowl practices and game would've been beneficial to WR Moose Muhammad III, who has dynamic skills to be a true No. 1 receiver.
4. Arkansas: QB KJ Jefferson wants to lose weight, gain speed – and might get Hogs to New Year's 6 bowl.
5. Kentucky: Former Virginia Tech WR Tayvion Robinson will have the same transfer portal impact as Wan'Dale Robinson, who developed into one of the most dangerous players in the SEC.
6. LSU: WR Kayshon Boutte was a top 3 receiver in the SEC when injured midway through 2021. He'll be the best in 2022 and thrive with healthy QB Myles Brennan.
7. Florida: OLB Brenton Cox Jr. wasn't used properly by the previous staff and hasn't played a completely healthy season. He'll get double-digit sacks.
8. Tennessee: WR Isaiah Neyor, who had 12 TDs at Wyoming in 2021, committed to Tennessee. He'll have an All-American season in Josh Heupel's offense – if the Vols can sign him (Ole Miss and Texas, among others, are still chasing).
9. South Carolina: It's easy to say QB Spencer Rattler, but there's a lot of work to be done there. There isn't much to tweak with DE Jordan Strachan, who left Carolina 2 years ago for Georgia State and returns this fall with the ability to reach double-digit sacks.
10. Ole Miss: DL Tywone Malone didn't make an immediate impact in 2021. He will in 2022. He's 310 pounds and plays baseball, too. That explains the elite athleticism.
11. Mississippi State: QB Will Rogers. Year 3 in Mike Leach's system will increase accuracy and decision-making – and could lead to one of those special Leach seasons (2008 Texas Tech, 2018 Washington State).
12. Auburn: DE Derick Hall got hot in the second half of 2021, including 3 sacks vs. Alabama. He stayed for another season and will develop into a first-round pick.
13. Missouri: DE Trajan Jeffcoat. An All-SEC selection in 2020, he slipped this season and instead of leaving early, he's smartly avoiding a deep NFL Draft at the position. That means 2022 is a money season to improve draft stock.
14. Vanderbilt: The Commodores have found their QB (Mike Wright), now watch WR Will Sheppard become an elite receiver in the SEC.
8. Ask and you shall receive
Matt: You've been all over Coach Kirby Smart for 2 years about the way he has coached our quarterbacks. So now what? If you were him, what would you do? — Henry Compton, Atlanta.
Harry:
I'm the same guy who said over and over Georgia wouldn't win it all with Stetson Bennett – then did because of a ridiculously good defense. This time around, it all depends on Caleb Williams.
If the Oklahoma transfer QB chooses Georgia over USC (USC is the favorite), the entire dynamic of the Georgia quarterback room changes. First and foremost, Williams is your starter. From there, it gets interesting.
Bennett, despite his now lifetime legendary status at Georgia, isn't beating out Williams. Nor is backup Carson Beck or Brock Vandagriff. So who stays and who goes?
One could easily make the case that the only quarterback who isn't going anywhere – no matter what – is incoming freshman 5-star Gunner Stockton. After that, it's a crapshoot – including Bennett's decision to stay (as a backup).
If Williams signs with Georgia:
— Bennett transfers.
— JT Daniels transfers, and will pay for the third team in his college career.
— Beck transfers, and could end up at Florida State.
— Vandagriff, a former Georgia Mr. Football winner, likely stays.
— Stockton stays.
If Williams signs with USC:
— Bennett stays, but will have to win the job (again).
— Daniels transfers.
— Beck stays — at least until the end of spring practice, and until he gets a better idea of his chances of playing in 2022.
— Vandagriff stays.
— Stockton stays.
9. Numbers
18.4. Every foot, every yard, was painful for the Tennessee offense in 2020. The metamorphosis in one season under coach Josh Heupel was astounding, with essentially the same players – except QB Hendon Hooker.
At the top of the list: the 18.4 points per game increase from the 2020 season (21.5 to 39.9). But it didn't stop there.
Touchdowns: 29 to 67.
Total offense: 346.2 ypg. to 474.4 ypg.
Rushing offense: 141.5 ypg. to 217.31 ypg.
Plays: 660 to 953.
Yards per play: 5.25 to 6.47.
3rd-down conversion percentage: 30.2 to 44.6.
Plays of 10-plus yards: 127 to 211.
Eight starters return on offense for 2022, including Hooker, who had the most overlooked season of any quarterback in the nation (3,565 total yards, 36 total TDs, 3 INTs).
10. Quote to note
Georgia coach Kirby Smart, on previous Bulldogs teams: "The lasting memory I have of them is tears in their eyes, following one play, one step short. We wouldn't be here today without those same men who gave so much for UGA."