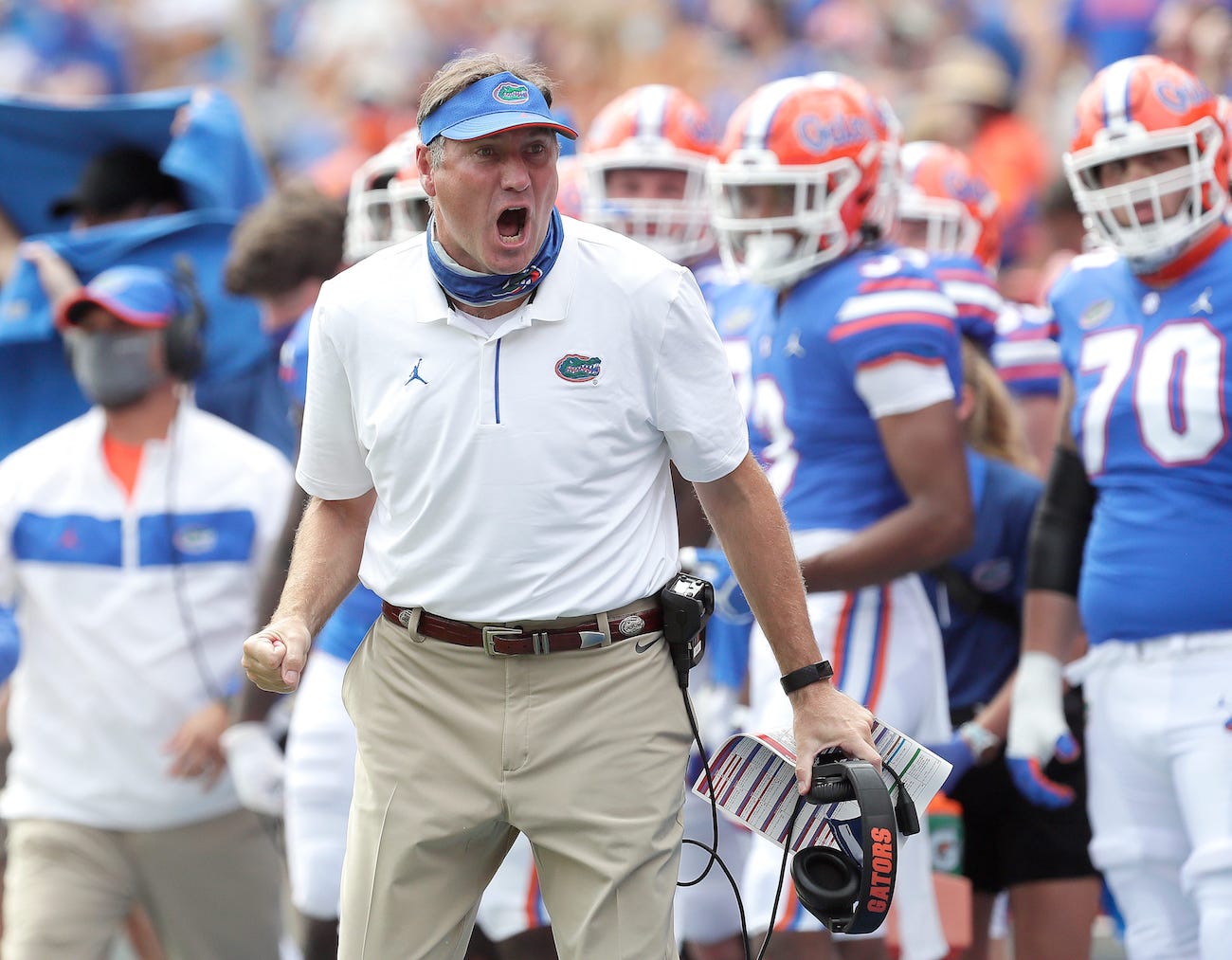 SEC
First and 10: Dan Mullen's job security at Florida is simple. Win ... or walk
Spring football has begun, and First and 10, The Offseason, is here for all things SEC and beyond.
1. I don't want to get on a soapbox, but …
Welcome to the most important offseason in the most important year for Florida coach Dan Mullen.
Despite 29 wins in 3 seasons and turning the fortunes of a stale program, Mullen could easily be staring at a win or walk season.
This is what happens when you embarrass your employer on multiple levels on and off the field, and the only thing that saves you is the capital built from winning. The one thing that changes all that: losing.
Hence, the critical offseason at Florida, where the Gators must, in no uncertain order:
— Find a new quarterback to replace record-breaking Heisman Trophy finalist Kyle Trask.
— Retool a receiving corps that loses 3 players who will be selected in the first two days of the NFL Draft (including 2 in the first round).
— Rebuild a defense (scheme, alignment or play calling; or all three) that has too many playmakers to be one of the worst statistical units in all of college football.
— Finally figure out an offensive line that has been the greatest weakness in Mullen's 3 seasons, and pave the way to run the ball more than 50% of the time in 2021.
Most important, Mullen must regain the trust of the administration at Florida, which is still upset over Mullen knowingly committing an NCAA violation that gave the program its first probation in three decades, and his postgame behavior in three separate instances – all reckless in their own way.
But understand this: Mullen isn't thrilled that his contract has been allowed to reach three years remaining without being restructured. That has been friction on his end for months now.
And more than anything, Mullen isn't going to change who he is. The only thing that allows those personality traits to roam unfettered is winning.
When asked during his spring press conference about his current contract, and if there will be negative recruiting because his contract has reached its final 3 years and hasn't been extended, Mullen said, "I don't control that part of it. That can be somebody else's press conference. That would be a good question for them."
This is what I mean by Mullen can't – and won't – change who he is. There's a simple answer to that question: "My concern is getting our guys better on the field. That other stuff will take care of itself."
Instead, Mullen shifted the onus of the question to his boss, Florida athletic director Scott Stricklin, and to a lesser extent, Florida president Kent Fuchs.
The same men who were embarrassed by the NCAA probation, by Mullen proclaiming he wanted to "pack The Swamp" in the middle of a pandemic, by Mullen instigating a near brawl in the Missouri game and showing up at a postgame press conference dressed as Darth Vader, and by Mullen minimizing his staff/players when proclaiming the 2020 Gators finished the season after the SEC Championship Game – not after getting clobbered by Oklahoma in the Cotton Bowl.
Any other coach might be humbled by those four incidents, might take the opportunity of a pre-spring press conference to recalibrate and move forward. Or not.
"There are probably sometimes I said things that, you know, may be regrettable," Mullen said last month. "Maybe didn't come off the right way, maybe got interpreted a different way and probably in the time and the light, maybe, got legs of its own."
Look, when you win 29 games in 3 seasons and play in 3 New Year's 6 bowls, you can get away with a "probably" and three "maybes" in what should've simply been "my behavior was inappropriate."
But there is a small crack in Mullen and the Gators' on-field performance, one that led to 3 straight losses to end the 2020 season. In 2 of those games, the Gators were outcoached and unprepared in losses to LSU and Oklahoma.
But the one game they weren't – a 6-point loss to eventual national champion Alabama in the SEC Championship Game — may as well be a bulletproof vest for Mullen. If the Gators get off the field on three critical defensive stops against Alabama (all three negated by penalty or mistakes), they win the conference championship.
That's why the 2021 season is so important for Mullen, why he must continue to win at a high level – and prove that he can compete for championships — so the value of keeping him is greater than the value of unloading the headache.
2. The NFL question
Before we go further, there was no NFL interest in Mullen this offseason. That's not to say that there wasn't before (there was), or that there won't be in the future (there will be).
But regardless of whether Mullen wants to admit it, his off-field antics cost him this offseason with NFL jobs. The NFL isn't interested in big personality coaches who are bigger than the players, and whose antics cast a poor light on the NFL shield.
Former Gators coach Urban Meyer learned that within the first month of his time as the Jaguars' coach, when his controversial decision to hire former Iowa strength coach Chris Doyle backfired and was immediately and roundly criticized until Doyle resigned less than a day after he was officially announced as part of the staff.
In last year's NFL conference championship games, the four coaches were Andy Reid, Sean McDermott, Bruce Arians and Matt LaFleur. Who among that group is considered a "big personality?"
That said, Florida officials wouldn't have been devastated had Mullen left for the NFL. Maybe that's why the only point of humility in Mullen's pre-spring press conference was during the discussion of NFL jobs – when he admitted he didn't speak to any teams.
Yet another reason 2021 is big for Mullen: his options, for now, are limited.
That can change quickly with a big 2021 season.
3. The most important season, The Epilogue
The good news for Florida fans: He's still Dan Mullen. Which is to say, he's still a fantastic quarterbacks coach and maybe the best play-caller in college football.
It is here where we enter the development of quarterback Emory Jones, who means everything to the 2021 season. He has waited his turn, and begins Year 4 under Mullen with exquisite knowledge of the offense, a big arm and dual-threat ability that will allow Mullen to use the full QB run package of his offense.
Don't be fooled by Jones' average performance in the Cotton Bowl (8-of-16, 86 yards). He was playing with backups who weren't ready, and thrown into an untenable situation of trailing by multiple scores against a defense that was teeing off on the quarterback (maybe Mullen could've explained it that way).
Jones will be ready in 2021; Mullen will make sure of it. Or as one NFL scout told me: "I was there to see (Trask), and I kept watching the other kid (Jones) throw it. Man, the ball just jumps off his hand. But being the backup and being the guy everyone counts on every play are totally different animals."
4. The strength of Saban
Strange how one commitment can change a narrative on so many levels.
I give you quarterback Ty Simpson, a 5-star prospect who last week committed to Alabama over Clemson. Why is this significant?
— Clemson had become a landing spot for the elite of high school quarterbacks. Tigers coach Dabo Swinney followed one generational quarterback (Deshaun Watson) with another (Trevor Lawrence) and another (D.J. Uiagalelei), and was expected to land Simpson, who has been compared to — hold onto your houndstooth — Brett Favre.
— Alabama is now a prime spot for elite quarterbacks. It took some time, but Tide coach Nick Saban is beginning to string together some impressive QB signings (Blake Barnett, Jalen Hurts, Tua Tagovailoa, Bryce Young, Simpson). The only player in that group that wasn't a 5-star recruit (Hurts) won the most games in 2 years as a starter.
Barnett started 1 game and transferred (giving way to Hurts), and Tagovailoa started two seasons before Mac Jones beat out Young for the job in 2020.
Young, the projected starter this fall, will be a junior when Simpson enrolls.
— However you look at it, Simpson clearly believes Saban will be around for at least 4 more years. In this era of quarterback premium, where freshmen leave after 1 season or a spring, Simpson knows he'll be sitting at least 1 season. If all goes as planned and Simpson starts in 2023, Saban will turn 72 in October of Simpson's sophomore season.
Saban isn't slowing down, and now he's beginning to land elite quarterbacks in back-to-back seasons.
5. The Weekly Five
Five jobs Jeremy Pruitt allegedly turned down before accepting a job as a defensive assistant with the New York Giants:
1. P.E. teacher (multiple offers).
2. Used car salesman.
3. Three-card Monte dealer.
4. Broker.
5. Trial attorney.
6. Your tape is your résumé
An NFL scout breaks down a 2022 NFL draft-eligible SEC player. This week: DT Jordan Davis, Georgia.
"I thought he should've come out (for 2021 draft), and I'm big on guys returning if there's any question about development. He was in a unique situation that he could've moved into the first round because of a lack of depth at a coveted position. He's a big space-eater with a surprisingly quick pass-rush ability. He missed some games (hyperextended elbow), but it wasn't something that would've been a red flag on (draft) reports. His strength and quickness, the way he wins his share of double teams, he can be a really effective one technique (noseguard). He has a chance to move into the upper half of the first round with a big senior season."
7. Powered Up
This week's pre-spring power poll, and one key spring practice goal.
1. Alabama: Getting new offensive coordinator/QBs coach Bill O'Brien dialed in with QB Bryce Young.
2. Georgia: Time for George Pickens, the 5-star prospect, to get serious this spring and reach his potential.
3. Florida: Gators need backup QB Anthony Richardson to push Emory Jones and force him to sharpen skills.
4. Texas A&M: Time to get closer than 21 points from Alabama with a roster nearly entirely recruited by Jimbo Fisher, including 3 QBs contending for the starting job.
5. LSU: The most important man on campus: new defensive coordinator Daronte Jones, who bounced around the NFL the last 5 seasons and came on recommendation from former LSU DC Dave Aranda, whom he worked with for 1 season at Wisconsin.
6. Ole Miss: The worst rush defense in college football gets two JC defensive tackles (Jamond Gordon, Isaiah Iton) and a transfer portal middle linebacker (Chance Campbell) – all with immediate eligibility.
7. Missouri: The lines of scrimmage were pushed around too often in 2020. That can't happen in this league.
8. Auburn: Bryan Harsin has coached QBs at a high level all of his career. Can he pull Bo Nix from his 2020 funk?
9. Kentucky: The metamorphosis begins this spring: from a wideout playing quarterback, to throwing the ball all over the yard with new OC Liam Coen.
10. Arkansas: Hogs didn't run well enough and gave up the most sacks in the SEC (34). Coach Sam Pittman, the game's best offensive line coach, won't let that happen again, with a core of young players (Jalen St. John, Ray Curry Jr.) pushing for time.
11. Mississippi State: Nothing annoys Mike Leach more than an offensive line that can't control the point of attack. Far and away most important goal of spring ball.
12. Tennessee: By the end of this summer, the Tennessee offensive linemen will be in the best shape of their careers to run new coach Josh Heupel's no-huddle offense. Until then, the work to get there (including spring ball) will be brutal.
13. South Carolina: Shane Beamer's No.1 goal: produce an offense that can score touchdowns. For all the good Will Muschamp did in building behind the scenes at South Carolina, he couldn't get over the hump of developing consistent offenses/QBs.
14. Vanderbilt: The next iteration at Vandy: the Brian Kelly process. Worked at Central Michigan, Cincinnati and Notre Dame. Can new Commodores coach Clark Lea make it work at Vandy?
8. Ask and you shall receive
Matt: So after everyone turns us down, my Vols choose a guy who was trending down at a mid-major. I'd just as soon have kept (Jeremy) Pruitt and rolled the dice. What are your thoughts on Josh Heupel?
Kenny Fielding
Nashville
Kenny: Football at every level has become a quarterback-driven game, offensive-first game. If you can't score points, the losses pile up and the product quickly gets stale.
Tennessee hired a coach who has proven everywhere he has coached that he knows offense, and knows how to develop quarterbacks. As important, he knows how to recruit quarterbacks. UCF's star QB Dillon Gabriel chose the Knights over USC and Georgia, and then developed quickly as a true freshman under Heupel.
Can Heupel bring Tennessee back to national prominence? That's some heavy lifting, especially potential NCAA sanctions on the way. I've written before that Tennessee's days of reaching the elite are long gone, but that doesn't mean the Vols can't eventually play in a New Year's 6 bowl.
Heupel may not be a sexy hire, but he's exactly what Tennessee needed: an offensive mind in an era where the game is geared toward offense – and defense is at a disadvantage (rules, tempo, etc.).
9. Numbers: 7.26
This is what Daronte Jones is walking into with the LSU defense: the Tigers gave up 7.26 yards per play last season, by far the largest number of any LSU defense over the last decade.
In 5 of the 10 seasons, LSU gave up less than 5 yards per play. The highest number outside the 2020 season in that span is 5.17 yards per play in 2015.
In a statistic that is judged by tenths of a percentage point, the difference of two yards is astronomical.
10. Quote to note
Georgia coach Kirby Smart on the new role of analyst Will Muschamp: "He'll be able to help coach the coaches, and he'll be working with the defensive side of the ball. It's very helpful to have a guy who has been a head coach at two places in our conference. He knows the ins and outs of this conference."