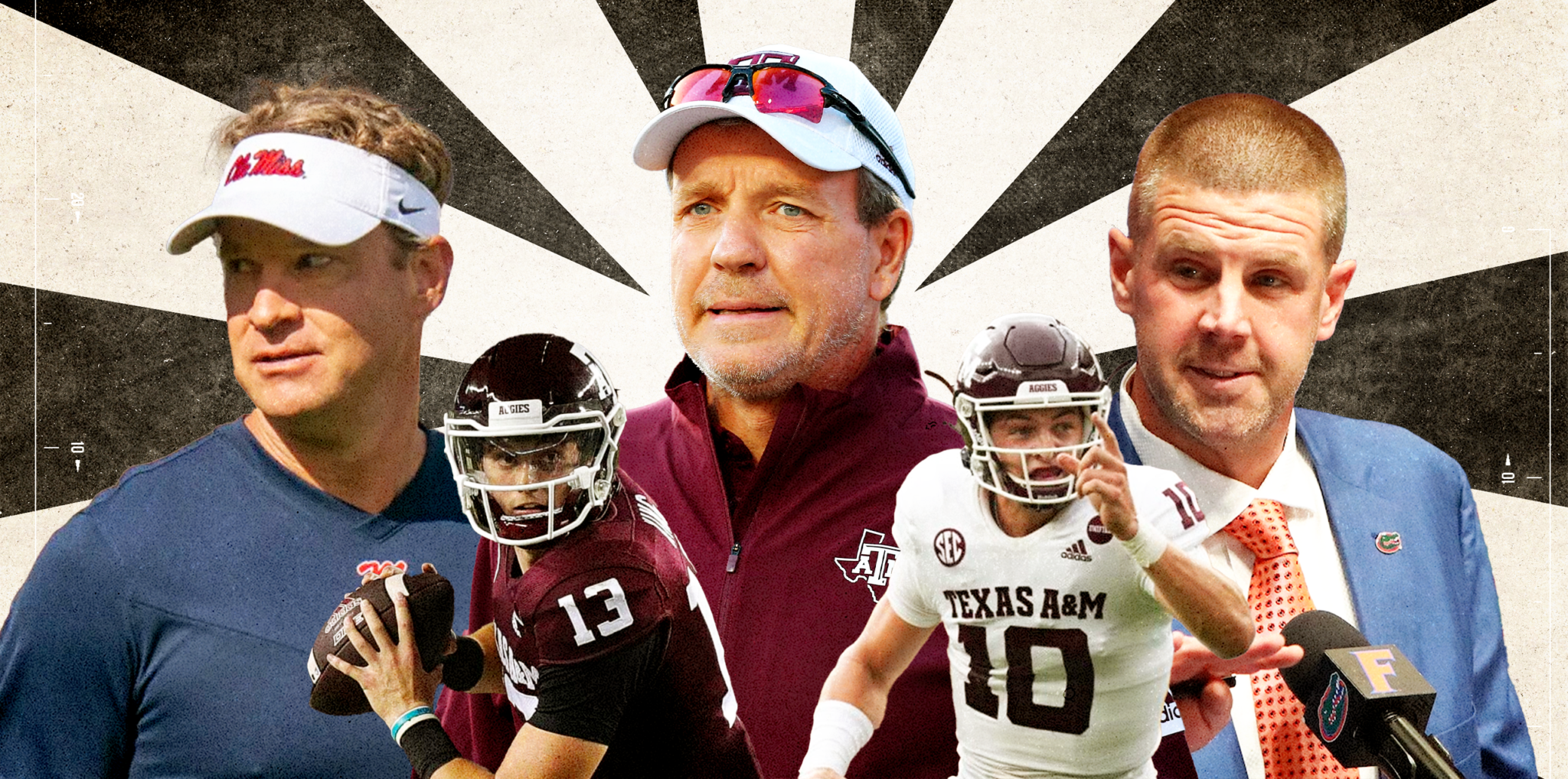 SEC
First and 10: Jimbo Fisher is building an FSU-like champion at Texas A&M. Will that be enough to pass Alabama?
1. I don't want to get on a soapbox, but …
It's the eternal question with no answer, life's great conundrum that has eluded mankind for about 14 or so years.
What exactly happens when one catches Nick Saban and Alabama?
If history is any indicator, nothing good.
Welcome to Jimbo Fisher's world, where catching his mentor and coaching rival in the 2021 season – for a game, anyway – has placed the target on the back of a guy who might just solve the unsolveable.
"We grew up in the same neck of the woods," Fisher said of he and Saban, after a 41-38 win over the Tide in October. "We think a lot of the same water."
But understand this: Even if the river looks the same, it's constantly changing.
Change, everyone, has come to College Station.
For years, we've been fixated on the idea that none of Saban's former assistants could beat their mentor. Year after year, they'd fail – some in spectacularly embarrassing fashion – and 24 games in all.
But year after year, we focus on the result and not – are you ready for this? – the process of getting there. Yes, it's Saban and his famed "process."
Because you first must win off the field before beating Saban on it.
If that sounds a little too Sun Tzu for you, let me explain it in the simplicity of West By God Virginia, where both Saban and Fisher grew up and thought of the same water: players win games.
Elite players. Well-developed elite players. High school stars with a history of winning, developed into college stars who understand maximizing team value creates individual value.
You can be an Xs and Os genius, you can have infallible schemes and put players in position to win games. But if you don't'have Deshaun Watson or Trevor Lawrence or Cam Newton or Joe Burrow (and a bunch of other elite players), you're more than likely not beating Saban and Alabama – and being a former assistant has nothing to do with it.
But Fisher changed that dynamic this season. He beat Saban without a boatload of elite players.
The only question remaining is what happens when Fisher gets those players? I'm going to give you the best possible answer, and only because it's right in front of our faces.
Florida State happens.
If Fisher does it right, if he turns Texas A&M into a version of Florida State, he'll get the Aggies to the College Football Playoff, and when playing for the national title, nearly every single player on the starting 24 will either be drafted by an NFL team or will have been on an NFL roster (like it did at FSU in 2013).
The last team to do something close to that (LSU, 2019) beat Alabama in Tuscaloosa and won the national title, and became the greatest team in the modern era of college football. Then got 18 players either drafted or signed with NFL teams.
There's your bar, Aggies. That's what Jimbo Fisher is chasing, not some ghost of a former mentor who has some magical spell over his pupils.
There's nothing magical about better players.
Gene Chizik beat Saban with a rare guy named Cam, and never backed up the 2010 national title and is out of coaching. Gus Malzahn took over at Auburn, beat Saban 3 times, but never won big and now coaches at UCF.
Hugh Freeze beat Saban twice – in back-to-back seasons! – but couldn't recruit well enough to back it up (or without breaking NCAA rules), and now coaches at Liberty.
Kevin Sumlin beat Saban with white-hot highlight reel Johnny Manziel, couldn't back it up and eventually was the guy Fisher replaced. Sumlin hasn't had a job since getting fired by Arizona in 2020.
Will Muschamp, Jim McElwain, Mark Dantonio, Jeremy Pruitt – all former Saban assistants. Whiff, whiff, whiff, whiff.
Only one of that group is a head coach, and frankly, Central Michigan doesn't count.
Then there's Kirby Smart, who has done nearly everything right since taking over at his alma mater Georgia, and no matter what he does – with the better team or with similar talent – he can't beat Saban.
Dabo Swinney beat Alabama twice in the biggest game of the season, but did so with equal talent and two rare quarterbacks (Deshaun Watson, Trevor Lawrence).
Now, the kicker: Fisher beat an Alabama team that more than likely will win its second straight national title – and did it without the benefit of a similar or better roster.
What happens when his recruiting catches Alabama?
2. The talent gap
When FSU beat Auburn in the 2013 BCS National Championship Game, 22 of the starters that night in the Rose Bowl wound up playing in the NFL.
That's one of the most impressive statistics in the modern era of college football. Nearly the entire starting lineup played in the NFL.
It's a wonder Fisher didn't win another title at FSU (the 2014 team lost in the CFP semifinals).
But that team – that specific build out – is exactly what Texas A&M envisioned when it gave Fisher a fully guaranteed $75 million contract (it has since been renegotiated to $95 million) to leave Tallahassee and tap the unlimited potential in Aggieland.
After 4 years, Texas A&M has an Orange Bowl victory in 2020, and the win over Alabama in October to show for its investment. For now, anyway.
Because building means recruiting, and Fisher's past 3 recruiting classes have all been among the top 10 according to composite rankings at 247Sports. His class this season – the class that will be nearly complete after the early signing period this week – could be the best in the nation.
Better than Alabama, better than Georgia, better than Ohio State.
So good, in fact, it more than likely was the reason he turned down a stupid-good offer from LSU to coach the Tigers. According the Action Network, LSU athletic director (and Fisher friend) Scott Woodward offered Fisher a fully guaranteed $125 million deal to leave Texas A&M for LSU.
Weeks earlier, Fisher said he'd be crazy to leave the recruiting class he's building: 4 5-star players in the top 20, and the Aggies are considered the leader for 3 uncommitted 5-star players (CB Denver Harris, LB Harold Perkins, OT Kelvin Banks).
History has proven that the surest, safest way to beat Alabama consistently is with as good or better players. What Fisher began in the first 4 years of his tenure in College Station (TAMU could have 4 first round picks in the 2022 NFL Draft), is quickly becoming an undeniable future force.
3. All about the players, The Epilogue
Maybe Texas A&M got Alabama at the right time. Maybe Alabama, with a defense that hadn't found itself yet and with star WR Jameson Williams still finding his way in the rotation, was set up to lose.
Fine. You want to go there? I'll respond with this: The Aggies won with Zach Calzada playing quarterback.
For all the building Fisher has done at Texas A&M – the Aggies could have 4 first-round picks in the April 2022 NFL Draft (DT DeMarvin Leal, G Kenyon Green, TE Jaylen Wydermyer, RB Isaiah Spiller) — he hasn't made it work at the one position that defined him (good and bad) at FSU: the quarterback.
Fisher recruited and developed (as an OC and head coach) 3 first-round draft picks at quarterback with the Seminoles (Christian Ponder, EJ Manuel, Jameis Winston). At Texas A&M, Kellen Mond got marginally better his first 2 years under Fisher, then had his best season as a senior.
Haynes King, the starter in 2021, was injured 2 weeks into the season and never returned. Calzada replaced him, and the relative uncertainty at the position was a critical factor in four losses.
King and Calzada combined to throw 19 TDs and 13 INTs, and completed only 56.7% of their passes. Those aren't championship numbers – and they most certainly aren't the numbers of a quarterback who beats Alabama.
That's what makes the 2022 season so intriguing at Texas A&M. Fair or not, Fisher showed he could beat Alabama without a stacked deck and without an elite quarterback.
Guess what Aggie fans are going to expect next season in Tuscaloosa –- with a young team and (potentially) a new quarterback in 5-star recruit Conner Weigman?
The river, everyone, is constantly changing.
And you'll never step into the same river twice.
4. All Kiffin, all the time
The move of offensive coordinator Jeff Lebby to Oklahoma could impact Ole Miss in its pursuit of the best transfer quarterback currently on the market.
Dillon Gabriel, who had 2 big seasons at UCF before sustaining a season-ending injury in the first month of the 2021 season, had a natural connection with Lebby – who coached him as a freshman in 2019.
Luke Altmyer is the projected starter at Ole Miss in 2022, but a talent like Gabriel would keep Ole Miss among the elite in the SEC.
"He has some arm talent, I'll tell you that," one NFL scout said of Gabriel. "Big arm, smart kid, football gym rat. Loves to compete. He needs to play at that (Power 5) level. He needs to prove it at that level."
And Ole Miss, with coach Lane Kiffin, looks like a perfect spot.
While Kiffin went out of his way this season to compliment Lebby and explain that Lebby was the play-caller, the offense has always been Kiffin's – with input from Lebby. Just like the offense at FAU was Kiffin's with input from Charlie Weis Jr. (who could be a candidate for the Ole Miss OC job).
While the familiarity of Lebby is the draw to Ole Miss for Gabriel, the idea of playing for Kiffin (and his new OC) will be just as intriguing. Not only that, Lebby has a young, talented quarterback (Caleb Williams) at Oklahoma, and already offered former Florida commit Nick Evers in his first few days in Norman, Okla.
5. The Weekly Five
Five things Alabama will do to make up for the loss of WR John Metchie III.
1. More time for freshman WR Ja'Corey Brooks. The easy answer (all 5 of his catches came in the past 4 games of the season).
2. Run more double tight end bunch sets with Jahleel Billingsley and Cameron Latu.
3. TB Brian Robinson (or Trey Sanders) split wide in pass situations. Both have good hands, both are difficult to bring down after the catch.
4. Move inside receiver Slade Bolden outside (they've tried this, but Bolden can't consistently get off the jam).
5. Run more and throw off play-action in max protection, setting up deep balls to Jameson Williams.
6. Your tape is your résumé
An NFL scout breaks down a draft-eligible SEC player. This week: LSU CB Derek Stingley Jr.
"I get it, you have to at least question the last 2 years. The COVID year is a wash year. That team was in disarray, and I still, to this day, have no idea what (former LSU DC Bo Pelini) was trying to do with that secondary. Then there's this year, another new defensive coordinator, another season in disarray. You almost look at the last 2 years as a wash, and focus on his first season.
"He was the best cover corner in college football 3 years ago, and it wasn't close. Rare ball skills, and so fluid. Likes to be physical, wants you to throw at him. Just a rare skill-set. He can really run, and has great makeup speed. He's long, and despite what you saw in 2020, he can play zone concepts.
"He's absolutely an outside corner who you stick out there and say I don't want that guy to catch a ball. I look at him like Ja'Marr Chase. So many people were worried about what Chase would be after sitting out a year. Same type thing with (Stingley). I have zero reservations. He's the best corner in the draft."
7. Powered Up
This week's Power Poll, and one big thing: grading the current QB status.
1. Alabama: The best QB in the game (Bryce Young) – and nothing behind him. (A)
2. Georgia: Who returns, who leaves? If UGA loses in CFP semifinals, it gets interesting. (B-)
3. Ole Miss: Landing Gabriel would be significant. Until then, a lot of the unknown with Altmyer and not much else. (C)
4. Arkansas: KJ Jefferson is the most underrated QB in the SEC – and he'll only get better. (B)
5. Texas A&M: Calzada has a big arm, and King (who had 3 INTs in 6 quarters) is athletic – and neither may start in 2020. (C+).
6. Mississippi State: If the Bulldogs can get outside speed in the transfer portal, Rogers might have the greatest season of any Leach QB. And that's a huge statement. (A-).
7. Kentucky: If Will Levis returns (and why wouldn't he?), the offense is more dangerous in 2022 – even though it could mean talented backup Beau Allen entering the portal. (B)
8. Tennessee: Job No.1 this offseason: put more weight on Hendon Hooker, who will have a huge season in Year 2 under Josh Heupel if he stays healthy. (A-)
9. Auburn: Expect coach Bryan Harsin to bring in a QB from the portal to compete with enigmatic 3-year starter Bo Nix. (C).
10. LSU: New coach Brian Kelly will hit the portal hard for maybe 2 QBs. Right now, there's Garrett Nussmeier on the LSU roster, and not much else. (D).
11. Missouri: Connor Bazelak or Brady Cook? Bazelak's regression in 2021 has given opportunity to Cook, who showed potential is limited time this season. (C+)
12. South Carolina: This will be a completely different QB room in 2022. The goal: completed passes. Seriously. (D)
13. Florida: Gators had two talented QBs and one of the best QB coaches in CFB – and threw the most interceptions in FBS (18). Both QBs return. (D-)
14. Vanderbilt: Clearly found something in Mike Wright over the last month of the season. Can Year 2 be a significant jump? (D)
8. Ask and you shall receive
Matt: Are you with all of your media friends who say Stetson Bennett played well enough against Alabama to win the SEC, but that it was the Georgia defense that didn't hold up? Please bring the sanity. — Geoff Franklin, Atlanta.
Geoff: I haven't moved off what I feel about Bennett, who is a serviceable SEC starter whose playing life is much easier because of an elite defense.
But understand this: Bennett doesn't drive the ball on 3rd-and-make a play. He's not a quarterback where if you need 9-plus yards, he can throw that deep dig consistently and accurately, and on time.
And frankly, what Bennett did wasn't enough to win the SEC Championship Game. When you score points consistently (which Georgia didn't do against Alabama), you stress the Alabama defense. And as important, you stress the Alabama offense.
Because if Bennett and the Georgia offense are consistently moving the ball and scoring points, the Alabama offense must do the same.
Now switch Alabama with Michigan. See where this is headed?
Georgia can't get into a fistfight with a physical Michigan team, and needs its offense to score and force a one-dimensional Michigan offense to consistently have to win to keep up.
It's never all on the defense, especially in this offense-first age where the rules favor scoring points. Teams must score as much and as often as they can, and I don't see that kind of proficiency with Bennett and the Georgia offense.
If Kirby Smart is sticking with Bennett – and there's no reason to believe he won't – Georgia better figure out how to block Michigan DEs Aidan Hutchinson and David Ojabo.
9. Numbers
3. I've written at length about the potential with Florida QB Anthony Richardson. The unique talent is easy to see.
Here's what else is easy to see: Richardson is injury-prone. So much so, that it might influence whether Emory Jones stays at Florida and or enters the transfer portal.
It's hard to ignore that Richardson had 3 injuries in 3 months in 2021. A hamstring injury forced him to miss 3 games, a concussion eliminated another game, and now a knee injury will keep him from playing in the bowl game.
It's understandable that injuries happen to big athletes who are twitchy (Richardson is 6-4, 235 pounds). But 3 significant injuries in one season isn't an anomaly, it's a trend. A dangerous trend that can't be ignored.
10. Quote to note
Mississippi State coach Mike Leach on players sitting out bowl games, per the Jackson Clarion-Ledger: "You've got an obligation to the place that helped build and develop you, and finish it out in the bowl. That's part of it. You owe it to your team, you owe it to your fans, you owe it to your coaches, and it's the most bizarre thing in the world to me."