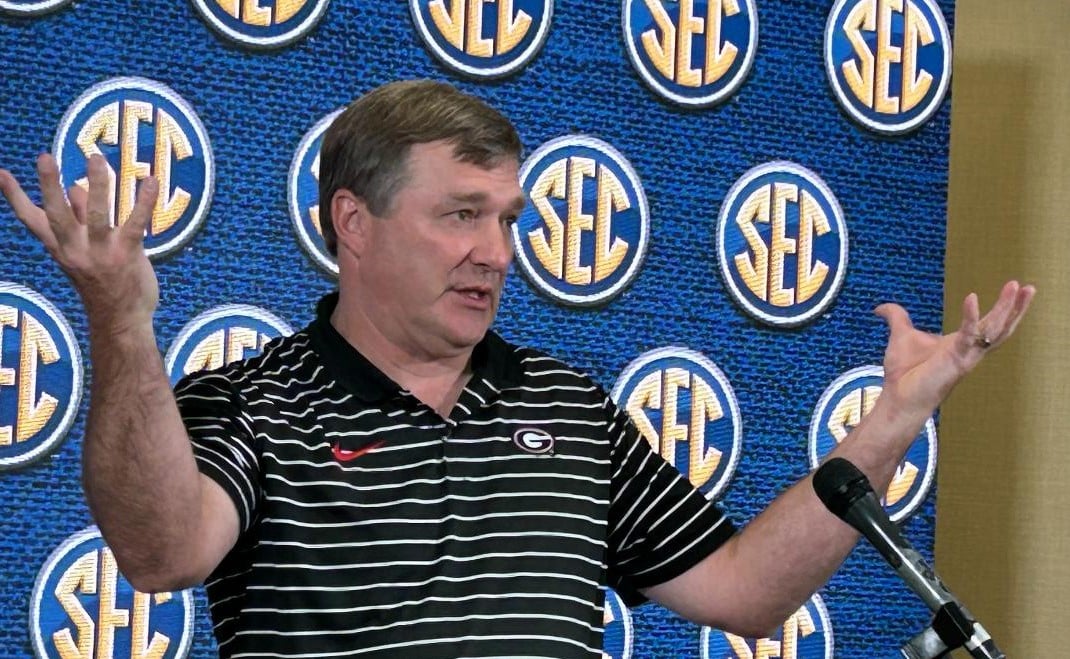 SEC
First and 10: Forget defending the national title, Kirby Smart needs to defend Georgia's honor first
1. I don't want to get on a soapbox, but …
Now we'll see if Kirby Smart truly has learned from the greatest of all time.
Now we'll see if Smart is stubborn and plows ahead, change be damned, into the uneasy unknown. Or if he figures out how Nick Saban avoided it all — and fixes a growing mess in Athens.
Of all the unthinkable success, the championships, the NFL draft picks who have combined to make more than a billion dollars playing professionally, 1 thing stands out among Nick Saban's 17 seasons at Alabama.
Avoiding the dynasty killer of players behaving badly.
Smart learned everything else from Saban as his top lieutenant and defensive coordinator of 9 years, and transplanted it. Georgia has grown, like Alabama, to unthinkable success.
Only now it has reached the fail point of every other dynasty of the past 20-plus years.
What will Smart do after an exposé last week from the Atlanta Journal Constitution outlined a program at a crossroads? How does he respond to a public undressing of numerous off-field accusations and problems so disturbing, the AJC describes Georgia as a program rallying to "support athletes accused of abusing women" and where "strong on-field performance appears to excuse bad off-field behavior."
The AJC report said it identified 11 players during Smart's tenure who remained with the team after women reported violent encounters to the police, to the university, or both.
Other revelations from the report:
Star LB Adam Anderson was arrested for rape after a woman — who worked part-time with the football team — claimed Anderson violated her after she passed out from drinking in October of 2021.
Despite the fact that the alleged victim worked for the football team, 8 players showed up in court as character witnesses for Anderson — who was later charged with a 2nd rape.
A player was charged with recording a sex act with an unconscious woman, and remained on the team for a full season before transferring.
A recruit was accused of sexual assault during his visit, and the AJC reports there's video of Athens police detective Daniel Schmidt interviewing the recruit — Jamaal Jarrett, who is part of the 2023 recruiting class and currently enrolled — with Georgia Director of Player Support and Operations Bryant Gantt in the room.
The AJC says the video shows "the interrogation seemed more like a counseling session." During the interrogation, the AJC says Schmidt referred to Georgia as "my beloved Bulldogs."
"I'm looking out for you," Schmidt told Jarrett on the video, according to the AJC report. "No matter how this plays out, I think there's a lot you can learn from it. You can talk more to Coach Gantt about it, because it's not his first time navigating this."
"Correct," Gantt said. "Correct."
Make no mistake, these problems aren't unique to Georgia — but in no way should that minimize a growing trend and depth of alleged dangerous and/or criminal player behavior at Georgia under Smart.
The AJC report comes on the heels of a disturbing offseason in Athens, and after multiple cases of dangerous street racing and reckless driving eventually led to a tragic event that took the lives of a Georgia football player and a staffer (the Georgia athletic department is named in a $40 million lawsuit filed by the family of one of the victims).
Smart hasn't responded to the allegations, but the Georgia program released a statement to the AJC that said its coaches suspend players who face "any credible allegation of sexual violence or assault" during the investigation process.
Key word: "credible."
This is a long way from being over for Smart, who eventually must respond to the charges of his program's disturbing offseason — and likely at SEC Media Days later this month.
How he responds, and how the team responds moving forward, will show if Smart has learned the most important part of Saabn's famed "Process" for winning at a high level.
2. The known vs. the unknown
Before we go further, understand that Smart knows of all these allegations. There's a simple line of connection: the police to Gantt to Smart.
Gantt's job is simple: he's a fixer. His job description on the university website states he provides "advice and counsel to student athletes in areas related to life skills, personal accountability and personal development."
He helps keep players eligible, and that includes helping them navigate the judicial system. From parking and speeding tickets, to charges of reckless driving, to allegedly much worse, he's the first to know.
Gantt is a direct line to Smart, and there's zero chance Gantt doesn't immediately forward information of a sensitive nature. A parking ticket? No. An alleged sexual assault? Absolutely.
Not the next day, or in a couple of days, or when Gantt gets around to doing it. As soon as Gantt is informed of a criminal charge of sexual assault — or any other criminal charge — Smart immediately is informed.
Again, this isn't unique to Georgia. This is how things run at most major football programs.
Head coaches can't be bogged down with parking tickets, but you better believe they know everything about criminal charges — because that's where job security comes into play. That's where Smart and the university have exposure.
Smart knows all about the 11 players during his tenure who, according to the AJC, "remained with the team after women reported violent encounters to the police, to the university, or both."
He may have already laid down the law to his team, and may have done so after other problems this offseason — including a problem that led to the death of 2 members of the Georgia football family.
But now it's all public knowledge, and now it will affect recruiting. Now he can no longer refuse comment.
He has to publicly address the charges at Media Days, and can't simply say discipline is "internal." That's not flying anymore, and more to the point of what's important to him as a coach: parents of recruits aren't buying it from here out, either.
3. The long list of shame
The Miami dynasty ended with a rogue booster and his Ponzi scheme. Then came USC, which tumbled off the mountain because of a wannabe sports marketer — and fell all the way down after Pete Carroll left for the NFL to avoid the NCAA sheriff.
Florida's ended with 36 arrests in 6 seasons under Urban Meyer, and Jim Tressel's time at Ohio State ended with players selling memorabilia for cash.
Miami hasn't been nationally relevant since. It took USC 8 years before it won another Pac-12 title once Carroll left after the 2009 season.
Florida hasn't won an SEC title since Meyer left after the 2009 season, and Ohio State moved on from Tressel to Meyer, who won another national title before his own problems contributed to the end of his 2nd tenure at a major Power 5 program.
Then there's Alabama with Saban, who has avoided it all in nearly 2 decades in Tuscaloosa — and has won a remarkable 6 national championships and at least 11 games in every season but 2.
It's a off-field trap waiting to happen, fueled by the human condition. Players are young men plopped into a circle of adulation, and believe they're bulletproof.
They've been told they're special and unique since they first began playing as children. They believe consequences are for others.
It's not all players. In fact, it's a small fraction of any 85-man roster.
But the few can bring down the many, and in many cases, can bring down a coaching staff and/or end a dynasty.
Saban has dealt with problems over the years, and has had a few dicey moments. But they've never rolled into a group of problems over a short timeframe with the ability to sidetrack the goal of winning games.
Because that's what this is all about. When problems become distractions, winning games becomes more difficult.
"You start making this kind of money coaching football, and you'd be surprised how much some guys look away," an SEC coach told Saturday Down South. "At the end of the day, that rot from within is coming out one way or the other. You're not stopping it."
4. Off the field … to on the field
It's a delicate balance. Coaches talk over and over about the sacred locker room, and the chemistry needed to win big.
Now imagine an offseason of turmoil, followed by a week at SEC Media Days where the conversation is Georgia and its ability to win despite all the distractions.
Any future player problem — small or large — will fall under the microscope of this offseason and bleed into a season where the Dawgs will begin defense of their back-to-back national championships with a brand new quarterback. A new tip of the spear.
If you don't think that's a big deal on the field (it is), there's no denying its importance off the field. Like it or not, projected starting QB Carson Beck is the team leader, the 1 player all others look to when times get tough.
If that player isn't performing at a high level, the incredibly difficult task of winning another SEC title — much less another national title — is increased tenfold.
The quarterback is everything, and that (fair or not) places the pressure of responding from a drama-filled offseason directly on his shoulders — from the first day of fall camp.
As if Beck didn't have enough pressure following program legend Stetson Bennett IV, now he has to perform and lead at such a high level that the excuse of the offseason doesn't apply.
Smart can make this a lot easier on all involved by avoiding the talking points of having a "good culture" and "more guys who do the right thing that aren't publicized" — and by publicly stating this ends right now, and explaining how.
He needs to learn and execute a final lesson from Saban: avoiding the fall of the dynasty.
5. The Weekly 5
The top 5 games that stress the Tennessee win total (9.5):
1. Oct. 21, at Alabama: Hello, rivalry. For the first time in more than a decade, the Third Saturday in October is a true rivalry again.
2. Nov. 18, Georgia: The biggest game on the schedule for Tennessee, which still believes it wasn't the team it showed in last year's ugly loss.
3. Sept. 16, at Florida: A dangerous spot. Vols have momentum, Florida is rebuilding — but still has enough to make it interesting.
4. Oct. 14, Texas A&M: Halfway through the season, talented Aggies will be completely integrated with new OC/play caller Bob Petrino.
5. Oct. 28, at Kentucky: A week after the Alabama game. How beat up with the Vols be, and how much better will UK be with QB Devin Leary?
6. Your tape is your resume
An NFL scout analyzes a draft eligible SEC player. This week: Missouri DE Darius Robinson.
"He's a versatile guy, can play a lot of positions. He can be moved inside to 3 technique if needed, but I definitely see him as an even front end. He could have come out, and probably been a late round guy. But I like that he took the Covid season, and wants to get better. He has good hands and leverage, but needs to sharpen some of those pass rush moves. Two things I look for in a end: does he have those violent hands, and does he love to chase? He has both."
7. Powered Up
This week's Power Poll, and 1 big thing: ranking the wide receiver rooms.
1. Texas A&M: Evan Stewart developed into a strong option late last season, and is primed to move into the elite of the league in 2023. Moose Muhammad is the most underrated receiver in the SEC, and Ainias Smith is a burner with 17 career TDs.
2. Georgia: If it doesn't work out with Beck, it won't be because of a lack of quality WRs. Ladd McConkey, Marcus Rosemy-Jacksaint and Arian Smith are a strong trio. Now add Missouri transfer Dominic Lovett and Mississippi State transfer RaRa Thomas.
3. Tennessee: Bru McCoy showed in multiple games in 2022 that he has No. 1 receiver talent, and Squirrel White averaged 16 yards per catch. The key: if the remarkable becomes the routine for Ramel Keyton, the Vols will have found another Jaylin Hyatt.
4. Kentucky: Sophomores Dane Key and Barion Brown could be the best tandem in the SEC, and Tayvion Robinson is a strong possession receiver. Freshman Shemar Porter will be a factor, too.
5. LSU: Malik Nabors is poised for an All-America season, and Kyren Lacy developed into a legit deep threat this spring. Brian Thomas Jr. caught 31 balls in 2022, but had 5 TDs. Alabama transfer Aaron Anderson could also factor into the top 4 receivers.
6. Alabama: JC transfer Malik Benson could be the steal of the transfer season — and was unranked coming out of high school. Can Ja'Corey Brooks become a true No. 1? And watch the emergence of Isaiah Bond.
7. Ole Miss: Transfer Zakhari Franklin (UTSA) was the steal of the transfer portal, and Tre Harris (Louisiana Tech) will also start. Jordan Watkins, who had 40 catches last season, is reliable on 3rd down.
8. South Carolina: Juice Wells is an All-SEC caliber receiver, and Memphis transfer Eddie Lewis averaged 14.6 ypc and had 7 TDs in 2022. Can Xavier Legette develop into a legit perimeter player?
9. Mississippi State: Speedy Lideatrick Griffin is the perfect example of how MSU's offense will move to more vertical throws in 2023. Jaden Walley and Justin Robinson combined for 64 catches and 6 TDs in 2022.
10. Missouri: Former 5-star recruit Luther Burden III is moving inside to the slot, and the staff thinks he'll be more dynamic. Oklahoma transfer Theo Wease (10 career TDs), meanwhile, will be on the perimeter. The staff is excited about sophomore Mekhi Miller.
11. Vanderbilt: Will Sheppard would start for nearly every SEC team, but he needs help. Jayden McGowan is solid, and if junior Quincy Skinner can take another big step (like last season), there's a lot to like about this group (and QB AJ Swann).
12. Florida: Ricky Pearsall is solid, but there's plenty of questions behind him. The best options are freshmen Andy Jean, Aidan Mizell and Eugene Wilson.
13. Arkansas: Transfers Isaac TeSlaa (Hillsdale College) and Andrew Armstrong (Texas A&M-Commerce) were the stars of spring practice, and Isaiah Sategna — the jewel of the 2022 recruiting class — took a big step, too.
14. Auburn: A microcosm of Hugh Freeze's impact: 3 of the top 5 wideouts are transfers: Shane Hooks (Jackson State), Jyaire Shorter (North Texas) and Caleb Burton III (Ohio State).
8. Ask and you shall receive
Matt: I've seen you write about the Vanderbilt quarterback this offseason. Are we talking about a legit Jay Cutler-type Vanderbilt quarterback? — Josh Miller, Chicago.
Josh:
He's not Jay Cutler. Very few college quarterbacks had the arm strength of Cutler. But Swann is an elite thrower, whose arm talent and accuracy were undeniable as a freshman last season.
One NFL scout I spoke to said, "I love his pocket awareness at such a young age. He makes difficult throws look easy. You don't see those kind of things from a guy in his first season of college ball — against those defenses."
Swann and Mike Wright both played last season, but Swann was clearly the better option. It wasn't that close. That's why Wright — a team captain who played well at times for Vandy — transferred to Mississippi State.
Swann won the job in Week 4, but missed time with 2 different injuries. He has to stay healthy — or more to the point, Vanderbilt has to protect better. If the Commodores can keep him clean in the pocket, wait and see how he blossoms in Year 2 as a starter.
9. Numbers
107. Much has been made about the drop-off at wide receiver at Alabama in 2022. No number puts that better into perspective than catches.
While last year's top 3 receivers (Kobe Prentice, Burton, Brooks) had a better average yards per catch (15.3) than the 2021 top 3 (14.4), the 2021 top 3 of Jameson Williams, John Metchie III and Slade Bowden had 107 more catches (217) than last year's top 3.
If you truly want to know how Alabama's receivers have struggled, it's in volume catching. You can't drop that much in 1 season and expect to be 2 plays away from an unbeaten regular season.
Yet there was Alabama — 2 plays away from an unbeaten season. Maybe that explains some of Saban's complaining this offseason. He knows just how good the 2022 team was, and why it didn't get there.
10. Quote to note
The University of Georgia: "The University of Georgia and athletic association consider any allegation of sexual assault or domestic abuse to be a very serious matter, and we take swift and appropriate action in response to allegations when warranted by law enforcement or internal investigations."