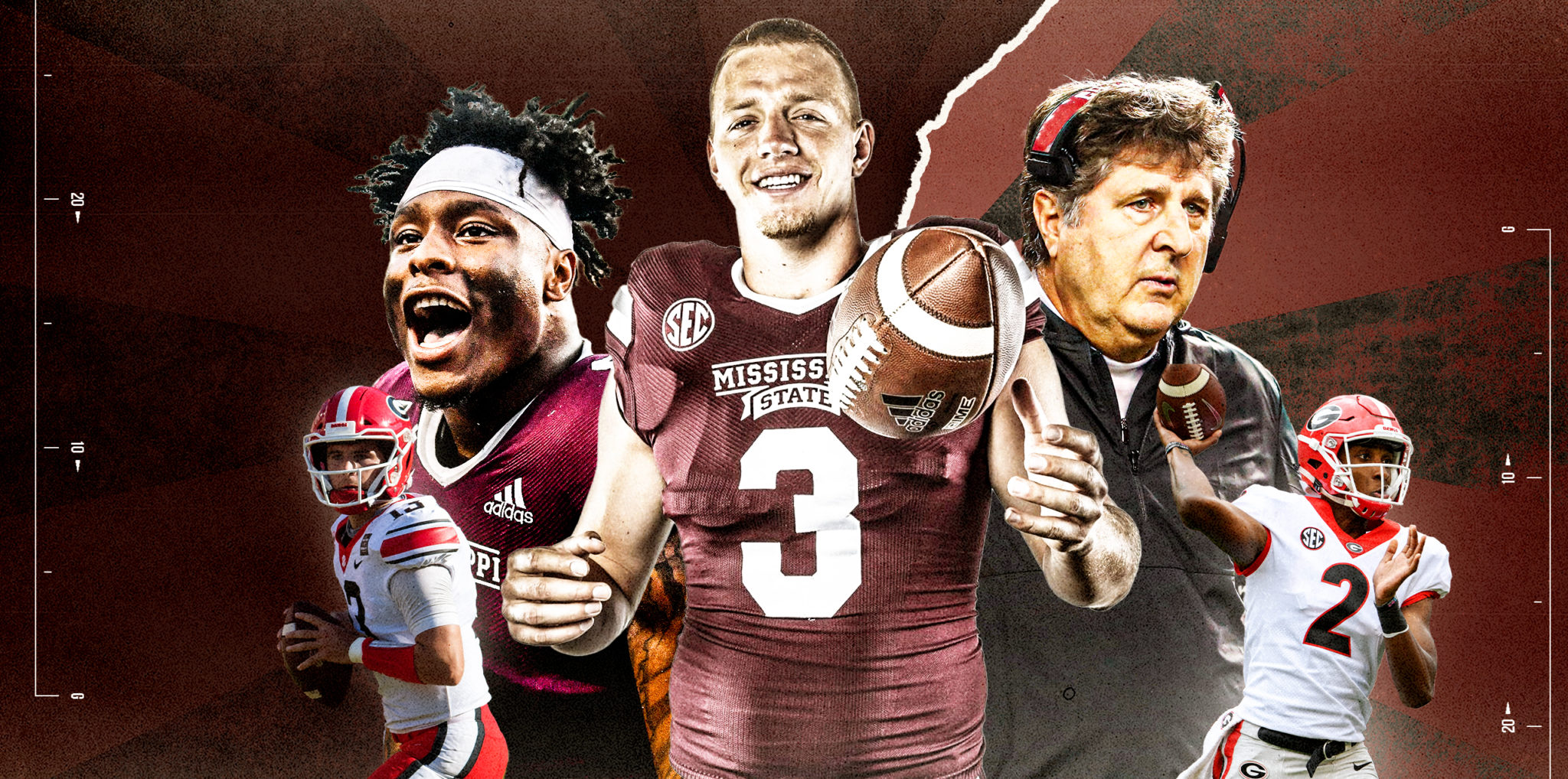 SEC
First and 10: Hey, SEC ADs, how do you like Mike Leach now?
1. I don't want to get on a soapbox, but …
It's a gimmick offense, it won't work in the SEC.
You can't protect the quarterback from those vicious SEC defensive linemen.
You can't run the ball.
You can't score in the red zone.
And on and on and on.
"You know how many times I've heard you can't do this or that?" Mike Leach says.
Not anymore. Not now that Leach and his Air Raid offense at Mississippi State officially jumped into the SEC meatgrinder last weekend – about 15 years too late – and obliterated all of those simplistic and shortsighted reasons it wouldn't work.
In one sweltering afternoon on the Bayou against LSU, Mississippi State became the first team since 1998 to beat a defending national champion in the season-opener.
Leach's Air Raid offense set the SEC single-game record for most passing yards in a game (623) – the first time it hit the field.
Leach's Air Raid offense was led by KJ Costello, a graduate transfer quarterback from Stanford – who lost his job last season.
Leach's Air Raid offense had never beaten a top 10 team on the road in 18 previous seasons at Texas Tech (10 years) and Washington State (8 years) – then did it in its first SEC game.
Leach's Air Raid offense had all of 6 weeks of preparation because of the COVID shutdown – then snapped LSU's 16-game winning streak.
"I don't know if any individual could visualize this taking place," Costello said during a postgame zoom call.
One individual could: The same guy who for years has been seen as the odd man out, the quirky (you say quirky, I say entertaining) coach whose offense might produce highlights but won't ever produce significant victories.
The same guy who for two decades has so sharply refined the passing game, the NFL eventually took notice and now a majority of the teams run Air Raid principles.
Four verticals. The Mesh concept. Double slants. Post Wheel. Shallow High-Low.
The rage in all of football at every level now – the Run-Pass option – has been Air Raid lifeblood since Leach was offensive coordinator at Kentucky in the mid-1990s.
Patrick Mahomes and the Kansas City Chiefs last year used an Air Raid-fueled offense to win the Super Bowl – all while NFL analysts celebrated the "innovative" offense coach Andy Reid had built.
Joe Burrow used RPO principles in last year's national championship run at LSU to produce the greatest single season in college football history. Joe Brady, LSU's pass game coordinator, used it for 1 season at LSU to land a $2 million-a-year job as the Carolina Panthers' offensive coordinator.
LSU coach Ed Orgeron had the wherewithal to realize after the 2018 season that he needed to take drastic steps to change LSU's stagnant offensive history. He hired Brady, and less than a year later, won a national title with an overwhelming offense that was taboo in the SEC for so long.
How fitting then, that Leach's first game as a head coach in the big, bad SEC finished with him surgically dismantling the league's hierarchy so completely, the broadcast crew for CBS had a hard time explaining it.
It was then that I reached out to 2 former administrators in the SEC and asked why Leach never seriously received consideration.
One former AD: "I don't think I could've sold it to our president. Wait, I know I couldn't have."
Another former AD: "I guess looking back now, in hindsight, maybe a lot of us should've taken a second look."
2. Staying within the family
It is here where we stop to give credit to former Tennessee AD John Currie, who had the foresight to take a chance on hiring Leach.
And was fired himself before he could consummate the hiring.
"A strange deal," Leach says of his near marriage 2 years ago with Tennessee. "It was done until it wasn't."
Look, I don't want to say the SEC is an incestuous coaching fraternity (it is), or that going outside that fraternity means risking your livelihood (it does), but take a look at the career paths of the 2 men involved in Tennessee's last coaching search:
— Former Vols coach Phillip Fulmer led a coup to get Currie fired, get himself named AD, and then hired an assistant coach (Jeremy Pruitt) and paid him $4 million a year (see: incestuous).
— Currie, who was one of the top young AD's in college sports when Tennessee hired him 9 months earlier, was shipped off to Siberia (a consultant at Texas, an adjunct professor at Columbia) before Wake Forest last year hired him as AD.
It was clear that Leach didn't fit the staid ideals of what an SEC coach should be, and Fulmer would make sure of it.
Just like athletic directors all over the SEC, who since 2001 when Leach took his first job at Texas Tech, time and again pushed back against the idea of unique change (and eventually, Leach's track record of winning at outposts Tech and Wazzu) for the idea of "fit."
You know, "fits" such as Guy Morriss, Jim McElwain, Bret Bielema, Robbie Caldwell, Matt Luke, Mike Sherman. Do I need to go on?
Yeah, Leach is quirky. And he had a few skeletons (the handling of Adam James' concussion that allowed Tech to fire Leach because he was getting too powerful; the tweet of a fake video of former President Barack Obama that cost Washington State University $1.6 million in committed future donations) to go along with a penchant to speak his mind.
But not once have his teams run afoul of NCAA bylaws. In fact, his teams were on the high end of academic success at Tech and Wazzu – after inheriting questionable situations in both programs.
In 18 seasons before arriving at Mississippi State, his teams won at least 9 games 7 times, at least 8 wins 12 times, and had only 3 losing seasons — all at Wazzu, maybe the heaviest coaching lift of all in FBS.
His offenses are consistently among the top 5 in the nation, and his quarterbacks typically among the top 5 in the nation in passing. He puts fannies in the seats and points on the scoreboard. What more could you ask for?
Now he has his first big win in the SEC. In his first game.
3. The misunderstood man, The Epilogue
Here's the issue with hiring Leach: Until you've sat down and talked with him at length, he's more a carnival sideshow than one of the greatest offensive minds of our generation. He thinks differently about everything and isn't afraid to speak up. That rubs many the wrong way.
So instead of focusing on his many successes on the field – like many administrators in the SEC should have done – it was always about what they didn't understand.
At the top of that list was the Air Raid, this complicated jumble of offense that looks like bugs scattering after you've kicked over a rock.
"Nothing, and I mean nothing, could be further from the truth," says Anthony Gordon, Leach's record-setting quarterback in 2019. "It's about being better than the other guy. That's the simplest way I can explain it."
There's nothing confusing about a system that uses 7-10 plays and runs them out of 70 or so formations. Leach's philosophy is based on two distinct and unwavering ideals: repetition and execution.
Run the same 7-10 plays in practice over and over and over – until it's the same as breathing. Everyone knows their job (down to specific steps and breaks for receivers, and time and anticipation for quarterbacks), and everyone practices over and over until the execution is flawless.
That's the secret to Leach's offense: He knows you know he only has 7-10 plays, but his players will out-execute yours more times than not. The ball will be thrown and it will be at the exact position it needs to be for the receiver – running in stride – to catch and beat the defensive back. Or thrown to a spot where the receiver sits in a zone — or as Leach likes to say, "throw to the green area" of the field.
Just like those dewdrops Costello threw to Osirus Mitchell and JaVonta Payton, who constantly got behind LSU defensive backs to make big plays. Or the throw to tailback Kylin Hill, who got loose on busted coverage and Costello threw to the green. Or those perfectly-timed out throws that can't be defended.
There are always rough spots and adjustments for any new coaching staff, and there will be for Leach in the SEC. But the fact that he got his team ready to play on the road against the defending national champions – despite the distractions of COVID and the resulting postponements of practice and offseason conditioning since March – is a credit to a system that has only slightly changed since his first game at Texas Tech in 2001.
On the day he fired Joe Moorhead, Mississippi State athletic director John Cohen reached out to Leach to gauge his interest. There would be other interviews, and other coaches who turned down the job, including New York Giants coach Joe Judge and Louisiana coach Billy Napier.
Cohen kept going back to Leach, and kept calling around to make sure it was the right move. He spoke to Jacksonville Jaguars quarterback and Mississippi native Gardner Minshew and got rave reviews, and spoke to NFL personnel who admitted much of the credit for today's passing game goes to Leach.
A week after he hired Leach, Cohen admitted that he spoke with numerous "high-power" athletic directors that said they should've hired Leach.
"Powerful comments," Cohen said. "Saying, 'I had the opportunity, and I didn't do it.'"
Cohen didn't make the same mistake. All it took was one game to prove it.
4. Retracing the steps
Before we get all sideways on start to panic about LSU, let's delve deeper into the 3 biggest issues facing the Tigers: quarterback, offensive line, secondary.
Derek Stingley, the best cover corner in the nation, missed the game because of an illness. He was replaced by FCS transfer Darren Evans who joined the team a little more than 3 weeks ago. Cornerback Jay Ward missed 2 weeks in camp because of an injury, and looked slow in reaction time.
The offensive line is inexperienced and struggled in both the run game and pass protection. That's a difficult combination to overcome for first-year starting quarterback Myles Brennan, who had very few snaps of significance in his previous 3 years at LSU.
Brennan didn't play all that poorly. He missed some throws and was late on others. But he was sacked 7 times and was constantly harassed, and timing and throwing with anticipation is difficult enough in your first start without having to deal with shaky protection.
Burrow held onto the ball too long during the early stages of his first season as a starter, and he had a solid line in 2018 and the best line in the nation in 2019. And now? A new passing game coordinator (Scott Linehan), a new offensive line and a new quarterback.
This was going to take time to fit the pieces together no matter who showed up in Tiger Stadium for the opener. It just happened to be a team that took advantage of every potential problem.
5. The Weekly Five
Five picks against the spread:
Texas A&M at Alabama (-9.5)
Auburn (+4.5) at Georgia
South Carolina (+19.5) at Florida
Arkansas at Mississippi State (-17)
Ole Miss (+7) at Kentucky
Last week: 3-2.
Season: 3-2.
6. Your tape is your résumé
An NFL scout breaks down a draft eligible player. This week: Florida TE Kyle Pitts.
"He's a move tight end. He has a chance to be a better blocker – you can see it sometimes – but you're getting a guy that can go get the ball. In this league, you almost have to have a guy that can not only be a matchup problem, but that can stress a defense after the catch. The two best in this league – (Travis) Kelce and (George) Kittle – scare the hell out of you after the catch. Pitts has that athletic ability and the speed to be that type of player.
"He's also a guy that I think can put on 10-15 pounds and be a monster, an absolute beast to defend. He's really tough to defend down the seam with those long arms and ability to go get the ball at all angles. He'll have to do a better job getting off the jam in this league, but that's not unlike a lot of guys at that position when they transition."
7. Powered up
This week's SEC Power Poll, and one big thing:
1. Alabama (1-0) vs. Texas A&M: There were coaches on staff who believed Jaylen Waddle was the team's best receiver last season. He just needed consistency and motivation. He has both now.
2. Florida (1-0) vs. South Carolina: Gamecocks missed numerous deep throws in last year's loss, the same deep throws Ole Miss hit for more than 300 passing yards.
3. Auburn (1-0) at Georgia: The interior lines – the 2 greatest questions in 2020 – held up in their first test against top-tier SEC lines (that's right, UK's lines of scrimmage are strong).
4. Georgia (1-0) vs. Auburn: Who cares who plays quarterback. If Georgia can't run the ball with consistency against Auburn, the entire game will look a lot like the first half blunder against Arkansas.
5. Mississippi State (1-0) vs. Arkansas: Look, I don't want to go there, but I will. The Bulldogs have a very real chance of beginning the season 4-0 before traveling to Alabama on Halloween night.
6. Tennessee (1-0) vs. Missouri: Vols haven't played a team of significance since last October, and haven't lost since (7 consecutive wins). Why should this be any different?
7. LSU (0-1) at Vanderbilt: Fix the pass protections, get everyone healthy in the secondary, win a feel-good game on the road.
8. Texas A&M (1-0) at Alabama: It's Year 3 for coach Jimbo Fisher in College Station, and we're about to see how far the Aggies are from competing at the highest level of the conference.
9. South Carolina (0-1) at Florida: Collin Hill is the right choice at QB. But the Gamecocks are a long way from fixing what's wrong in the secondary – with an elite passing team up next.
10. Kentucky (0-1) vs. Ole Miss: I don't know how much better QB Joey Gatewood will be if he's ruled eligible by the SEC. I do know that Terry Wilson isn't all the way back as a runner in UK's zone-read offense.
11. Ole Miss (0-1) at Kentucky: Rebels hired Lane Kiffin because he knows quarterbacks and knows how to score points. That was obvious in a wild shootout loss to Florida. That defense, though. Woof.
12. Missouri (0-1) at Tennessee: Doesn't matter who plays quarterback (Shawn Robinson or Connor Bazelak) if the Tigers can't improve a woeful defense that gave up 9-of-14 3rd-down conversions.
13. Vanderbilt (0-1) vs. LSU: Ted Roof has been a nice addition as new defensive coordinator, but the Commodores are still woefully inefficient offensively.
14. Arkansas (0-1) at Mississippi State: A brutal way to return to the SEC for QB Feleipe Franks: against the best defense in the nation (Georgia) and behind an offensive line that struggles to protect. MSU got 7 sacks vs. LSU.
8. Ask and you shall receive
Matt: How is it possible for Georgia to go from riches to rags at quarterback? I thought Kirby (Smart) was such a great recruiter? How did they end up with a walkon playing in the season opener!
Caron Lightly
Newnan, Ga.
Caron: At one point this offseason, Georgia had Wake Forest transfer Jamie Newman, USC transfer JT Daniels and one of the top pro-style quarterback recruits (Carson Beck) on campus. Newman opted out, Daniels still hasn't been medically cleared from ACL surgery and Beck isn't ready to play.
That left Smart with few options against Arkansas, and it began with redshirt freshman project D'Wan Mathis. It took all of 20 minutes to realize the moment was too big for Mathis (and not that it will be moving forward). So Smart moved to undersized former walk-on Stetson Bennett, who frankly, played well considering the circumstances.
The hope is Daniels will be medically cleared to play in time for this weekend's game against Auburn. Yet even if he is, that's a tough spot for a guy who hasn't thrown a pass in a real game since the first game of 2019.
Expect Bennett to start the Auburn game, and if it goes well, he might just be in it for the long haul. And if it goes poorly? Better hope 1 of 2 things: Daniels is cleared, or Mathis – who has some dynamic ability — has a short memory.
9. Numbers game: 8
The Alabama defense, underachieving in big games in 2019, had 8 tackles for loss against Missouri – 1 more than its biggest number in 2019.
The return of LB Dylan Moses is critical, both on the field and as the captain calling defensive alignments. Christian Harris, an elite talent who didn't play freely in 2019 because he was so concerned with making the right play calls and getting others in position, is primed for a huge season.
It also helps that defensive coordinator Pete Golding, a fan punching bag because of the defensive slippage in 2018-19, is getting support from defensive analyst Charlie Strong, the former head coach at Texas, Louisville and USF, and Urban Meyer's defensive coordinator on 2 national championship teams at Florida.
10. Quote to note
Auburn coach Gus Malzahn on the Tigers' offense under new coordinator Chad Morris:
"It was real smooth. Very smooth. There were some great adjustments from Chad, too. We're excited about the direction we're headed."