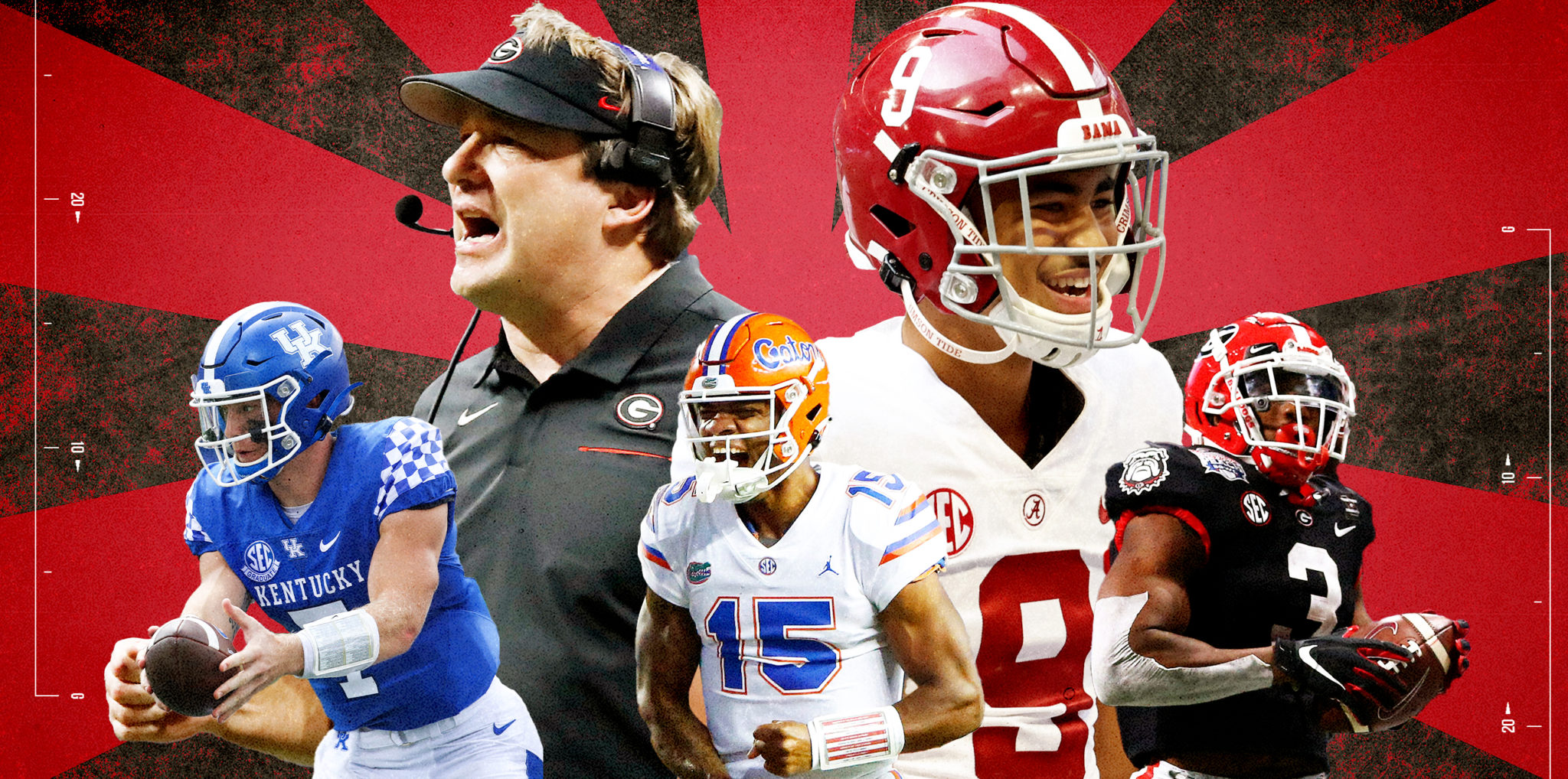 SEC
First and 10: Hold off on the 1980 talk until Georgia's offense proves it's title-worthy
1. I don't want to get on a soapbox, but …
Nick Saban tried to tell us, but we wouldn't listen.
Over the next few weeks and months, we'll ignore it again and again because of what we saw with our own eyes: the new, the wonderful and the hopeful of the nasty Georgia defense.
But make no mistake: offense wins games at all levels of football, just like Saban, the defensive savant, begrudgingly admitted 2 years ago and has been preaching since.
It should come as no surprise then, that Saban's No. 1 pupil, Georgia coach Kirby Smart, was as adamant late Saturday night about offense winning big games after the Bulldogs failed to score an offensive touchdown in a 10-3, old school, heavyweight win over Clemson.
"We gotta score points," Smart said. "Because defense is hard to play now. You've got to score points to win games."
And that, ladies and gentlemen, is the rub in the road to the inevitable unbeaten Alabama vs. unbeaten Georgia in the SEC Championship Game.
Before we blur through three months of college football to get a game "everyone knows" – quick aside: "everyone knows" is how those who know nothing proclaim they know everything – is happening in Atlanta, we better take a long, hard look at the Georgia offense.
In their past three College Football Playoff games, the Clemson defense had given up a combined 1,186 yards passing and 12 TDs. The pass defense, more than anything, was the reason Clemson lost 2 of those games.
They've struggled in man coverage, and the safeties aren't quick enough to cover in space. Issues that could be hidden while rolling through the ACC, quickly got exposed in the games that matter.
This was a game that mattered. This was as close to a Playoff game as it gets.
Yet there was the Georgia offense, sputtering around in the passing game and struggling to protect quarterback JT Daniels, not allowing him to build any semblance of consistency. More damning: receivers weren't getting separation, and the play calling was conservative. Heck, we may as well have been watching the 1980 Bulldogs slogging through a big game in a national championship season.
Play defense, run the ball, play defense.
That season ended with a national championship more than three decades ago. That philosophy won't get Georgia to the SEC Championship Game in 2021.
It's not just the Alabama offense Georgia has to slow down and eventually outscore (more on that later). Auburn and Kentucky look significantly more proficient and efficient in the passing game, and Florida will figure out its quarterback rotation by Halloween.
That waltz to December after a win over Clemson isn't what it looked like prior to Week 1.
It's not like Auburn (Akron) and Kentucky (Louisiana-Monroe) were playing elite teams, but it was clear by their performance with new offenses and passing games that they will cause problems for everyone in the SEC, not just Georgia.
Florida has a potential monster at quarterback in redshirt freshman Anthony Richardson, a 6-5, 240-pound dual threat who runs like a wide receiver and will be coached to take chunk play scramble runs against Georgia's man under defense – where the quarterback isn't accounted for.
Clemson quarterback DJ Uiagalelei had multiple opportunities against Georgia to take those chuck play scramble runs, and opted to continue through passing progressions – despite Clemson's inability to pass protect.
That's coaching, and that's something that will be game-planned against the Georgia defense every week – specifically with Will Levis (Kentucky), Bo Nix (Auburn) and Emory Jones and Richardson (Florida). They're all athletic and tough and willing runners and can slow down the Georgia pass rush with that ability to break containment and get chunk plays.
"That's an easy adjustment," an SEC offensive coordinator told me. "Now, I say easy, but honestly, if Georgia is getting home with four (defensive linemen), they don't have to play (man) under in the secondary. At some point, you're going to have to block them."
And at some point, Georgia is going to have to score points in at least 3 important games while on the train to "everyone knows" what's happening.
Until it isn't.
2. The missing pieces
Over and over after the thrilling statement win over Clemson, Smart preached about his team needing to score points to win.
Or as one NFL scout told me Sunday: "You're telling me Georgia had 9 months to game plan for the Clemson defense, and that's what they came up with?"
That's where we are with this Georgia offense. Missing pieces have left gaping holes.
What was once hopeful of something unique and special, has deteriorated into finding enough bodies to play. WRs George Pickens likely is out for the season (ACL), Dominick Blaylock is still recovering from an ACL surgery, and Kearis Jackson still isn't healthy from a knee injury.
Then there's TE Darnell Washington, an uber-talented threat to stretch the field on the hash and force safeties to choose inside or out. He's out with a foot injury.
Georgia won a big game, and that should be enough. But we're always facing forward, and without that group of injured players, scoring more points than the other guy – the new lifeblood of winning – will be a grind.
3. Offense first, The Epilogue
This can't be overlooked: The past 3 quarterbacks to play Clemson in a CFP-type atmosphere averaged 389 yards passing and 4 touchdowns.
Daniels threw for 135 yards and no TDs, and more disturbing averaged a pitiful 4.5 yards per attempt.
Those three quarterbacks who gutted the Clemson pass defense were the No. 1 overall pick in the NFL draft in 2020 (Joe Burrow), and 2021 first-round pick Justin Fields in his sophomore and junior seasons.
Daniels is a potential first-round pick, has an NFL arm and a high football IQ. But he and the Bulldogs were flummoxed by Clemson's sink zone, forcing Daniels to take checkdowns and making receivers earn first downs.
The Tigers dropped seven and eight in coverage at times, and Georgia didn't have an answer because, with the injuries, it doesn't have a deep threat or a tight end with the athletic ability to stretch coverage down the seam.
That's how you get 4.5 yards per attempt. That's how you get a frustration interception by Daniels, when he stared down a receiver while trying to make an intermediate throw.
Daniels will see those sink zone defenses all season until Georgia adjusts. The easiest way: crossing routes, but those take time, and the Bulldogs' offensive line had trouble in pass protection.
One more thing: The narrative that Clemson will be the best defense Georgia faces until Alabama is ludicrous. First and foremost, Georgia plays 8 SEC games against teams that know their personnel and know how to scheme against it.
That's how you get an upset loss to South Carolina 2 years ago. And those same three teams that can hurt the Georgia defense with a running quarterback vs. man under defense (Auburn, Florida, Kentucky), are the same three teams with good enough personnel on defense to cause problems for Daniels and the Georgia passing game.
"There's a lot of parts missing," Smart said. "But I'm not using that as a crutch or excuse."
Because once he does, his players do, too. And that's when the train to December is derailed.
4. The first step
Here's the scary part of yet another ridiculously talented Alabama team: This was QB Bryce Young's first start.
He's only going to get much better.
"There are things he can and will improve on," an NFL scout told me Sunday. "His default is off schedule throws. He'll learn, and (Alabama OC) Billy (O'Brien) will teach him. He has to move in the pocket and gain that valuable 1-1.5 seconds you need to make the correct throw – instead of going off schedule and hoping to find someone breaking (a route). That's how you go from good to great. All first-year starters deal with that.
"They're not all going to be like the deep ball for the 94-yard touchdown, where they're in max protection with a (tailback) in, and the pocket is flawless. When he learns to slide and find time, when that becomes second nature like it did for Mac (Jones) last year and Tua (Tagovailoa) before him, that offense will be unstoppable."
5. The Weekly Five
Five games against the spread
Pittsburgh (-1.5) at Tennessee
Texas A&M at Colorado (+17)
NC State (Pick) at Mississippi State
Texas (-3.5) at Arkansas
Missouri at Kentucky (-4)
Last week: 3-1.
Season: 3-1.
6. Your tape is your résumé
An NFL scout breaks down a draft-eligible SEC player. This week: Georgia DT Jordan Davis.
"Should have come out last year. Would've been a top-20 pick. You can't teach that size and speed, especially with a guy that has the ability to just collapse a pocket. He's 6-6, 340 pounds, and he has feet like a linebacker. His feet are just terrific, and even when he's double teamed, he wins. I say he would've been a top-20 pick, but honestly, if he's out there pegging personal bests at the Combine and his individual workouts, he could've moved higher. As it is now, if he continues to prove he can be a pass rush threat, he has the potential to be a top 8-10 guy. I think the injury last year kind of spooked some teams, and maybe it was a factor in him staying (at Georgia). If he's healthy all year and produces like he has, he's going to make a lot of money."
7. Powered Up
This week's Power Poll and one big thing: Week 1 reality check.
1. Alabama: So much for the Alabama offense taking a step back with Bryce Young. They might be even better.
2. Georgia: Georgia's defense last year was unique, and a limited offense ended championship hopes. Dawgs better get healthy, quickly, on offense.
3. Texas A&M: Haynes King threw 3 interceptions against Kent State. He has a full month (4 winnable games) to get it right before Aggies host Alabama.
4. Kentucky: So this is what offense in the 21st century looks like. UK is going to be a difficult out for SEC bluebloods.
5. Florida: It's FAU, but Gators covered better in the secondary, and the pass rush again looks promising. One more tuneup before the king arrives in Gainesville.
6. Ole Miss: The first game without Lane Kiffin is a wash. Get better against Austin Peay and Tulane, and then it's off to You Know Who.
7. LSU: A disturbing reality: UCLA – that's right, UCLA – was more physical than LSU. That and the same problems on defense in 2020 (poor tackling) are here again.
8. Auburn: Bo Nix gets away from the phone booth offense of Gus Malzahn, and missed 2 throws all game. Before you say it's Akron: Nix wasn't close to this in any game his first 2 seasons.
9. Missouri: Typical first game mishaps on defense, but now it gets serious. If CMU can throw for 300, what will UK's new pass-happy offense get?
10. Arkansas: Too many big plays given up in pass defense. Too many concerns for a Texas passing game that looked sharp under new coach Steve Sarkisian.
11. Mississippi State: Four turnovers, 12 penalties. This looks a whole lot like 2020 heading into a show me game against NC State in Starkville.
12. Tennessee: Bowling Green is 1 of the 5 worst FBS teams. Joe Milton better play a whole lot better – and see the field better – if the Vols are going to upset Pitt.
13. South Carolina: Small steps for South Carolina. Eastern Illinois was terrible; a somewhat better gauge is ECU (a less than decent team) on the road – before the trip to Athens.
14. Vanderbilt: If ever there were a doubt what Clark Lea got himself into, it ran right past him in the form of East Tennessee State. There might be one win on the schedule: UConn in October.
8. Ask and you shall receive
Matt: Now what does Florida do? I realize Emory Jones waited his turn, but how do you not play Anthony Richardson? Alabama is two weeks away.
— Terry Taylor, Orlando
Terry: The Gators have to throw the ball to win. Period. Right now – and it's clearly subject to change — Jones gives them the best chance in the passing game. That doesn't mean Richardson won't eventually become a better option.
Gators coach Dan Mullen says Jones' issues in Week 1 are fixable. The situation the staff has faced all offseason is they expect Jones to play well – but they also realize what they have in Richardson.
"You've got to run the whole offense," Mullen said. "And I think Anthony is really growing with that, and growing with situations."
Richardson is an elite playmaker, maybe the best on the offense – but he's sitting on the bench when Jones is playing. USF should be no more than a scrimmage this week, and my guess is Jones plays well and takes a big step from Week 1 to Week 2.
At the very least, that will keep him as the starter heading into Week 3 against Alabama. After that, whoever plays better against Alabama will more than likely be the starter moving forward.
Either way, Richardson will be on the field a significant number of plays over the course of the season. When you have a player who's the fastest guy on the field – and he's 6-5, 240 pounds — you can't keep him on the sidelines.
9. Numbers
100. Josh Ali, Kentucky's super senior wideout, failed to reach 100 yards receiving in a game in each of his previous 4 seasons in Lexington. He hit that number by halftime in the season opener.
Moreover, 2 Kentucky receivers hadn't reached 100 yards in a game since 2011, and Ali and Nebraska transfer Wan'Dale Robinson both hit 100 by halftime.
10. Quote to note
Texas A&M coach Jimbo Fisher on the passing game with new QB Haynes King: "We're coming slinging. We aren't coming here to run it. We're going to make big plays. We got guys that can get it down the field. And we've got to be able to throw the football."