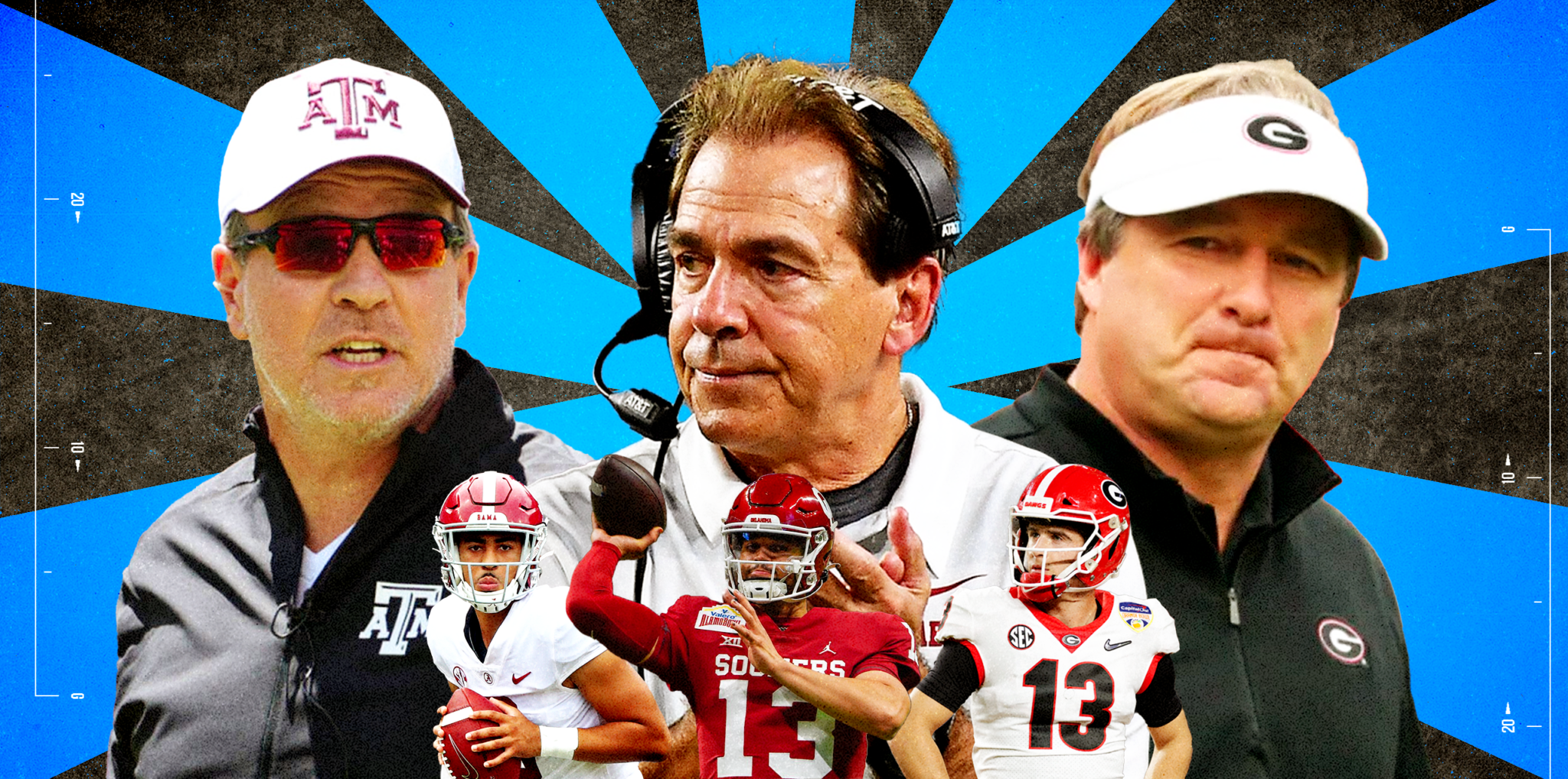 SEC
First and 10: 'If (Bryce Young) is comfortable, it's a rout'
1. I don't want to get on a soapbox, but …
The best player in college football has somehow been overlooked. Again.
We saw it in the SEC Championship Game, and again in the Cotton Bowl Playoff semifinal. Now here we are again, and the narrative heading into the national championship game is all about Georgia's second shot at Alabama — and that tied tripe of the difficulty of beating a team twice in one season.
Meanwhile, there's Bryce Young. The silent assassin.
"I am shocked how little attention he gets. And not just this game," one SEC coach told me. "I remember earlier this year when I heard people saying Alabama needs to run the ball more. Run the ball?! I'm thinking to myself, 'Are you out of your mind!?'"
Young is primed to complete the best single season of any Alabama player in the storied history of the program, and all we've heard for the last 10 days is anything but.
The four SEC coaches I spoke with over the last week all zeroed in on Young within the first minute of the conversation.
"You're kidding, right? The entire game is about him," another SEC coach said. "If Georgia can't stress him, forget it."
Said another SEC coach: "He's incredibly poised. You can be sound in coverage, and he'll move in the pocket to get 1 more second and throw a dart where only his guy can get it. Those things just rip your heart out. And it happens all the time."
Yet somehow here we are in the lead up to the biggest game of the season, and it's all about how Georgia thumped Big Ten champion Michigan (are we really surprised?) and played its best game of the season.
Or how Stetson Bennett can't get the respect he deserves for piloting the Georgia offense through relatively clear skies for all but one week of the season.
Or how Georgia – and this is an all-timer – knew it was in the Playoff and wasn't really invested in the SEC Championship Game.
For some reason, the entire focus of Monday night's National Championship Game isn't about the quarterback who, since Alabama's only loss of the season at Texas A&M on Oct. 9, has 26 TDS and only 2 INTs in those 8 games.
That's more touchdown passes than 90 FBS teams had over the entire season.
Young has completed 70.2% of his passes on third down, and when it's 3rd-and-9 or less to go – a difficult play for just about any quarterback at any level — that number jumps to 80%.
Eighty percent.
"(Georgia) has to find a way to get him off his mark," another SEC coach said. "If he's comfortable, it's a rout. If he's relatively comfortable, you're losing by double digits. You have to make him think and second guess, like Auburn did for about 58 minutes. If he struggles for 58 minutes against Georgia, forget about it. Georgia will win."
But that's a big ask, made more difficult by these unthinkable numbers: 190 of his 331 completions have gone for first downs, which means about 6 of every 10 completions are for first downs.
He has 105 completions of 15-plus yards, and 46 completions of 25-plus yards. That's 154 "explosive" plays of 15-plus yards in 14 games – or 11 a game.
Eleven.
See where this is headed?
"I get it, we all like to break down the game at any number of angles," an SEC coach said. "This is a quarterback league. Hell, football is a quarterback game. In the big games, if you have the best quarterback and you can protect him, you have a huge advantage."
2. The Georgia counter
The obvious question: What does Georgia do differently on defense to make it harder on Young?
The loss of Alabama WR John Metchie III (knee) will play a factor, but Metchie was hurt in the first half of the SEC Championship Game and Young and Alabama still did what they wanted against the Georgia defense.
More problematic for the Dawgs: Freshman WR Ja'Corey Brooks is playing with confidence after a 4-catch, 66-yard (1 TD) performance against Cincinnati in the Playoff semifinal, and Slade Bolden has become Alabama's underneath option with back-to-back solid games against Georgia and Cincinnati.
The answer for Georgia, all four SEC coaches said, is more pressure.
"You've got to get to (Young) early, and you've got to bring more than they can block," an SEC coach said. "It's a numbers game with the (Alabama) line. They're solid against 4- or 5-man (pressure), even 6 at times. You can overload with 7 and find some success, do some exotic stuff that confuses them. You're not going to bring (linebacker) twists and confuse them. Pressure and zone behind."
Added another SEC coach: "Kirby knows it's about pressure. But he also knows that using numbers to get pressure means his guys are alone in the back end. And if (Young) makes a move and buys more time, guess who's running free?"
That would be Tide WR Jameson Williams, the fastest player on the field. He, more than anyone, is Georgia's greatest concern.
Williams is averaging 20.1 yards per catch, with 53 explosive plays of 15-plus yards. The objective is to get Alabama in 3rd-and-long situations.
Williams's biggest impact this season is early in the series, with 57 of his 75 catches on first and second down.
"They're throwing to him on first down, or they're running with (Brian) Robinson on first down, and setting up play-action on second down," another SEC coach said. "That's their m.o. The problem for most of the season is you also had to deal with Metchie, who's a son-of-a-gun to cover. Now he's out, and I think Georgia has to try to bracket (Williams) if they can. Then if Alabama moves to 4- and 5-(wide receivers) to get away from a bracket, and you've given yourself more chance to get home with 4 or 5 (rushing the passer). It's a chess game."
3. The other QB
The magic number for Stetson Bennett IV against Alabama is 40. In the past 2 games against Alabama, Bennett has thrown at least 40 passes.
Both times, Georgia has lost by 17.
In those 2 games, Bennett has thrown 5 TDs and 5 INTs, and has been sacked 5 times. More to the point: In those 2 losses, Georgia has rushed for 254 yards on 60 carries.
Georgia averaged 194.7 yards per game rushing this season, and 201.3 against everyone but Alabama. When the Tide held Georgia to 109 yards on 30 carries, it put the game in Bennett's hands with no help from play-action.
"That's a killer right there," an SEC coach said. "(Bennett) has played well because Georgia wears you down on the ground, and he has that ability to throw with action when you've got everyone creeping up to stop the run. If they can't run, and you can get them in predictable down and distance, his ability to hurt you is greatly impacted."
Said another SEC coach: "Everyone has it backward. It's not about (Bennett) hurting you. It's about their running game. If they can run the ball, everything opens up. You stop the run, you stop the offense."
4. The breakdown
An NFL scout breaks down three key position battles to watch.
— Alabama DE Will Anderson vs. Georgia OTs Jamaree Salyer and Warren McClendon. "Those two ate up the Michigan ends all game. (Aidan) Hutchinson was ineffective, and (David) Ojabo was basically taken out of the game. Anderson is the ultimate disrupter in this game. He can change the Georgia offense. He's a blur off the edge, and his inside rip is so disruptive. Cincinnati basically resorted to doubling him, or chipping. If Salyer and McClendon can tie in most situations, that's a huge win. Any loss on any play can be disastrous."
— Georgia CB Derion Kendrick vs. Alabama WR Jameson Williams. "Kendrick is going to need help. That's not a knock on him; he'll be a second day (NFL Draft) pick. When you've got a guy that can run like Williams – and he's a way underrated route runner – that's some significant stress on your back end. Georgia's safeties are more hitters than covers. When I say Kendrick needs help, I mean he needs help from the pass rush."
— Georgia TE Brock Bowers vs. Alabama safeties and linebackers. "I say safeties and linebackers because Georgia does a great job getting Bowers advantageous matchups. He's a big dude who can run, and Georgia will use 2 tight end run sets to force you to play run defense. Then they've got the advantage with a linebacker on Bowers. If they split Bowers out wide, he's not as effective as inside because he's not getting out there without a nickel or safety on him. That's why it's critical for Georgia to have success running the ball. If they can, Bowers will have a huge game – because those Alabama linebackers can't run with him."
5. The Weekly Five
Ranking the seasons of the 5 Alabama quarterbacks who won the national championship in their first season as a stater (Young moves to No. 1 with a win over Georgia).
1. Mac Jones, 2020: Set numerous single-season passing records vs. all-SEC schedule.
2. Greg McElrory, 2009: Wildly overlooked season because of uber-talented team. Won Auburn game, played flawlessly in SEC CG vs. defending national champion Florida.
3. Jalen Hurts/Tua Tagovailoa, 2017: 2nd-and-26 overshadows this reality: didn't have to play in SEC CG, got Clemson without elite QB in Playoff semifinal.
4. Jacob Coker, 2015: last 4 games of the season at Auburn, Florida (SEC CG) and Michigan State and Clemson (CFP): 7 TDs, 0 INTs, completed 71% of his passes.
5. AJ McCarron, 2011: Didn't have to play in SEC CG, but played big down the stretch vs. Auburn and rematch vs. LSU.
6. Your tape is your résumé
An NFL scout analyzes a draft-eligible SEC player. This week: LSU CB Derek Stingley Jr. "Need is going to play a factor here. He very easily could be a top 3 pick, and maybe higher depending on need of both Jacksonville and Detroit. They both need guys off the edge, but you have to remember, after the quarterback, this league is about getting after the quarterback and covering. If you have reservations about (Aidan Hutchinson and Kavon Thibodeaux) on the edge – and some teams do – Stingley can move into that top spot. I firmly believe that. You're talking about a lockdown corner, a guy who is physical and fluid and has instincts you can't teach. He's a rare player at an important position. You put him out there, and you don't have to worry about him from Day 1."
7. Powered Up
This week's Power Poll, and one big thing: burning question, post bowl season.
1. Alabama: How quickly does the Alabama offense transition to a new coordinator if/when Bill O'Brien leaves for the NFL?
2. Georgia: How to deal with potential everywhere: the defense, the QB room, offensive and defensive coordinators.
3. Ole Miss: Many programs – much less one still on the verge of something big – have collapsed with 2 new coordinators. Can Ole Miss coach Lane Kiffin pull it off?
4. Kentucky: The defense is gutted. Can the unit that never gets its due reload and remain among the SEC elite?
5. Arkansas: Hogs have had pockets of success before. Can it sustain under Sam Pittman?
6. Texas A&M: QB Max Johnson played well despite 2 years of drama at LSU. Did that prepare him for Jimbo Fisher's demanding coaching of his QBs?
7. Mississippi State: Can Mike Leach regain momentum built within the fan base after bad losses to Ole Miss and Texas Tech to finish the season?
8. Tennessee: Can the Vols get better in the middle of the O-line, where coach Josh Heupel's offense has historically thrived in the run game?
9. South Carolina: It's a money season for former 5-star DE Jordan Burch. Can he finally become a consistent force off the edge – and earn an NFL contract?
10. Auburn: The QB choice (former Missouri starter Connor Bazelak) is intriguing, but does it really put Auburn in position to win the 4 one-score games it lost in 2021?
11. LSU: Brian Kelly's offensive lines at Notre Dame were better than anything LSU put on the field in 2020-21. How quickly does the upgrade happen?
12. Missouri: Missouri needs a presence at tailback. Can incoming 4-star freshman Tavorus Jones make an immediate impact?
13. Florida: How significant is QB Anthony Richardson's knee rehab, and how does his history of injuries play a role in Emory Jones possibly staying at Florida?
14. Vanderbilt: Can Clark Lea, an innovator on the defensive side of the ball, find a way to get more than 6 – that's right, 6 – sacks in 8 SEC games (and 9 overall)?
8. Ask and you shall receive
What's the ceiling for South Carolina football under Shane Beamer? — Caron Waters, Charlotte.
Caron:
Before NIL legislation, I'd say it's not getting any better than Steve Spurrier's SEC East Division championship in 2010. There were just too many inherent problems in trying to recruit as well or better than Georgia and Florida (and even Tennessee).
NIL legislation has evened the field for everyone, or least given some programs an ability to reach players they couldn't in the past. That doesn't mean other teams cheated to get players, it just means it was easier for players growing up in South Carolina or North Carolina or Georgia to ignore South Carolina because of a lack of winning tradition.
Now South Carolina can use the lure of NIL money to keep elite players close to home. I'm not trying to minimize the work of Shane Beamer and his staff in landing the No. 21 class in the nation (according to the 247Sports composite), but you'd be foolish to think NIL didn't play a role. Same with Kentucky's No. 11 class, and Missouri's No. 12.
Or the ultimate definition of NIL impact: Indiana landing the No. 17 class in the nation.
9. Numbers
20.7. Two things are undeniable in the SEC: It's a line of scrimmage league, and you better be able to run the ball when needed.
This brings us to Mississippi State, which has had almost zero threat in the run game in 2 seasons under Mike Leach. The Air Raid is what it is; the ball is in the air 80% (or more) of the time.
But that doesn't mean Leach can't adjust. MSU went from 18.5 carries per game in 2020, to 20.7 in 2021. More important: from 2.0 yards per carry to 3.0.
Leach has a talented 2-year starter returning at quarterback (Will Rogers) and enough receivers for the passing game to take another big step. Leach's best teams/offenses have developed because the passing game is so good, it sets up the run game.
In 2018 at Washington State, the Cougars averaged 3.6 yards per carry and ran for 1,010 yards. In 2008 at Texas Tech, the Red Raiders averaged 4.8 yards per carry and rushed for 1,532 yards.
Watch Mississippi State – which had 483 yards rushing in 2020 and 821 in 2021 – reach 1,000 yards rushing in 2022.
10. Quote to note
Georgia coach Kirby Smart on the impact of the transfer portal: "Each and every player is different, and each situation is different. And it's certainly tough to navigate during this day and age of an early signing period on top of that."