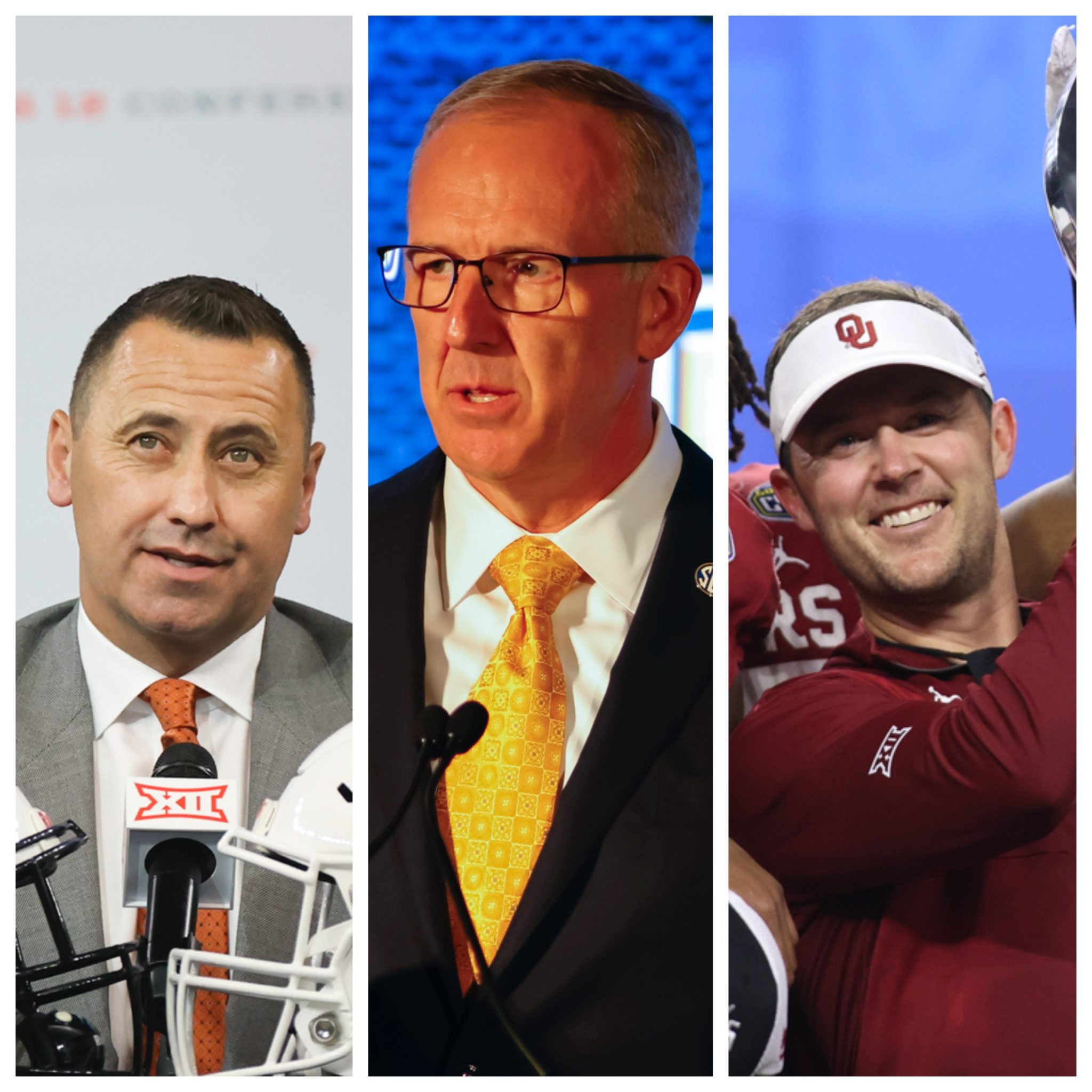 SEC
First and 10: Inside the pursuit to poach Texas and Oklahoma ... and what it means for the new SEC
1. I don't want to get on a soapbox, but …
SEC commissioner Greg Sankey likes to say he doesn't deal in hypotheticals.
He's an obsessive planner, specific and detailed plans that leave little or no wiggle room – especially when you're dealing with a paradigm shift in college athletics.
So understand this as we've brushed away Texas A&M's planned faux tantrum (more on that later) and head into the heavy lifting of adding bluebloods Texas and Oklahoma to the SEC: Sankey, the SEC presidents and the presidents of Texas and OU haven't come this far without having every base covered.
There's a process to these multibillion dollar deals (because that's what it is, long term), a step-by-step unfolding of the biggest change in college sports in the modern era.
"I can assure you," one SEC athletic director told me Saturday night, "We're not winging it."
The next two steps might be the most critical of the bunch: timing and schedule. Both revolve around money – the driving force in expansion.
One of those two critical steps is already in motion.
"The expectation is for (Texas and OU) to play in the SEC in 2022," another SEC athletic director told me. "It doesn't do anyone any good for them to be in one conference and committed to another beyond that one year."
Texas and Oklahoma are expected this week to inform the Big 12 that they're not renewing television media rights after the current contract ends in 2025, and then they'll officially apply to the SEC.
In the last round of expansion, Texas A&M (added September, 2011) and Missouri (November, 2011) moved to the SEC from the Big 12, and played the 2012 season as official SEC members.
Texas and OU could finish out the current media rights deal and leave after the 2024-25 collegiate season, but that means 4 lame-duck seasons and a loss of revenue: Texas and OU are projected to make as much as $25 million more annually in the SEC.
How does the 1-year transition happen? Here's where it gets a bit dicey – but again, you better believe all three major players involved (SEC presidents, presidents of Texas and OU and Sankey) have thought this through.
Conference departures are never easy, especially when they can lead to the significant weakening of a conference or even its death. Conferences use exorbitant exit fees to keep schools from leaving, though those fees are typically litigated and mitigated into a more manageable number.
When Texas A&M and Missouri left the Big 12, they owed about $30 million each. The settlement reached between parties was $12.4 million each.
Texas and Oklahoma would owe an estimated $80 million each to move to the SEC for the 2022 season. But using the previous reductions as a scale (58%), the two universities could owe around $46.4 million.
2. The scheduling headache
Before there was a hint of Texas and OU joining the SEC, there were already significant scheduling questions within the league.
The 8-game format (6 division games, 1 permanent crossover opponent, 1 rotating crossover opponent) left many schools not playing each other for as much as a decade. Coaches have long said they'd like to have a schedule format where every player who signs a scholarship with an SEC school, will have an opportunity to play each of the 13 other teams in the league.
The sticking point: SEC history and tradition.
Scoff all you want, but many within the league office have had an unwavering belief that the tradition of specific rivalries played a major role in the growth of the conference.
But that same league office, under the guidance of Sankey, now must find a new scheduling format that makes everyone happy. The one given: The number of league games will increase (likely to 9), because television partners will demand more games for more money.
There are only two legitimate changes to the division format and scheduling that make sense.
— Place Texas and OU in the West Division (along with Mizzou), and move Alabama and Auburn to the East and continue the divisional format where winners play in the SEC Championship Game.
This move likely comes with 7 division games and 2 rotating opposite division games (a 4-year rotation where teams would play every other team in the conference). It also lessens the impact on traditional rivalries (the only significant loss: Florida-LSU).
— Move to 4-team pods, where teams play 3 permanent pod games, and 1 or 2 permanent non-pod opponents and 4 or 5 five rotating opponents.
A potential pod setup:
— Arkansas, Missouri, Oklahoma, Texas.
— Kentucky, LSU, Texas A&M, Vanderbilt.
— Alabama, Auburn, Mississippi State, Ole Miss.
— Florida, Georgia, South Carolina, Tennessee.
The two highest-ranked teams in the College Football Playoff poll would play in the SEC Championship Game.
3. TV's hand in it
Don't think for a second that ESPN wasn't, at the very least, kept in the loop of this potential deal.
ESPN is the largest provider for college football, and in 2 years takes over as exclusive provider of SEC football (with games on ESPN and ABC). ESPN paid $3 billion for the 10-year deal, and the addition of Texas and OU will only enhance that deal.
One industry source I spoke with said there is a "strong possibility" that ESPN buys out the 2022-2023 seasons from CBS (the current SEC television home) with cash and game inventory from other conferences.
ESPN paid Texas $250 million for the Longhorn Network, the exclusive home of all Texas sports. That deal runs through 2031, but the Longhorn Network would likely be folded into the SEC Network and the payout of the final 10 years of the contract folded into the SEC coffers.
ESPN lost nearly $50 million on the network over the first 5 years, and folding it into the SEC Network would be a lifeboat of sorts.
4. Aggie acting
It not a simple coincidence that Texas A&M athletic director Ross Bjork was at SEC Media Days last week.
AD's rarely, if ever, go to the 4-day carnival, and Bjork's presence was odd at best – and planned at worst.
The Houston Chronicle broke the story of SEC expansion Wednesday, the same day that Texas A&M arrived for its rotation in front of the media.
Bjork said then that the university would be "diligent in our approach to protect Texas A&M," and that the Aggies joined the SEC with the idea of being the only SEC member in the state.
The fan base got heated about Texas joining the league, and there was a scheduled Board of Regents meeting for today.
Then Texas A&M president Kathy Banks and Bjork released statements Saturday afternoon that conformed Texas A&M's commitment to the SEC and Bjork admitted the university knew of the potential deal but that he didn't know it would happen so quickly.
Let me translate: Bjork went one way Wednesday to appease a fan base that wouldn't be too thrilled about Texas entering the SEC, then backed off 3 days later when it was clear the university had made a big enough stink to make their fans think they were serious.
One SEC official told me, "They knew of every step in the process."
5. The Weekly Five
Five reasons to add Texas and Oklahoma
1. Money. Potential revenue streams are increased with two blueblood programs.
2. Texas is the No. 1 brand in college sports, with – far and away – the largest budget of any school.
3. Adds the No. 4 (Texas) and No. 6 (Oklahoma) winningest programs in college football history, and would give the SEC 7 of the top 20.
4. Positions the SEC as the unquestioned No. 1 conference in a time of uncertainty in amateur sports.
5. Bevo and the Sooner Schooner.
6. Your tape is your résumé
An NFL scout breaks down a draft-eligible player. This week: Alabama LB Henry To'o To'o.
"I can't wait to watch him and see his development under (Alabama coach) Nick (Saban). He had 2 really good years (at Tennessee). A couple of years where when he was on the field, he jumped out. You noticed the athleticism and closing speed. He sheds blocks and finds the ball quickly.
"He's solid in coverage, and is really disciplined with his hands. Saying all of that, I want to see how he develops in a spot where Nick has had a history of churning out first-round picks, some that haven't really played up to their draft spots. (To'o To'o's) speed isn't masked by the scheme. He can flat run. So let's see it in that system that has made a lot of money for a lot of guys."
7. Powered Up
This week's Power Poll and one big thing: initial reaction from Media Days.
1. Georgia: Dawgs are confident, QB JT Daniels is primed for a big season.
2. Alabama: The near million-dollar NIL contracts aside, the team and staff are excited about QB Bryce Young.
3. Texas A&M: Aggies coach Jimbo Fisher thinks this team is as good or better than 2020.
4. Florida: Don't be shocked if Florida plays both Emory Jones and Anthony Richardson, who is too talented to keep on the bench.
5. LSU: Tigers coach Ed Orgeron believes he can win big with either Max Johnson or Myles Brennan at QB.
6. Ole Miss: Everyone is talking defense. I'll believe it when I see it.
7. Missouri: Eliah Drinkwitz is one fun dude. Can Tigers feed off that personality, and take the next step?
8. Auburn: A new coach (Bryan Harsin) completely foreign to the league, and a quarterback (Bo Nix) who regressed in Year 2.
9. Kentucky: The hot team in Birmingham? Maybe UK, which many believe will make a strong move with new OC Liam Coen.
10. Arkansas: Bret Bielema talked about toughness; Sam Pittman made it happen.
11. Mississippi State: You get the feeling this could be a bridge year to a significant move in 2022.
12. Tennessee: The Vols may have the worst defense in the SEC in a long, long time.
13. South Carolina: Where will points come from?
14. Vanderbilt: This team will build around QB Ken Seals, who played well as a true freshman despite difficult circumstances.
8. Ask and you shall receive
Matt: Is this officially the end of SEC expansion, and how will it affect other conferences. Kevin Lambert, New Orleans.
Kevin: It's the end of SEC expansion, but the rest of college football has just begun. The Big 12 doesn't have anything to offer schools from the other Power 5 conferences, so it's likely out of the Autonomous 5 business.
The Big Ten, on the other hand, is likely just getting started. In a dream world, the Big Ten would add Notre Dame and steal an ACC blueblood (UNC, Duke) or a school that matches its academic profile (Virginia, Georgia Tech). Notre Dame AD Jack Swarbrick said the Irish are more committed than ever to playing as an independent.
But he made that statement before the SEC moved to add Texas and Oklahoma.
If the Big Ten can't get Notre Dame, the pool of schools includes the aforementioned ACC candidates and Kansas, which also fits its academic profile and has an elite basketball program.
Best guess: The ACC holds onto its schools, and adds West Virginia. The Big Ten adds Kansas and Iowa State, which also fits the Big Ten academic profile (like Kansas, a member of the Association of American Universities).
The Pac-12, desperate for game inventory for future television deals, adds Texas Tech, Oklahoma State, Baylor and TCU.
9. Numbers
$60-70 million. One industry source told me the SEC could make as much as $1.1 billion a year (or $70 million per school) in TV revenue with the addition of Texas and Oklahoma. When I told Sankey this, he responded, "I might argue with those numbers."
10. Quote to note
Missouri coach Eliah Drinkwitz: "I've been trying to tell people everybody wants to play in the SEC, man."