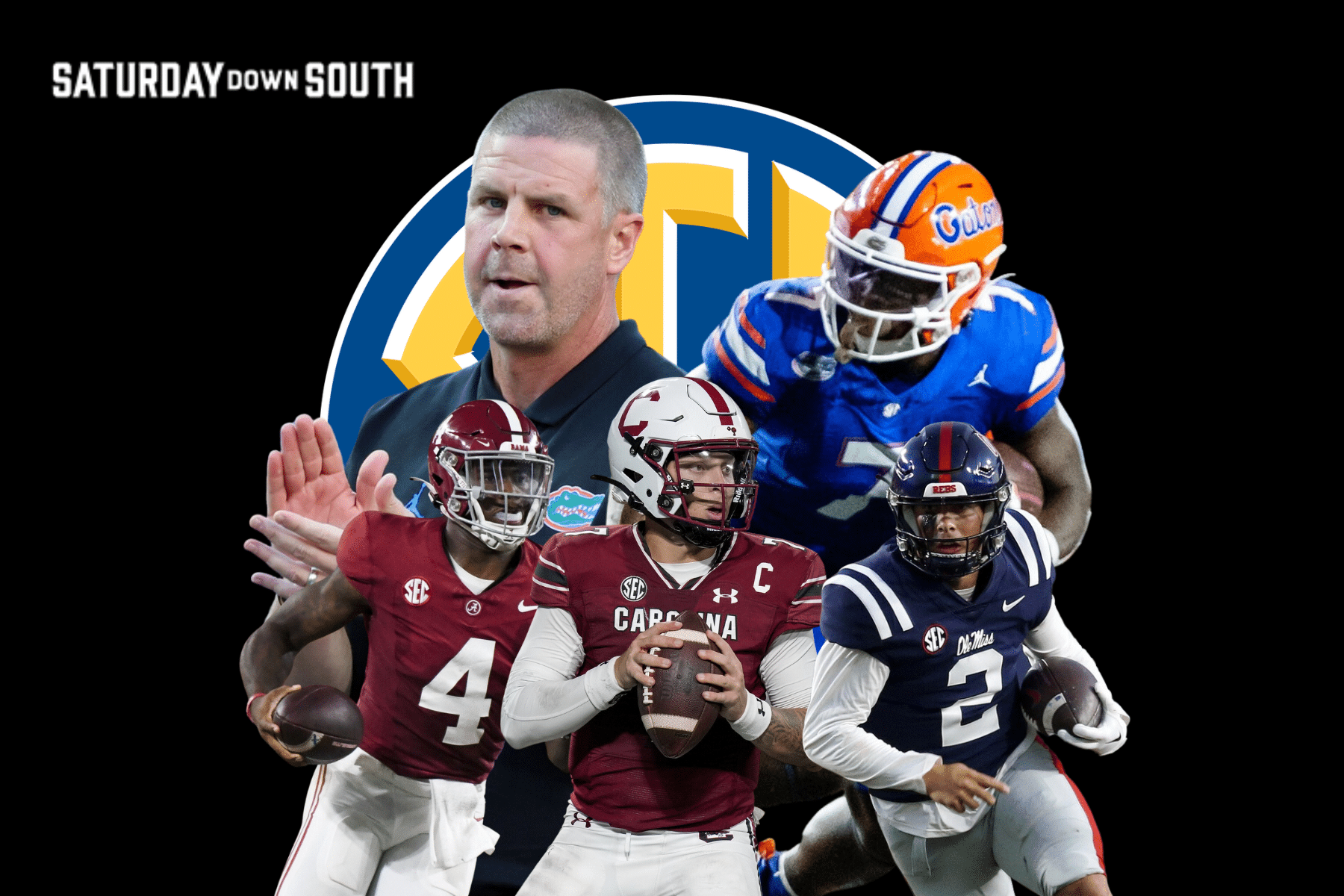 SEC
First and 10: 'It validates your plan.' Why everybody owes Billy Napier an apology
1. I don't want to get on a soapbox, but …
This wasn't just a victory for Billy Napier. This was a victory for every coach in college football.
This was a victory for every university president bullied into a fat, guaranteed contract to hire a coach — then pressured into firing the same coach 18 months later by unreasonable big-money boosters and pitchfork toting social media dorks.
Florida's win over Tennessee did so much more than give Napier, the embattled Gators coach, some breathing room from the lunatic fringe outside the arena. It brought some sensibility to an unstable and unreasonable college football world.
The win-now or else mantra that has overtaken the sport has subsided. Patience has replaced panic.
For a week, anyway.
"It validates your plan," Napier said after Florida's win over Tennessee. "It validates what you're selling."
Before we go further, I want to make something clear: This isn't about declaring a coach didn't have a team ready to play, or is struggling in his first 2 seasons like any other at the school in years.
This isn't about questioning whether he's the right guy to coach quarterbacks or call plays. Or if his scheme fits personnel.
This is about declaring that a coach needs a full allotment of time to build and develop a roster and a culture. I still have numerous questions about Napier as a QBs coach and play-caller, but it doesn't mean Florida should throw $31 million at him and force him to walk after this season.
This is about those decision-makers — university presidents and athletic directors — taking back the power to hire and fire coaches from fat cat boosters pushed into reckless decisions by the lunacy of Twitter. Or X. Or whatever message board they slither in and out of.
This Florida win was for Napier, and for the administrations and coaches at Oklahoma (Brent Venables) and Wisconsin (Luke Fickell) and Nebraska (Matt Rhule) and Notre Dame (Marcus Freeman) and Auburn (Hugh Freeze). All of whom have been on the hot seat since their first loss — or in Freeze's case, Day 1 because it's Auburn.
Florida AD Scott Stricklin is rational and patient. He understands what it takes to build something long-term.
He also knows — like all other athletic directors — what happens when bad turns to ugly and boosters with their names on university buildings say fire the coach with my money — or you won't get more of my money.
That's a difficult train to stop, especially with those same boosters being told over and over that you, too, can be like Colorado (more on that later) if you just fire the whole dang lot of 'em.
Fortunately for Stricklin and Napier, Gators star center Kingsley Eguakun played for the 1st time this season against Tennessee. And guard Micah Mazzccua is finally healthy.
And the Gators, despite what they showed against Utah, could finally do what they do best for the first time this season. They ran the ball, and then ran it some more.
They ran the ball so effectively (43 carries, 183 yards, 3 TDs), they all but eliminated pressure on QB Graham Mertz to make plays in the pass game. That's when you get the best version of Mertz: When he can throw off play-action that slows pass rush and forces the back 7 to read run before dropping in coverage.
Against Utah, Florida ran the ball 21 times and threw it 44. Against the Vols, it was nearly 180 degrees different: 43 rushes, 24 throws.
The Florida offensive line was a mess against Utah, full of players who were injured or returning from injury, young guys playing their first snaps, and everyone contributing to false starts and procedure penalties.
They had 13 yards on 21 carries against the Utes — and somehow only lost by 13 points.
It doesn't go right all the time, and it's OK to be upset and question calls and decisions, and scheme and processes. But the message to those with wealth and power is simple: There's real value in patience and loyalty if you believe in your guy.
"Obviously, we have a lot of work left to do," Napier said. "Success is a dirty process, and ultimately, it's rewarding."
If you have the patience to see it through.
2. The Other Guy theory
Napier arrived at a Florida program that was so depleted structurally, he had to convince Stricklin to spend millions — that's right, millions — to build a recruiting division.
Staffers, video equipment, and a commitment to brick and mortar space just to keep up with the millions being spent at Georgia and Alabama and LSU and Texas A&M — and just about everywhere in the SEC, and blue-blood programs outside the SEC infiltrating the state of Florida.
It will take time to rebuild and strengthen recruiting relationships, he stressed to Stricklin — the very things that lagged under Jim McElwain and Dan Mullen and forced their firings and the eventual hiring of Napier.
Then Brian Kelly gets hot in Year 1 at LSU, beats Alabama and reaches the SEC Championship Game. Then Lincoln Riley gets hot in Year 1 at USC, and the Trojans go from a 4-win team to a win from the Playoff.
Sources told Saturday Down South that both of those coaches had interest in the Florida job, and reached out through intermediaries to gauge interest. Stricklin never veered from Napier — but Kelly and Riley are still there, still winning.
Still the shiny silver dollar Florida boosters (and the looney social media mob) see what they could've had but didn't get. This, of course, gins up the system.
So does Deion Sanders, who has 81 new scholarship players at Colorado, and has turned victories over a gutted TCU team, a gutted Nebraska program and a bad rival (Colorado State) into a 60 Minutes segment Sunday night entitled — I swear, I'm not making this up — "the most exciting college football program today."
ESPN's telecast of the Colorado-Colorado State game — an enjoyable double overtime game that lasted well into Sunday morning and would've been an afterthought any other year — may as well have been a 3-hour recruiting show for Prime and the Buffs.
Big-money boosters see this, and it skews reality. You are not consistently winning in the SEC unless the main focus of roster building is organically through high school recruits — supplemented by a handful of college portal players of impact.
Winning now is rare — and depends on the state of the program you've inherited — and typically isn't happening if your chosen course of action is building long-term.
But those words aren't easy to hear for the lunatic fringe.
3. The art of validation, The Epilogue
In no uncertain order, Florida's win over Tennessee:
— Calmed a rough (and getting rougher) sea of discontent of those who give money to the university, and to Florida Victorious, the collective that funds NIL deals for players.
— Gave fans (and more important, class of 2024 recruits) something to hold onto. Real, tangible evidence that what Napier is doing in Gainesville can lead to winning games. It was his first victory over Florida's biggest rivals (Georgia, Florida State, Tennessee, LSU) in 5 games.
If you want to keep that top 3 recruiting class together, you better start winning games that matter. And you better have Florida Victorious on board, too.
— Lastly, and most important, it helped the current roster, full of freshmen and sophomores, see what happens when everyone does his job. When preparation leads to execution.
When you're building and creating a culture of winning, it's not going to happen week after week. But the idea and reality that it can and does happen is critical.
Players are visual learners; they digest and comprehend by seeing. You can preach all you want about how this or that will win games, but it only connects when they see it on the field.
"The most important thing is the players in that locker room. It galvanizes your team a little bit," Napier said. "We ask a lot of our players, and when you're not getting a return on your investment, you take your money and go somewhere else."
Or the coach gets fired, and takes his $31 million and walks — and the next to fail is loaded in the barrel. Take your pick.
Patience or panic.
4. The QB decision
I still can't get over this dynamic: The greatest coach in college football history knew his team was preparing for 2023 with limited experience at the most important position on the field, and gave the whole smash — quarterbacks coach, offensive coordinator, play caller — to a 20-something whose biggest obstacles at Notre Dame were scheming 4 or 5 ACC games a year.
It's mind-boggling.
But here we are, with the Alabama dynasty teetering, and coach Nick Saban looking at his offense and seeing overmatched OC Tommy Rees and 3 average quarterbacks staring back at him.
Now what? Alabama doesn't have a choice but to return to Jalen Milroe this week in the SEC opener against Ole Miss. Even if Milroe was seen as the weak link by the staff in the loss to Texas — when he clearly wasn't.
Saban told Milroe last week they were going with backup Tyler Buchner against USF, and Milroe didn't take it well.
Saban: "Everybody has the opportunity to respond in the right way when things don't go exactly like you want them to, and we played the guys that practiced the best all week long."
Look, we've reached damage control right now. The Alabama staff can hold on to hurt feelings and the "standard" — or suck it up and start Milroe.
Because Buchner and Ty Simpson aren't beating Ole Miss. With Milroe — and a tweaked scheme that includes more QB run and zone-read QB run options — Alabama can get right again.
5. The Weekly 5
Five games against the spread.
Auburn (+7.5) at Texas A&M
Ole Miss (+7) at Alabama
Arkansas (+17.5) at LSU
Mississippi State at South Carolina (-4.5)
Kentucky (-13.5) at Vanderbilt
Last week: 3-2.
Season: 10-5.
6. You tape is your resume
An NFL scout analyzes a draft-eligible SEC player. This week: Missouri LB Ty'Ron Hopper.
"He's a talented guy. Athletic, deceptively strong hands and he can run as well as any linebacker in (college football). He just needs reps. He's still a work in progress, but his skills absolutely translate here. He can run and cover, and he's long and can locate the ball in the air. He fills the gap and can wrap up. Not really a natural pass rusher, but with his athleticism and length, that's coachable."
7. Powered Up
This week's Power Poll, and 1 big thing: Eyes wide open.
1. LSU: Harold Perkins is back rushing the quarterback. Let's also not underestimate the dismantling of a solid Mississippi State defense — and how much better QB Jayden Daniels is throwing the ball.
2. Georgia: I have real concerns about pass protection. Can (will?) the offensive line be bullied by the suddenly strong SEC East defenses (Kentucky, Missouri, Florida), and Auburn and Ole Miss?
3. Ole Miss: Time for a signature win, a defining moment under coach Lane Kiffin where Ole Miss becomes more than a fun show. This is the week at Alabama.
4. Alabama: Four TDs in the past 2 games negated by penalty. The message is not being coached, getting lost in transition — or not being heard. As big a red flag as we've seen with Saban at Alabama.
5. Texas A&M: Conner Weigman is an elite quarterback. We'll find out this week against Auburn if Texas A&M will take advantage of it — or stumble through another underachieving season.
6. Kentucky: Wildcats look bored, and it won't get much better this week at Vanderbilt. We'll know everything in 2 weeks when Florida arrives.
7. Florida: Gators still lack outside (and deep) threats at wide receiver. If/when teams stop the run, the pass game will be limited.
8. Missouri: A breakout, signature win for (in no particular order) coach Eli Drinkwitz, QB Brady Cook and WR Luther Burden III. Can the Tigers build on it?
9. Tennessee: This isn't a Joe Milton III problem. This is a protection problem. The offensive line is vulnerable in pass protection in the middle 3.
10. Auburn: The pass game has been an adventure nearly every snap against 3 overmatched teams. Now, the competition gets serious: at Texas A&M, Georgia, at LSU, Ole Miss.
11. Arkansas: The operation isn't smooth on either side of the ball, and special teams. For every big play (punt return for TD), there are negating mistakes (10-yard punt).
12. South Carolina: How much longer can elite QB Spencer Rattler (yes, he's elite) survive behind an offensive line that struggles with basic pass protections?
13. Mississippi State: Don't panic on defense. Bulldogs just played the best offense in the SEC — and the defense got no help from an offense that couldn't stay on the field.
14. Vanderbilt: No pass rush, and a young secondary. There will be many more busted big plays over the remainder of the season.
8. Ask and you shall receive
Matt: You can't sit there and tell me this Georgia team can win the national title. Why does everyone just assume this season will be the same as the last 2? — Victor Franklin, Atlanta.
Victor:
We're 3 games into a different player at the most important position on the field, and some significant changes on both lines of scrimmage and the secondary. It takes time, and you can't expect this to be plug-and-play.
I'd be shocked if Georgia didn't improve on the defensive front, and for young blue-chip players moving into roles (and a couple experienced upperclassmen) to start impacting games like the previous seasons.
The bigger issue is the offensive line. Can they get better? Absolutely. But at some point, you are who you are on the o-line — you're not subbing players and keeping guys fresh and overwhelming people. It's typically your starting 5, and away you go.
I'm not buying (at least, not yet) what Georgia has out there, as far as pass protection. In the first test of the season, it didn't look like a solid, confident and smooth operation. The guards and tackles missed some pass offs on stunts and twists, and South Carolina affected the quarterback all along the front.
The Gamecocks won't be the best front Georgia sees by a long way. You want to beat Georgia (or any team, for that matter)? Make the quarterback uncomfortable, and force quick and poor decisions.
QB Carson Beck was solid, but the ball isn't going down the field (7.7 yards per attempt) — and won't in SEC games until Georgia figures out pass protection.
9. Numbers
71.3. We're 3 games into the season, and 1 thing is clear: South Carolina QB Spencer Rattler is playing at a level that 3 years ago had NFL scouts declaring him a Day 1 NFL Draft pick.
His completion percentage is way up (71.3), despite playing behind the worst offensive line in the SEC. He only completed 52% of his passes against Georgia, but did so after being constantly harassed.
One NFL scout I spoke to after the game said the growth from the middle of 2022 is dramatic.
"He looks really comfortable, and what I really like is he's not panicking, not pointing fingers," the scout said. "In the past, he'd drop his head, and his body language was horrible. He's just going to the next play now, just making the next throw. His arm talent has never been in question, and his decision-making and accuracy are much better. The protection is clearly a problem. You put him behind some of the better offensive lines in that league, and you'd see a statistically high level of play."
10. Quote to note
Missouri coach Eli Drinkwitz: "It pissed me off when we booed our starting quarterback to start the game. That pissed me off. And (Brady Cook) went out there and played his butt off for this university and this team. You want to boo me, fine. You don't boo the starting quarterback. It's bullcrap. I'll say it again, should never happen."