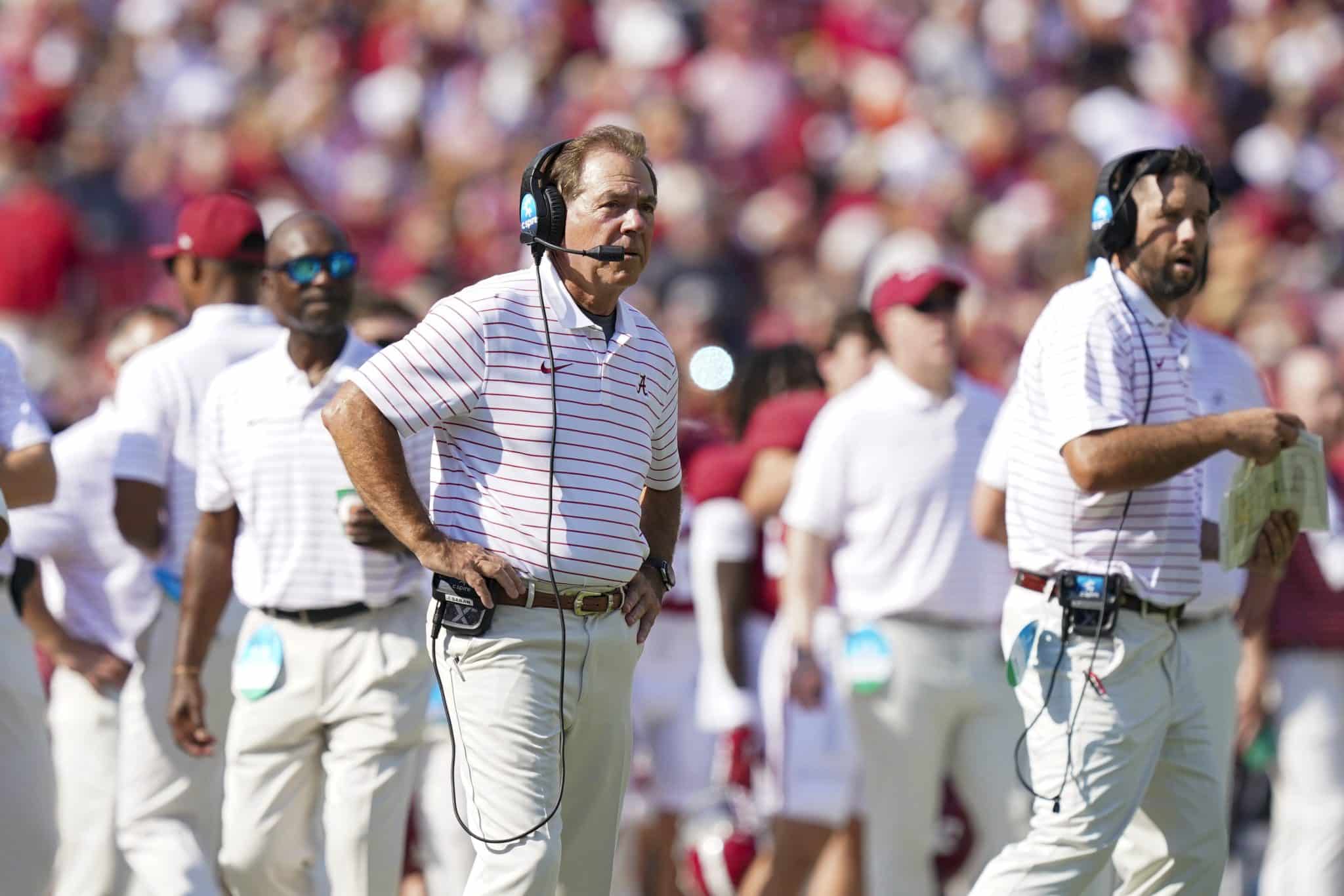 SEC
First and 10: It's a new era. Does Nick Saban need a new Process?
1. I don't want to get on a soapbox, but …
Welcome to the most important offseason in Nick Saban's 16 years at Alabama.
Everything will be evaluated: players, coaches, high school and transfer portal recruiting, and even Saban's famed Process.
If there's one thing we've learned about Alabama, it's this: What is this team the past 2 seasons without superstar quarterback Bryce Young?
Here's a hint: It looks a whole lot like Mississippi State.
In a perfect world, Alabama will head to the Sugar Bowl on New Year's Eve, and Young will work his magic. The Tide will beat Kansas State comfortably, and the narrative will continue: Alabama was Playoff worthy all along because it beat K-State more impressively than TCU.
That, everyone, is the worst possible thing that could happen.
If you can't embrace what Alabama has devolved to over the past 2 seasons, you're whistling through the graveyard. If you can't see the 61 sacks given up, the 164 tackles for loss relinquished, the reality that Young turned losses into wins over and over, you're avoiding big picture.
Alabama recruits better than anyone in college football, stacking 4- and 5-star players on the depth chart. Yet last offseason, Saban needed the transfer portal for a starting left tackle, a starting tailback, a starting cornerback and 2 wide receivers.
That means Alabama missed in recruiting. That means Alabama missed in development.
That means the Process that motivated and pushed and gave every player and assistant coach discipline and direction — and a road map to winning big — isn't working. Or needs new parts.
"I think it's more difficult in the landscape of college football to be able to keep people focused, because there's a lot of external factors that can affect them," Saban said during his press availability Sunday. "You want them to be able to stay focused on the task at hand."
And you need 1 player, at the most important position on the field, who plays at a high level — and leads by example.
Alabama doesn't beat Florida last year without Young. Doesn't beat LSU, Arkansas, Auburn and Georgia.
Doesn't beat Texas this season, or Texas A&M, or Ole Miss.
Alabama doesn't win those games because there are holes in the roster. Young's rare ability was the difference every game over the past 2 seasons — and hid flaws that were there all along but not exposed until critical moments this season.
Want to see how important Young was to Alabama the past 2 years? Wait and see what happens if he opts out of the Sugar Bowl.
Think about this: Alabama needed the portal this offseason to supplement recruiting classes that since 2019 finished 1st, 2nd, 1st and 2nd in the 247Sports rankings composite.
First, second, first and second.
If you don't think that's a red flag, think about this: Alabama may be searching for more beginning Monday with the official opening of the portal.
Only this time, the list of needs may include quarterback.
2. The most important position
Look at the top 6 teams in the Playoff poll, the 6 teams that legitimately had an opportunity to play for it all.
Now look at their quarterbacks.
Stetson Bennett, JJ McCarthy, Max Duggan, CJ Stroud, Young and Hendon Hooker.
Those 6 quarterbacks threw 161 touchdown passes and 26 interceptions, or an average of 27 TDs and 4.3 INTs (Young had 27 TDs, 5 INTs). That's how you win big in college football, how you get to the Playoff and compete for a national championship.
The Alabama quarterback depth after Young — who will leave for the NFL and be a top-3 pick — is redshirt freshman Jalen Milroe, freshman former 5-star Ty Simpson, and 2 committed 4-star quarterbacks in the 2023 recruiting class.
I can't imagine that's what fall camp looks like in August of 2023.
An unproven quarterback, with an unproven offensive line and with young receivers who haven't yet developed or were recruiting misses. That's not a recipe for scoring points, much less competing for 1 of 4 spots in the Playoff.
Offensive coordinator Bill O'Brien could move back the NFL, or take a college job (there will be more openings). Does Saban stick with wide receivers coach Holmon Wiggins, whose young receivers have struggled the past 2 seasons?
There could be other changes on the defensive coaching staff, too, but offense dictates everything in college football (even at Georgia).
The window to win another national title is closing for Saban at Alabama. Georgia is only going to get better, and the rest of the SEC is closing fast.
So if 1 of the many quarterbacks who hit the transfer portal Monday is interested in Alabama, Saban can't ignore it. Especially if it's a quarterback of consequence, like Sam Hartman or even Drake Maye.
This offseason is all about upgrading the roster, coaches and players. No one is safe.
3. The new world, The Epilogue
Nothing in college football is like it was before. The worst thing any coach — much less, Saban — can do is act like it is.
NIL and free player movement have changed the face of rosters all over college football. TCU won 5 games in 2021, and made the Playoff in 2022. USC won 4 games in 2021, and was a win from the Playoff.
The rising tide that Saban (and many other coaches) believed would grow the chasm between the haves and have-nots in college football has actually lifted all boats.
Five years ago, Saban doesn't lose elite 5-star wide receiver and top-3 recruit Luther Burden to Missouri. He doesn't lose Zach Rice, the No. 1 offensive lineman in the 2022 recruiting class, to North Carolina.
He doesn't have glaring holes at 2 critical position groups on his offense — and potentially a 3rd at quarterback.
But here we are, and if Alabama is going to adjust to life A.Y. (after Young), it will need the portal. At this point, it doesn't matter why 4 straight No. 1 or No. 2 recruiting classes (2023 class is No. 1, too) has translated to 2 Playoff appearances and 1 championship in 4 years (it's Alabama, it's a different standard).
All that matters is how you fix it, with Saban close enough to see the end (whenever it comes). It's staff changes and personnel changes and finding a quarterback.
It's the most important offseason at Alabama in 16 years under Saban. Don't run from it.
Embrace it.
4. The case for Bennett
The beauty of the Heisman Trophy's unique selection process is every voter has their own personal metrics.
There are no parameters, just an opinion.
Years ago when I began voting, I decided to place a high value on how well a candidate played in big games, games of significance. Anyone can ring up numbers against tomato cans.
Not everyone plays big and closes out teams in games of significance.
That's why Georgia QB Stetson Bennett will get more votes for the Heisman than you'd think. When a team gets so good, when it becomes among the elite of the nation, the only games that are scrutinized are those of significance.
That was Bennett carving up Oregon in the season-opener. It was Bennett flawless against South Carolina, and accounting for 3 TDs (2 pass) in a slog against Tennessee. It was Bennett throwing 4 TDs in the SEC Championship Game against LSU.
While his TD/INT ratio 27/6 (7 rush TDs) isn't at the same level of Caleb Williams or CJ Stroud or a handful of other elite quarterbacks, his performance is big games is remarkable.
Against Oregon, South Carolina, Tennessee and LSU (only 1 of those games in Athens), Bennett threw for 1,183 yards and accounted for 13 TDs (3 rush).
He doesn't flinch, and the moment is never too big. You can play great defense (Georgia does), you can be smart and efficient on special teams (Georgia is).
But at some point your quarterback has to make plays. Bennett does it over and over with clutch performances.
Don't be surprised if he's announced as a Heisman finalist, and gets a trip to New York City. He may not win the award — but he deserves the celebration of the moment.
5. The Weekly 5
Ranking the best SEC bowl games, with betting lines, brought to you by our friends at FanDuel:
1. Peach Bowl: Georgia vs. Ohio State (+6.5)
2. Gator Bowl: South Carolina (+3.5) vs. Notre Dame
3. Orange Bowl: Clemson vs. Tennessee (+2.5)
4. Gasparilla Bowl: Missouri (+2.5) vs. Wake Forest
5. Sugar Bowl: Alabama vs. Kansas State (+5.5)
6. Your tape is your resume
An NFL scout analyzes the draft prospects of an SEC player. This week: Arkansas LB Drew Sanders.
"I thought he really turned it up in the second half of the season. He's very athletic and twitchy, but he showed (this season) that he can be consistent and he can find more than 1 way to get home. He's long, and he has good bend and he absolutely can play outside in an odd front. But I also think, and I might be in the minority here, that he can be a true Mike in an even front. He has covers skills, and he moves well laterally and he will bring a thump."
7. Powered Up
This week's Power Poll, and 1 big thing: The QB Question, heading into bowl season.
1. Georgia: Carson Beck is expected to stay and take over in 2023. But 1 of 2 5-star backups — Brock Vandagriff and Gunner Stockton — will likely leave.
2. Alabama: We don't know yet if Bryce Young plays in the bowl game. If he doesn't, it might be time to get Ty Simpson some snaps.
3. Tennessee: Can QB Joe Milton turn a big performance in the Orange Bowl against Clemson into a starting Power 5 job in 2023 (he has 1 more season of eligibility).
4. LSU: If Jayden Daniels doesn't leave for the NFL (there's no reason to think he will), 1 of the 2 backups could leave: Garrett Nussmeier or Walker Howard. Both would be hot commodities in the portal.
5. South Carolina: QB Spencer Rattler needs to play. He should stay 1 more season and improve his NFL Draft stock. But will he play, and continue the Gamecocks' late-season surge?
6. Mississippi State: Can Mike Leach convince Will Rogers to stay for another season? He's a projected Day 2 pick in a fairly deep QB class. Next year's draft might be a better move.
7. Ole Miss: Backup Luke Altmyer already has announced for the portal. Jaxson Dart is the unquestioned starter, and will be one of the nation's best in 2023. Ole Miss may hit the portal for an experienced backup.
8. Kentucky: If Will Levis, a projected 1st-round pick, opts out of the bowl game, freshmen Kaiya Sheron and Destin Wade will play. Wildcats could be a prime buyer in the QB portal.
9. Missouri: If Brady Cook has secured the starting job, what happens in spring practice with heralded 4-star backup Sam Horn? If he can't win the job, does he stay in Columbia?
10. Arkansas: Starter KJ Jefferson says he's staying, backup Malik Hornsby has entered the portal. The Hogs need a veteran backup from the portal.
11. Florida: Anthony Richardson is likely leaving for the NFL, and probably won't play in the bowl game. That leaves Ohio State transfer Jack Miller as the starter (more on that later).
12. Texas A&M: Jimbo Fisher has his QB in Conner Weigman. Haynes King, the starter to begin the season, is in the portal. Backup Max Johnson, who played 2020-21 at LSU, could transfer again.
13. Auburn: New coach Hugh Freeze's quarterback more than likely isn't on the roster. Robby Ashford has talent, Zach Calzada (shoulder rehab) does, too. But expect Freeze to look for an immediate starter from the portal.
14. Vanderbilt: It's not a stretch to say quarterback is the deepest position on the roster. Vandy can win with Mike Wright or AJ Swann. Can Commodores keep either from the portal?
8. Ask and you shall receive
Matt: I'm shocked Lane Kiffin didn't take the Auburn job. Just shocked. How can he possibly believe he can win bigger at Ole Miss? — Greg Layden, Montgomery, Ala.
Greg:
NIL and free player movement has evened the field for a lot of programs. It has put a huge emphasis — more than ever — on hiring the right coach who can manage the NIL and all the unintended consequences.
Ole Miss lost 4 of 5 down the stretch, and could've — and probably should've — won 2 (Alabama and Mississippi State). The Rebels won 10 last year. They're close to turning the corner permanently, and Kiffin has proven he can work the portal.
He has branded Ole Miss as Transfer U., and players love that stuff. It's a second chance, it's an opportunity to prove everyone wrong in the best conference in college football. It's all that, and Kiffin has nailed it.
Why leave now and not reap the rewards of hard work? Especially if you enjoy your job (he does), and where you live (he does)? If you're going to leave a good situation, it better be for a great situation.
There aren't many of those great jobs around. And Auburn isn't one of them.
9. Numbers
0. The number of snaps taken this season by Florida quarterbacks likely to play in the Las Vegas Bowl against Oregon State.
It would be a gigantic upset if Richardson plays in the bowl game, and doesn't simply declare for the NFL Draft and begin preparations. Backup Jalen Kitna's arrest on child pornography charges last week leaves Gators coach Billy Napier with yet another obstacle in Year 1.
Miller won the backup job in fall camp but injured his wrist and the healing process was slower than anticipated. By the time he was ready to play again, Kitna had nailed down the backup job.
But understand this: if Kitna, Miller or freshman project Max Brown were an option and could've helped the Gators win games during the season, they would've played.
The quarterback room at Florida is a mess, and it was before Napier arrived. If there's one area where Napier would like a do-over, it's at quarterback.
Don't be shocked if Florida signs 2 quarterbacks from the portal. Napier wants competition for 2023, and never wants to be in another situation where there's no viable backup for a starter who's struggling.
10. Quote to note
Georgia coach Kirby Smart: "Our guys understand that as the year goes on, teams tackle poorly, teams cover poorly. Defense usually deteriorates. That's not the culture here. It won't accepted or tolerated."