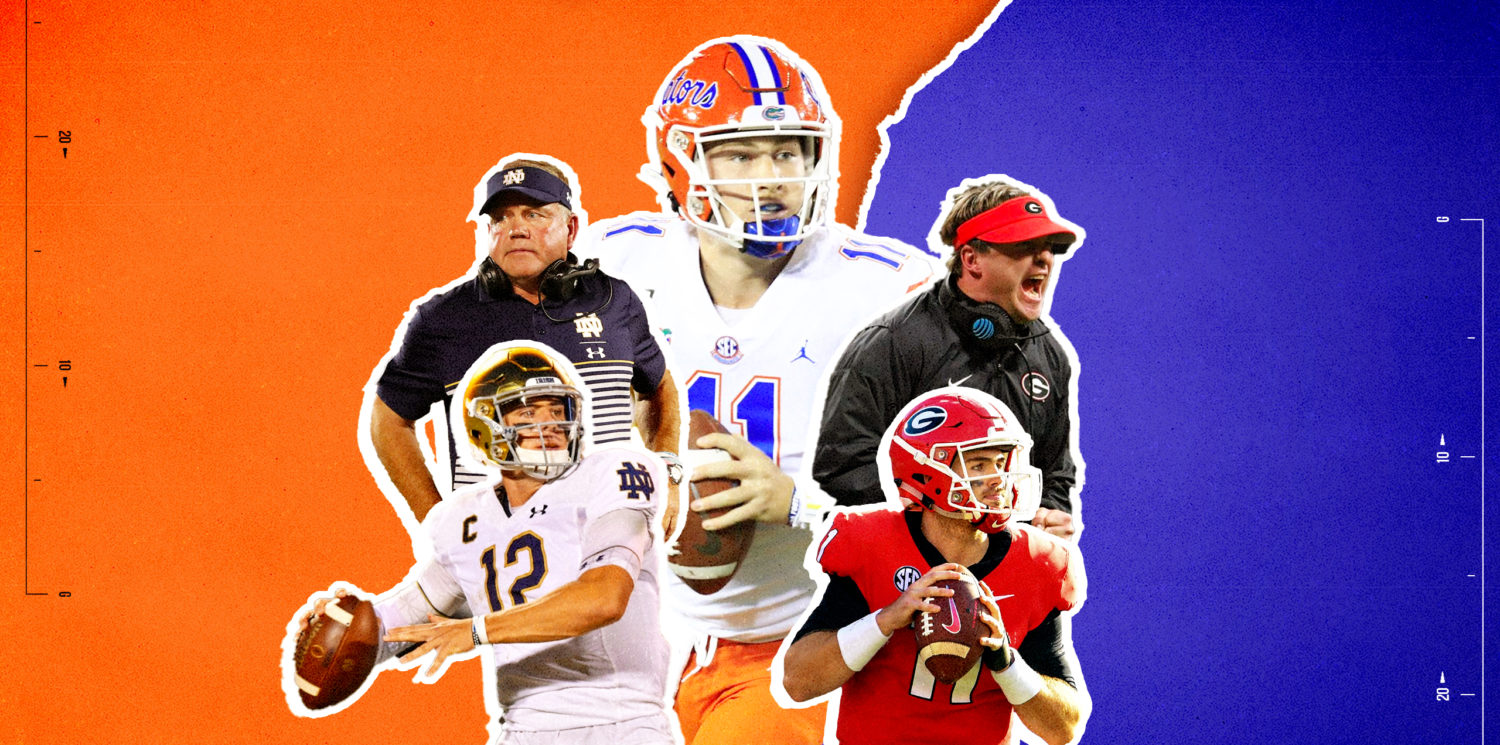 SEC
First and 10: Want a feel-good story? Say hello to Florida's Kyle Trask
1. I don't want to get on a soapbox, but …
Embrace Kyle Trask, everyone. Embrace all of who and what he has become in 4 long years at Florida.
Because he probably shouldn't be the starting quarterback for the Gators.
"What a story," Gators coach Dan Mullen said. "You don't see stories like this now in college football."
Especially at the quarterback position.
When Gators quarterback Feleipe Franks dislocated his ankle in the second half at Kentucky, a strange and surreal thing happened on the Florida sideline. Another Florida quarterback, who signed with the team out of high school, who toiled for years as a backup, who graduated and could have played at any other school without penalty, strolled into a big moment on a Saturday night in the SEC.
Then won the damn game.
Want to root for someone this fall? Kyle Trask is your man.
The quarterback position in college football has become a transient weigh station, overflowing with the unhappy and unloved of the game. If it doesn't work after a season or 2 – in some instances, after your first spring practice or fall camp — it's time to find another home.
Mega recruits who can't win the job at one school, leave to find a job at another.
Sometimes it works, sometimes, it's a familiar spot on the bench. And sometimes, it takes 2 transfers (hello, Blake Barnett).
Last weekend alone among Power 5 teams, there were starting transfer quarterbacks at more than 15 schools. These aren't throwaway programs, everyone.
No. 4 LSU (Joe Burrow), No. 5 Oklahoma (Jalen Hurts), No. 6 Ohio State (Justin Fields), No. 11 Michigan (Shea Patterson) and No. 22 Washington (Jacob Eason) all had transfers as starting quarterbacks.
In the SEC alone, LSU, Missouri (Kelly Bryant), Mississippi State (Tommy Stevens), Kentucky (Sawyer Smith) and Arkansas (Nick Starkel) started transfers.
This is what college football has become at the most important position on the field. Everyone wants to play, no one wants to wait.
Before we go further, let me be very clear: I'm a strong advocate of players finding a home if it doesn't work out. Why force someone to play somewhere if he can't get on the field because the guy in front of him is a better player.
Mullen's point – and the point of most college football coaches – is taking your ball and going home doesn't always work, and isn't exactly a life skills teaching moment.
Most quarterbacks – though this isn't position specific – have been the best guy on the field all of their lives. For years they've been told it all revolves around them.
Once they get into a situation where it doesn't, the initial reaction is to cut bait and find another place where it does again.
"So you're teaching them it's OK to avoid competition and working for something," Mullen told me this summer. "That's a life skill. That's not just a football thing."
It is here where we reintroduce Trask, a refreshing, diametrically different example of today's college quarterback. He wasn't a mega recruit and didn't have stars lined up after his name on recruiting sites. You'd have been lucky to find him on a recruiting site.
He was a backup quarterback at his high school, and when former Florida coach Jim McElwain went looking for a second quarterback for his 2016 recruiting class (5-star Franks was the top prize) for depth at the position, a high school coaching friend of his told him he should look at this kid at Manvel High in Texas because he has a strong arm and he looks the part.
So here we are on the long and strange road. Trask sat nearly 3 seasons before getting an opportunity to win the starting job last November when Franks was benched. Trask was working with the first team in practice the following week but broke a bone in his foot during practice and was lost for the season.
Franks then produced the best month of games in his career and was the unquestioned starter going into this season. Mullen spoke all offseason about Franks' development and was predicting a "big season."
Trask graduated this summer and saw all of this playing out in front of him. He has arm talent, he has terrific prototype size (6-5, 235) and he can run. He more than likely could have started for any number of FBS programs this season had he simply followed the path of least resistance.
But he stayed for all of the corny, hokey reasons we all take for granted: He loved his university, he loved his teammates, he didn't want to leave them behind and start anew.
Now think about Franks going down in the second half Saturday, getting carted off the field with a season-ending injury and knowing the backup on the sideline has waited 4 years for this moment.
Embrace him and the concept of the quarterback who waits. We might not see it again for a long time.
2. Moving on
For all the criticism Franks has taken as the Florida starter (some of it warranted), he was still the one player who could make every throw and had the experience of preparing for, and being part of, big games.
Now the Gators are left with Trask and redshirt freshman Emory Jones. Both will play, and both give Florida a different dynamic to the offense.
Florida's offense before Franks' injury was a bit of a mess. The offensive line has had problems run blocking, and both tackles have struggled at times in pass protection.
Now there are 2 new quarterbacks, each with a unique skill set, trying to work behind that line through the teeth of the SEC schedule. Trask is more like Franks; a strong arm and a willing runner.
Jones is the X-factor.
A dual-threat, Jones could stress defenses with his legs if the staff can find a package of passing plays that prevents defenses from loading up to stop the run. He played briefly in last year's Georgia game, and threw a beautiful deep ball off play action that would have been a touchdown had Georgia not interfered on the play.
Both are talented, and the idea of Franks' injury as a crushing blow isn't as prominent as you'd think. This team believes, Mullen says, it can win with either Trask or Jones. Or both.
They'll have 2 games – Tennessee and Towson at home – to get comfortable before the schedule ratchets up with games against Auburn and at LSU.
3. Moving on, The Epilogue
It's much too early to even contemplate this, but Franks' injury sets up some potentially intriguing irony soon.
If Trask and/or Jones are what Mullen believes they are, what if one or both lead Florida to a 10-win season? What if one or both completely changes the way Florida plays offensively?
Then what happens with Franks, a redshirt junior?
The story now is Trask and how he persevered. The story could easily become Franks and where does he fit – if the Gators successfully move forward with Trask and/or Jones.
In this era of quarterbacks annually on the move, these tough questions must be asked.
Franks likely isn't leaving for the NFL after this season (he doesn't have enough good tape).
So what does he do should the Gators move forward and the offense blossoms and he's staring at competition again next spring? How ironic would it be if the player who waited patiently for his time, gets his moment and forces Franks into the transfer portal?
4. Dawgs young and eager
We've watched for 3 weeks now, and Georgia has done everything that's been asked.
The Dawgs have won on the road in the SEC, and they've dispatched 2 overmatched and overwhelmed nonconference opponents. Been there, done that — and frankly, without much fanfare.
Now it gets serious. Now it's time for Georgia to show its College Football Playoff potential this weekend against Notre Dame. If you've been bored by Georgia's ho-hum 3 weeks of the season (and really, how could you not?), get ready for a different team this weekend.
This is where Georgia makes a statement. This is where we see the emergence of freshman 5-star receivers George Pickens and Dominick Blaylock.
Pickens was the team's most talented receiver the day he stepped on campus in Athens.
The problem: He hasn't done the little things – things outside the obvious of making catches – to stay on the field and get targeted.
His route running hasn't been as disciplined as the staff wants, and at times he has left the offense, and quarterback Jake Fromm, in bad spots. These are typical freshmen mistakes that can be – and have been of late – cleaned up.
Pickens had his best game last week vs. Arkansas State, and both he and Blaylock give Georgia two physical and fast threats on the outside. Georgia didn't stretch the field much in the first 3 games; it will this week against Notre Dame.
5. The Weekly Five
Five picks against the spread.
Notre Dame at Georgia (-13)
Auburn at Texas A&M (-4)
Tennessee (+14) at Florida
Kentucky (+8.5) at Mississippi State
South Carolina at Missouri (-8.5)
Last week: 1-4 (.200)
Season: 6-10 (.375)
6. Your tape is your résumé
Each week an NFL scout breaks down one of the top draft eligible players in the SEC. This week: Florida DE Jabari Zuniga.
"I thought he was going to make a huge mistake and come out early. Now he has a chance to really help himself because he has some things he needs to work on. He has good size, and he's physical at the point of attack. Last year, he was a bit slow on the get off and was just trying to run by everyone. We're not even a month into the season, and it's clear he has changed his get off – he's quicker – and he has added a spin move. It's pretty impressive.
"I love watching guys who know they need work, and don't come out (for the draft) — then work their ass off to get better. Those are the guys that personnel people want to draft because it's clear they take coaching, and they want to get better. I want to see him against the big boys in (the SEC), and see if he's saving another move for that level of play. He has to use his hands more effectively. Combine better hands with the strength and speed he already has. Another problem last season was a lack of consistency. He just wasn't getting after it every play. I'm seeing a different player every snap now, and that's a good thing."
7. Power Up
This week's SEC Power Poll (and one big thing):
1. Alabama: Tua and The Jets will torment everyone; the Tide D is tormenting Nick Saban with missed tackles and bad angles and average coverage.
2. LSU: We're 3 weeks in, and the revamped offense already is setting records. How good will it look in early November? (Hello, Alabama.)
3. Georgia: Dawgs have played around for 3 weeks without any significant test. Here comes Notre Dame with plenty of motivation.
4. Texas A&M: Aggies proved 2 weeks ago at Clemson they could play physical at the point of attack. Not good news for Auburn.
5. Auburn: Tigers QB Bo Nix's first true road game in the SEC: College Station. Welcome to the big time, kid.
6. Florida: Gators have more issues than quarterback. The interior run defense is atrocious, and the offensive line can't run block.
7. Kentucky: I'm not buying the game getting "too big" for Sawyer Smith. I'm selling UK needs to run the ball more.
8. Missouri: Which Mizzou D do we see: the one that couldn't stop the run vs. Wyoming, or the group that dominated West Virginia?
9. Mississippi State: Tommy Stevens or Garrett Shrader? Who cares – I want more Kylin Hill.
10. South Carolina: Still trying to find out if South Carolina is this bad in coverage, and if so, look out for Mizzou QB Kelly Bryant and WR Jalen Knox.
11. Tennessee: Still think Tennessee is closer to the team that whitewashed overmatched Chattanooga, than the team that lost to Georgia State and should've beaten BYU.
12. Vanderbilt: It's Derek Mason's turn to take a shot at the new LSU offense. Someone has to stop it – or at least slow it down — this season, don't they?
13. Ole Miss: QB Matt Corral to WR Elijah Moore is something to hold onto in a vast season of ugly that begins this week against California.
14. Arkansas: Think about this: the Hogs could move to 3-1 with a win over San Jose State and still be last in the SEC.
8. Ask and you shall receive
Matt: I know it was Kent State and Kent State is terrible, but is there a place in the Auburn offense for QB Joey Gatewood?
Scott Foster
Montgomery, Ala.
Scott: We saw some situational plays for Gatewood against Oregon, and I wouldn't be surprised if there's more down the line. But for Gatewood to be a viable option at the position in situational packages against SEC heavyweights, he has to prove he can make plays in the passing game to keep defenses from keying on any QB run package.
Georgia never found a workable package for Justin Fields last year because Fields wasn't comfortable in the passing game (or the scheme Georgia was using for its passing game; however you want to look at it).
Gatewood is too good – and frankly, too strong and dynamic – of a runner to have him on the bench. Find a package that he's comfortable running, and give him 2 or 3 series a game. Or more if he gets hot.
Nix struggled for much of the Oregon game until the last drive when it mattered most. He will struggle again. It would be smart of Auburn to have a package ready for Gatewood, and one with pass options he's comfortable running.
9. Numbers game
15: Now that it's clear Tennessee might not be as bad as we've overreacted (see: BYU over USC), it's time to zero in on the key to this weekend's game at Florida: turnovers. In the past 5 years of the rivalry (Gators are 4-1), the Vols have 15 turnovers.
That bloated number is not winning games, much less rivalry games in the SEC. Florida forced 4 turnovers against Kentucky in its SEC opener, and Tennessee hasn't been a disciplined team with ball security under coach Jeremy Pruitt (20 turnovers in 15 games).
10. Quote to note
Texas A&M coach Jimbo Fisher on if his team is ready for the upcoming SEC schedule, which includes home games against Auburn and Alabama, and a game against Arkansas in Dallas. "I don't know if they are, but they better be. There are a lot of really good ones coming."