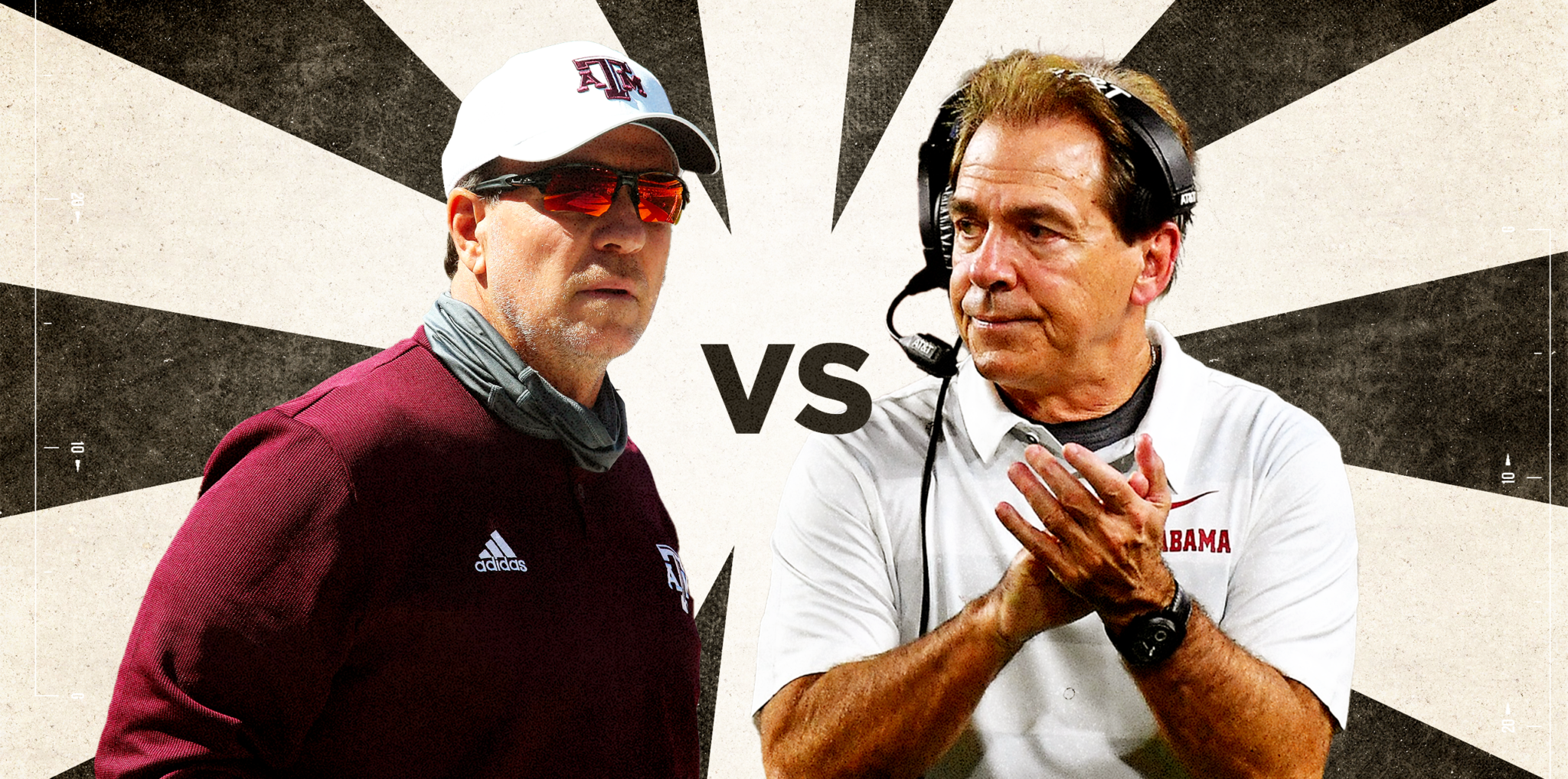 SEC
First and 10: Nick Saban knows the end is near ... and he's lashing out
1. I don't want to get on a soapbox, but …
Nick Saban sees the end, everyone. The signs are everywhere.
Not the end of college football as we know it, but the beginning of the end of Alabama's dynastic hold on the sport.
The greatest coach in college football history lives by one mantra, and declares it over and over: Control what you can control. Only now, he has lost control of the critical component to his 6 national championships at Alabama: recruiting.
But not by his own doing.
That's why he threw a public temper tantrum last week when speaking at an event in Birmingham, Ala., declaring that Texas A&M — with the help of name, image and likeness rules passed a year ago — "bought every player" of what most recruiting analysts say is the greatest recruiting class in the history of the sport.
While the response from Aggies coach Jimbo Fisher (calling Saban a "narcissist" among other things) and SEC commissioner Greg Sankey (public reprimands for both coaches) accentuated the glorious offseason theater of the absurd, it overshadows the most important development of all.
Saban sees the end – and its name is NIL.
It's an acute end facilitated by panicked, reactionary moves from the NCAA, in a desperate attempt for college sports' governing body to be more player-friendly in an effort to avoid an all-out legal onslaught regarding revenue sharing with players (which is coming, anyway).
The two-pronged giveaway by the NCAA – which, frankly, should've happened long ago – was done so haphazardly and without hesitation of looming collateral damage, it has left the most important revenue-generating sport (college football) in an utter state of lawless turmoil with all things recruiting.
Recruitng high school players. Recruiting transfer portal players. Recruiting your own roster.
First came the free transfer rule in April of 2021, then came the granting of NIL rights in July of 2021 with no guardrails – despite having nearly 18 months to find answers to inevitable problems. They've combined for the perfect storm — one that for the first time in more than 150 years of college football has given players the upper hand in recruiting.
"Name, image and likeness is a great concept for players," Saban said. "I told our players when this whole thing started to get agents, get representatives, so you can create opportunities for yourself."
Saban says 25 of his players earned a combined $3 million last year by "doing it the right way." Here's the key: the right way.
More specifically, what Saban perceives is the "right way." That can be debated any number of ways, and can go down a road so unpredictable, it ends with Fisher firing back at Saban and proclaiming, "Go dig into how God did his deal. You may find out things about a guy, and a lot of things you don't want to know."
NIL deals are mostly commandeered by collectives, which are groups of boosters pooling money to pay players for jobs performed. Those jobs are limitless, and can be just about anything.
But Saban sees NIL as a post-high school benefit for players. In other words, once you arrive in college and have "earned it," then the NIL deals will begin to flow.
But that's not the rule. In fact, there are no rules.
The NCAA has given "guidelines" to NIL deals, but they're toothless suggestions to help mitigate potential abuse of the system. The NCAA has zero enforcement clout because the United States Supreme Court last summer eviscerated the idea of the amateur model, ruling 9-0 that universities can't prohibit or place limits on what or how student-athletes earn from their name, image and likeness.
And here's where we hit the rub in the rub, or more to the point, where the beginning of the end of the Alabama dynasty begins to come into focus.
Collectives are being used as a recruiting tool, offering potential recruits top dollar NIL deals to sign with schools. Again, this is not illegal.
It might be frowned upon by the NCAA with its "guidelines" to NIL deals. It might not be "doing it the right way" as Saban declares. But it's legal.
That's why Saban threw his 7-minute temper tantrum last week. Because for the first time in his 16 years at Alabama, the idea of controlling what you can control has gone off the rails.
Elite players are now sometimes signing with the highest bidder. That's not who Saban is, and not what he wants.
That's why the end is near.
2. The signs are everywhere
Around the same time Pittsburgh All-American WR Jordan Addison announced he would transfer to USC instead of Alabama or Texas, Saban let loose with his diatribe on the NIL and Texas A&M.
This isn't coincidence. This has been coming for months.
It began with the loss to Texas A&M last season, and then the loss to Georgia in the CFP national championship game. The Bulldogs and Aggies are threats to Saban's dynasty.
Georgia had as many as 7 5-star players on defense last season, a collection of talent so impressive, it rivaled anything Saban produced on that side of the ball.
Prior to February's greatest recruiting class ever, Fisher had landed 3 straight top-5 classes, and last year beat Alabama with Zach Calzada at quarterback. What happens when Fisher gets a legitimate 5-star quarterback?
Florida State 2013 happens.
At the same time, Saban looks around and sees Brian Kelly moving into LSU. Kelly landed top-5 classes at Notre Dame despite academic requirements other Power 5 schools don't have.
If Kelly landed those type of players at Notre Dame – and advanced to the Playoff twice — while sipping through a recruiting straw, what will he recruit at LSU while drinking through a fire extinguisher?
Billy Napier took over at Florida, where Alabama has owned the state's top players for more than a decade. Derrick Henry, Evan Neal, Jerry Jeudy, Amari Cooper. The list goes on and on.
Two weeks after accepting the Florida job, Napier landed a commitment from 5-star safety Kamari Wilson of IMG Academy in Bradenton. Former coach Dan Mullen was fired, in part, because of his failure to recruit – and more specifically, to engage the state's most prominent programs.
Florida hadn't signed an elite recruit from IMG in years. Napier did it in 2 weeks with the help of the Florida collective.
Then came Addison, a mega-transfer possibility for a coach who landed the best transfer last season (WR Jameson Williams), and added 2 more this offseason (WRs Jermaine Burton and Tyler Harrell).
Addison chose USC, and make no mistake about it, the biggest threat to Saban's dynasty outside the SEC got one more player stronger. USC is NIL heaven, a Hollywood-fueled oasis of money and power and potential.
The Trojans also have a coach (Lincoln Riley), who twice advanced to the Playoff at Oklahoma and developed 2 Heisman Trophy winners and another Heisman finalist.
Then there's Texas – the most powerful brand in all of college athletics – potentially turning a corner under second-year coach Steve Sarkisian, who is landing elite recruiting classes and signing elite transfers.
Missouri had a top-15 recruiting class this February. Kentucky had a top-20.
The signs are everywhere. NIL isn't further separating the elite from the rest of college football. It's bringing more teams closer to competing for it all.
3. The end is near, The Epilogue
Winning games is all about procuring and developing players. Always has been, always will be.
That's where Saban has been better than anyone in the college game since 2000. That's why there's a sense of irony to the end on the horizon at Alabama.
In some strange Shakespearean tragic comedy, the end will arrive by Saban's own hand.
The assistant coaches he mentored, with whom he coached and developed for years, will be those who bring him back to the pack. Prior to last season, Saban was 24-0 vs. his former assistants – including wins over Smart in the SEC Championship Game and Playoff national title game.
Fisher won last year and snapped the streak. Smart then rebounded from a loss in the SEC Championship Game to Alabama to beat the Tide and Saban in the biggest game of all.
Now they're all coming for him. Smart, Fisher, Sarkisian, Napier. Even Mario Cristobal, the former Alabama offensive line coach, who could quickly galvanize a dormant Miami program.
All blue-blood programs with the inherent structure and money to take down Saban.
"What I learned under Coach Saban was invaluable," Cristobal told me earlier this month. "It's part of the foundation of who we were at Oregon, and who we will be at Miami."
They're all coming for him. The signs are everywhere.
4. More choices
Let's go from 30,000 feet to ground zero in an effort to explain the impact of collectives on college football.
If the collectives were around 3 years ago, there's no chance Bryce Young leaves the state of California (USC or UCLA) for Alabama.
Just like there was no way Luther Burden, the No. 1 wide receiver recruit in the 2022 class, was leaving his home in East St. Louis, Illinois (which is essentially Missouri) for Alabama.
What NIL and collectives have done is given pause to a hectic recruiting process that more times than not, boils down to how quickly can I get to the NFL — and be part of a rare group of teams that qualify for the best games in college football.
In other words, all things being equal, what's the easiest road? More times than not, it was Alabama, Georgia, Ohio State or Clemson.
NIL and collectives have changed everything by giving players pause, by allowing them to see what could be at another school. An endorsement deal, especially if it's bigger than (or equal to) what the elite of the sport can offer, will changed minds.
That's not a bad thing, and frankly, it's good for the health of the sport. More programs developing and giving chase in the national title hunt grows the brand.
"We've been fighting that for years. It's inherent," an SEC coach told me. "No one ever says the quiet thing out loud. Kids want to play in the big games, for the teams that have played in the big games. It's our job to sell what we can do to get there, and (NIL) will at least give us another weapon to do it. That's what has Nick worried. It won't be as easy anymore."
5. The Weekly Five
Five reasons for hope post-spring practice at Tennessee.
1. QB Hendon Hooker. The most undervalued season by a quarterback in college football in 2021. He'll be significantly better in Year 2 with coach Josh Heupel's Blur Ball offense.
2. The second half of last season went a long way to change a culture that one Tennessee source told me was a "depressive" under former coach Jeremy Pruitt. The team believes it can win big.
3. Pressure off the edge. Byron Young's big season was overshadowed by Tennessee's inability to stop anyone. Roman Harrison will be another factor off the edge, and retaining Tyler Baron after he left for the portal was critical.
4. The Vols have a legitimate interior line on defense (hello, freshman DT Tyre West), and will improve on last year's rush defense (148.5 ypg.).
5. The development of WRs Jalin Hyatt and the emergence of freshmen (Cameron Miller, Chas Nimrod) will go a long way to eliminate double teams from star WR Cedric Tillman.
6. Your tape is your résumé
An NFL scout analyzes a draft-eligible SEC player. This week: Georgia CB Kelee Ringo.
"A big, long, rangy guy who can run. He has all the physical tools to be an elite player in our league. He really came on at the end of last season — in the big games. I thought he played his best in the Michigan and Alabama games, and his confidence has to be really high (in 2022). He redshirted, so he has only played 1 season and the tape is limited. Definitely want to see more, see him refine his game. He can be physical at the jam, and he's really fluid on the turn. He closes really well and can highpoint on those 50/50 (throws). Would like to see him get a little stronger and thicker, too."
7. Powered Up
This week's Power Poll, and one big thing: rising and falling, post-spring.
1. Alabama. Rising: Pressure off the edge. Falling: offensive tackles.
2. Georgia. Rising: key defensive backups from 2021. Falling: questions about the viability of QB Stetson Bennett.
3. Texas A&M. Rising: a young front 7 on defense. Falling: questions about who plays QB (see: Max Johnson).
4. Kentucky. Rising: QB Will Levis. Falling: the running game with the uncertainty of Chris Rodriguez.
5. Arkansas. Rising: expectations; Falling: QB KJ Jefferson's weight (he's in the best shape of his career).
6. LSU. Rising: QB Garrett Nussmeier. Falling: doubt lingering from 2021 debacle.
7. South Carolina. Rising: a wildly underrated defensive front. Falling: questions about scoring.
8. Tennessee. Rising: all things skill position on offense. Falling: offensive line is still a work in progress.
9. Florida. Rising: a strong, punishing offensive line. Falling: the lack of a legitimate deep threat.
10. Ole Miss. Rising: an influx of offensive talent from the portal. Falling: a lack of proven impact edge rushers.
11. Mississippi State. Rising: DC Zach Arnett might have his best defense yet. Falling: the offensive line is still in flux.
12. Auburn. Rising: Pass rush off the edge. Falling: who plays quarterback?
13. Missouri. Rising: youth in offensive skill positions. Falling: coverage in the secondary.
14. Vanderbilt: Rising: belief that QB Mike Wright could be a star. Falling: pass rush may be sporadically better than an awful 2021 (9 sacks).
8. Ask and you shall receive
Matt: Everyone keeps saying Coach Saban said Jimbo Fisher cheated. He didn't say he cheated, he said he bought every player on his roster. What part of that wasn't true? — Kevin Fisher, Birmingham.
Kevin:
You answered your question inside your question. Saban's mistake went beyond specifically calling out Texas A&M (not Fisher), and to a lesser (but still ridiculous) extent, Jackson State. It was the verbiage he used.
When Saban said Texas A&M "bought" its entire recruiting class, he used a loaded word. Anyone who has been involved in college sports in any way, form or fashion, knows the connotation that arrives with the word "bought." Simply put, it means cheating or breaking rules.
And don't kid yourself, Saban says nothing without intent. He knew what he was saying and knew what it meant. You don't work as long as he has as a head coach in college football and not understand the intent of the word "bought."
I get it, Saban is frustrated. But that word is what bent Fisher. If Saban had simply said Fisher used the NIL rules better than any of us – which he most certainly did – there wouldn't have been a problem. Once he said "bought," all hell broke loose.
9. Numbers
3. Arch Manning, the No. 1 prospect in the 2023 class according to the 247Sports composite, has announced his 3 official visits this summer: Alabama, Georgia and Texas.
That's Saban and 2 of his former assistants (see: the beginning of the end of the dynasty by his own hand). While NIL may not be as much of a factor with Manning (he'll get a deal no matter where he signs), it's hard to imagine anyone could outbid what Texas could offer.
The nephew of Peyton Manning, Arch has been visiting schools unofficially for years. The decision, more than likely, will come down to who he thinks will prepare him best for college and the NFL.
10. Quote to note
Texas A&M coach Jimbo Fisher on Saban: "Go dig into his past or anybody that's ever coached for him. You can find out anything you want to find out. What he does and how he does it, and it's despicable."