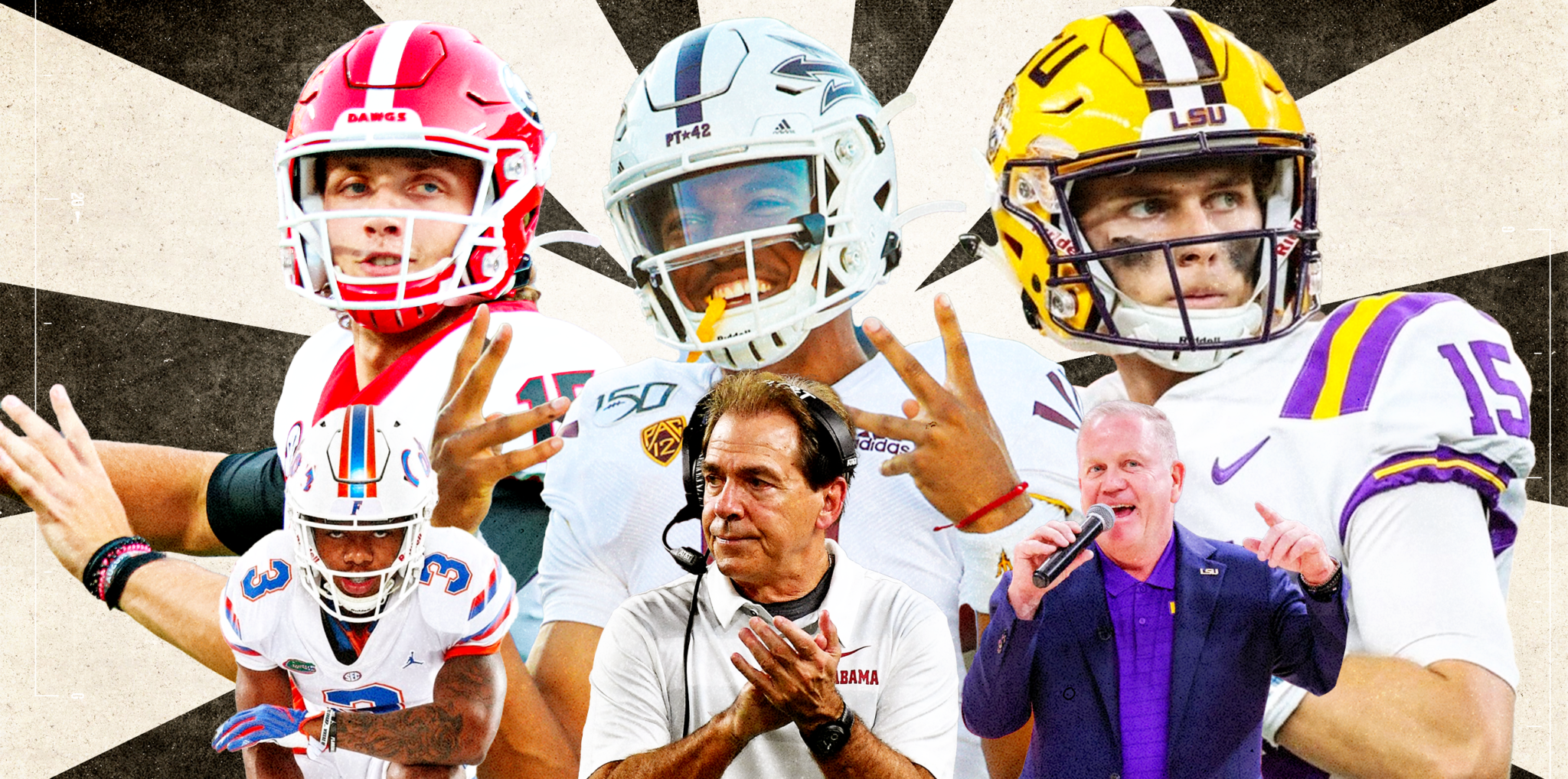 SEC
First and 10: Portal mania is in full throttle as May 1 transfer deadline looms -- and the SEC is loading up
1. I don't want to get on a soapbox, but …
The deadline is looming, and you're not winning if you're not recruiting.
Or in this case, pushing the transfer portal envelope.
"We need players," Florida coach Billy Napier said last week after a spring practice in Gainesville. "We have spots available, so you can anticipate us being very aggressive in the portal this spring."
Translation: If you're not happy where you are, call me.
Welcome to the latest iteration of free agency in college football. We've gone from coaches waiting for players to enter the portal, to coaches actively recruiting other rosters by word of mouth.
The May 1 deadline to transfer and be eligible to play in the 2022 season is fast approaching, and most teams are deep into spring practice where jobs are often won and lost. All spring drills will be complete before the end of April, and the mad dash is on to sign players who lost starting jobs, are stuck on the depth chart, or aren't happy with their situation.
Can you blame Napier? Or Lane Kiffin, or Brian Kelly, or Eliah Drinkwitz, or any other coach in the meatgrinder SEC — where the train is bearing down every single day in every imaginable way?
Kiffin and Kelly have signed the most transfer portal players (14) of any team in the nation. That number, more than likely, will increase by May 1.
Drinkwitz has missed on 2 potential starters for his quarterback room and is in on another (Georgia transfer JT Daniels). He's getting another quarterback. If it doesn't work with Daniels, it will work with someone else – before May 1.
Mark Stoops has recruited the portal as well as any coach in the conference and could have as many as 5-6 immediate starters at Kentucky.
Shame Beamer has completely revamped his offense at South Carolina, which by the end of last season, was running on a 3rd-string quarterback and a whole lot of effort.
Now he has a potential first-round draft pick at quarterback (Spencer Rattler), 2 new SEC-ready receivers (Antwane Wells, Corey Rucker) and a starting tailback (Christian Beal-Smith). You're not acquiring those impact players with high school recruiting, no matter who you are.
That includes a couple of guys named Saban and Smart.
"This isn't Triple-A, this is the SEC," Kelly said last month. "You better have a full roster of really good football players when you show up."
Prior to last season, most coaches across the nation were adamant that the portal wasn't a sustainable way to build a program. Build from high school recruiting, keep players in your program from 3-5 years and building a culture of winning.
Blah, blah, blah.
Then Dan Mullen got fired after 3 New Year's 6 bowls in 4 seasons. Then Ed Orgeron was fired 2 seasons removed from winning a national title, and with a 13-6 record vs. Top 10 teams.
The idea of safe jobs and/or building capital for the long haul are long gone in the win or walk business of coaching. It's a simple formula: big job, big money, big expectations.
From Day 1.
You don't think Napier understands that? Hell, he essentially broke down his roster last week – after making it clear that the shingle is out, and Florida is open for business with nearly "double-digit" scholarships available.
He has 2 defensive tackles and a long snapper getting reps at tight end. The interior lines are thin. And on and on.
"Every position on our team," Napier said. "We need more players."
When Kelly arrived at LSU, he sat down with strength coach Beau Lowery to go over the roster.
"I looked at him and said, 'I don't know how we're going to do it.'" Kelly said
The portal, that's how.
2. The new frontier
We were told the portal would be the death of college football. The rich would get richer, and the divide between the have-nots would grow larger.
Actually, it's the opposite.
While the rich have gotten richer – what would Alabama have been last season without Jameson Williams? – the portal has allowed those trailing to close the gap much quicker.
Kentucky won 10 games behind portal transfers QB Will Levis and WR Wan'Dale Robinson.
QB Hendon Hooker saved Tennessee from an ugly transition season in Year 1 for coach Josh Heupel.
Alabama and Georgia still played for the SEC Championship, and eventually the national championship, but got a quick glimpse after the season how life is changing – and will forever change — in the portal era.
Alabama once packed 4- and 5-star players on the depth chart like game day traffic on I-359, developing players until their time came. Not anymore.
Two former 5-star players left Alabama after the season (LB Drew Sanders, RB Camar Wheaton), as did 4-star TE Jahleel Billingsley, WRs Javon Baker and Xavier Williams, LB Shane Lee and CB Marcus Banks. That's 7 4- or 5-star players no longer on the Alabama roster.
Spin it however you want, that's a loss for Alabama and a win for the rest of the SEC.
Georgia lost 5-stars JT Daniels and Jermaine Burton, and 4-star S Latavious Brini, CBs Ameer Speed and Jalen Kimber and WR Justin Robinson. That's 6 4- or 5-star players no longer on the roster.
The easy out is to say those Alabama and Georgia players weren't factors in the growth of the team. Neither was James Cook — until he was in his final season in Athens.
Neither was Chris Owens, until Alabama was desperate on the offensive line and he became a solid starter.
"Every player develops differently," an SEC coach told me. "We all say if they don't want to be here, we don't want 'em. Trust me, those losses, more times than not, sting. You've invested in them, and you're hoping it all clicks and the work pays off for all involved. To watch it work for somebody else … you feel good for the player, but sick to your stomach."
3. Plug and play
Here's the dirty secret looming over all things portal: Recruiting the portal is more fruitful in some cases than recruiting high school players.
Understand this: Schools aren't giving up recruiting high school players; it's still the lifeblood of a program. But in less than 2 seasons, the portal has gone from a novel way to add help here and there to a critical supplement in building rosters.
If you're chasing in the SEC, you're building quicker with players who can step on campus and seamlessly assimilate to your culture. Players who not only have playing experience but who aren't adjusting to college life off the field.
Think about this: The 12 transfer portal players Ole Miss signed – all are working in spring practice – have played in a combined 263 FBS games. That's invaluable experience, especially when you're landing players that will compete at a high level.
Kiffin got a starting right tackle (Mason Brooks, WKU), tight end (Michael Trigg, USC), 2 running backs (Zach Evans, TCU; Ulysses Bentley, SMU) and a quarterback (Jaxson Dart, USC).
"The portal guys, it's not as hit and miss as the high school guys," Kiffin said. "You're seeing (portal players) play college football."
That's why the next 3 weeks will be as hectic as the final closing weeks before the early National Signing Day in December. There are potential starters out there looking for new homes, searching for a spot before the May 1 deadline.
As much as Napier is looking to add to his roster, there's a good chance he'll lose from his roster, too, before the May 1 deadline.
"This is a new way of operating in college football," Napier said. "It's a developmental game, and you've got a new team every year. So we're going to work on ways to solve the problems that we do have, and go play a brand of football that fits this team and the dynamics within this team."
4. Another Aggies 5-star
Texas A&M had 1 of the top 3 defensive lines in the SEC in 2021. It could be better in 2022 – even after every player graduated or left early for the NFL.
The addition of 5-star DE LT Overton, a 2023 recruit who reclassified as a 2022 recruit (he will graduate from high school a year early to play college football) and immediately became a top 10 player, gives Texas A&M the top 4 defensive linemen from the 2022 class.
Overton joins DTs Gabriel Brownlow-Dindy (enrolled, sitting out spring with injury), Anthony Lucas (enrolled) and Walter Nolen, and DE Shamar Stewart. All 5-star recruits – all set to join a group that already includes 2 elite recruits from the 2021 class (5-star projected starter DT Shemar Turner and 4-star DE Tunmise Adeleye).
That's 6 5-star defensive linemen in the past 2 recruiting classes, and another player (Adeleye) who had a big strength and conditioning offseason and is pushing for time in spring practice.
Overton (6-4, 255 pounds) is a true edge rusher, and won't enter school with the idea of redshirting because he's a year behind physically. He reclassified to play immediately, much like JT Daniels reclassified to play immediately at USC – then won the starting job.
The competition for starting spots will be intense in fall camp. All 4 spots are open, and 2 of the incoming 6 can be cross-trained for the interior and edge (Stewart, Lucas).
Just how impressive is this defensive line recruiting class? The most productive in the past 2 decades in the SEC was the Alabana 2013 class that included Jonathan Allen, A'Shawn Robinson (an offensive tackle in high school) and Tim Williams. All 3 developed into All-Americans.
5. The Weekly Five
Five breakable school records for Tennessee QB Hendon Hooker:
1. Consecutive games with a TD pass: 12, Heath Shuler (1993) and Hooker (2021).
2. Total offense yards (rush and pass), game: 530, Tyler Bray, 2012 (Troy).
3. TDs responsible for, game: 7, Erik Ainge, 2007 (Kentucky).
4. Passing yards, season: 3,819, Peyton Manning (1997).
5. TD passes, season: 36, Peyton Manning (1997).
6. Your tape is your résumé
An NFL scout breaks down a draft-eligible SEC player. This week: LSU CB Derek Stingley Jr. (final grade):
"I really like his talent. He has all the tools. He can cover in man, and zone, and likes to play physically. He's really underrated in run support. He chases and attacks. He's one of those fluid players that just makes it look easy, almost too easy. The game comes so easy, you wonder if he's going to invest in what it takes to become elite – or he's just going to do enough to get that second contract. Does he love the game?
"When you're deciding between a couple of guys for the first at their position with a high pick, the love of the game, the real, true desire to be the best, has to be part of the equation. Phenomenal freshman season, regressed as a sophomore and missed most of Year 3 with an injury. Is that an anomaly, or does that downward trend continue?"
7. Powered Up
This week's Power poll, and one big thing: Trap game of 2022.
1. Alabama: at Tennessee, Oct. 15. Back-to-back physical games at Arkansas and vs. Texas A&M set up Vols.
2. Georgia: at Kentucky, Nov. 19. Only potential problem in another manageable SEC schedule.
3. Texas A&M: at Mississippi State, Oct. 1: Sandwich game between Arkansas and at Alabama.
4. Kentucky: Mississippi State, Oct. 15. Not out of the question that Wildcats could be unbeaten at 6-0.
5. Arkansas: at BYU, Oct. 15. Strange spot for a nonconference game against motivated team in a wild environment – and more than likely a 7:30 pm local kick.
6. LSU: at Auburn, Oct. 1. It makes no sense. Auburn is struggling. But this series is unorthodox – and this is Brian Kelly's introduction.
7. Florida: South Carolina, Nov. 12: After back-to-back heavyweight fights against Georgia and at Texas A&M.
8. Tennessee: Missouri, Nov. 12: The only home game in the month of November follows games against Kentucky and at Georgia.
9. Ole Miss: at Georgia Tech, Sept. 17. Must learn how to dispose of these sleepy nonconference games to continue SEC rise.
10. Mississippi State: at Arizona, Sept. 10. Improved (on paper) 1-win team from 2021 — a week before big SEC opener at LSU.
11. South Carolina: Tennessee, Nov. 19: Sandwiched between 2 road games against rivals Florida and Clemson.
12. Auburn: Missouri, Sept. 24. A big win (or loss) over Penn State a week earlier translates to a flat week vs. Missouri.
13. Missouri: Louisiana Tech, Sept. 3. New La. Tech coach (Sonny Cumbie) running Air Raid offense.
14. Vanderbilt: at Northern Illinois, Sept. 17: A game coach Clark Lea needs for momentum, but sandwiched between Wake Forest and at Alabama.
8. Ask and you shall receive
Matt: Settle and argument. What would surprise you more — Texas A&M losing to Miami, or Florida losing to Utah? — Terry Adelman, Houston.
Terry:
Both could lose, and I wouldn't be shocked at either. Florida is clearly in transition with a new coach, trying to slow down an experienced offense (with uber-talented QB Cameron Rising) and a team full of momentum.
Texas A&M, meanwhile, is young on defense and will have to stop a hot QB (Tyler Van Dyke) and a group of talented skill players. New Canes coach Mario Cristobal will make Miami better, quickly. Maybe even by Week 3.
But there's just too much uncertainty at Florida, and it goes beyond Napier. QB Anthony Richardson is the great unknown. Is he the player who dazzled at times in 2021, or the player who couldn't protect the ball?
The entire SEC nonconference schedule is loaded with difficult games. At the top of the list: Cincinnati at Arkansas, Tennessee at Pittsburgh, Penn State at Auburn, Mississippi State at BYU, Ole Miss at Georgia Tech.
All those games are potential losses, even though in every game but Florida-Utah and Penn State-Auburn, the SEC team will have the better roster.
9. Numbers
16.8. Malik Hornsby signed with Arkansas as a 4-star quarterback, and wanted to play the position. He entered the portal after last season because it was clear he wasn't playing ahead of KJ Jefferson.
Now he's back at Arkansas – but with a caveat. Hogs coach Sam Pittman allowed him to return if he agreed to work this spring at both quarterback and wide receiver. Hornsby averaged 16.8 yards per carry in a bowl win over Penn State, while filling in for an injured Jefferson.
The work at wide receiver is based on one thing only: Hornsby is one of the team's most dynamic threats. He must be on the field. Expect him to eventually stick at wide receiver.
10. Quote to note
Ole Miss QB Jaxson Dart: "The second I got the email that I was going into the portal, I felt like I couldn't even look at my phone. I just needed space. It was crazy. You try to be respectful to all the coaches, but you kind of have the select few you're looking at."