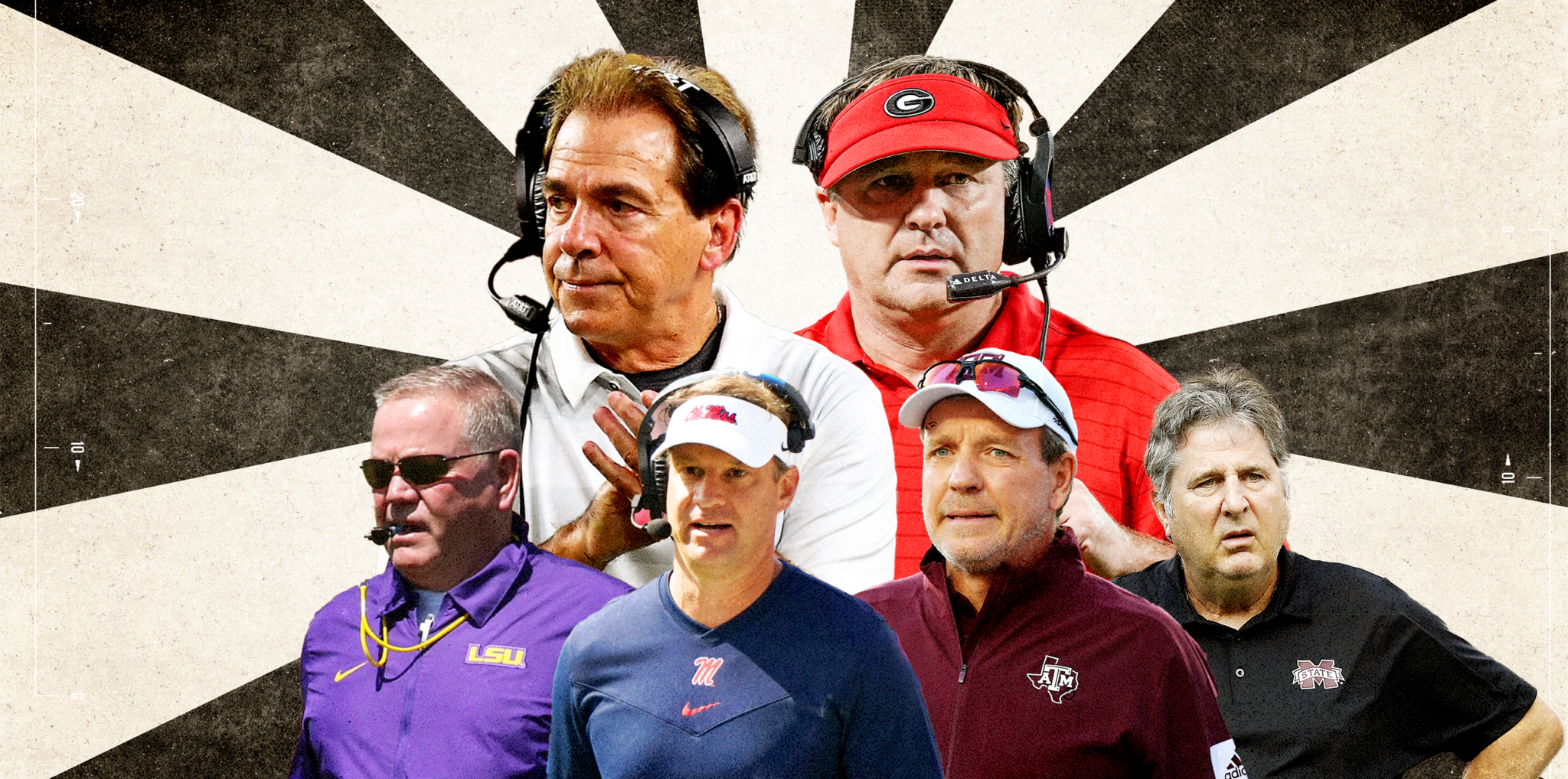 SEC
First and 10: Power ranking every SEC head coach
1. I don't want to get on a soapbox, but …
Forget what you know about coaching rankings. Focus instead on the fluid, frenetic and born-to-fail nature of coaching in the SEC.
Ranking coaches in the SEC is unlike any other experiment, a yearly dive into a rabbit hole of the unknown that almost always ends in the unthinkable.
This is the same conference that, in the past 2 offseasons alone, had its member schools fire:
— Ed Orgeron at LSU, 2 years after winning a national title.
— Dan Mullen at Florida, a year after appearing in 3 consecutive New Year's 6 bowls.
— Gus Malzahn at Auburn, a year after he beat legendary Alabama coach Nick Saban for the 3rd time— more than any other coach in SEC history.
There is no greater example of the fluid nature of coaching in the SEC than what transpired with Auburn coach Bryan Harsin this offseason.
If star tailback Tank Bigsby stays inbounds against Alabama, the clock runs and the Tide's ability to score on the last drive of the game is all but eliminated. In that scenario, the criticism that Harsin ran off players and assistant coaches because they didn't fit (which every first-year coach does after every first season) never would've materialized.
Instead, Bigsby ran out of bounds, Alabama won and the next thing you know, those with money at Auburn decided Harsin had to go because players and coaches are leaving and Harsin doesn't know what he's doing.
Or as one former SEC coach told me: "If that kid doesn't go out of bounds, (Harsin) gets a (contract) extension."
Instead, he's coaching for his job this fall.
Ranking the SEC coaches, by tiers:
2. The safe champions
1. Kirby Smart ($7 million per season; expected extension this month): His team is the defending national champion, and he has proven he can recruit and develop better than any other coach in the game.
Think about this: In the age of quarterback means everything, Smart won a national title — and is a favorite to win it again this season — with a game manager at the most important position in football.
He was a blown coverage in the secondary from winning the 2017 national championship, and Georgia is a recruiting machine — with or without NIL. He's locked in at No. 1 until he's knocked off the mountain.
Which brings us to …
2. Nick Saban, Alabama ($9.1 million): He is the mountain. The gold standard for college football coaches, and other than Bill Belichick, all football coaches.
But it's hard to ignore what his No. 1 student has accomplished at Georgia — and how it has been to the detriment of Saban and Alabama. All of those elite Georgia defenders are the same players Smart was recruiting and developing at Alabama as the Tide's defensive coordinator.
There's a reason Alabama's defense has declined (from its own elite standard) over the past 5 seasons. It's not the DC or the scheme; it's the players.
It's close, but in the SEC, it's not about what you've done. It's about what you just did. Right now, Smart has the edge.
3. Mark Stoops, Kentucky ($6.75 million): Why is Stoops a champion, you ask? Because anyone who wins 10 games at Kentucky (twice in 4 years), falls into that category.
UK is the prime example of how NIL can change the look of the game. Stoops just had a top-15 recruiting class, and is winning recruiting battles against SEC blue-bloods and neighboring Ohio State.
Athletic director Mitch Barnhart deserves a ton of credit for not only keeping Stoops at Kentucky, but not panicking after Stoops' first 3 seasons produced 12 wins.
Since Barnhart stayed with Stoops after the 2015 season, Kentucky is 47-29 with a school-record 6 straight bowl seasons — and Stoops has 2 of the 4 10-win seasons since the school began playing football in 1892.
3. Big money = big expectations
4. Jimbo Fisher, Texas A&M ($9.5 million): If the Aggies were't gutted by COVID last December, they would've played a hot Wake Forest team in the Gator Bowl.
If Wake beats a depleted Aggies team, does Fisher get another fat contract extension after losing to Arkansas, Ole Miss, Mississippi State, LSU and Wake Forest?
Still, it's hard to ignore significant moves for the program under Fisher: the wins over Alabama and Florida, the Orange Bowl, 3 straight top-5 recruiting classes — including the best recurring class in the history of the sport in February.
If Fisher figures out the quarterback position, he can win a national title at Texas A&M.
5. Brian Kelly, LSU ($9.5 million): Three coaches have won national titles at LSU in the 2000s, and two weren't considered the elite of their fraternity (Les Miles, Orgeron).
Kelly has won big everywhere he has coached, from the NCAA lower divisions, to Central Michigan, Cincinnati and Notre Dame. Only a loss to Cincinnati last season kept the Irish from advancing to their 3rd Playoff in the past 4 seasons.
He'll recruit big and win big (championship big) at LSU. Time is the only variable.
6. Lane Kiffin, Ole Miss ($7.25 million): It's more difficult to recruit at Ole Miss than it was at USC and Tennessee, but Kiffin has found a workaround with the transfer portal.
It's more difficult to build a roster through the portal (and high schools), and advance to a 4-team Playoff. But a 12-team Playoff is very doable.
Kiffin is an elite offensive mind, and he is growing as a head coach and face of the program. He fits at Ole Miss, and at this point in his career, there might not be a better place for him.
7. Sam Pittman, Arkansas ($6.2 million): The fallback candidate just keeps proving everyone wrong.
Football at the college level is about recruiting, developing and motivating players, and Pittman has surrounded himself with a strong staff of teachers (including DC Barry Odum and OC Kendal Briles). His charismatic personality is infectious, and he has rallied the state — and more important, the state's top high school players — around the program.
Recruiting has improved dramatically, and the product on the field gets better — and the play is smarter and tougher — with each passing game.
4. Boom or bust
8. Mike Leach, Mississippi State ($5 million): Because of a quirky state of Mississippi law, coaches can only have 4-year deals (which can be extended annually). Leach will begin Year 3 this fall, and could be looking at a make or break year.
QB Will Rogers returns for his 3rd season as a starter, and should produce prolific numbers. The defense will be good again. Leach's Texas Tech teams made significant move in Year 3, but it didn't happen until Year 4 at Washington State.
It has to happen this season at Mississippi State, or Leach could be given the remaining $5 million on his 4-year deal to walk away.
9. Shane Beamer, South Carolina ($2.75 million): Beamer's first year as a coach was remarkable: turning over a roster and winning 7 games despite using 3 quarterbacks — all of whom weren't SEC-caliber players.
His offseason might have been just as impressive: landing transfer QB Spencer Rattler and a group of skill players that will immediately improve the Gamecocks' ability to score points in an offense-fueled sport. Beamer connects with young players, and NIL gives South Carolina the ability to recruit at a top 20 level.
Then there's the history of the program: only one coach (Steve Spurrier) has accomplished anything of note since the Gamecocks joined the SEC in 1992. Can Beamer be unique?
10. Josh Heupel, Tennessee ($4 million): There are positive signs everywhere, and for the first time since Butch Jones' back-to-back 9-win seasons, there is hope on Rocky Top.
The key question: What happens when SEC defenses adjust to Heupel's Blur Ball offense? He's recruiting well, and the offense is fun to watch. But if the defense doesn't get better, it will soon become an anchor around his record-breaking offense.
11. Billy Napier, Florida ($7.1 million): Potentially, a terrific hire — but absolutely a gamble. The Gators have tried everything over the past decade to get it right — the hottest assistant in the game (Will Muschamp), the hot Saban assistant (Jim McElwain), an SEC head coach with Florida ties (Dan Mullen) — and nothing has worked.
Napier is a reach, but he's also a proven recruiter and organizer, and is comfortable connecting with today's player and today's system (NIL). If his QB coaching and play calling skills match, Florida may have finally found something.
5. Win or walk
12. Bryan Harsin, Auburn ($5.25 million): It was an odd fit from the start — and it had nothing to duo with Harsin coaching a majority of his career West of the Mississippi.
Harsin doesn't put up with nonsense, and he most certainly doesn't put up with meddling boosters. So the very thing that fuels Auburn (boosters with endless cash/bad ideas) knocked heads with Harsin from Day 1.
I can't see Harsin surviving unless he wins 9 games. The Auburn establishment (see: meddling boosters) already has been embarrassed and will only be held off again if Harsin wins.
13. Eliah Drinkwitz, Missouri ($4 million): Last month at the SEC spring meetings, Drinkwitz leaned on a wall across from the meeting rooms and talked about the impact of NIL on college football in the years ahead.
He stopped mid-conversation, and his always gregarious personality turned serious: "Y'all are talking about years down the road. We've got to win games now."
Needless to say, he has read the room in Columbia. Fair or not, Drinkwitz can't afford another 5- or 6-win season.
His recruiting ability will make it harder for Mizzou to walk away — the Tigers had a first top-15 recruiting class in February — but it's a results-based business. He's 11-12 at Missouri, and in the new NIL world, that's not enough.
Barry Odom won 7, 8 and 6 games in his last 3 seasons at Missouri and was fired.
14. Clark Lea, Vanderbilt ($2.5 million): Vandy has always been the outlier, if for no other reason, it never really spent money and invested in the idea of winning consistently.
Now they're spending ($300 million athletic campaign), and the football program is a big benefactor. The need to win and show progress likely won't happen until Year 3.
6. Your tape is your résumé
An NFL scout analyzes a draft-eligible SEC player. This week: Florida QB Anthony Richardson.
"He's an unreal specimen. He does things effortlessly. He glides when he runs, and he runs away from people. He flicks his wrist and the ball jumps off his hand. Mechanically, he needs to be cleaned up. His foot work, his pocket awareness, the ability to climb and throw. The accuracy. It's just work and repetition. He's a huge ball of clay right now. That new staff will earn their stripes on how they develop this kid."
7. Powered Up
This week's Power Poll, and one big thing: The top head coaching candidate on the staff.
1. Georgia: Co-DC Glenn Schumann.
2. Alabama: OC Bill O'Brien.
3. Texas A&M: AHC Elijah Robinson.
4. Kentucky: DC Brad White.
5. Arkansas: DC Barry Odom.
6. LSU: DC Matt House.
7. Ole Miss: OC Charlie Weis Jr.
8. Mississippi State: DC Zach Arnett.
9. Tennessee: OC Alex Golesh.
10. South Carolina: DC Clayton White.
11. Florida: AHC-Defense Corey Raymond.
12. Auburn: DC Jeff Schmedding.
13. Missouri: AHC-Offense Marcus Johnson.
14. Vanderbilt: AHC-Tight ends Justin Lustig.
8. Ask and you shall receive
Matt: I hate to ask this because I don't want him back in the SEC, but is there a chance an SEC team will take a chance on Urban Meyer? — Susan Walters, Orlando.
Susan:
The deeper we get into the NIL era of college football, the more it becomes critical for SEC schools to have a dynamic and charismatic face of the program — especially if comes with a winning track record.
All of Meyer's sins — and there have been plenty in both college football and the NFL — will be overlooked by a college program that sees the future of the sport and the path toward winning. There are only a handful of Power 5 schools that would have the guts to hire Meyer — and one of them is Auburn.
Let's be honest: Auburn hired a men's basketball coach who had NCAA violations at his previous 3 schools that all led to sanctions — and was given a show cause order at his last school. Do you really think what Meyer did at Florida and Ohio State (and to a lesser extent, the Jaguars) is going to scare off Auburn while it looks directly in the face of Saban, Smart, Fisher and Kelly?
If it doesn't work with Harsin, Auburn will go after Meyer. If Texas doesn't beat the Tigers to it.
9. Numbers
23. We've heard it over and over from coaches at all levels, and specifically at the college and NFL levels: Turnovers are the most defining statistic in the game.
Although, apparently not at Kentucky. The Wildcats won 10 games last season but were negative-11 in turnover ratio — last in the SEC and 125th out of 130 FBS teams.
UK had only 5 turnovers in their 3 losses to Georgia, Mississippi State and Tennessee, and were negative-4 in those games.
10. Quote to note
Florida coach Billy Napier: "Coach Saban was really good to me and my career. I certainly wouldn't be standing here without him. He hired me two different times. A lot of what we learned, we applied here, and certainly going forward, will continue to apply."