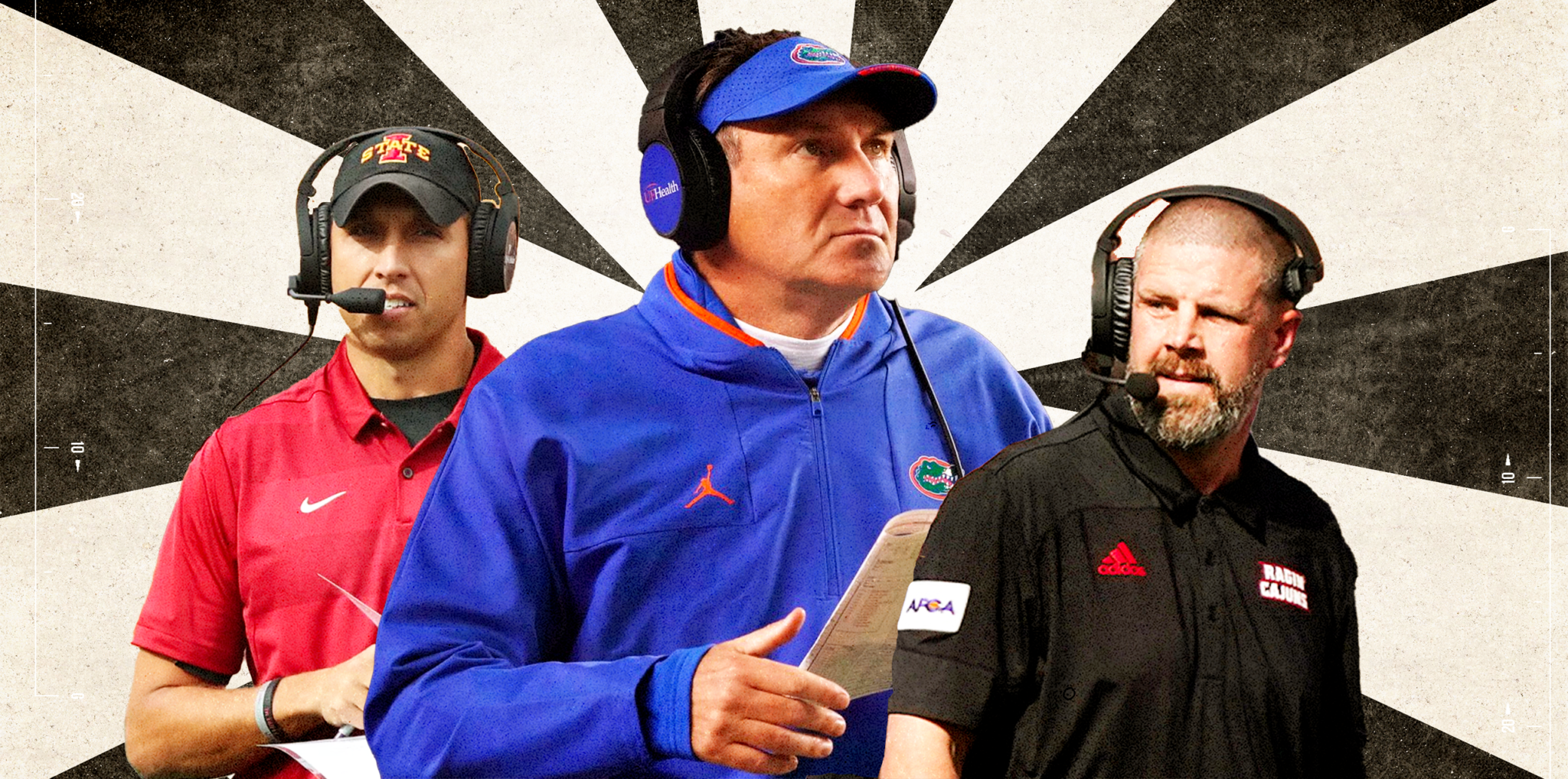 SEC
First and 10: There are only 3 choices for Florida's next Head Ball Coach. Choose wisely
1. I don't want to get on a soapbox, but …
Forget about flash and dash, or making a splash.
Florida needs normal with its next coach.
Someone who will walk into the brand new $85 million football facility next year and work harder and smarter than anyone else.
It doesn't need the bizarre behavior of Jim McElwain or Dan Mullen. It doesn't need a coach proclaiming he can get his dog to play quarterback, or a coach who believes he's the smartest guy in the room.
It doesn't need an aloof loner who's uncomfortable in the living room of a recruit, or a brash boar who can't close the deal.
It doesn't need a carnival or a clown show, or a coach who says one thing and does another.
It needs normal. It needs a ball coach.
Matt Campbell. Billy Napier. Mario Cristobal.
And if Bob Stoops is recharged and wants to coach again, then Bob freaking Stoops it is.
"We want someone who has high aspirations and expectations," Florida athletic director Scott Stricklin said.
Florida needs a coach who, on Day 1, goes to IMG Academy in Bradenton, Fla., and fixes what's wrong with the relationship between the private high school that pumps out 5-star recruits and the flagship university in the state.
Florida needs a coach who, on Day 1, then heads south to Ft. Lauderdale and sits down with St. Thomas Aquinas High School coach Roger Harriott – and former legendary coach and current AD emeritus George Smith – and fixes the broken relationship.
Florida needs a coach who, on Day 1, states unequivocally that recruiting the state of Florida – one of the top three states in the nation for high school talent – better than anyone (including Alabama and Georgia) is the No.1 priority.
And then makes it happen.
Want to know how Urban Meyer won 2 national titles in 3 years at Florida? He recruited the state of Florida better than anyone – then went out a cherry-picked from other states and built a roster that won 13 games 3 times in 4 years.
You're not reinventing the wheel. You're Florida, and you're one of the top two programs in the biggest, baddest conference in college football.
You're opening a football facility early next year that will be better than anything on the market, and your facilities, presidential support and academic standing place you among a small group of elite programs in the sport. This isn't rocket science.
Go find normal.
Get a coach who will work tirelessly to get the best players to Gainesville – then develop them and get them to play to their ceiling.
Get a coach who can reach and understand young people, who now have more invested in the product on the field.
Get a coach who can convince those same players it's in their best interest to work hard and reach their ultimate potential — because it's fun to win at the highest level of college football, and it's even better doing it while creating value for their brand and NFL future.
Go get normal. And watch it flourish.
2. The art of deception
I will not do Nick Saban's dirty work.
I won't be the guy who points out another shaky performance by the Tide defense, allowing the Arkansas passing offense – No. 75 in the nation — to ring up 358 yards, 4 TDs and 0 INTs.
I won't explain the Alabama run defense, despite giving up only 110 yards rushing to Arkansas, getting gashed between the tackles on numerous, obvious, run sets.
I won't be the one who says the Tide running game, down to its last healthy, legitimate starter, is in danger of wearing down talented tailback Brian Robinson.
I won't be the guy who states the obvious: If the Arkansas offense – which is based on a power run game and throwing off play-action – can do that to the Alabama defense, what in the world happens when the Tide play No. 1 Georgia in the SEC Championship Game with a spot in the College Football Playoff on the line?
I will not be the guy who says Alabama is done, finished and headed for some useless New Year's 6 bowl to play out the string.
Because that's exactly what Saban wants.
If we've learned anything over the years of this glorious dynasty Saban has built, it's that Alabama is its most dangerous when there is doubt.
When there are flaws for all to see. When there are undeniable shortcomings that haven't eventually been fixed over the course of the season.
When, for the second straight season, the defense is such a liability, the offense must be close to perfect to win big games.
"Lot of things to fix," Saban said after 42-35 win over an Arkansas team that, 6 weeks earlier, was shutout 37-0 by Georgia. "Most of which, we can fix."
I won't be the guy who doubts that, who points to missed tackles and bad angles on defense, and dropped balls and shaky pass protection on offense.
I'll defer to Saban when pointing out that Alabama was badly fooled on a fake punt – a fake Saban insisted Alabama was prepared to see, but didn't execute when it happened.
"We were trying to cover the guy," Saban said. "We ran into the official. But still got rubbed off and didn't make the play."
I'm not going to be the guy who says we keep hearing the same excuses from Saban, week after week, about how Alabama is the reason Alabama isn't playing well.
The Tide have no one to blame but themselves, Saban has assured us over and over.
He said it after Florida gashed the Alabama defense for 245 yards rushing. He said it after Texas A&M backup quarterback Zach Calzada threw for 285 yards and 3 TDs, and gave the Tide its first loss.
He said it after Alabama pulled away from Tennessee with a 28-point fourth quarter, and after the Tide scored 20 points against an LSU defense that hadn't proven it could stop any SEC offense.
I'm not saying Alabama isn't the Alabama of old. I'm not doing Saban's dirty work of questioning the Tide.
He is.
3. The Eraser
The easy thing to do is lay it all on the arm of Bryce Young.
But all of the uncertainty and unknown of what could be for Alabama against Georgia – and potentially, 2 games against Georgia – can't be miraculously erased by Young. Or can it?
He has 3,584 yards passing and 38 TDs (40 total TDs), and he's getting better within the structure of OC Bill O'Brien's offense with each passing week.
In the 5 games since the 3-point loss to Texas A&M, Young has 18 TDs and 0 INTs – and has 208 consecutive passes without an interception.
If your quarterback is playing at that elite level, your defense doesn't have to be perfect.
"This (Alabama) defense is probably better than last year's defense," an SEC defensive coordinator told me. "They didn't need it last year, except for one game against a team (Florida) that could match them, score for score."
And that's where we are with this Alabama defense: It's not perfect, but it might not have to be because of Young. The season grows longer, and Young gets better.
4. Making excuses, The Epilogue
It's almost like the 2020 season is playing out again – and once again, the Alabama quarterback (not the receivers) is the most important player on the field.
DeVonta Smith was a fabulous player in 2020. He wasn't the best player in the country, much less on the Alabama team.
Alabama doesn't win the national title without Mac Jones completing nearly 80% of his passes and making plays other quarterbacks didn't.
I voted for Jones to win the Heisman Trophy last season because he was the best player in the game. He was also the most important player at Alabama.
Just like Young.
Now here we are again, in the same situation with the same reality. If Young plays well this week in the Iron Bowl, and then leads Alabama to a victory over No. 1 Georgia in the SEC Championship Game, he'll win the Heisman Trophy.
He more than likely will have more than 4,000 passing yards and 40-plus TD passes. All of that as a first-time starter playing, according to the NCAA, the toughest schedule in college football.
If Young, like Jones, can play so well that it doesn't matter how the Alabama defense plays, the Alabama quarterback can't be ignored again for the greatest individual award in sports.
5. The Weekly Five
Five picks against the spread (bonus Rivalry Week edition):
Ole Miss (+1) at Mississippi State
Missouri at Arkansas (-15)
Alabama (-19) at Auburn
Kentucky (+2) at Louisville
Georgia at Georgia Tech (+54.5)
Florida State (+1.5) at Florida
Vanderbilt at Tennessee (-31)
Texas A&M (-6.5) at LSU
Clemson at South Carolina (+12.5)
Last week: 3-2
Season: 35-23-1.
6. Your tape is your résumé
An NFL scout breaks down a draft-eligible SEC player. This week: Alabama TE Jahleel Billingsley.
"He's an intriguing guy. You don't really know where he fits. He's not a combo tight end, and he really just gets in the way when it comes to blocking. He has great hands and athleticism, and he can run, but there are definitely questions about his commitment. When (Alabama coach) Nick (Saban) talks publicly about a player's commitment, you know it's an issue. What are you getting? Clearly an athletic guy that will be a matchup problem if he's all there. But he hasn't put together a full season, and maybe Nick can convince him to go back to school, commit to getting better and changing habits and become a first-round pick. Make a lot of money.
As it is, he might be a second-round talent with questions that make him a fifth- or sixth-rounder. If he comes out, someone will take him, and more than likely, a lot higher than fifth or sixth round."
7. Powered Up
This week's Power Poll, and one big thing: Scouring the transfer portal for impact players at this position.
1. Georgia: Wide receiver. No matter who plays QB, Dawgs need more speed on the outside.
2. Alabama: Defensive end. Where would this Tide defense be without Will Anderson, maybe the best player in CFB.
3. Ole Miss: Quarterback. Is Luke Altmyer the answer? And who does he play for (Kiffin or another coach)?
4. Texas A&M: Defensive back. Aggies need an eraser in the middle of the field.
5. Arkansas: Defensive line. Want to know why Hogs play so much 3-man rush? Pass rush limitations forces defense to play cover.
6. Mississippi State: Speed receiver. Will Rogers is desperate for a deep threat to keep defenses from sitting on short crossers.
7. Tennessee: Offensive tackle. Vols need q couple of strong pass protectors to solidify the passing game.
8. Kentucky: Wide receiver. Mark Stoops got WR Wan'Dale Robinson (85 catches, 1067 yards, 7 TDs) last offseason, he'll get another this time around.
9. Auburn: Quarterback. There's no denying Bo Nix loves Auburn. Does that really mean he's your quarterback in 2022?
10. Missouri: Linebacker. Tigers need help all over the defense, but a big run-stuffer at middle linebacker would begin to solidify the unit.
11. South Carolina: Quarterback. A lot of overachievers, but not an SEC QB on the roster. That's where winning games that matter begins and ends.
12. LSU: Offensive line. Wildly overlooked this season (and last) was the poor play of the line. LSU had the best line in CFB in 2019.
13. Florida: Defensive line. Former coach Dan Mullen couldn't recruit interior defensive linemen, and used transfer (JC and portal) to fill gaps. New coach will do more until recruiting improves.
14. Vanderbilt: Tailback. A legit SEC tailback who can get tough yards between the tackles, and explosive plays.
8. Ask and you shall receive
Matt: It looks to me like LSU and Florida are going to be searching for the same coaches. Who wins out in the battle? — Keith Farmer, Orlando.
Keith: One coach both will be targeting is Louisiana coach Billy Napier. He worked under Dabo Swinney at Clemson and Nick Saban at Alabama, and both of the game's best coaches have nothing but positive things to say about his organizational ability and how he relates to players.
Napier turned down or declined to interview for 4 open Power 5 jobs in the past 3 years: Auburn, South Carolina, Mississippi State and Baylor. He's waiting for the perfect job.
LSU and Florida would be the perfect job. Napier is 31-5 in his past 36 games, and will be a heavy favorite in the final 2 games this season (Louisiana-Monroe and App State in the Sun Belt Championship Game).
While LSU AD Scott Woodward and Florida AD Scott Stricklin might be looking at bigger names, Napier could be Plan B for both. And he's a helluva consolation, if that's what it comes to.
Both schools probably will make a run at Mark Stoops and Mario Cristobal, and there are numerous reports that LSU already has approached Oklahoma coach Lincoln Riley.
Money won't be an issue for either program, and both have proven they'll fire coaches despite previous success. Any decision by a coach likely comes down to which administration makes him feel most comfortable about the future.
9. Numbers
76.1. Mississippi State QB Will Rogers, in his second season as the starter in Mike Leach's offense, leads the SEC in passing yards with 4,115. More impressive: his SEC-best completion percentage of 76.1.
Rogers's numbers have increased dramatically across the board, including a touchdown-to-interception ration that has gone from 11/7 to 34/8.
10. Quote to note
Georgia coach Kirby Smart on the availability of injured WR George Pickens: "He's still not completely cleared yet. He's got to his percentages on his knee, on his testing. He's got jumps, he's got cybex, he's got about 15, 16 tests he does, and when he hits a certain percentage, we think he'll be able to get cleared. But we don't know when that's going to be. It's a matter of the strength in there, and making sure he's safe."