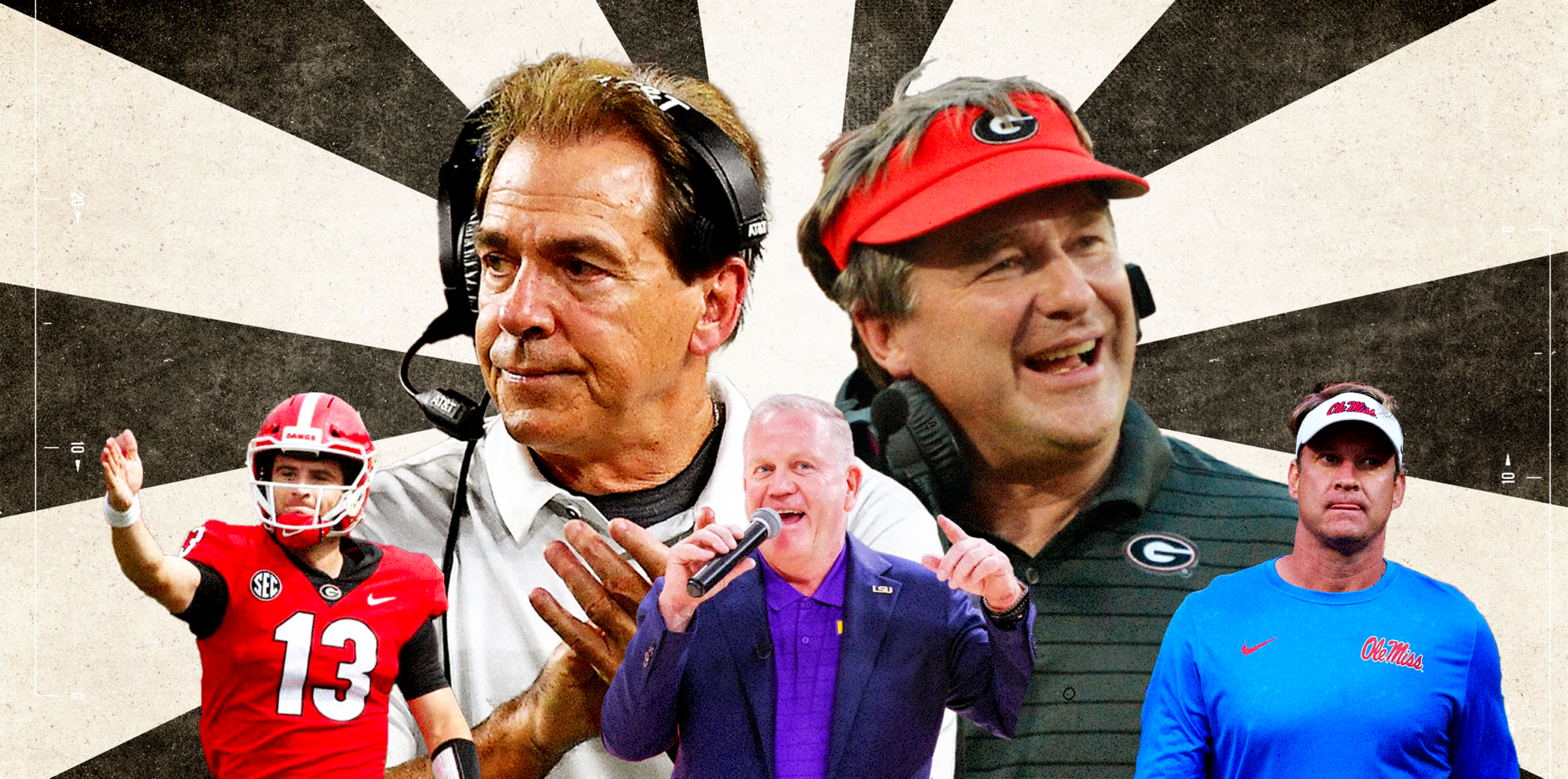 SEC
First and 10: There's only 1 way to stop Alabama and Georgia -- and it can't happen fast enough to save college football
1. I don't want to get on a soapbox, but …
Ten years ago, the SEC had a 4-hour recruiting commercial during the biggest game of the college football season.
That game led to a revolutionary change in the way the sport structured its postseason.
The obvious question: What happens now, a decade later, after the same thing happens for the second time in 5 years when Alabama and Georgia play for the national championship next Monday night in Indianapolis?
"Watch how fast they cave," one industry source, intimately involved in the current negotiations for a potential College Football Playoff expansion, told me this weekend.
But this isn't a story about those blocking potential Playoff expansion. The 12-team format is inevitable.
This is a story about the very existence of teams and conferences, and the health of college football. A story about chasing and catching.
Or more to the point: chasing and catching Alabama and Georgia.
"Those (semifinal) games showed everyone what we're dealing with every single year," one SEC coach told me. "(Alabama and Georgia) have a clear and distinct advantage right now. The only way they fail is from within. And it doesn't look like that's happening any time soon."
That, everyone, is a football problem. That's 128 teams vs. 2, and 2 have the advantage.
Michigan had its best team in nearly three decades, a group with the motivation and team chemistry coaches dream about. They were physical and athletic, and had just disposed of bitter rival Ohio State for the first time in 9 years. They were coming off a 39-point win in the Big Ten Championship Game.
Eight minutes into the Orange Bowl CFP semifinal against Georgia, the Wolverines were down 14-0. With 3 minutes to play in the first half, they were down 27-3 and the game was over.
Michigan averaged 223.8 yards rushing per game this season, and had more rushing touchdowns (39) than any non-service academy FBS team. It had 27 carries for 91 measly yards against Georgia.
Michigan's star defensive ends – Aidan Hutchinson and David Ojabo – had 25 combined sacks, and didn't get one against Georgia. Ojabo didn't even register a tackle.
Cincinnati had the best non-Power 5 team in years, maybe the most talented ever. It had the confidence from the 2020 season, when it played Georgia deep into the fourth quarter of the Peach Bowl.
Alabama was without its No. 1A receiver and two starting cornerbacks, and lost its best run-blocking guard in the first quarter. Cincinnati, which averaged 40 points a game and was a legitimate threat to beat any team not named Alabama and Georgia (just like Michigan), scored 6 points.
The Bearcats had 218 total yards, and converted 2-of-15 3rd- and 4th-down opportunities.
"Welcome to our world," an SEC coach texted me in the middle of the Cotton Bowl.
I want to be very clear about something: This isn't a Big Ten problem, or a Pac-12 problem, or an ACC or Big 12 or Group of 5 problem.
This is a college football problem.
Florida in 2020 had its best team since the Tim Tebow years, a collection of offensive talent so good it could overwhelm anyone on the other sideline. The Gators got by one goliath (Georgia) but couldn't get by the other.
A year later, coach Dan Mullen was fired – in part, because his team wasn't built to sustain and battle the beasts that are Alabama and Georgia.
LSU had a once-in-a-program team in 2019, a season where there was so much talent on the field, no coach could possibly screw it up. Two years later, the coach who didn't screw it up (Ed Orgeron) was fired because he did in the following 2 years — when the team wasn't built to sustain and battle the beasts.
Ohio State took a step back this season, so did Notre Dame. Oklahoma looked normal, benched a Heisman Trophy candidate and then lost its coach.
Clemson didn't participate in the Playoff for the first time since 2014 and lost both of its coordinators after the season.
All around the college football landscape, there is change. Deep, undeniable change.
Except, that is, at Alabama and Georgia. One of them will win a national championship next Monday night.
The other will reload, get back to the Playoff and take another shot at it.
More than likely, against a very familiar face on the other sideline.
2. The next step
So how is this fixed? Two ways, and one relies on the other.
Step 1: Expand the Playoff to 12 teams, as soon as possible. More teams participating in the Playoff means more chances for those teams to sell that participation to elite recruits.
Step 2: Recruit your butt off.
Look, there's a reason elite 5-star recruits gravitate toward Alabama and Georgia. They want to play where they can win championships, and where they can be developed to play in the NFL.
We can complain or bemoan the lack of loyalty or connection – or whatever you want to call it – with young players these days. It doesn't matter.
Players go where they can win, where they're developed and where they're taken care of. Do you blame them?
Look at December's Early Signing Period, and see the reality playing out before our eyes. According to the 247Sports composite ranking:
— Alabama signed the No. 1 edge rusher in the nation, the No. 1 running back, No. 2 athlete, No. 3 athlete, No. 3 wide receiver, and 8 of the top 60 and 15 of the top 101. The Tide also signed from the transfer portal former LSU freshman All-American CB Eli Ricks (a former 5-star), and RB Jahmyr Gibbs from Georgia Tech, the No. 1 non-QB available in the portal and a former 4-star recruit.
— Georgia signed the No. 1 athlete in the nation, No. 1 punter, No. 2 edge rusher, No. 2 tight end, No. 3 running back, No. 4 linebacker, No. 5 defensive lineman, and 9 of the top 67 and 11 of 90.
This stuff doesn't happen in a vacuum. It's real and it's tangible, and that's the how and why of Alabama and Georgia playing in the national championship game in Indianapolis – and how they'll play for more titles in the immediate future.
3. Evening the field, The Epilogue
Want to know why Alabama QB Bryce Young, the No. 1 player at his position in high school, left Los Angeles for Tuscaloosa? Or why Georgia TE Brock Bowers, the No. 1 player at his position, left LA for Athens?
They want to play for winners. They want to play in big games, in big environments.
The Pac-12 Championship Game isn't a big deal. The 12-team CFP is.
Expand the Playoff – and no matter the short-term inevitability of Alabama and Georgia still dominating – and recruiting changes all around the nation. It won't be immediate, but you better believe it will be much easier for the best player in California to stay home because the Pac-12 will be part of the postseason.
You better believe the best players in South Florida – the pipeline of elite wide receivers and athletes headed straight to Tuscaloosa and Athens – will have a reason to stay home and play for Miami or Florida or Florida State.
The advent of NIL deals has the potential to help level the field with recruiting, or at least attach a governor to what Alabama and Georgia are doing. Now expand the Playoff, and the flood gates open for more than just a handful of teams.
Texas A&M signed the No. 1 recruiting class in the nation last month, and didn't do it because coach Jimbo Fisher has won 34 games in 4 seasons.
He's selling a vision and an Orange Bowl win from the 2020 season — and he's using the gift that is the NIL and deep pocket Aggie alumni. And it's all NCAA legal.
Mix that with a history of winning it all (at FSU in 2013), beating Alabama in October in front of more than 100,000 at Kyle Field and the hope of playing for much more in the near future, and this is what you get:
— Six 5-star signees. The No. 1 defensive tackle in the nation, No. 1 linebacker, No. 1 tight end, No. 2 wide receiver, No. 2 quarterback, No. 3 cornerback, No. 3 edge rusher, No. 3 guard, No. 4 defensive tackle, No. 4 tight end, and 12 of the top 69 players and 17 of 102.
Hello, championship.
If the 247Sports composite top 20 recruiting rankings don't explain it, nothing will.
North Carolina (No. 8), Kentucky (No. 11), Missouri (No. 12), Stanford (No. 16), Indiana (No. 17), Arkansas (No. 19) and South Carolina (No. 20) all recruited better than a majority of football heavyweights.
Arizona, which has lost 23 of its last 24 games, had the No. 23-ranked class in the nation.
The impact of the NIL is real, everyone.
Expand the Playoff as soon as possible, and watch the sport take off with more programs landing more elite recruits — and pressing Alabama and Georgia.
Both inside the SEC, and out.
4. One change is set, one on the way
As if we needed more proof that Lane Kiffin continues to grow as a CEO coach.
Kiffin ignored the possibility of hiring a big name for his offensive coordinator spot (see: Joe Brady) and chose someone he knows (and has had success with) over the unknown.
Charlie Weis Jr., 28, will be the youngest coordinator in the SEC, and was considered for the spot 2 years ago when Kiffin eventually hired Jeff Lebby. Weis worked with Kiffin at FAU, and like Lebby, will have play-calling responsibilities. He'll also coach the quarterbacks.
Which brings us to the next big move for Kiffin: What to do about freshman QB Luke Altmyer?
The moment was clearly too big for him in the Sugar Bowl loss to Baylor, but he didn't get much help from the offensive line and he playing against one of the hottest defenses in college football.
Kiffin was interested in UCF transfer Dillon Gabriel, who eventually signed with UCLA. There are a handful of quarterbacks in the transfer portal with starting experience, and then there's FCS star Cameron Ward of Incarnate Word.
A freshman, Ward threw for 4,648 yards, completed 65% of his passes and had 47 touchdowns. Ward fits nicely with where Kiffin's offense evolved with Lebby's Baylor-influenced input.
He's a willing runner with good size (6-3, 220), and is more of a Bryce Petty-type fit for the offense. He's not a dynamic runner, but he can push the pile and get first downs.
Finding a quarterback is the first big step to backing up a school-record 10 regular-season wins.
5. The Weekly Five
The top 5 transfer portal players remaining, pre-spring practice:
1. S Brandon Joseph, Northwestern. An elite cover safety for 2 seasons at Northwestern (a freshman All-American), and a native of College Station.
2. QB Cameron Ward, Incarnate Word. He's not at the bottom of a deep QB pool, he just hasn't made a decision yet. Former coach at Incarnate Word (Eric Morris) is the new OC at Washington State.
3. DE Jared Verse, Albany. A small school star with a list of heavy hitter offers: Florida, LSU, Oklahoma, Texas, USC. In the past 9 months, he played 2 seasons and had 21.5 tackles for loss and 14.5 sacks.
4. LB Mohamoud Diabate, Florida: Still could stay at Florida. If he doesn't return to Gainesville, he'll likely sign somewhere in the SEC – with Alabama and Auburn at the top of the list.
5. RB Zach Evans, TCU: Former 5-star recruit played well in 2021 before turf toe ended his season. He'll likely end up in the SEC, and Ole Miss leads a group of SEC schools chasing.
6. Your tape is your résumé
An NFL scout breaks down a draft-eligible SEC player. This week: Kentucky WR Wan'Dale Robinson.
"So here's the thing, he's going to measure at the Combine and he's going to be less than what he's listed at Kentucky (5-11, 185). And he's going to run, and he might be in the high 4.4 to low 4.5 range. But there's so much more to him. We can talk about burst, and catch radius and separation. All those things we all look at.
"This guy is just a football player, and he makes things happen with the ball in his hands. He has incredible balance and start/stop explosion. And that acceleration when he hits an open space is ridiculous. That's the game speed that doesn't necessarily show when you're running a straight line 40. He has been with two programs (Nebraska, Kentucky) that aren't necessarily doing cutting-edge things in the passing game. He has a high ceiling."
7. Powered Up
This week's Power Poll, and one big thing: bowl season takeaway.
1. Alabama: Nick Saban forced everyone thinking about moving to Cincinnati's unorthodox 3-3-5 defense to think again. You can thank him later.
2. Georgia: Enjoy this Georgia defense. The NFL Draft will pick through it and leave plenty of holes.
3. Ole Miss: The QB isn't the only issue on offense. There's not enough nasty on the o-line.
4. Kentucky: If 10 wins is the ceiling (again), it's a beautiful thing. But how long can it satiate Mark Stoops?
5. Arkansas: QB KJ Jefferson says he wants to lose weight and be more dynamic in 2022. Two words: look out.
6. Texas A&M: Missed bowl game hides the undeniable fact: Many in the No. 1-ranked recruiting have to play key roles.
7. Mississippi State: Bulldogs need speed on the outside on offense, and a reliable kicker. And that effort in the bowl loss, despite the missing starters, was awful.
8. Tennessee: Vols must hit transfer portal hard for impact defenders, or there will be more losses like the Music City Bowl.
9. South Carolina: Season 1 for Shane Beamer: the perfect example of a team buying in from Day 1. A masterful job beating Florida, Auburn and North Carolina down the stretch.
10. Auburn: This is what happens to a quarterback room when you force something that didn't work year after year – and every recruit saw it.
11. LSU: The team in the Texas Bowl won't be recognizable. Don't panic, there's plenty of talent on the roster.
12. Missouri: Two seasons, two failed experiments on defense. Can't afford a third.
13. Florida: What we saw on the field against UCF is what you'll see – for the most part – in September. Billy Napier and staff have some coaching to do.
14. Vanderbilt: Visit some of the elite dual-threat coaching staffs in the country – Wake Forest, Coastal Carolina, UCLA – and figure out how to best use QB Mike Wright.
7. Ask and you shall receive
Matt: I'm trying to figure out why you have so much faith in Brian Kelly at LSU. He doesn't know the area, he hasn't recruited the South and he never won anything at Notre Dame. This looks like a train wreck. – Peter Williams, Houston.
Peter:
Nick Saban wasn't from the South and won a national title at LSU. Les Miles wasn't from the South, and won another. Both were fantastic recruiters, and despite the gruff — or in Miles' case, aloof – demeanor you saw publicly, were magicians in the living rooms of recruits. Kelly is the same thing.
He will get elite players to LSU, and then his ability to coach and motivate them will take over. I can't oversell the recruiting work Kelly and his staff did at Notre Dame, despite inherent academic restrictions. He goes from navigating the potholes of a one-way country road — giving way when he had to — to the autobahn with a finely-tuned Ferrari that needs to stretch its legs.
He will crush recruiting at LSU, and his track record of developing offenses and winning big everywhere he has coached will play out at LSU with better players.
9. Numbers
27/7. As much as the non-believers can't see it – and count me as one – if Georgia wins the national title, get ready for another year of Stetson Bennett as the Bulldogs' starting quarterback.
If you're Georgia coach Kirby Smart, you're not benching a guy with a 27/7 TD/INT ratio – who did enough within your system, and avoided pitfalls, to win it all.
More to the point: If Bennett returns for his super senior sixth season, he could have little competition. JT Daniels likely will either leave for the NFL or transfer to another program, leaving redshirt freshman Carson Beck as the primary backup.
Beck played well enough in fall camp to earn the backup job to Daniels, but was passed over for Bennett's experience when it was clear Daniels' oblique injury wasn't minor. Freshman 5-star Brock Vandagriff is a project.
The most significant competition could come from freshman recruit Gunner Stockton. In fact, there's no guarantee Beck or Vandagriff will stay at Georgia if Bennett announces he will return.
10. Quote to note
Ole Miss coach Lane Kiffin on DJ Durkin potentially taking another job, maybe the Texas A&M DC job: "The way our defense played (against Baylor), DJ has probably got a lot of opportunities."