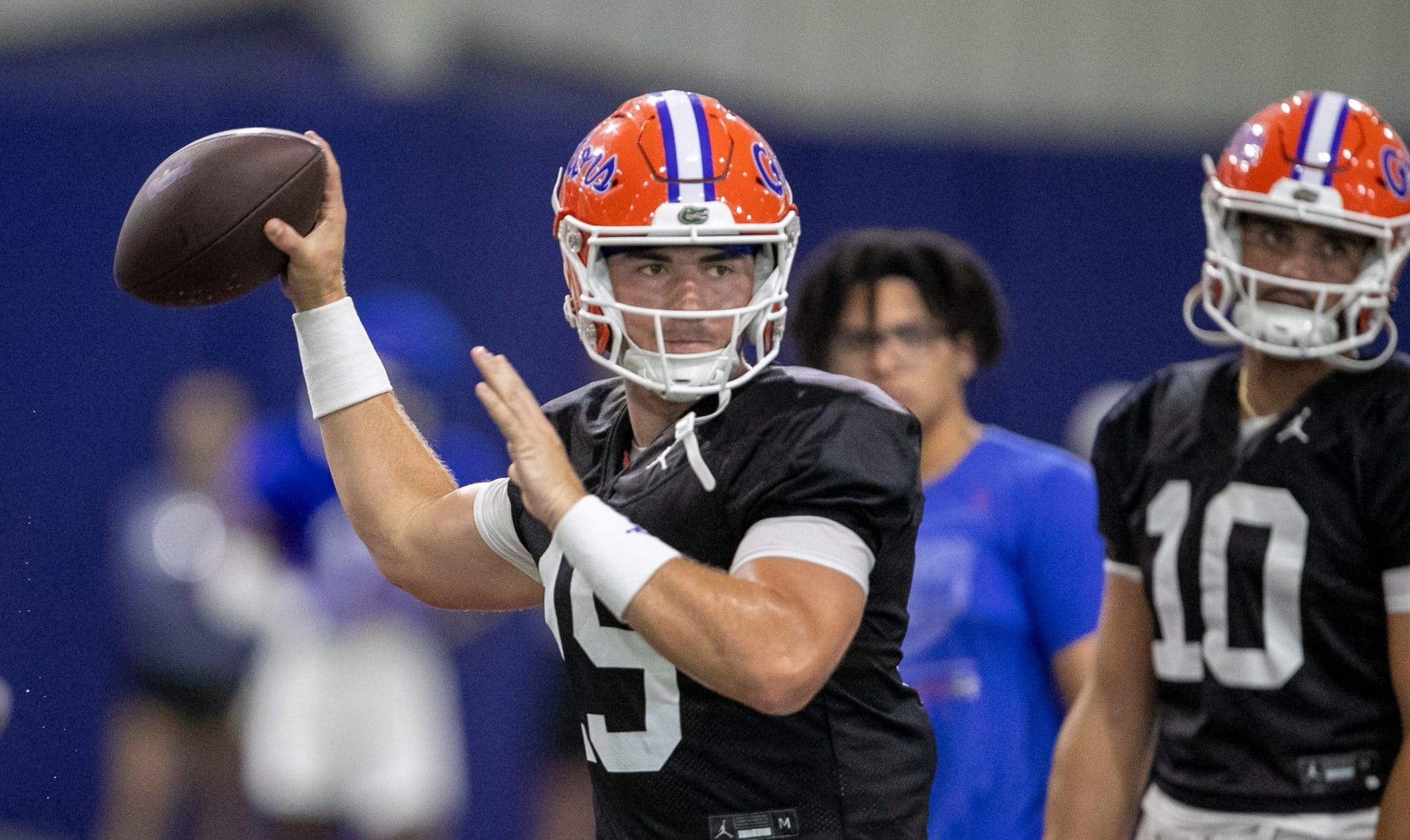 SEC
First and 10: What if Billy Napier is right about Graham Mertz?
1. I don't want to get on a soapbox, but …
Maybe Billy Napier is right. So right, in fact, that we couldn't be more wrong.
Maybe Florida's 2nd-year coach sees something in hours of practice and preparation that we didn't see in 3 years of watching Graham Mertz play quarterback at Wisconsin.
Maybe it's as simple as a motivated player proving everyone wrong.
"Any player in this sport, if you don't have a chip on your shoulder and you don't have a purpose, you're just kind of floating around," Mertz says.
This is where we hit the rub in the road, where the idea of an experienced, motivated player — whose laser-focused on eliminating all doubt — will change who and what he was for 3 years.
The criticism and 2nd-guessing of Mertz is nothing new. He has been dealing with this from the moment it went downhill in 2020 after throwing 7 TDs and 0 INTs in the 2 starts to begin his career.
Those 2 games — against a terrible Illinois team, and a Michigan team that clearly wanted no part of the COVID season — couldn't have been a more counterproductive way for Mertz to arrive as the highest-ranked quarterback recruit in Wisconsin history.
It set him up for constant failure, week after week, offseason after offseason, of chasing that perfection.
He already had huge expectations from the moment he signed in 2019, when all anyone on the outside later saw was a freshman blue-chip who completed 9-of-10 passes in 2 mop up appearances before redshirting.
The next time everyone saw Mertz, he had 5 TD passes in a rout of Illinois — and threw 1 incompletion. He then had 2 TDs in a rout of heavyweight Michigan, and expectations rocketed.
Then it all caved in — and hasn't really stopped since. He threw 3 INTs against Northwestern the following week, and had 2 TDs and 5 INTs to finish the season.
He had 31 TDs and 26 INTs in 3 seasons after the Illinois and Michigan games, and was 19-13 overall as a starter — including 2-7 vs. ranked teams. In those games against ranked teams, he had a TD/INT ratio of 5/12, and only once completed more than 58% of his passes (vs. Purdue, with only 8 attempts).
The losses were by an average of 17.9 points.
There's no getting away from that empirical evidence, no avoiding what's staring back in black and white. There's no avoiding how it fell off a cliff in Year 1, and Mertz never got it back.
"He put way too much pressure on himself," a former Wisconsin assistant told Saturday Dawn South. "He thought it was going to be easy, and when it suddenly wasn't, he couldn't figure out why. Then it's all in his head every week."
When asked if he thought Mertz could be successful at Florida, the former Wisconsin assistant said, "I hope so. Great kid. Hard worker. Wants so badly to have success. But those important games arrive, and he tries to do too much. And it doesn't happen.
"There were a number of things, but ultimately I believe it's not unlike any other position. If you keep hearing the same voice over and over and the improvement isn't there, you either change the message or change the player. Neither happened."
Napier believes those new voices — he and offensive analysts Ryan O'Hara (quarterbacks), Eric Kiesau and John Donovan — have strengthened Mertz's mental resolve and given him the tools on field to have success.
The change, though, must come from Mertz.
"One thing I truly love about this offense is there's always an answer," Mertz said. "You think about Coach Napier, all these coaches, they have seen the pitfalls of different concepts and stuff like that, so they know it works. They do a great job of educating us on, 'OK, how do you make it work every single play?'"
2. The framework of change
It has become an almost rote response. When asked what he likes about Mertz, Napier begins every discussion with, "he has started 32 games."
What do starts have anything to do with it, you ask? Think big picture.
Mertz has seen every defense. He knows every front and coverage, and zone blitz and combo coverage and anything any defensive coordinator in the SEC will throw at him. What he hasn't had over the past 3 seasons are the tools to deal with it.
Or maybe he did, but the voice — and the message — wasn't getting through. Because for 3 years, it wasn't working.
Is that realistic? Maybe. Former Wisconsin coach Paul Chryst is among the most respected quarterbacks coaches in the coaching fraternity — but it doesn't mean the message was getting through.
And don't think Mertz wasn't surrounded by talent. Wisconsin had a top-20 defense all 3 seasons, an NFL tight end (Jake Ferguson), a 1,000-yard rusher in 2021-22 (not the 7-game COVID season), and 2 wide receivers who are more talented than anything Florida has on its current roster (Chimere Dike, Skyler Bell).
Again, the pieces were there, but it didn't happen — and it eventually got Chryst fired.
Another entry point to Napier's use of 32 starts for Mertz: Anthony Richardson, Florida's quarterback in 2022, had 1 career start before taking the field against Utah in the season-opener.
One.
The teaching process is completely different for a quarterback who has seen it all, and another who hasn't seen a majority of what defenses can bring. Case in point: the Gators' Week 2 loss in 2022 to Kentucky.
After the upset of the Utes, Kentucky arrived in Gainesville and completely shut down Richardson in both the pass and run game. He was lost — and later admitted in a postgame press conference that he had lost all confidence.
After 1 loss.
A week later against South Florida, Richardson threw 2 INTs and had only 112 yards passing against the 124th-ranked pass defense in college football.
So while Mertz will never be considered on the same talent level as Richardson, he's light years ahead of Richardson is what he has experienced. The question then becomes a matter of absorption and discipline.
Does Mertz hear and listen to game day coaching — the answers for every defense, according to Mertz — from this new staff, and does it translate to the field? Can new voices in his development actually change the way he has consistently played over the past 3 seasons?
"He's used to the adversity," Napier told me in July. "He's used to the spotlight. Nothing is going to faze him. He has a renewed sense of who he is, and he's hungry."
3. The Mertz Project, The Epilogue
In a perfect world, it all clicks for Mertz. He's a changed player, Florida overachieves in 2023 and he's back in 2024 as a starting quarterback full of momentum.
Then Napier doesn't have to rely on a freshman recruit (DJ Lagway), or a quarterback from the transfer portal. He has his quarterback, and the elite recruiting classes he's stacking begin to pay off.
If not, there's no telling how bad it could get in Gainesville this fall.
Because if Mertz is what he is, there's not another option in case it doesn't work. That's why Napier is all-in on Mertz, whose backup is more than likely walk-on Micah Leon, who arrived in February.
A year after playing an entire season without another legitimate option at quarterback, Florida is in the same spot again this fall after a bizarre set of circumstances prevented the Gators from signing (take your pick) Tulane QB Michael Pratt, and 2023 recruits Jaden Rashada and Austin Simmons.
That's why Napier is staying positive about Mertz, why declaring his quarterback is "capable" and "professional" and not so long ago, was 1 of the top high school quarterbacks in the country. All of that individually means nothing in the grand scheme.
But collectively, maybe the quarterback who has been first in and last out of the football facility since the day he stepped on campus, who has heard over and over — again — how he's the weak link, who will be prepared and won't be surprised by anything when Florida travels to Utah for the opener, isn't what we all think he is.
Maybe he's exactly what Napier needs.
4. The new competition
More coaches have decided to extend quarterback battles into the regular season to get a complete analysis of the situation.
Michigan did it last season, giving Cade McNamara and JJ McCarthy each a start in the first 2 weeks of the season before coach Jim Harbaugh chose a starter.
It appears as though Missouri coach Eli Drinkwitz will do something similar this season with quarterbacks Brady Cook and Sam Horn. Cook started last season, and Horn — a blue-chip recruit from the 2022 class — made a move in spring practice (when Cook was rehabbing) and has surged past Miami transfer Jake Garcia in fall camp for the No. 2 spot.
Drinkwitz, who hired Kirby Moore as OC/QBs coach in the offseason, says Cook and Horn will play in the opener against South Dakota, and "we'll see from there."
Missouri likely isn't alone. Auburn coach Hugh Freeze announced last week that Payton Thorne was his starter but was clear that Thorne had to play well to keep the job ahead of Robby Ashford.
Auburn will name its score against UMass in the opener, so expect Ashford to get plenty of reps. The Tigers play at Cal in Week 2, where there must be a firm plan in place.
Ole Miss could also play 2 quarterbacks, even though coach Lane Kiffin said during SEC Media Days that he wants to play 1.
"Spencer (Sanders) is healthy now," Kiffin said of his backup quarterback. "He wasn't all spring (practice). He's doing some really god things, especially in some live scrimmage situations."
At this point, don't be shocked if Alabama plays at least 2 quarterbacks (maybe 3) in its opener against Middle Tennessee. Though that doesn't mean the Tide staff has doubts about where the competition is headed (more on that later).
5. The Weekly 5
The top 5 odds for SEC teams to reach the Playoff, and 1 key game.
1. Georgia (-220), at Tennessee. The Alabama streak ended in 2022; can Georgia's 6-game winning streak end in 2023?
2. Alabama (+155), vs. Texas. Tide can lose an SEC game and make the Playoff — but can't lose an SEC game and at home to Texas.
3. LSU (+380), at Alabama. Tide coach Nick Saban is elite at revenge games.
4. Tennessee (+1,300), Georgia. By the time Georgia rolls into town. QB Carson Beck will have had 10 starts.
5. Texas A&M (+1,300), at LSU. If Aggies somehow survive games road games at Miami, Tennessee and Ole Miss — and a home game against Alabama — LSU is waiting on the last week of the season.
6. Your tape is your resume
An NFL scout analyzes a draft-eligible SEC player. This week: Georgia S Javon Bullard.
"Where does he play? Safety seems like the spot, but I've got to see him at that natural position. He played that hybrid position the last 2 years. I want to see him full time in coverage, where he has specific responsibilities. With his athleticism and speed, he's a fringe Day 1 pick. That can go either way depending on the tape he produces this season as a true safety."
7. Powered Up
This week's Power Poll, and 1 big thing: the top freshman of impact.
1. Georgia: S Joenel Aguero. Competing with Tykee Smith for the starting job, and could eventually win it during the first month of the season.
2. LSU: CB Javien Toviano. Has added 20 pounds since enrolling January, and they can't keep him off the field. He will start at some point, and maybe Week 1.
3. Tennessee: WR Kaleb Webb. A tough cover during individual drills, he keeps flashing during scrimmages. Will be on the field early and often.
4. Alabama: S Caleb Downs. Always around the ball in fall camp. A Week 1 starter.
5. Texas A&M: OL Chase Bisontis. They still don't know where he'll play (he's currently playing OT), but he can play inside and out (and center), and will be a valuable asset this season.
6. Arkansas: TE Luke Hasz. Athletic and strong, he was running with the starters during spring practice and fills a position of need.
7. Ole Miss: LB Suntarine Perkins. There's nothing like Perkins on the current Ole Miss defense. A rare athlete who can play inside or rush off the edge.
8. Kentucky: WR Anthony Brown. The deepest position on the UK roster, and Brown will still likely work his way into the top 4 (and special teams).
9. Mississippi State: WR Creed Whittemore. There's a good chance Whittemore — whom MSU flipped from Florida — will be on the field in 4-receiver sets.
10. South Carolina: LB Grayson "Pup" Howard. Couldn't keep him off the starting defense in spring practice, and the 240-pound weakside linebacker will be a force.
11. Florida: DE Kelby Collins. This is where Napier can make the biggest impact: recruiting elite D-linemen like Collins (and TJ Searcy and Kamran James).
12. Auburn: Edge Keldric Faulk. He's still learning the position, but he's freaky athletic and fits what Auburn is trying to accomplish on defense: Get speed and athleticism off the edge.
13. Missouri: S Marvin Burks. He keeps making big plays in scrimmages, and will play early and often — and could eventually win a starting job on a talented defense.
14. Vanderbilt: CB Martel Hight: Outside QB AJ Swann, no one has flashed more in fall camp than Hight, who is a lock for a starting spot.
8. Ask and you shall receive
Matt: Who you think wins the Alabama quarterback job? — Jack Foreman, Dallas.
Jack:
Let's start with the known: Jalen Milroe. He started and beat Texas A&M last season (3 TDs), and made big plays in relief of injured QB Bryce Young against Arkansas. You know who he is and what he brings (a dynamic runner who's not the most accurate thrower) — and most important, you know he can win.
Ty Simpson is the most talented thrower, and fits more in line with the AJ McCaron/Tua Tagovailoa/Mac Jones mold. Notre Dame transfer Tyler Buchner, meanwhile, is more like Milroe — an athlete who needs more polish as a thrower.
Here's the key: If you believe you have an elite defense — Alabama, by all accounts, will be more consistent in 2023 — then you play to your strength (defense and run game) and protect the ball. Best guess is Milroe starts the season, and unless he plays poorly against Middle Tennessee, will start against Texas.
But it's wide open at that point. Blake Barnett started the opener against USC in 2016, and Alabama struggled early before Saban inserted freshman Jalen Hurts — and the Tide blew out the Trojans.
There his no Hurts on the roster. But that doesn't mean if Milroe is struggling, Saban won't go to Simpson.
9. Numbers
20.8. Texas A&M is deep at wide receiver with Evan Stewart, Moose Muhammad and Ainias Smith. But keep an eye on Grand Valley State transfer WR Jahdae Walker, who averaged 20.8 yards per catch last season and has been lighting up fall camp.
He's 6-4, 210 pounds, and has not only shown breakaway speed, but fantastic body control when fighting for 50-50 balls. He's an option in the red zone, and to stretch the field.
10. Quote to note
LSU coach Brian Kelly on the Tigers' deep running back room: "It's going to take care of itself when we get to the season. I just think the running back room, we know we can't play 8 guys. I just think that experience vs inexperience wins out in that room."