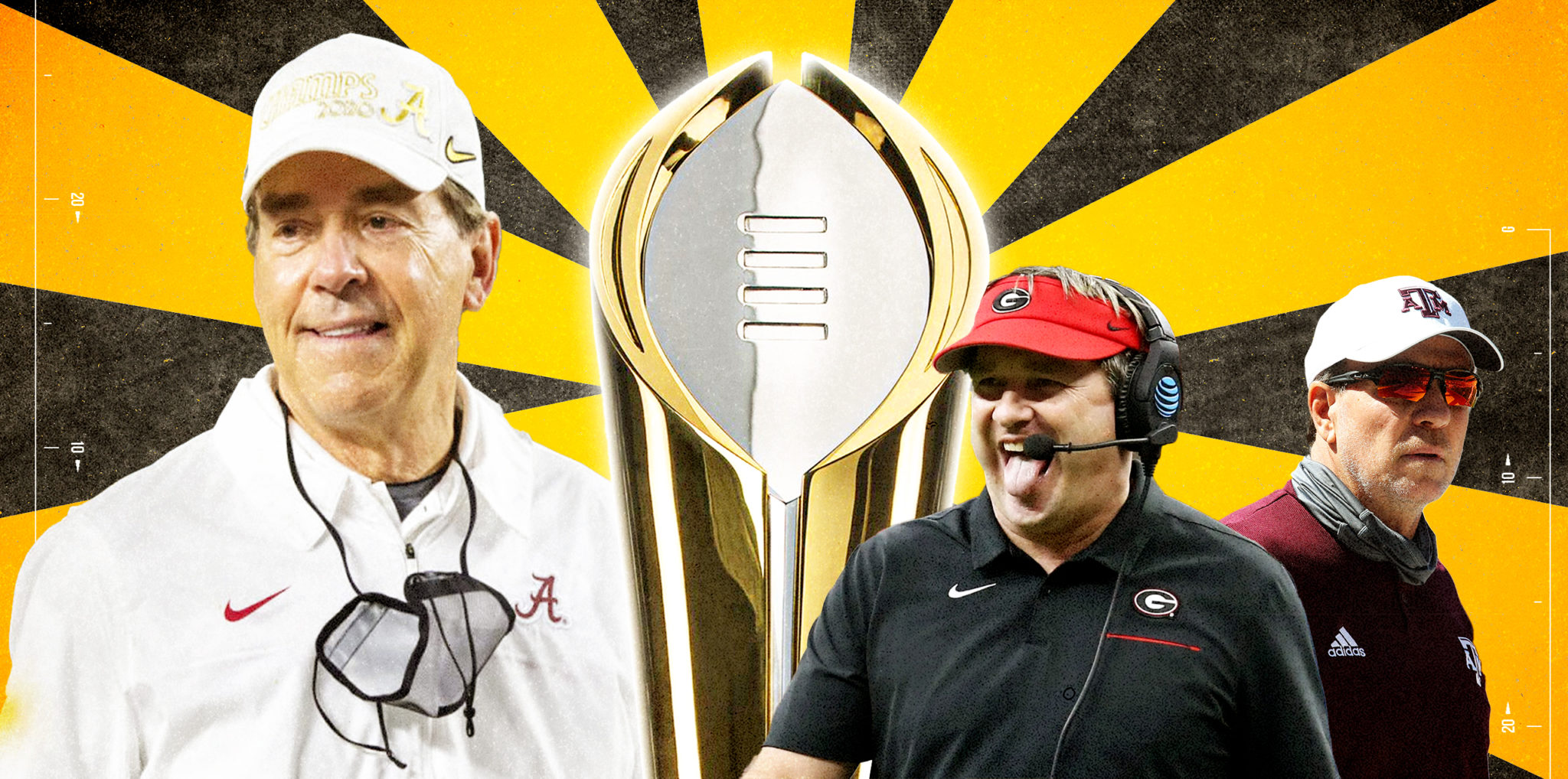 SEC
First and 10: Why Playoff expansion is the most significant change in college football history
1. I don't want to get on a soapbox, but …
The most significant change in college football history has arrived, and that can only mean one thing.
It's never as simple as you think.
"There are a bunch of questions with the new postseason – some we know, and some, frankly, we don't," one SEC athletic director told me last week. "That's what keeps you up at night."
Especially when change revolves around the one undeniable and unaddressed friction point between universities and players: revenue sharing.
This 12-team Playoff, this oft-dreamed and now embraced new horizon, is built around one thing: money.
When money is your foundation, and when the foundation is still rife with questions, uncertainty is soon to follow.
The restructured Playoff – which could be implemented as soon as the 2023 season — doesn't happen unless the pandemic knocks college athletics sideways. Universities lost millions and laid off employees, some eliminated sports and others were forced to use bank loans to pay debt service on facilities born during the arms race.
When the College Football Playoff management council announced 2 weeks ago that it has been studying Playoff expansion for the last "2 years," what they didn't say was the extent of the study.
"It was going nowhere before last season," a Group of 5 athletic director told me. "There were just as many (conferences) that were happy with status quo as there were who wanted change. That should tell you where the line in the sand was. If there were change – and until COVID hit, it was a huge 'if' – it would've been a baby step, most likely to 6 (teams). We're at 12 because of COVID, period. I'm excited about (12 teams), but you'd be a fool to think there aren't unintended consequences on the way."
At the top of the list: revenue sharing.
This has been a friction point for years, with most university presidents zealous supporters of the "amateur mission" and adamant that the value of a scholarship and access to higher education is equal to the value (see: television revenue) student-athletes bring to universities.
The current CFP television deal with ESPN pays $550-600 million annually for 7 games: 2 semifinals, 1 championship game and 4 New Year's 6 bowls.
A new television deal (and potential streaming deal) for the 12-team Playoff could push annual earnings to more than $1 billion for 11 games.
That's right, one billion dollars.
Not all university presidents are against pay for play. Arizona president Robert Robbins told me 2 years ago that he was interested in having a "robust discussion" with student-athletes about pay for play. He also said he had colleagues who felt the same way.
The devil, though, is in implementation – as we've seen with Name, Image and Likeness legislation that has paralyzed the NCAA. The sport's governing body knew for more than a year that Florida (and now many other states) had an NIL law that would take effect July 1, and still hasn't been able to figure out universal legislation that would prevent universities in states with NIL laws from a competitive advantage over those without.
More unthinkable: many high in the administrative food chain at universities believe an NIL bylaw can be a firewall against pay for play.
"If you think players are going to sit by while billions of dollars are thrown around and not want some of it, you're out of your mind," another Power 5 athletic director told me. "It's just another can we're kicking down the road. At some point, it will have to be addressed."
As will the fallout from a handful of other significant events that have moved the sport closer to an NFL model: the one-time transfer exemption, a potential 17-game season and the eventual breakdown of the bowl postseason.
None of this significant movement happens without the blessing of the SEC presidents and commissioner Greg Sankey. Frankly, it also doesn't happen if the SEC and Big Ten had not gotten so powerful over the last decade and forced other conferences to find unique revenue streams.
With or without COVID, there was only one revenue stream that could make a difference: the postseason. But opening that door creates many other problems.
The CFP management council is betting the rewards are greater than the risks.
2. Expanding horizons
For so long, college football prided itself on not being the NFL.
That was the professional league, where you're paid to play long seasons and where everyone plays the same way with the same coaches and the same systems – and where gambling is not only encouraged, it's part of the fabric of the game.
Now, check out 2021 college football:
— Legislation will allow players to earn money off their name, image and likeness, with the next logical step a significantly increased cost of scholarship stipend.
— The CFP champion could play as many as 17 games. The current NFL regular season just increased this fall to 17 games.
— Gambling is no longer the NCAA's unforgivable sin. Rick Neuheisel was once fired by Washington for participating in an NCAA basketball pool, of all things.
Now more states have access to gambling, and the Pac-12 has moved some of its championships to Las Vegas and more than likely will move its football championship game there.
Don't be shocked if the Pac-12 – which is talking about expanding under new commissioner George Kliavkoff – adds UNLV (see: Las Vegas), the last untapped frontier in college sports.
Look, there's a reason the CFP management council decided its 12-team Playoff would be a bracket formula and not merit-based like the NFL.
The CFP wants to continue the NCAA branding of "bracket championships," where teams move from one game to the next in the bracket no matter the seeding.
The NFL reseeds its tournament after the wildcard round to make sure those who put in the work during the regular season to earn higher seeds, still get the benefit of playing the lowest seed in descending order.
The only benefit of a bye in the new CFP? You don't have to play in the first round.
3. To bowl or not to bowl
The irony in the new CFP: One of the sub-reasons (beyond revenue) for change was the CFP had minimized the bowl season, the DNA of the sport.
But moving the 12 teams may end up being the death knell – or at least signal a dramatic change in the way the sport structures its postseason after the CFP.
The new 12-team Playoff plan is for first-round games to be played on campus, and the bowls are used from quarterfinals to the championship game. This, everyone, is the biggest issue of all.
At a minimum, you're asking fans of a university to travel 3 times to different cities to watch the games. Four times if your team is playing on the road in the first round and makes it to the championship game.
That's a ton of money in the middle to lay out. As problematic for some: The current setup doesn't allow for a campus home game to the 4 teams that earn first-round byes.
"That's absolutely the most ridiculous thing I've ever heard," one SEC coach told me. "If you're the No.8 team in that poll, you've got a home Playoff game. If you're No. 1, you don't. Where's the sense in that?"
There isn't any, and that's why coaches are lobbying their athletic directors and commissioners to use campus site games into the quarterfinals to allow the top 4 seeds a home Playoff game. But a move to that setup will all but kill the bowl season.
Exhibit A: the Rose and Sugar Bowls. The grandest bowls in the history of the college football postseason could be reduced to 3rd- or 4th-choice with their respective conference partners if quarterfinal games move to campus sites.
The only way of avoiding that type of game would be to guarantee that the Rose and Sugar bowls would be semifinal games every season. That wouldn't necessarily guarantee the Rose Bowl a traditional Big Ten vs. Pac-12 matchup, but it would keep the game among the postseason elite.
But that scenario leaves the Fiesta, Cotton and Orange bowls in a precarious spot. They'll jockey for semifinal games, while at the same time bid for championship games with many other cities.
4. The importance of change
Nine years ago, the impetus for the current college football Playoff began when conference commissioners (and FBS coaches) had to sit through a BCS Championship Game of SEC vs. SEC (LSU vs. Alabama).
It was a 4-hour recruiting pitch by the strongest conference in college football, and there was no way it could happen again.
The current CFP hasn't exactly sapped the SEC of its strength. In fact, it has accelerated it. The SEC is tied with the ACC for most Playoff appearances (8), and the SEC has the most wins and championships.
Again, that's not good for everyone.
"There's an aura of inevitability that's hurting our sport," another Power 5 athletic director told me. "We can continue down that path, or we can be proactive and make our game stronger. The ramifications from the COVID season, really, was the kick in the pants to get us moving in that direction."
In 7 years of the CFP, 11 different teams have made the tournament and 4 teams (Alabama, Clemson, Ohio State, LSU) have won a championship.
If the new 12-team format is used over the past seven CFP seasons, 37 teams would have made the tournament. Does that mean there would've been more champions? Probably not.
But at the very least, it allows more access and the idea that there's uncertainty in every round of the playoff.
5. The Weekly Five
The 5 teams over the Past 7 CFP seasons that could've reached the championship game of a 12-team Playoff:
1. 2015 Ohio State (11-1)
2. 2016 Penn State (11-2)
3. 2014 TCU (11-1)
4. 2018 Ohio State (12-1)
5. 2017 UCF (12-0)
6. Your tape is your résumé
An NFL scout breaks down a draft-eligible SEC player. This week: Texas A&M WR Ainias Smith.
"He reminds me a lot of (former Florida WR) Kadarius Toney. He has the speed, the suddenness, the twitch. He's not a guy that's going to make his money on the outside, but he's a dangerous inside receiver and can give you a few fly (sweep) snaps. He has played a lot of running back, but that's not his natural spot. (Texas A&M coach) Jimbo (Fisher) realized early on (Smith) had to be on the field, and he has developed into a nice threat as an inside receiver.
"A lot like Toney, this season will go a long way to determine how our league sees him moving forward. Toney wasn't anywhere near a first-round grade when last year began. Some teams already have (Smith) with a Day 1 or Day 2 grade."
7. Powered Up
With the arrival of the new 12-team Playoff and an increased emphasis on nonconference scheduling, the top future nonconference games in the SEC over the next decade (the ranking based on home and home series):
1. Georgia: Oklahoma (2023, 2031), Clemson (2029-30), Ohio State (2030-31).
2. Alabama: Texas (2022-23), Ohio State (2027-28), Notre Dame (2029-30).
3. LSU: UCLA (2021, 2024), Clemson (2025-26), Oklahoma (2027-28).
4. Texas A&M: Miami (2022-23), Notre Dame (2024-25), Arizona State (2026-27).
5. Auburn: Penn State (2021-22), UCLA (2027-28), Miami (2029-30).
6. South Carolina: Clemson (2021-22), Miami (2026-27), North Carolina (2028-29).
7. Florida: Miami (2024-25), Arizona State (2028, 2031), Texas (2030-31).
8. Arkansas: BYU (2022-23), Oklahoma State (2024, 2027), Notre Dame (2025, 2028).
9. Mississippi State: Arizona State (2024-25), Minnesota (2026-27), Texas Tech (2028-29).
10. Ole Miss: Georgia Tech (2022-23), USC (2025-26), Oregon State (2027, 2030).
11. Missouri: Boston College (2021, 2024), Kansas State (2022-23), Colorado (2030-31).
12. Vanderbilt: Hawaii (2022-23), Virginia Tech (2024-25), Colorado State (2025-26).
13. Tennessee: Pittsburgh (2021-22), Nebraska (2026-27), (only two series currently scheduled).
14. Kentucky: Louisville (2021-2022), Akron (2024, 2026), Toledo (2025, 2028).
8. Ask and you shall receive
Matt: I'm fired up about the 12-team Playoff. More football is better! I do have one question, though: Will this make players stay for the bowl season? You're not going to leave if your team is in the Playoff.
Sheryl Swanson
Detroit
Sheryl: It's going to have the opposite impact. For the 12 teams that make the Playoff, their rosters will be intact. For those whose teams don't make the Playoff, the reward of playing in a bowl game has been greatly minimized.
The season will be all about the Playoff, more so than ever. That's one of the unintended consequences the sport faces. Bowl games that were once a huge reward for good to great seasons are now afterthoughts to the main playoff menu.
The CFP management council believes the strength of the idea of New Year's Day games (outside the Playoff) will still hold branding weight. That weight is more minimized every season because of the Playoff. That's why players will continue to leave after the regular season to prepare for the NFL.
But when you get to that level of discussion in the management council, your choice is what's best for the health of the game – not to keep players from leaving early.
9. Numbers
29. It was 29 years ago when the SEC gave college football its first paradigm shift by adding Arkansas and South Carolina, separating 12 members into 6-team divisions and playing a championship game.
The major conferences soon followed, and now because of the CFP expansion, conference championship games are again a major question. They're not going away (there's too much money involved with the games, especially the SEC game), but they could be tweaked.
Eliminating divisions would allow conferences to play their 2 best teams in the championship games, and could lead to more teams being selected to the new 12-team playoff.
The divisional format for the SEC has long been considered sacred and untouchable, but two league athletic directors I spoke with last week said they're willing to listen to different ideas.
The one huge factor in favor of division play: scheduling ease, and the elimination of any notion of the conference "playing favorites" in the scheduling process.
10. Quote to note
SEC commissioner Greg Sankey: "I think 12 (teams) allows there to still be bowl opportunities that could be substantive for teams not in the playoff, and I want to make sure that's a clear part of my communications around 12."