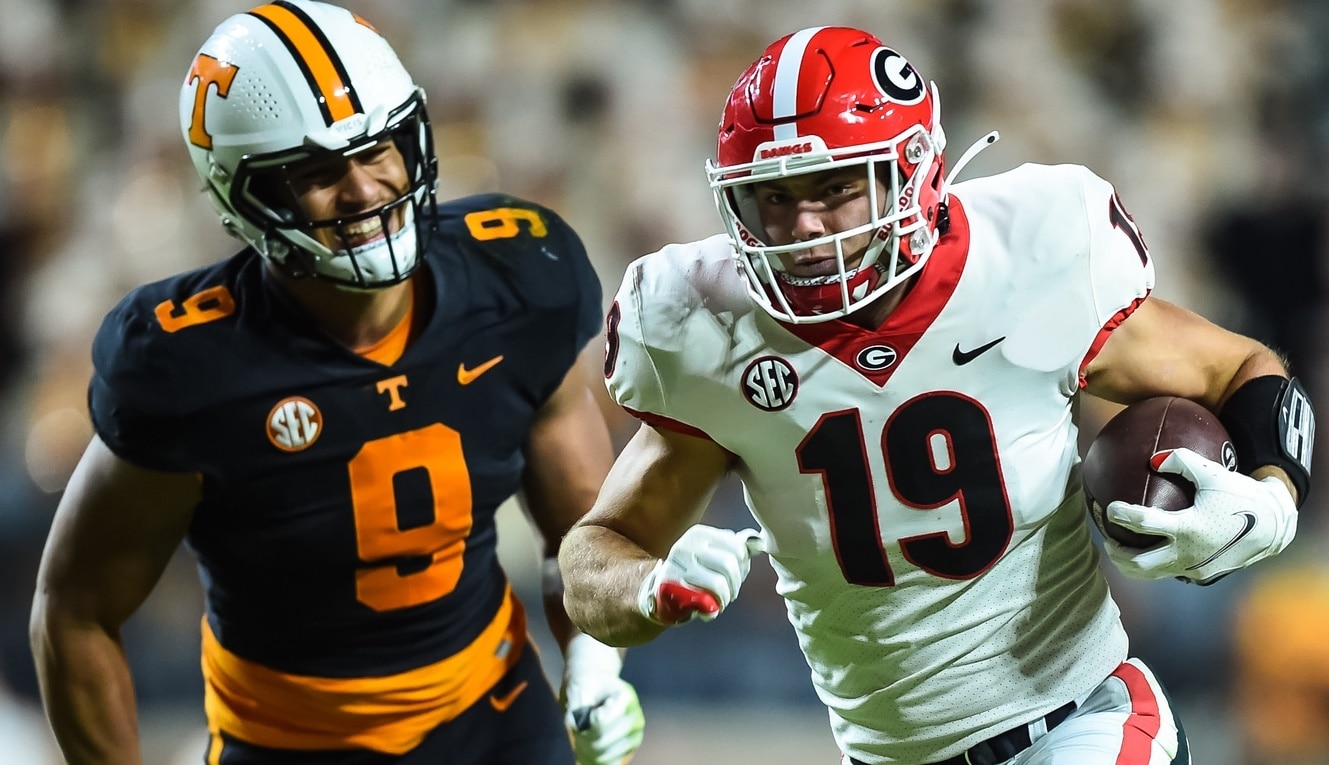 SEC
First impressions of every SEC game in Week 10
I'm right there with you.
No, I don't believe we're already entering a double-digit week of the season. I'm not a fan of that.
I am, however, a fan of the fact that we've got 13 of 14 SEC teams in action. That's a major plus.
Also a major plus? The slate is fantastic. Between Tennessee-Georgia and Alabama-LSU, we've got 2 fascinating headliner showdowns. That's a win.
I've got first impressions of those games and all 7 in the SEC in (gasp) Week 10:
Alabama vs. LSU — I want the "turned the corner" version of Jayden Daniels
That might be a bit ambitious. After all, Daniels went against a pair of somewhat depleted defensive fronts, which we know is the total opposite of Alabama's trio of Will Anderson, Dallas Turner and Chris Braswell. Having said that, how can you not be encouraged by the poise Daniels showed as a true dual-threat these last 2 games? He went on the road and delivered one of the best individual performances by an LSU quarterback against Florida that we've ever seen, and then he followed that up by totally taking over against Ole Miss.
The well-documented trust issues with the LSU receivers plagued the first part of the year. This is a game wherein that trust will be tested because obviously, Alabama can speed up quarterbacks. After seeing Jalin Hyatt dominate the Tide out of the slot, I'd expect to see Kayshon Boutte lined up there even more than usual. The goal should be to create mismatches and give Daniels some 1-on-1 matchups to take chances. Getting the best, most recent version of Daniels is the only way LSU can end the Tide's Playoff chances.
Tennessee vs. Georgia — We have our first play-in game for the Playoff, and it's glorious
You've got the best story in America (and maybe the best team) taking on a bitter rival, who happens to be the defending national champions with possibly a Playoff spot up for grabs for the winner. You can't script this stuff. The only thing that could make this one better was having a different broadcasting crew, but I won't complain. I'll simply marvel at the fact that both teams are in this spot. Nobody would've thought this would be a No. 1 vs. No. 2 battle, but here we are.
Conclusions will be drawn, but a loss to either team would by no means be considered a dagger for potential Playoff hopes. I'd argue that Tennessee has the best win in America (Alabama) while Georgia's win against Oregon couldn't have aged any better than it has. The loser could avoid facing Alabama (or LSU?) in the SEC Championship and still have a decent shot to make the field.
But beyond the Playoff implications, let's appreciate the fact that these teams are facing off as top-5 teams for the first time ever. This could have a bit of a 2019 LSU-Alabama feel to it, especially if the visiting team takes down the defending champs. Alternatively, this could be 2014 MSU going into Alabama and suffering that humbling first loss before fading down the stretch. I'd say the former is more likely.
Florida vs. Texas A&M — The Gators should follow the Lane Kiffin blueprint
That is, be willing to give your stud true freshman tailback all the carries. With all due respect to Montrell Johnson, I feel like he's the Zach Evans and Trevor Etienne is the Quinshon Judkins. Maybe the power isn't quite there, but that burst is obvious. That should be bad news for the Aggies after Judkins just went into College Station and had 205 of Ole Miss' 390 rushing yards. That's the game plan for Billy Napier, who would probably like to have a mobile Anthony Richardson but might not have that luxury after that awkward hit and landing on the opening play against Georgia.
What Kiffin was willing to do was scrap the pregame plan to dial back Judkins' workload. Why? Judkins was cooking and A&M couldn't stop him. Etienne looks like a guy who needs more work. The good news is that Etienne's snap count increased each of the last 4 games. The bad news is that even against UGA, wherein he was clearly the more effective back, Johnson actually had a 32-26 snap advantage. I get that Johnson was Napier's guy he brought over from Louisiana and he wants to do right by him, but Etienne feels like the more dangerous player and in a matchup against a young, gassed A&M front, another true freshman could run wild.
Kentucky vs. Mizzou — This isn't a get-right game for Will Levis at all
What a horrible matchup Kentucky's struggling offensive line gets. Mizzou's defensive front just when on the road and dominated a surging South Carolina team. In that game, Spencer Rattler was forced into bad decisions with Mizzou living in the backfield with 11 tackles for loss. I worry for the sake of Levis short- and long-term health that we could see that trend repeat. There should be pressure on Rich Scangarello in this one after his game plan was entirely ineffective against Tennessee.
Think about this, too. Mizzou allowed 26 points against Georgia. Through 5 SEC games, that's the worst defensive output for Blake Baker's unit. Compare that to Kentucky, who has yet to exceed 27 points in an SEC contest this year. This has the makings of a 60-minute matchup and one that Stoops' squad can absolutely lose if it doesn't show up with bad intentions, especially on the offensive line.
Liberty vs. Arkansas — I know Hugh Freeze just got a contract extension, but I'm still considering this a future job interview
Do I think it was a coincidence that roughly 8 days before Freeze is set to face off with an SEC West foe that he got an 8-year extension? Nope. I don't. We don't know how much a school would have to pay to get Freeze to exit that deal, but we do know that he isn't winning a national championship at Liberty and if he ever wants to get back to the level he was at during the mid-2010s, it'll mean coming back to the SEC. Who knows how he'll be valued at Auburn, but one would think that whatever sort of unofficial ban Greg Sankey had on him is over.
That's why I'd consider this game, wherein a 7-1 Liberty squad, to be a chance for Freeze to empty his bag of tricks coming off a bye week. Former Baylor and Utah quarterback Charlie Brewer is expected to return. That could change how that porous Arkansas defends the Flames. Perhaps Freeze will even roll out multiple quarterbacks. But if KJ Jefferson and Rocket Sanders play like they did coming off the bye against Auburn, there might not be any magical formula for Freeze to dial up.
South Carolina vs. Vanderbilt — While I think Marcus Satterfield is gone at season's end …
There's every reason for South Carolina's passing game to have a pulse in this one. No, it's not a given that the offensive line blocks Anfernee Orji, but goodness, the Commodores have been horrendous on the back end. They rank:
No. 130 in FBS against the pass
No. 130 in FBS in passing plays of 60 yards allowed
No. 128 in FBS in touchdown passes allowed
No. 127 in FBS in yards/pass attempt allowed
No. 123 in FBS in passing plays of 30 yards allowed
There is no get-right game quite like Vanderbilt. That should be ideal for Spencer Rattler, who has yet to have a 200-yard passing game without a turnover. This seems like a prime opportunity for that. It also seems like a prime opportunity to, you know, give Jaheim Bell a target? Maybe. Just a thought.
Auburn vs. MSU — If Bryan Harsin can't learn from what went wrong last year, well, I suppose that doesn't change anything
Go back to 2 minutes left of the first half of this game last year. Auburn was up 28-3 against MSU with an outside shot at a New Year's 6 Bowl, despite the A&M loss the previous week. Before that 2-minute mark, Auburn was +24 against Power 5 competition under Harsin. Since that 2-minute mark against MSU, Auburn is -133 against Power 5 competition. That day turned out to be a microcosm for Harsin's time at Auburn, which all signs suggest will be coming to a close soon. The Auburn defense refused to send more than 3 pass-rushers against Will Rogers, and he proceeded to pick apart the Tigers for a 40-6 run to close the game.
This year, it's pretty obvious. In order to beat this Air Raid attack, you have to be willing to send extra pressure and disguise pre-snap looks. You can't just assume that Derick Hall will get home every time. On the bright side for the Auburn defense, this doesn't figure to be a night in which it has to hear about its historically bad run defense, which allowed 25 more rushing yards per game than any team in America during the month of October. On the not-so-bright side for Auburn's defense, this does figure to be a night in which it has to hear a whole lotta cowbell. That seems less than ideal for a 3-5 team who enters with a 4-game losing streak.