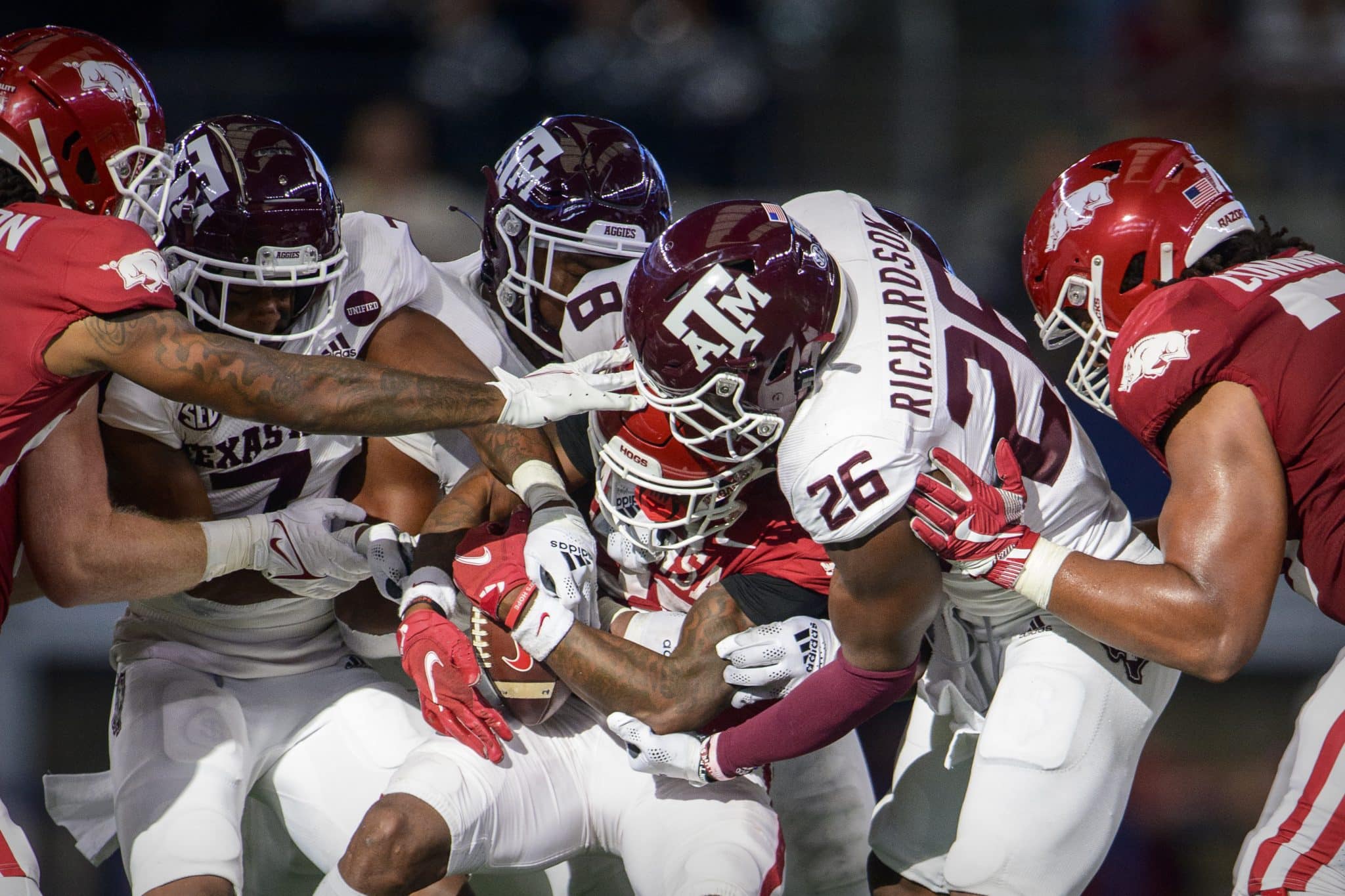 SEC
First impressions of every SEC game in Week 4
I say it every year. Still, though, I haven't mastered the concept of time.
How are we at Week 4 already?!
I don't have an answer to that. What I might have an answer for is what we should be on the lookout for in each of the 10 games involving SEC teams in Week 4.
Here are my early impressions of each matchup:
Kent State vs. Georgia — How long is this real touchdown streak gonna last for the first-team defense?
Sorry, but I'm not counting South Carolina's late touchdown against the Georgia defense. Apparently the first-teamers were upset that their shutout got washed away by the garbage time score. It's wild to think that through 3 games (2 of which were against Power 5 competition away from home), UGA has the No. 1 defense in America. That should continue against a Kent State squad who scored a combined 23 points in its lone 2 games vs. FBS competition, albeit challenging road games at Oklahoma and Washington.
Yes, it's early, but how could you not be encouraged by the emergence of guys like Malaki Starks and Jamon Jumas-Johnson? Georgia totally stymied a South Carolina attack that had some promising signs in the passing game a week earlier. It's hard to imagine that this group will continue last year's historic pace — also don't forget that Smart has never posted consecutive top-10 defenses at UGA — but it's looking like it'll get out of September with even better numbers than last year.
Mizzou vs. Auburn — One of these teams has to find an offensive identity … right?
Both fan bases are frustrated by the lack of promise shown against Power 5 competition so far, mainly on the offensive side of the ball. TJ Finley and Brady Cook are trying to hang onto their jobs while Eli Drinkwitz and Eric Kiesau haven't exactly shown that they're going to be able to maximize the talent of their offensive weapons. That's daunting for both teams.
Mizzou needs to continue to get Luther Burden involved, and you could say the same for Auburn with Tank Bigsby, who somehow didn't get a carry in the 2nd quarter on Saturday. Both have questions on the offensive line, and neither team has really shown it could stretch the field. Well, at least not against a Power 5 defense. By day's end, one would think that somebody will find some sort of offensive rhythm. Either that or we're in for a rock fight.
Bowling Green vs. Mississippi State — There's no reason MSU's passing game won't bounce back
Why? Bowling Green ranks No. 130 out of 131 FBS teams against the pass (go figure that Arkansas is actually in last). Will Rogers should have plenty of protection, which would be a different story than Saturday night in Death Valley when BJ Ojulari and Co. harassed him. Yes, I know Bowling Green just stunned Marshall. Still, though. MSU could use a get-right game on the offensive line. I thought we were seeing MSU run the ball more to try and alleviate some of the pressure on those 2 new starting tackles. Saturday should be more of your prototypical Air Raid attack with Mike Leach dialing up 50-plus pass plays, even in a likely blowout.
Florida vs. Tennessee — Gators' path to an upset seems obvious
After watching Florida's offense for the past 3 weeks, I think we can agree that Anthony Richardson still has a long way to go as a passer. I think we can also agree that the Gators' ground attack has some legitimate juice to it with Trevor Etienne and Montrell Johnson. Against a Tennessee team that doesn't play complementary football in terms of time of possession, wouldn't it make sense for Florida's offensive game plan to be extremely run-heavy? At least that's what I would think.
That's gonna be a raucous atmosphere. College GameDay will be in the house and it's the 3:30 on CBS game. Remember that this is Richardson's first true road start. Billy Napier has to be aware of that and he has to accept being predictable against a Tennessee defense that hasn't had to defend a ground attack quite like the one Florida has. If this turns into Richardson attempting 30 passes, this could be an ugly afternoon against the more potent Tennessee offense.
Tulsa vs. Ole Miss — Would now maybe be a good time to try and figure out the passing game?
It still has issues, though it doesn't really feel like it because when you run the ball at will like Lane Kiffin's squad does, well, life on the passing game is much easier. Balance isn't of any importance when you can punish people with Zach Evans and Quinshon Judkins. Dare I say, though, now would be a good time to really cut it loose with Jaxson Dart. He's clearly been given the keys to the Ole Miss offense, but his decision-making is still an area of concern. Ole Miss needs to have that element figured out before SEC play starts with that physical Kentucky defense. It'd be nice to see Dart get 30 pass attempts in a game where he knows he's not splitting reps with Luke Altmyer.
Northern Illinois vs. Kentucky — This matchup looks far less sneaky now
In the preseason, I talked about this being a tricky spot for Kentucky because NIU was loaded with experience and it was coming off a MAC Championship. Then Vandy went into DeKalb and knocked off NIU with a true freshman quarterback in his first career start. Yeah, that changes things. It also changes things that NIU starting quarterback and former Michigan State transfer Rocky Lombardi went down in that game. That sets up well for Will Levis and an offensive line that's still figuring some things out. It'd be surprising if Kentucky had a letdown ahead of the Ole Miss matchup.
Arkansas vs. Texas A&M — If not now, then when for the A&M passing game?
Max Johnson didn't exactly lead the Aggies to an explosive night throwing the football in his first start in College Station. But against an Arkansas defense that's dead last against the pass in the wake of the Jalen Catalon injury, this is begging for some A&M shots downfield. Arkansas might get Myles Slusher back, but it's still a group that allowed all 3 quarterbacks it faced to rack up 300 yards through the air, most recently the Bobby Petrino-led Missouri State offense. Yeah, it's been rough for Arkansas when it can't get home.
A&M would get a huge boost to those chances if Evan Stewart's suspension was lifted, but we'll wait and see with that. Either way, this cannot be a conservative game plan for Jimbo Fisher. He has to be willing to test a back end that's been gashed far too much for Barry Odom's liking.
Vanderbilt vs. Alabama — Now is the perfect time to get Jermaine Burton going
When Burton crossed enemy lines and left Georgia for Alabama, there were many who assumed that the veteran wideout would become the second coming of Jameson Williams. The only difference? Unlike Williams in that loaded receiver room at Ohio State, Burton had plenty of opportunity at Georgia, but he struggled to get on the same page as Stetson Bennett IV. It's early, but Burton appears to be struggling to get on the same page as Bryce Young. Through 3 games, he has 8 catches for 61 yards and 2 scores, both of which came in the opener. None of those catches went for 20 yards. He averaged 46 snaps per game, too.
While Alabama waits on JoJo Earle and Tyler Harrell to return, Saturday's game against Vandy would seem like an ideal time for Bill O'Brien to try and scheme Burton some looks. Vandy ranks No. 109 in FBS against the pass through 4 games. Alabama needs its most experienced SEC pass-catcher to look the part in the beginning of SEC play.
New Mexico vs. LSU — This should be a familiar defense for the LSU offense
Last week, LSU faced Zach Arnett and MSU's 3-3-5 defense. Arnett's mentor in the business was longtime San Diego State coach Rocky Long, who also runs the 3-3-5. When Arnett left for Syracuse and then MSU that offseason after the 2019 season, Long resigned as San Diego State's head coach season and took the defensive coordinator job with New Mexico. In other words, this defense should be plenty familiar for Jayden Daniels and the LSU offense. He'll see a similar defensive scheme with lesser athletes. Having said that, New Mexico does rank No. 20 in scoring defense through 3 games, so this won't exactly be like the Week 2 cakewalk against FCS Southern.
Charlotte vs. South Carolina — The Gamecocks need a stress-free win badly
South Carolina trailed in the 3rd quarter in each of its first 3 games. That includes the season-opener against Georgia State, which just lost to the Charlotte squad that South Carolina will host on Saturday. You need a day in which Marcus Satterfield gets some mojo back after a rough start to 2022, and this defense, which was decimated before the Georgia game, needs to get back on track against the 49ers. South Carolina is beginning a 2-week stretch at home in which it should be a significant favorite in both matchups. It would go a long way to have a game in which there isn't any finger-pointing or angst among the South Carolina faithful.
Remember that even in 2021, South Carolina basically only had 3 comfortable victories (Eastern Illinois, Florida and UNC). Now would be a nice time for Shane Beamer's squad to put the game on ice early so it can pull the starters and build some momentum after a deflating start to 2022.